Yellowjackets Season 2 Finale's Major Natalie Twist Is A Disaster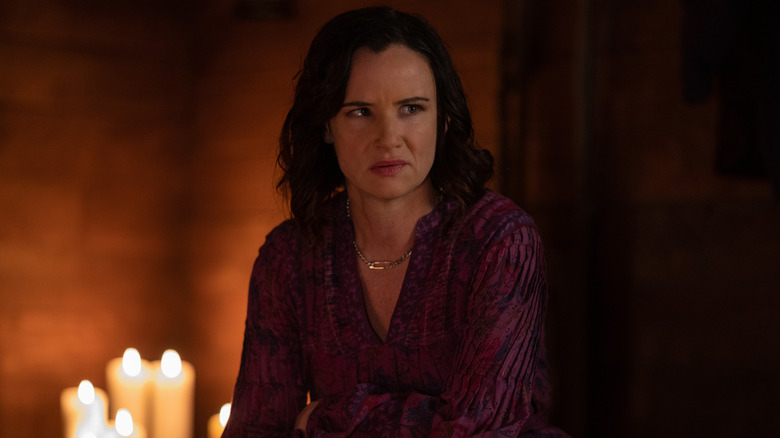 Kailey Schwerman/SHOWTIME
Contains spoilers for "Yellowjackets" Season 2 Episode 9 — "Storytelling"
And just like that, one of the main characters of "Yellowjackets" has officially exited the series. In the Season 2 finale, "Storytelling," Juliette Lewis' Natalie met a swift and unexpected end after getting hit with a syringe full of fentanyl by her friend and fervent admirer Misty (Christina Ricci), and whether Natalie stepped in front of Misty to protect her new friend Lisa (Nicole Maines) or the whole thing was just a tragic accident is probably going to be the subject of some debate going forward. 
This is, clearly, an enormous narrative swing from the writers and showrunners of "Yellowjackets." Juliette Lewis is a powerhouse, and in both the present day and wilderness timelines (in that second one, Natalie is played by Lewis' younger clone Sophie Thatcher), Natalie is a character that feels completely essential to the show. This is why killing Natalie in the modern timeline was a huge mistake from a storytelling perspective on basically every imaginable level. Not only does it fully mess with the earlier timeline, but it's a total blow to both Lewis and the character she perfected during the first two seasons of "Yellowjackets" — as well as the character she could have developed going forward.
Killing Natalie in the present timeline does a disservice to the past timeline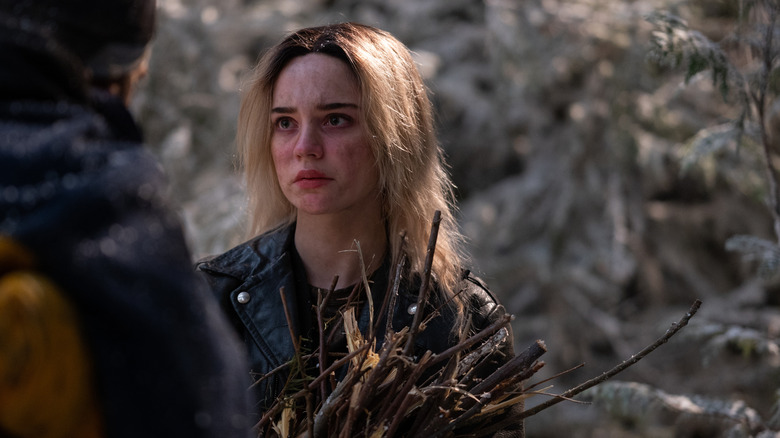 Kailey Schwerman/SHOWTIME
The biggest problem with killing adult Natalie is simple: young Natalie just had a major development when she was officially named the Antler Queen. Though fans assumed that the young version of Lottie (Courtney Eaton) was the makeshift monarch seen in the pilot, as it turns out, Lottie is the one who bestows the title unto Natalie. In Season 2's penultimate episode, "It Chooses," the teenage girls come up with the twisted game that marks someone as the next sacrifice to the wilderness (who will, incidentally, also be butchered and eaten), and Natalie chooses the deck's only queen; she's saved by Javi (Luciano Leroux) when he falls through an ice patch and drowns, at which point the girls decree that the wilderness chose him instead. Because she thwarted death, Lottie thinks Natalie was chosen by the wilderness not as a sacrifice, but as the group's leader, and everyone swears fealty to her immediately.
That all said, Natalie being dead in the future completely takes the tension out of young Natalie being the Antler Queen, as well as the inevitable showdown between Natalie and a jealous Shauna (Sophie Nélisse). Nothing that happens to young Natalie matters at all now, since we know she's just going to be felled by fentanyl eventually. Crowning young Natalie and killing adult Natalie in the same episode makes zero narrative sense; in doing so, the writers have completely deflated Natalie's plotline in the wilderness timeline.
To add insult to injury, Natalie's cause of death is a cheap shot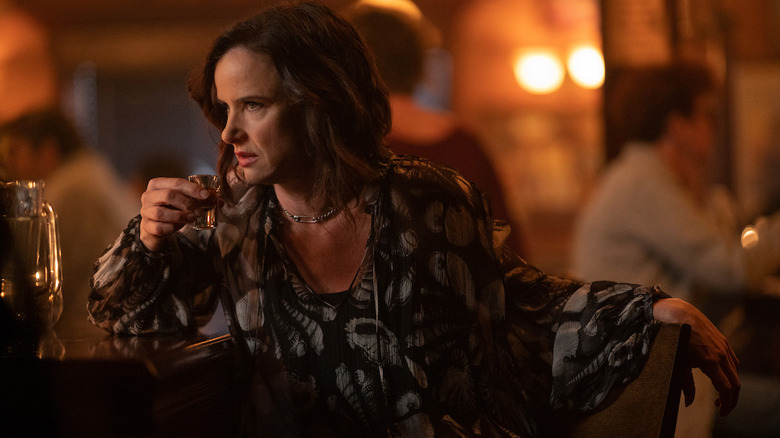 Kailey Schwerman/SHOWTIME
Even the way Natalie dies in the present timeline is infuriating and insulting all at once. When we first meet Natalie in Season 1, she's in rehab — paid for by her fellow Yellowjacket Taissa (Tawny Cypress) — and has apparently bounced between facilities for several years as she struggles with addiction. (There's a memorable scene in that same season where Misty, upon finding drugs in Natalie's motel room, tries to do them herself, with unexpectedly hilarious results.) By Season 2, Natalie seems like she's in a good place when it comes to her addiction... and then she technically dies of an overdose.
Natalie may not administer the fentanyl to herself — that would be Misty — but the fact that audiences hear a cop say that a middle aged woman is dead from an overdose is an enormous middle finger to Natalie's entire character. For two seasons, we've watched Natalie battle her many, many demons and seem to make actual progress, so to kill her with a drug overdose that had nothing to do with her character actually using drugs is just in completely poor taste.
If you or anyone you know needs help with addiction issues, help is available. Visit the Substance Abuse and Mental Health Services Administration website or contact SAMHSA's National Helpline at 1-800-662-HELP (4357).
Natalie was really just getting started...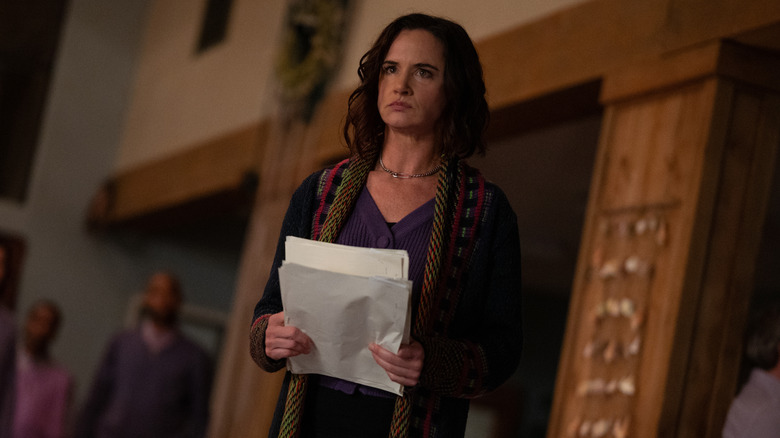 Kailey Schwerman/SHOWTIME
In the Season 1 finale, Natalie is at one of the lowest points the audience has seen thus far. Alone in her hotel room with drugs and a firearm, she lifts the barrel of the shotgun to her mouth... and is saved when she's kidnapped by a group of people who turn out to be working for Lottie. Lottie runs a sort of nebulous wellness retreat on an old campsite, and during her time there, it feels like Natalie gets some of her zest for life back, and despite denying that she's doing so, it definitely feels like she makes progress. She even wants to keep a goldfish alive; that feels like something, right?
None of that matters, though. Natalie's narrative arc as she struggles with sobriety and suicidal tendencies, only to come out on the other side and fight to stay alive, could have been fantastic, especially with a seasoned performer like Lewis bringing her to the finish line. It's not that Natalie needed to survive the entire series; it feels counterintuitive that too many people would be left standing by the time "Yellowjackets" comes to a close. She just needed any closure at all, and she got none.
If you or anyone you know is having suicidal thoughts, please call the National Suicide Prevention Lifeline​ by dialing 988 or by calling 1-800-273-TALK (8255)​.
...but Natalie was also completely wasted in Season 2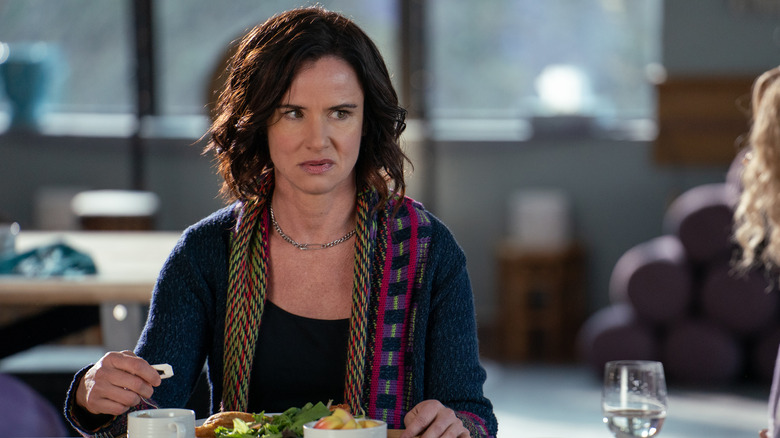 Colin Bentley/SHOWTIME
With the way the writers handled Natalie in Season 2, though, it might be for the best that they decided to kill off her character. Natalie was gripping and compelling throughout Season 1, an erratic agent of chaos whose every move is unpredictable. So what about Season 2? Well... she joined Lottie's cult and put on purple clothes and took care of a goldfish. 
While adult Shauna (Melanie Lynskey) is running around trying to cover up a murder and Taissa is dealing with the fact that she turns into a creepy, bad version of herself when she's asleep, Natalie is just kind of... around. At a certain point, it seems like she starts believing in Lottie's wellness techniques, befriending Lisa and engaging in therapy — which shocks her fellow adult Yellowjackets when they arrive at the compound — but then, before she dies in the finale, she thanks Lisa for trying to teach her about forgiveness, calling the concept "a nice idea." Natalie's character doesn't really grow or evolve in Season 2, nor does she lose progress in her journey. She kind of just does nothing, and then she dies. 
"Yellowjackets" is an intricately plotted, deeply layered show with phenomenal characters played by outstandingly talented actors in both timelines. Natalie could have earned her place alongside great television characters, and Lewis could have taken her to new heights. Instead, she's just dead... and it's both a complete waste and an enormous mistake.