WWHL: Ariana Madix Addresses Those 'Miami Girl' Rumors & New Scandoval Details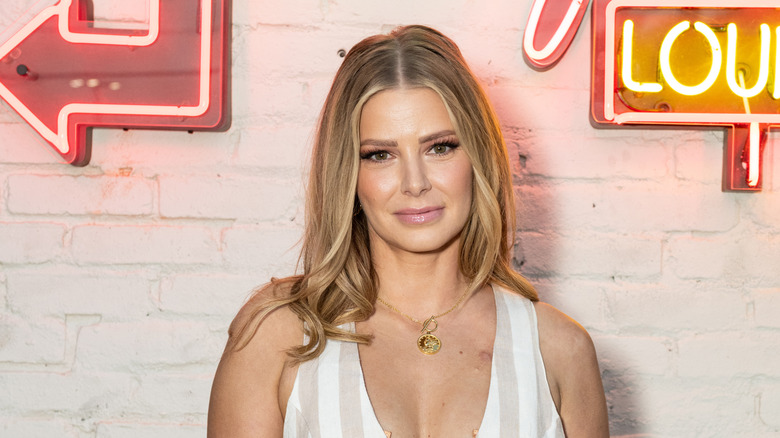 Amanda Edwards/Getty Images
When it comes to the "Vanderpump Rules" scandal known as "Scandoval," a clear hero has emerged — and her name is Ariana Madix.
Immediately after the Season 10 finale aired on May 17 — an episode that was hastily shot after the reveal that Madix's boyfriend Tom Sandoval and close friend Rachel "Raquel" Leviss had been having an affair for seven months — Madix joined Andy Cohen as a solo guest for his nightly show "Watch What Happens Live." Unsurprisingly, Madix had more tea to spill about this life-changing affair.
Clad in a revealing black lace number and positively glowing, Madix put a firm end to one of the longest-running mysteries on "Vanderpump Rules" — specifically, whether or not Sandoval cheated on her long ago with Annemarie Kunkel, widely known as "Miami Girl." Speaking to Cohen, Madix confirmed that, yes, it did happen. "They slept together," she revealed. "It was before we were exclusive, and I didn't want people to think the absolute worst of the man I thought I was going to spend the rest of my life with. So, I defended him." At the time, fans and cast members alike thought that the entire situation was engineered by Sandoval's spiteful ex-girlfriend Kristen Doute (who is now a close friend of Madix and who returned for a brief appearance in the finale), but clearly, Doute was right all along.
Ariana Madix doesn't believe that Tom Sandoval and Rachel Leviss broke up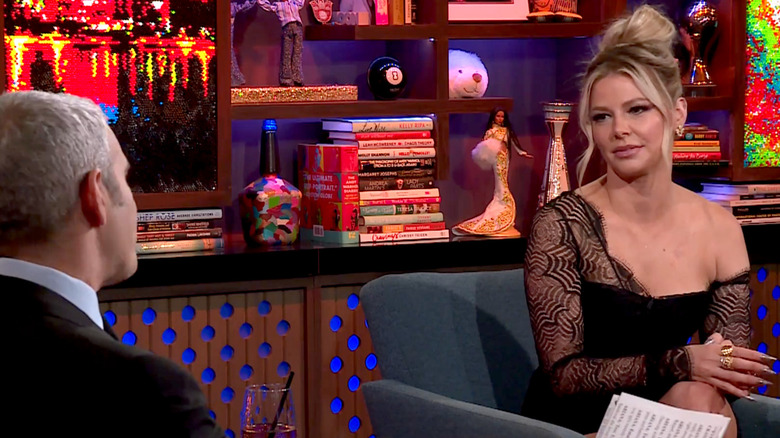 Bravo
This wasn't the only new information Madix offered up during her "WWHL" interview. Mere hours before the finale aired, news broke that Sandoval and Leviss had called off their relationship, though the entire reveal felt incredibly suspect (the report used a favorite phrase of Sandoval's, "dipped out," which definitely seemed off). Asked if she thinks that their split is real, Madix shared some entirely new information with Cohen.
Laughing, Madix said, "I don't buy that at all. She was sending letters to my house like four days ago." Pressed by Cohen, she continued: "Well, I didn't open it. That's a crime. But it was addressed to him, and in her handwriting. I just brought in the mail, saw it, put it on the table, and walked away." She then clarified that it was, as far as she knew, the only letter, but couldn't be sure, as she's been traveling recently.
This certainly contradicts reports that Leviss and Sandoval have split, and also raises several questions. Does Leviss know that Sandoval is currently on tour with his midlife-crisis vanity project he refers to as a band, Tom Sandoval and the Most Extras? Is Leviss, as she recently claimed, in a facility seeking treatment for her mental health? This all remains to be seen, but the fact that there's a written letter out there definitely throws a wrench into everything.
In the wake of Scandoval, Ariana Madix isn't just surviving — she's thriving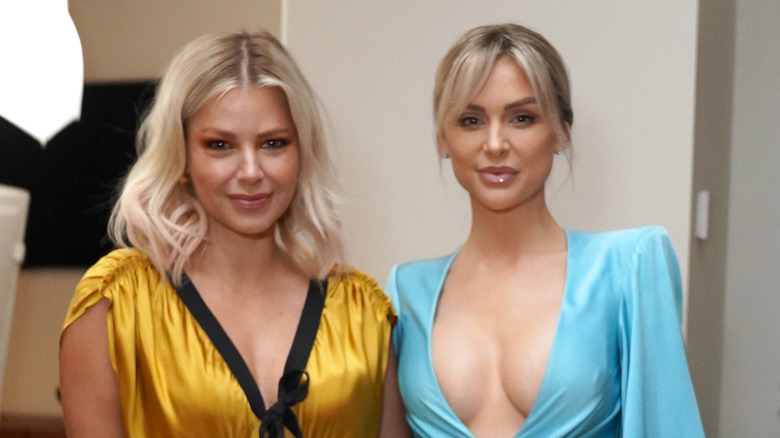 Leigh Vogel/Getty Images
Madix has had it pretty good since the news of Scandoval broke, obvious heartbreak aside. Not only will she compete on ABC's "Dancing With the Stars," but she's also set to appear in the Lifetime original movie "Buying Back My Daughter." She's landed marketing deals with companies like Bic and, during the Season 10 finale, her commercial for UberOne, which also features fellow cast members Scheana Shay and Lala Kent, played multiple times on Bravo. On top of all of that, Madix, along with Kent and the show's matriarch Lisa Vanderpump, attended the 2023 White House Correspondents' Dinner, with host Roy Wood Jr. even making a joke about Scandoval during his set.
Even in the Season 10 finale, where she had only recently learned of the affair, Madix keeps it calm, cool, and collected — particularly in dealing with her soon-to-be ex-boyfriend Sandoval. As he yells and makes excuses for his actions (without apologizing), Madix, despite her incredible hurt, remains stoic. When he eventually finishes his tantrum, she delivers a stunning kiss-off: "I regret every moment that I stood up for you, defended you, supported you. You're worth nothing. And I want you to feel that deep in your soul. I want you to hear those words coming from the mouth of the woman who stood by you, and loved you, and was ready to build the rest of my life around you. Hear my words and know that that's how I feel about you. I regret ever loving you. Any last words before we never speak again?"
Ariana Madix still has plenty left to say at the upcoming Season 10 reunion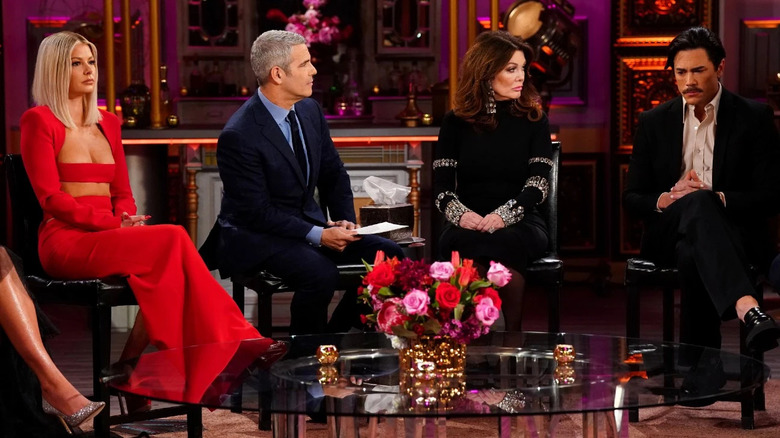 Bravo
If fans thought Madix's composure was incredible in "#Scandoval," they should probably buckle up — the three-part reunion is coming soon, and all indications are that Madix runs that show as well. In the trailer, she tells Sandoval that he doesn't even deserve to look at her while clad in an incredible, revealing "revenge dress," and when Leviss admits that she's been selfish, Madix takes her to task. "Selfish does not cover it," she says, describing Leviss as "diabolical, demented, subhuman." Leviss' ex-fiancé DJ James Kennedy can't help chiming in, backing Madix up with the eloquent "poo-poo head," directed at both Leviss and Sandoval. (He later calls Sandoval a "worm with a mustache," which is incredible in its own right."
On a previous "WWHL" appearance, Sandoval's confidante and business partner Tom Schwartz was one of the first cast members to openly discuss how Madix handled the reunion. "I have never seen such a ruthless denunciation of two human beings in my life," Schwartz told Cohen and fellow guest John Owen Lowe ("Unstable"). "Ariana had a fire in her. I mean, she eviscerated those two. I didn't know she had it in her. I've never seen anything like it in my life. Tom [got more heat], for sure. Raquel took some blows, but, yeah, Tom got just eviscerated."
The three-part reunion kicks off on Bravo on May 24 at 9 P.M. EST, with extended versions available the following day on Peacock.