VPR: Tom Schwartz's WWHL Appearance Offered A Look At The Scandoval Timeline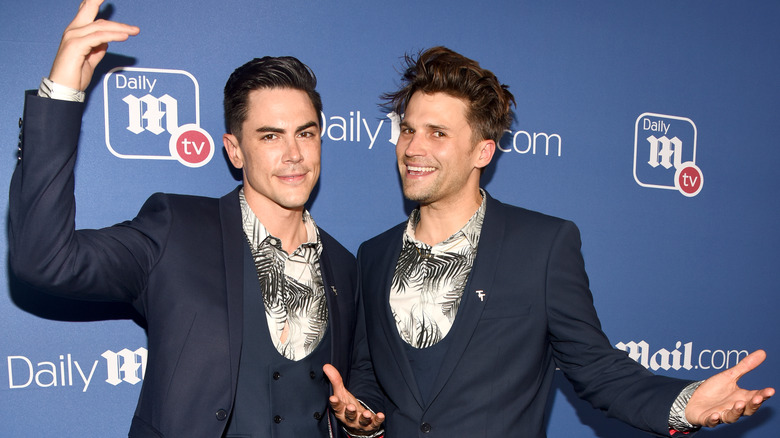 Araya Doheny/Getty Images
If you've been following the latest "Vanderpump Rules" scandal lately — dubbed 'Scandoval' by longtime fans — you've probably been trying to figure out the exact timeline of Tom Sandoval's affair with Rachel "Raquel" Leviss. In March of 2023, news broke that Sandoval and Leviss had been carrying on a full-blown affair behind his girlfriend Ariana Madix's back, splintering this group of messy Bravo personalities into factions. (Let's be clear, though; pretty much everybody is Team Ariana.)
Last week, Sandoval's best friend and apparent confidante Tom Schwartz appeared on Andy Cohen's late-night talk show "Watch What Happens Live" for the post-"Vanderpump Rules" episode, joined by John Owen Lowe (son of Rob Lowe and star of Netflix's "Unstable"). "VPR" fans know that Schwartz typically isn't known for his subtlety, and that remained true during "WWHL." Apparently, Sandoval and Leviss' entanglement has been going on for quite some time, if Schwartz is to be believed. 
"Tom [Sandoval] was having, like, a midlife crisis," Schwartz revealed to Lowe and Cohen. "I learned in August [2022], in late August about the affair, the one-night stand — allegedly ... From my point of view, it became, like, an emotional affair, which is still inappropriate."
Tom Schwartz made some shocking reveals about Scandoval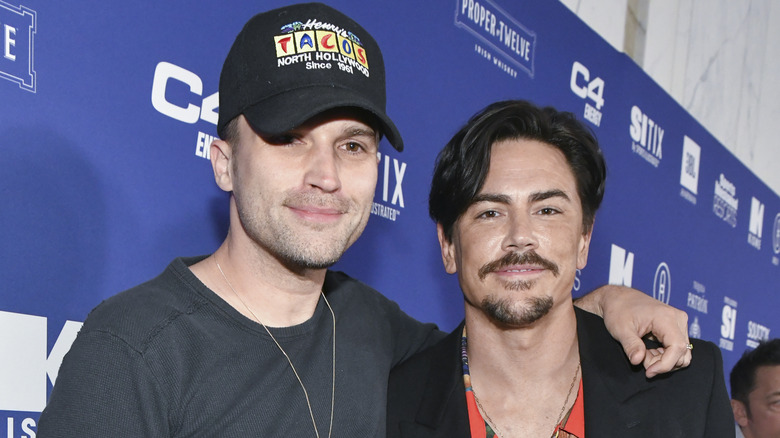 Rodin Eckenroth/Getty Images
"In January [2023], Tom came to me ... and he told me that he was in love with Raquel," Schwartz continued on the "WWHL" segment. "I was flabbergasted." He then went on to say that his friend and the co-owner of their restaurants TomTom and Schwartz & Sandy's got a lot bolder, and even secretly brought Leviss on a boy's trip where Schwartz was present. Apparently, Sandoval also led Schwartz to believe that he and Madix were either broken up or about to break up at any given moment, but he never actually pulled the trigger in any real way. "He did a good job of placating me," Schwartz said. "And he told me he has a game plan, he's gonna do the right thing — and then he just kind of continued to procrastinate."
Schwartz went so far as to say that Sandoval is "obsessed with" and "addicted to" Leviss, calling her his "heroin." Despite admitting that he's angry at his close friend and business partner, Schwartz asked fans to give Sandoval a hug if they see him on the street because he's not exactly having a great time with all of this. He also asked Ariana stans to stop defacing their businesses. He even said, when prompted by Cohen, that he'll never truly leave Sandoval, saying, "Tom, I know the whole world hates you, but I'm not gonna abandon you, old buddy."
What is Scandoval, anyway?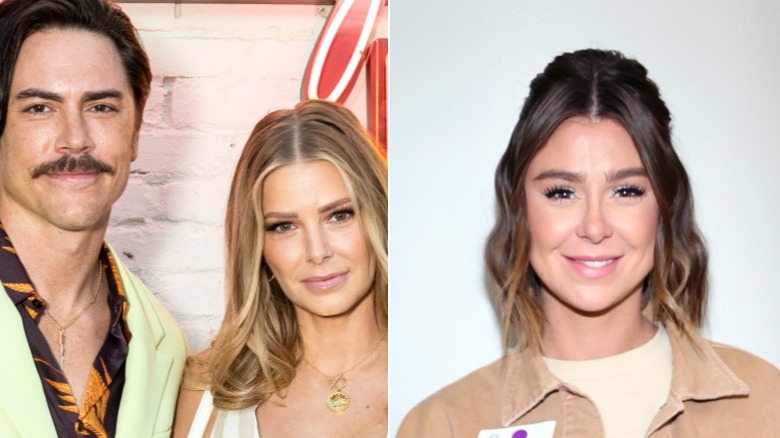 Amanda Edwards & David Livingston/Getty
If you've made it this far into the article without totally understanding Scandoval, that's a bit odd, but we'll break it down for you anyway. After news of the Leviss-Sandoval affair broke this spring, the "Vanderpump Rules" fandom has reawakened after a two-season slumber that saw a lot of original cast members leave the show, get married, have babies, or some combination of the above. When this scandal hit — particularly in the aftermath of Schwartz's divorce from his wife Katie Maloney — it seemed like the uber-messy show had come alive again.
Now, fans pore through each episode of "Vanderpump Rules" looking for further evidence about Scandoval, but there's one huge event on fans' minds that's coming up: The traditional Bravo reunion. Schwartz did reveal that the reunion was perhaps the craziest one yet: "I have never seen such a ruthless denunciation of two human beings in my life. Ariana had a fire in her. I mean, she eviscerated those two. I didn't know she had it in her. I've never seen anything like it in my life. Tom [got more heat], for sure. Raquel took some blows, but, yeah, Tom got just eviscerated."
"Vanderpump Rules" airs new episodes on Wednesdays on Bravo at 9 P.M. EST, with "Watch What Happens Live" airing immediately afterward. As for the reunion, it starts airing its first of probably several parts on May 24, 2023.