The Predator: New Poster Teases Titular Human-Hungry Beast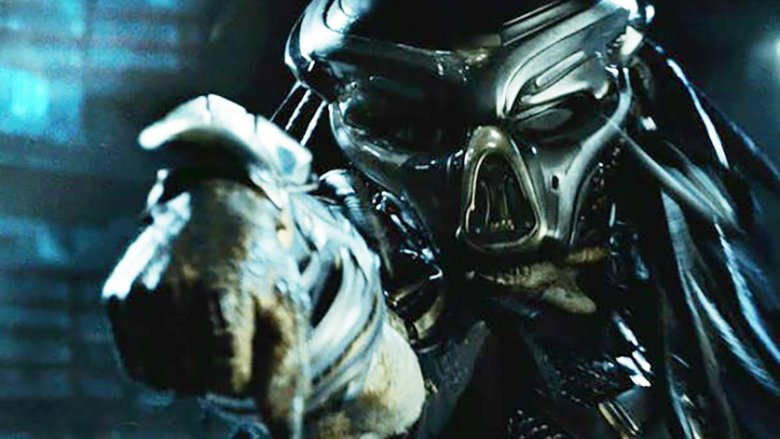 If one were to describe the newest poster for Shane Black's The Predator as "cerebral," they'd be correct — but not for the reason others might assume. 
One of likely many eye-catching reveals from 20th Century Fox at this week's San Diego Comic-Con, the one-sheet features the head of the vicious ultimate Predator made up of human skulls. Save for the beast's quad-fangs, it's all homo sapien anatomy up in this new Predator poster. Check it out below.
This piece of event-exclusive promotional material comes after Fox unveiled a splashy orange poster for the film that showed the super-sized Predator, the central villain of the upcoming film that's a hyper-evolved version of the alien hunters fans know and fear, holding the decapitated head of a regular, run-of-the-mill monster. Both human and "normal" Predator flesh are on the menu for the ultimate Predator — meaning this R-rated refresh is going to get really bloody really fast. 
During the SDCC panel for The Predator, Fox also unveiled footage from the film. According to ScreenRant's Sandy Schaefer, who appears to have been in attendance at the presentation, the clip centers on a scene that takes place following a run-in with a Predator. Sterling K. Brown, Keegan Michael Key, Jake Busey, and Trevante Rhodes' characters fire whip-quick comments at one another, bantering in that signature sarcastic Black-style way, while they try to wake up Olivia Munn's character. 
Director Black commended his cast for nailing the fast-paced scene without faltering, and for being so dedicated to The Predator: "Unlike casts from many other films, these guys were willing to come in and rehearse on the weekend."
That footage hasn't yet made its way online, but we don't exactly need to see it ahead of the film's debut. We already have two trailers — a teaser trailer that received mixed reactions from fans and a full-length one that knocked everyone back in their seats — and now two posters to tide us over until The Predator arrives in theaters on September 14.