This Is The Correct Order To Watch The Fast And The Furious Franchise
Universal Pictures
Since its humble beginnings in 2001 with "The Fast and the Furious," The Fast Saga has grown to become one of the most successful action franchises of all time. In fact, it has now grossed more than $6 billion at the box office and this figure will only rise further following the release of "Fast X." The huge popularity of the series has led to 10 mainline films, a spin-off movie, several shorts, and even an animated television series developed by DreamWorks Animation.
The initial films feature Paul Walker as an undercover police officer infiltrating Vin Diesel's illegal street racing gang but the action then switched to focus less on cars and more on heists and undercover clandestine operations. The move proved fruitful and The Fast Saga has continued along that road to appeal to a larger audience. With directors such as Rob Cohen, Justin Lin, and Louis Leterrier taking the helm, the films have largely followed Diesel's character, Dom Toretto, along with an ensemble of other actors such as Dwayne Johnson, John Cena, Gal Gadot, and Jason Statham. With so many entries in the "Fast and Furious" franchise, knowing where to start might seem like a daunting task. Fortunately, there's a definitive order to watch each of the films, as detailed below.
Spoiler Warning: Spoilers for all of the films in The Fast Saga are discussed below.
The Fast and the Furious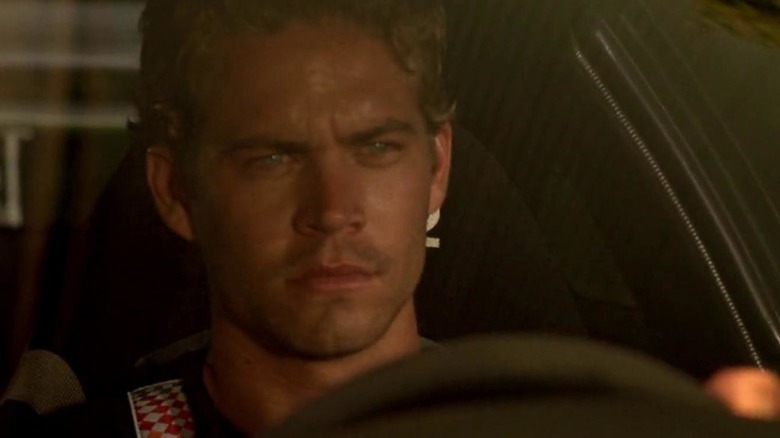 Universal Pictures
Directed by Rob Cohen, this movie marked the start of the franchise. Paul Walker's character — LAPD officer Brian O'Conner — is part of a task force investigating a series of thefts from trucks carrying valuable equipment. Suspecting that Dom Toretto's street racing crew may be involved, O'Conner infiltrates the group by posing as a racer himself and quickly becomes embroiled in the underground world. Inspired by an article Cohen had read in Vibe magazine, the movie introduces a number of key personnel, including Jordana Brewster's Mia and Michelle Rodriguez's Letty.
While reception to "The Fast and the Furious" was mixed at best, there were some aspects that drew praise. In particular, Vin Diesel's performance was lauded and the high-octane stunts were also highlighted by critics as a positive. Grossing just over $200 million against a budget of $38 million, it was popular enough with audiences to convince Universal Pictures to greenlight a sequel. More important, though, was the establishment of key themes such as loyalty and family that have come to dominate future films in the series. However, it also set the franchise on a path that it would ultimately deviate from in later years.
The Turbo Charged Prelude for 2 Fast 2 Furious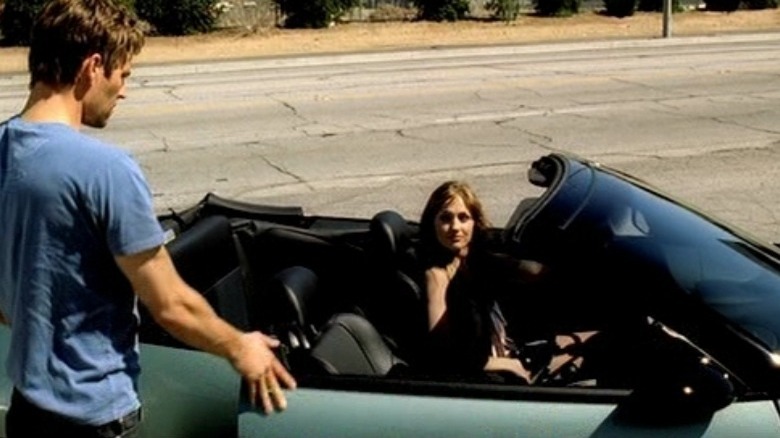 Universal Pictures
A few days before the sequel, "2 Fast 2 Furious," hit cinema screens, Universal Pictures released a short film titled "The Turbo Charged Prelude for 2 Fast 2 Furious." As suggested by its rather convoluted name, it acts as a connection between the first and second movies in The Fast Saga. At just six minutes long, it is a mostly silent film that only features dialogue from archival footage that also includes a brief appearance from Vin Diesel. Philip G. Atwell, who is probably best known for his work on music videos for the likes of Eminem and Dr. Dre, took on directing duties while Keith Dinielli wrote the script.
Although it is not essentially viewing, those who want a complete experience will want to watch "The Turbo Charged Prelude for 2 Fast 2 Furious." After all, it provides important context about what has happened to Brian following the events of "The Fast and Furious" and explains how he came to make his way to Miami. It kicks off with him fleeing Los Angeles after allowing Dom to escape in the previous movie as he earns money by competing in street races across the southern states as the FBI launches a manhunt for him. He eventually winds up in Miami after hitching a ride after his car is discovered by police officers.
2 Fast 2 Furious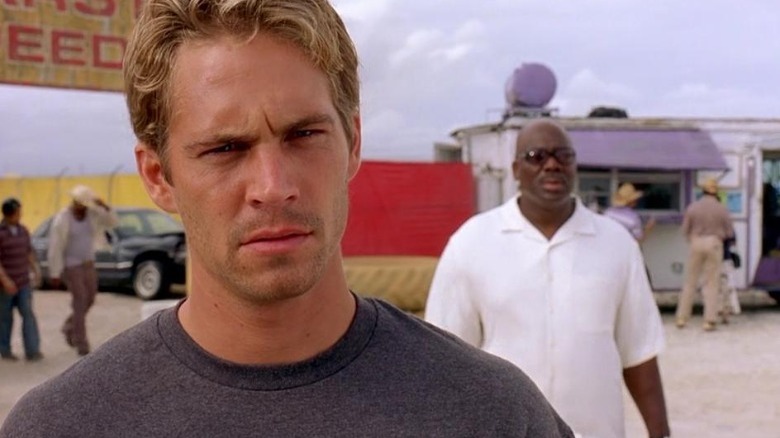 Universal Pictures
As established in "The Turbo Charged Prelude for 2 Fast 2 Furious," Brian now finds himself a wanted man for allowing Dom to escape from justice during "The Fast and the Furious." While racing in Miami, he is arrested and offered a deal by Monica Fuentes, a U.S. Customs agent played by Eva Mendes. For helping to bring down drug lord, Carter Verone (Cole Hauser), he'll be released and receive immunity for his criminal actions. Teaming up with Roman Pearce (Tyrese Gibson), Brian competes in a series of races to infiltrate Verone's gang as he also tries to stay ahead of the criminal.
The second mainline film was directed by John Singleton, who had previously led "Shaft" and "Baby Boy" and was one of the few entries in the series to not feature Vin Diesel, who turned down the chance to appear in the sequel in favor of being involved in "The Chronicles of Riddick." This may have contributed to some of the negative reception of the movie, which failed to make much of a mark with critics. Yet, it performed slightly better than its predecessor at the box office, meaning there was still life in the series.
Los Bandoleros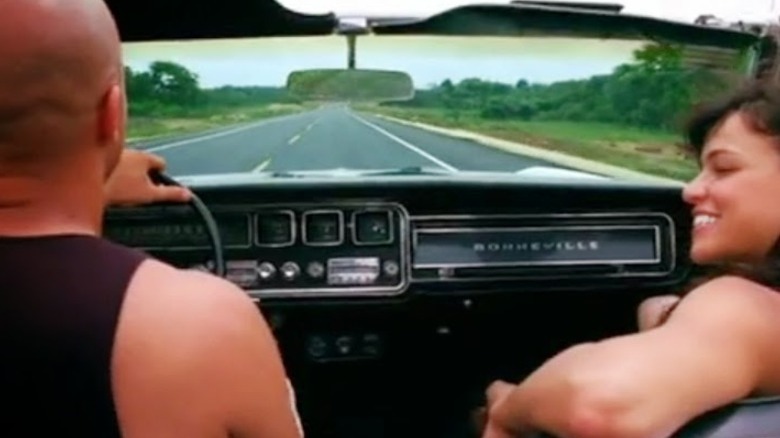 Universal Pictures
Although this short film was released a few months after the launch of "Fast and Furious" in 2009, it acts as a prequel to that movie and reintroduces Vin Diesel as Dominic Toretto. Written, directed, and produced by the returning actor, "Los Bandoleros" follows Dom who now lives as a fugitive in the Caribbean country the Dominican Republic. In an attempt to release his friend, Tego Leo (Tego Calderón) from prison, he joins forces with Han Lue (Sung Kang) and Rico Santos (Don Omar) as well as local politician, Elvis (Juan Fernandez), who organizes a hijacking that will allow them to steal a large amount of fuel.
By the end of the 20-minute short, Michelle Rodriguez's Letty Ortiz makes a surprise appearance. She and Dom later appear to get back together and start their relationship where they had previously left off. All of the characters, with the exception of Elvis, go on to play significant parts in "Fast & Furious" and the short film primes the events that take place in that film.
Fast & Furious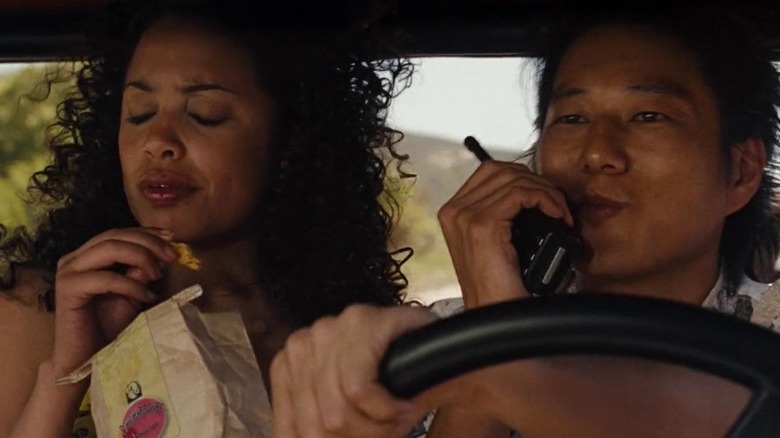 Universal Pictures
"Fast & Furious" marked the point when Vin Diesel returned to the franchise properly. He had previously been missing from the series after he turned down the opportunity to reprise his role in "2 Fast 2 Furious," although he did make a cameo appearance in "The Fast and the Furious: Tokyo Drift," which was released in 2006, but takes place chronologically later than "Fast & Furious." Justin Lin, who would go on to direct a total of five installments of The Fast Saga and act as a screenwriter for "Fast X," took on directing duties while Paul Walker, Michelle Rodriguez, and Jordana Brewster all made comebacks.
With both Dom and Brian seeking out David Park (Ron Yuan) for different reasons, the protagonists soon cross paths and end up working together to take down the Mexican drug lord, Arturo Braga (John Ortiz). The 2009 movie was also the debut for Gal Gadot, who had her first major acting role in the film as Gisele Yashar. The last of the films in the series that centered mainly around car racing, "Fast & Furious" failed to make an impression in reviews like many of the early movies in the franchise but was a small hit at the box office, bringing in $360 million.
Fast Five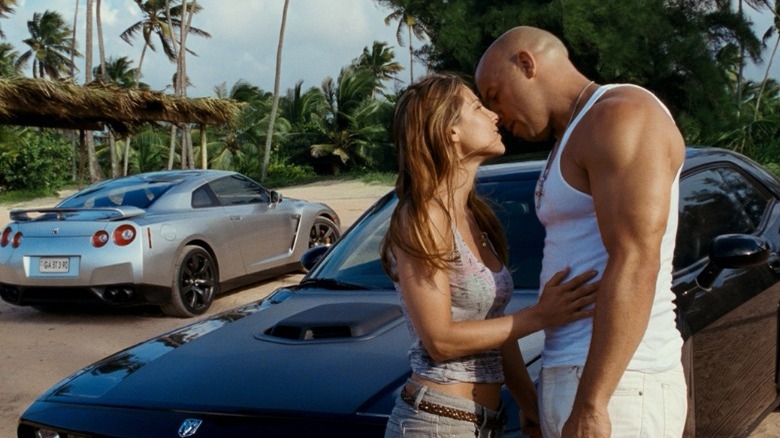 Universal Pictures
The third film in the franchise directed by Justin Lin, "Fast Five" first arrived in 2011. Despite having the same director and screenwriter as 2009's "Fast & Furious," this film marked a crucial changing point in the franchise that saw it transition from a racing-heavy series to a more rounded action franchise that includes elements of heists and spying. It is also the point at which the fortunes of The Fast Saga began to reverse and shift to become a box office behemoth. "Fast Five" was not only the first installment to attain a fresh rating from Rotten Tomatoes, but it also saw a large boost in its finances, grossing more than $629 million.
Picking up directly where the last film ended, Brian and a group of allies, that includes Mia, break Dom out of custody while he is being transported to prison in California. They then flee to Rio de Janeiro in Brazil and are pursued by Dwayne Johnson in the form of a Diplomatic Security Service agent known as Luke Hobbs. To finally secure their freedom and escape, they plan a heist against the rich and powerful drug lord, Hernan Reyes (Joaquim de Almeida). Hobbs and his team eventually ally with Brian and Dom in their efforts against Reyes, who is ultimately killed by Hobbs in retribution for the agents who were murdered by Reyes' men.
Fast & Furious 6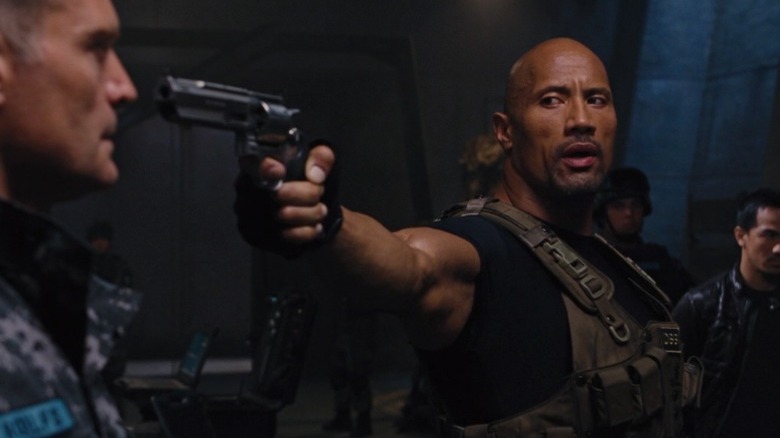 Universal Pictures
"Fast & Furious 6" not only continued the franchise's inconsistent naming convention but also carried on the new focus on more accessible action than car culture. Once again directed by Justin Lin and written by Chris Morgan, the film sees the return of Vin Diesel, Paul Walker, Dwayne Johnson, Michelle Rodriguez, Jordana Brewster, and Sung Kang. It also sees Luke Evans star as Owen Shaw, a British former special forces soldier who is now the leader of a mercenary group selling stolen technology on the black market.
When Hobbs discovers that Letty, who was seemingly killed in an earlier movie, is working with Shaw, he convinces Dom, Brian, and the rest of the team to get back together to help him take down the mercenary gang. In exchange for pardons that will allow them to return to the United States, the group leaves behind their peaceful lifestyle abroad. Along the way, they discover that Shaw is working to develop an electromagnetic pulse weapon called Nightshade and have to travel across various locations in the world to stop him.
Like its immediate predecessor, "Fast & Furious 6" proved successful at the box office, grossing just short of $800 million and earning positive reviews. It reinforced the idea that Universal Pictures was on the right path with the franchise and drew praise for its spectacular set pieces and humor.
The Fast and the Furious: Tokyo Drift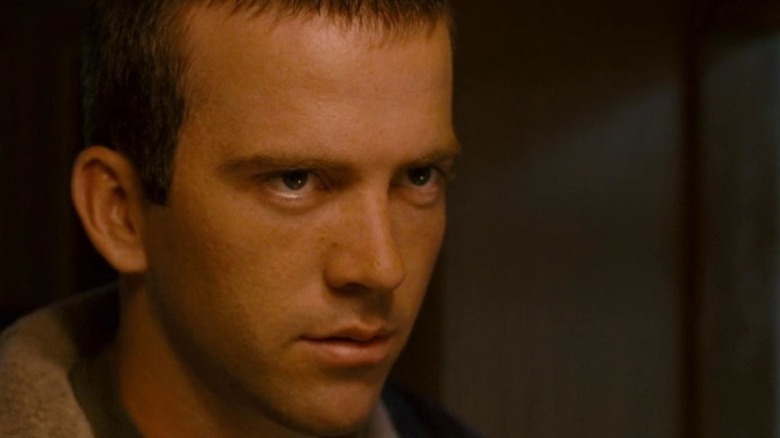 Universal Pictures
"The Fast and the Furious: Tokyo Drift" was technically the third film in The Fast Saga but chronologically takes place after several films that came after it. Hitting cinema screens in 2006, it is a standalone sequel that features a completely new cast of characters. Lucas Black stars as Sean Boswell in the Justin Lin-directed movie, a young racer who moves to Tokyo as punishment for taking part in illegal street races. Once there, he quickly latches onto the underground drift racing scene in the Japanese city and, with the help of Twinkie (Bow Wow) and Han Lue, he rises through the ranks to challenge Takashi (Brian Tee).
The movie includes a number of cinematic races through Tokyo and culminates in a face-off against Takashi, a racer with links to the Yakuza who has taken a dislike to Sean. Although "The Fast and the Furious: Tokyo Drift" tried to do something different with its change in location and characters, it still failed to make any impact with critics, landing one of the worst Rotten Tomatoes scores of any film in the franchise. Even worse, it was a box office failure, making just $157 million. But it did introduce Sean and Han Lue to the franchise, two characters who would come back for future films.
Furious 7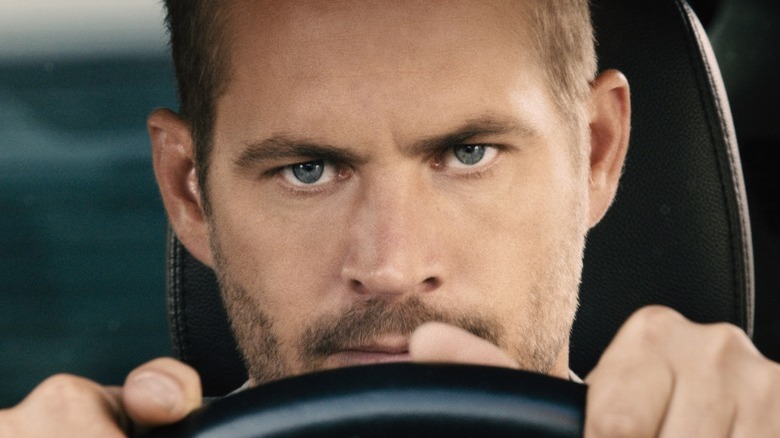 Universal Pictures
"Furious 7" was something of a departure from its recent predecessors, with Justin Lin stepping back from directing due to the fact that it started pre-production while the previous film was still in post-production. "Saw" co-creator James Wan replaced Lin, with Chris Morgan continuing as screenwriter. The movie brought back most of the characters from previous films and also introduced a number of significant new figures in the form of Nathalie Emmanuel's hacktivist Ramsey, Kurt Russell's enigmatic covert ops leader Mr. Nobody, and Jason Statham's Deckard Shaw, the brother of Owen Shaw from "Fast & Furious 6."
Deckard Shaw enters the lives of Brian and Dom when he seeks revenge for the defeat of his brother. Meanwhile, Mr. Nobody approaches the gang to try and convince them to help him track down a dangerous computer program in exchange for helping them capture Deckard. "Furious 7" ends with Hobbs arresting Deckard and transporting him to a CIA black site facility while Brian and Mia depart the team to raise a family — an event brought on by the death of Paul Walker.
As one of the most expensive films ever made, "Furious 7" had an estimated budget of around $250 million. The gamble paid off, though, with box office takings in excess of $1.5 billion, making it the highest-grossing installment in the franchise. It was also the best-reviewed film from the Fast Saga, earning the series' best approval rating on Rotten Tomatoes.
The Fate of the Furious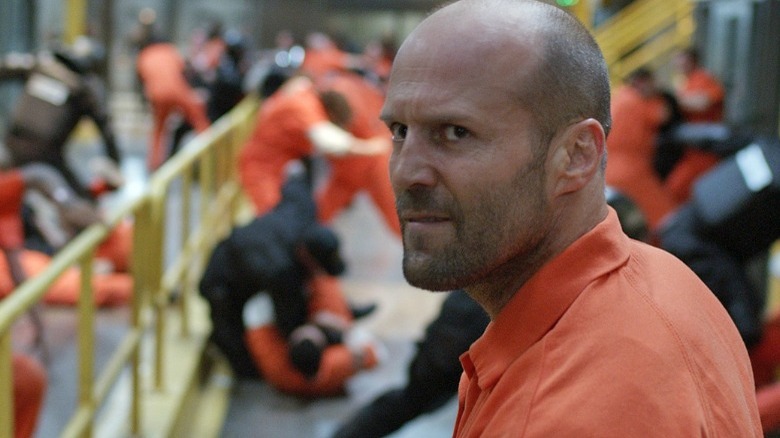 Universal Pictures
Outside of "The Fast and the Furious: Tokyo Drift," which featured an entirely new cast of characters, "The Fate of the Furious" is the first film in the series not to feature Paul Walker in the role of Brian O'Conner after his death in 2013. While Brian is mentioned, his departure is explained as a retirement to raise a family with Mia. However, almost every other major player from the series returns, including Kurt Russell, Dwayne Johnson, and Jason Statham, while Charlize Theron enters the fray as the cyberterrorist, Cipher.
Directed by F. Gary Gray and again written by Chris Morgan, the story is a direct continuation of "Furious 7," with Hobbs incarcerated with Deckard Shaw following a mission that went wrong. Meanwhile, Cipher forces Dom to work for her and betray his team by stealing an EMP device before it is revealed she was also the mastermind behind many of the events in recent movies. Joining forces with Shaw, Hobbs and the rest of Dom's team are able to stop Cipher but she gets away and remains at large. similarly successful to its predecessor, the movie made $1.2 billion at the box office and received mainly positive reviews from critics.
Fast & Furious Presents: Hobbs & Shaw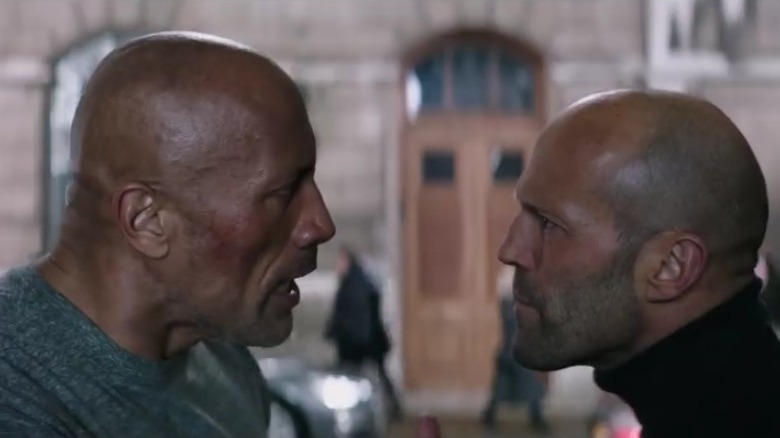 Universal Pictures
Following the success of Jason Statham's introduction into the world of the Fast Saga as Deckard Shaw, Universal Pictures greenlit a spin-off that features him and Dwayne Johnson as the two protagonists. "Fast & Furious Presents: Hobbs & Shaw" sees the unlikely duo team up as they work to stop Brixton Lore, a cyber-genetically enhanced terrorist played by Idris Elba, who attempts to stop Hobbs and Shaw from retrieving a virus called Snowflake that could have devastating effects if released. All the while, a mysterious man known as the director pulls the strings in the background as the leader of the Eteon group that is trying to control the Snowflake virus.
Directed by David Leitch and written by a team that included Chris Morgan and Drew Pearce, "Fast & Furious Presents: Hobbs & Shaw" was a financial success, grossing more than $760 million at the box office. With mainly positive reviews, it was a big enough hit to convince Universal Pictures to develop a sequel that will again feature Statham and Johnson in the lead roles, although it isn't clear when it will be coming out or if plans are still moving forward as there's been little information about it recently.
F9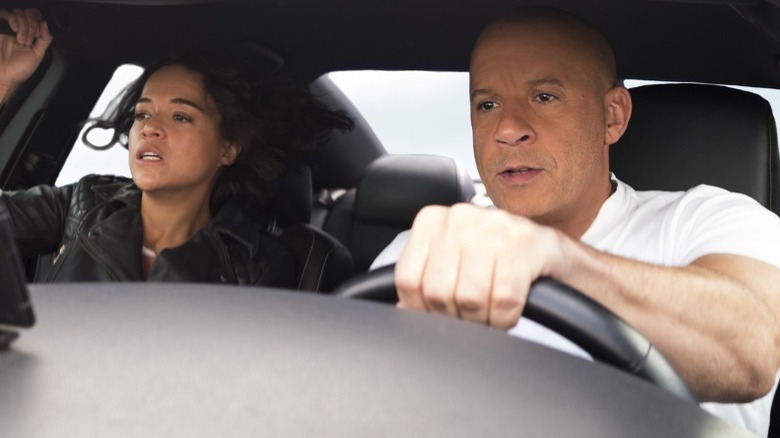 Universal Pictures
With the rather simple title, "F9," this 2021 film acts as the sequel to "The Fate of the Furious" and sees Justin Lin return as director while also co-writing the movie with Daniel Casey. This meant it was the first film in the series since "The Fast and the Furious: Tokyo Drift" that didn't involve screenwriter Chris Morgan. It also introduced a brand new character in the form of Jakob Toretto, Dom's brother who had been forced out of town as a youngster when Dom suspected him of having a role in his father's death. Portrayed by John Cena, Jakob plays an integral part as an antagonist and, later, an ally of Dom and his crew.
The story follows the group's attempts to stop Cipher and her criminal group from taking possession of Project Aries, a weapon capable of taking control of the world's computer systems. Dom is convinced to come out of retirement and return to action when he learns his estranged brother is seemingly working with Cipher. Although Hobbs and the Shaws are absent from the plot, Deckard Shaw does make an appearance in an end-credits scene when he is surprised to meet Han Lue. Despite not being as warmly received as some of the more recent entries in The Fast Saga, "F9" still proved to be a box office success and ensured there would be no end to the franchise in the near future.
Fast X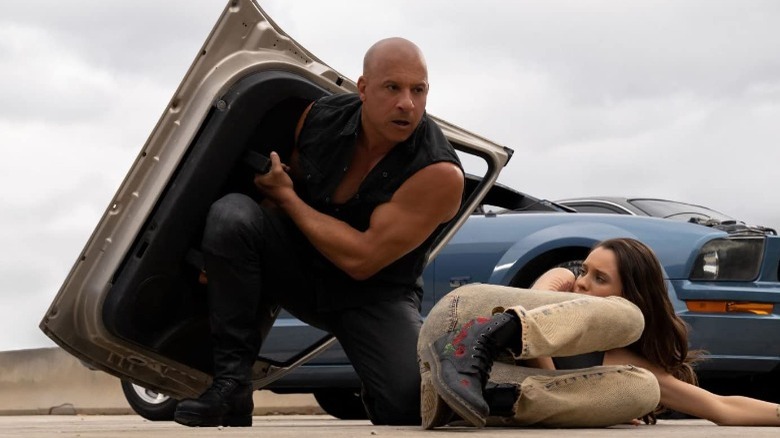 Universal Pictures
The latest entry in The Fast Saga is "Fast X," a 2023 action film directed by Louis Leterrier and based on a screenplay by Dan Mazeau and Justin Lin. With an estimated budget of $340 million, it is one of the most expensive movies ever created and is hotly anticipated by fans of the series. A direct sequel to "F9," the film will follow Vin Diesel's Dom as he battles against a new villain named Dante Reyes, played by Jason Momoa. Seeking vengeance against Dom and the rest of his crew following the events of "Fast Five" when his father Hernan Reyes was killed and his family lost their entire fortune.
The film features an ensemble cast that sees many major players from the franchise return — including Jason Statham, John Cena, Charlize Theron, and Tyrese Gibson — and introduces new characters portrayed by actors such as Brie Larson. "Fast X" will be followed by a least one more sequel to act as a series finale, which will see the return of Dwayne Johnson, although reports suggest a third chapter to the final story may also be in production.