Dom's Entire Fast & Furious Backstory Explained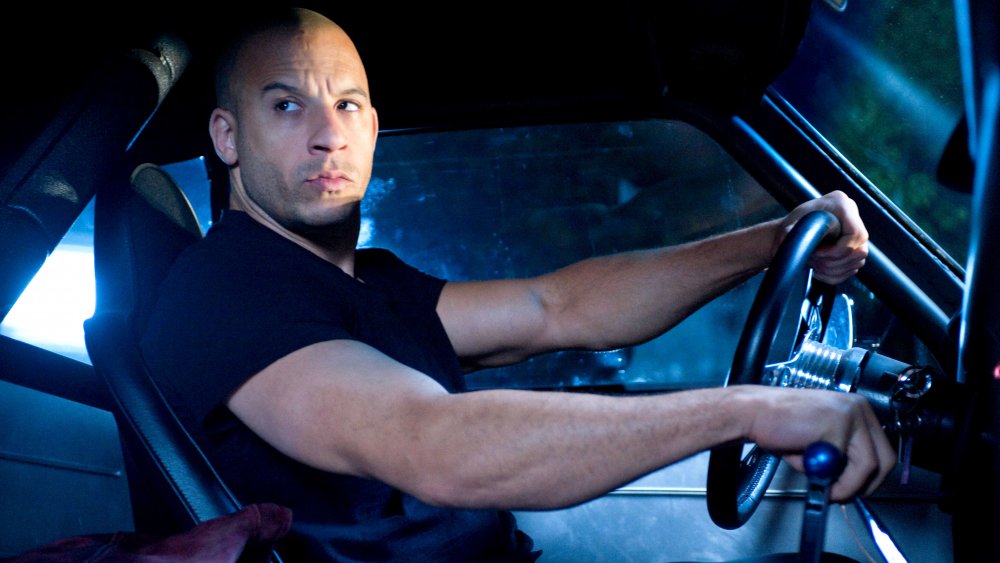 Although F9 was originally intended to arrive in theaters on May 22, 2020, it has since been pushed back to June 25, 2021 due to the global coronavirus pandemic. While this is undoubtedly disappointing news to Fast fans looking forward to the next installment in the adventures of Dominic Toretto (Vin Diesel) and his loyal crew, it's a boon for anyone who needed some more time to brush up on all the twists and turns that have led up to this point, along with those who haven't yet ventured at all into the high-speed world of the Fast and Furious movies. 
Whether you're a longtime Fast fan who needs a refresher on exactly how Dom went from petty heists and living his life a quarter mile at a time to thwarting acts of global nuclear terrorism, or someone who has never watched a Fast film but is curious to learn more about the franchise's central character, we've got you covered. From a childhood spent on the racetrack to the family he found as an adult, here's everything you need to know about Dominic Toretto's Fast and the Furious backstory, explained.
Dom got his love of cars from his dad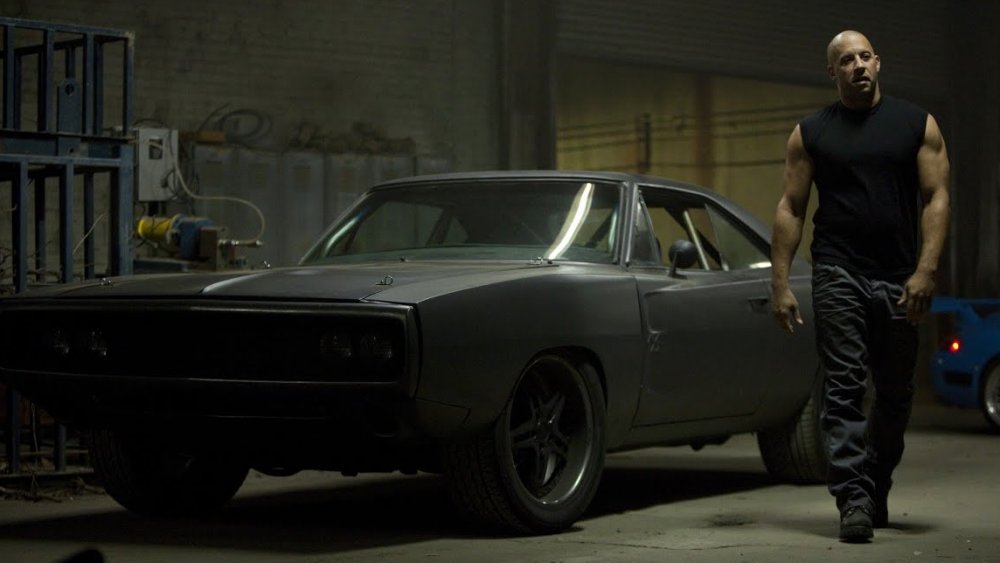 Dominic was one of three Toretto children that we know of, alongside his sister Mia and brother Jacob. He grew up in Los Angeles, where his family owned and operated Toretto's Market & Cafe, while his father also worked as a professional stock car driver. The Toretto family was very involved in their neighborhood, and along with his love of cars, Dom also inherited his religious faith and his devotion to friends and family from his dad. When Dom was young, he helped his father rebuild a 1970 Dodge Charger R/T, which he would continue to drive and cherish well into adulthood.
At some point, Dom's father was killed during a race, after being run off the track by a driver named Kenny Linder. Dom witnessed the accident, which killed his father instantly and traumatized young Dom. A week after his father died, Dom assaulted Linder, beating him with a wrench until he became too exhausted to keep landing blows. The assault ended Linder's racing career and sent Dom to prison for two years. Even after he was released, Dom couldn't follow in his father's footsteps, since the assault led to him receiving a lifetime ban from the racetracks.
Dom and Letty's complicated history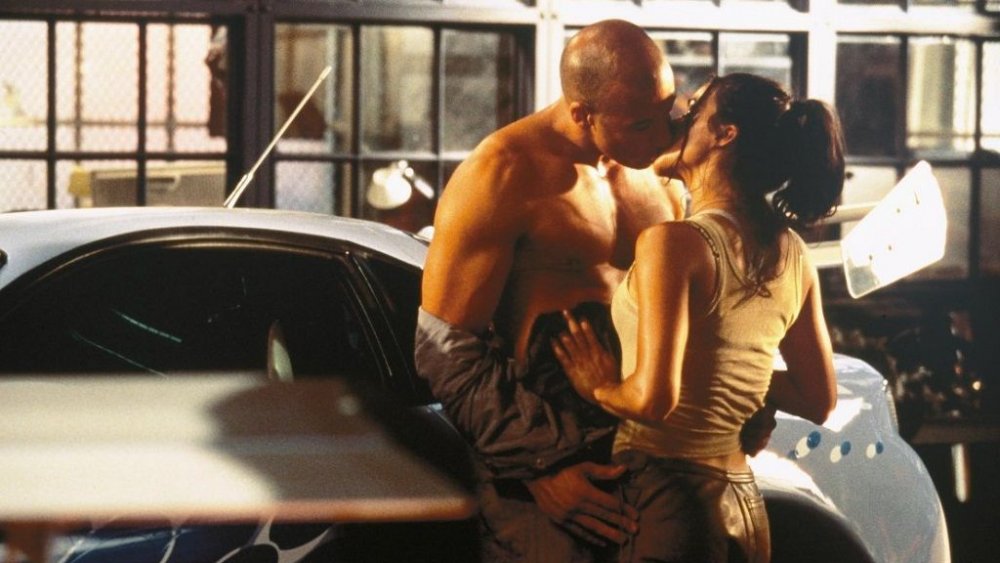 Dom and Letty Ortiz (Michelle Rodriguez) have a long history — they met when they were children, around the time Letty was 10 years old, and formed a friendship around their shared love of cars. As teenagers, they began dating, and remained together until the first Fast and the Furious film. Letty worked with Dom stealing DVD players and other high-end electronics, and also participated in his illegal nighttime street races. However, by the end of that film, Dom and Letty have to split up when the police are made aware of Dom's criminal activities and he's forced to go on the run.
After spending some time apart, the two get back together in the Los Bandoleros short film, which finds Letty tracking him down in the Dominican Republic. The couple immediately rekindles their romance, and ultimately gets secretly married in the Dominican Republic before the events of the fourth movie, Fast and Furious, which sees Dom back to his old criminal tricks, this time stealing millions of dollars worth of fuel. However, shortly after their wedding, Dom winds up leaving Letty in order to protect her, since the police are now after him again. While they're apart, he receives word that Letty has been killed in a car accident.
Dom's criminal history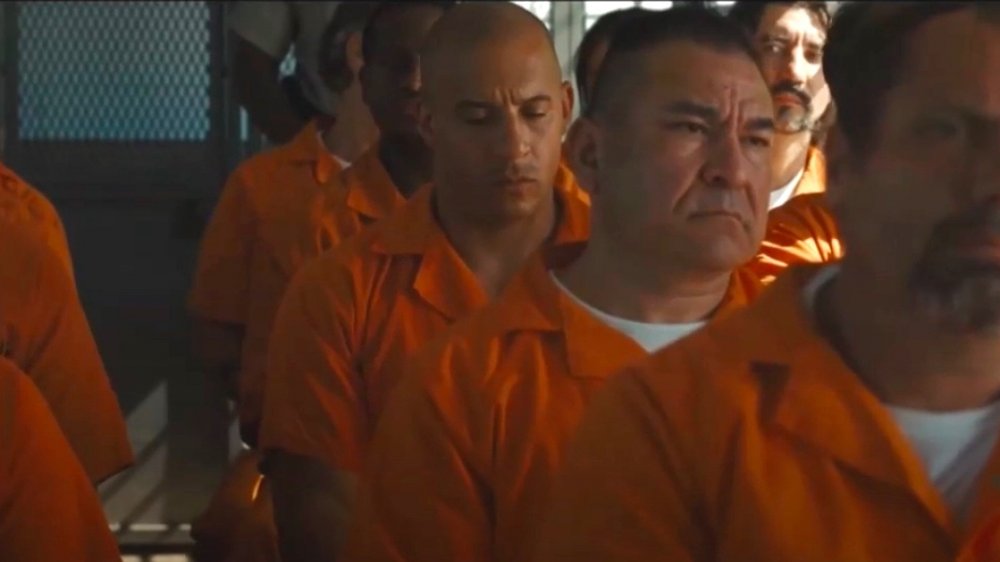 Dom tells police officer Brian O'Conner (Paul Walker) in The Fast and the Furious that he would rather die than return to prison, but that isn't enough to dissuade Dom from engaging in criminal activities. Despite inheriting his family's market and owning his own automotive shop, he can't seem to stay away from street racing and thievery. After the first Fast and the Furious film, Dom graduates from stealing electronics to stealing tankers full of fuel, and in Fast & Furious, he kills the man responsible for Letty's death by ramming him with a car.
Although Brian advocates hard for clemency for Dom after he helps him capture a notorious drug dealer, Dom is ultimately arrested and sentenced to 25 years to life in prison without the possibility of early parole. Before he can serve any of his sentence, though, Brian and Mia, along with two of Dom's friends, chase down the prison bus transporting Dom and break him out. Afterward, Dom flees the country and committs various heists, culminating in the spectacularly dramatic robbery of a drug lord who had attempted to extort him, which causes him to be pursued by Luke Hobbs (Dwayne Johnson). Later, Hobbs enlists Dom's help in apprehending the terrorist Owen Shaw (Luke Evans), and in exchange, Hobbs arranges for Dom's criminal record to be expunged, allowing him to return to the United States.
Dom and Elena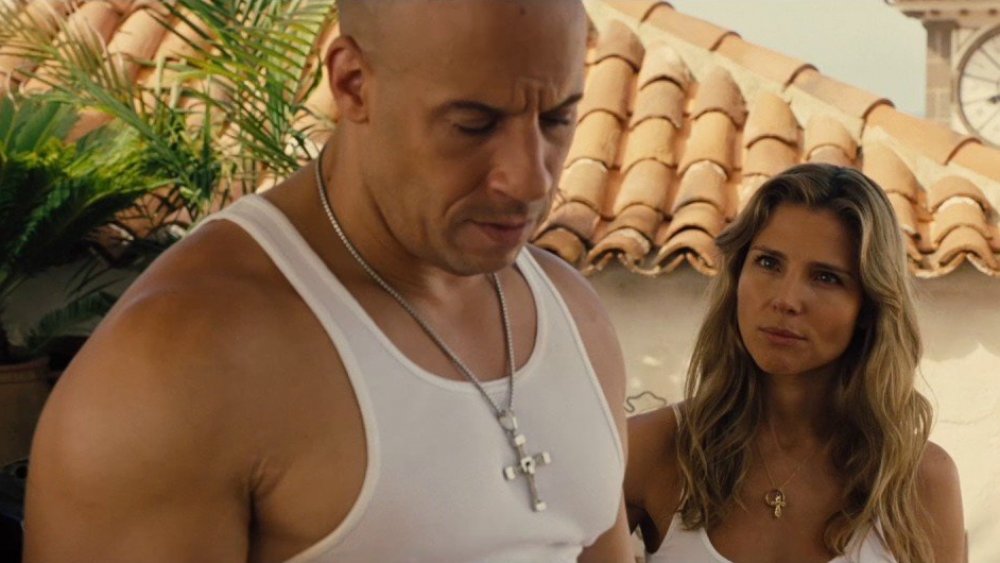 Dom meets police officer Elena Neves (Elsa Pataky) during the events of Fast Five, in which she works alongside Hobbs to oppose Dom and his crew. Early in the film, Dom saves Elena from the drug lord's men. Later, he breaks into her house to steal back his silver cross, which he's had since childhood and symbolizes his relationship with Letty, and Elena seems as though she sympathizes with him. By the end of the film, Elena and Hobbs have joined forces with Dom against their common foe, after Dom saves them on several occasions.
Later, Hobbs decides to give Dom and his crew a 24-hour head start before he begins chasing them, as his thanks for all of Dom's help. However, rather than remain in Rio as a police officer, Elena chooses to follow Dom to Spain, where the two of them begin a romantic relationship. At the beginning of Fast & Furious 6, they're still together, living together on the Canary Islands. However, when Dom discovers that Letty is still alive, Elena graciously bows out of their relationship, allowing Dom to return to Letty with a clear conscience.
Letty returns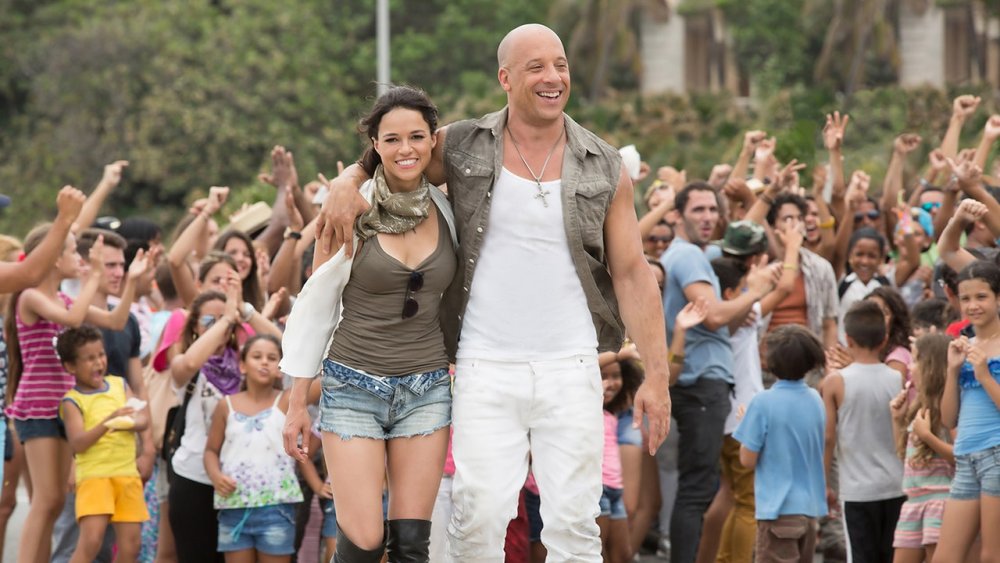 In Fast & Furious 6, Dom learns that Letty is alive but suffering from amnesia when Luke Hobbs enlists his help in bringing the terrorist Owen Shaw to justice. It turns out Letty survived the accident that supposedly killed her, but lost her memory, and when Shaw went to the hospital to kill her, he changed his mind and brought her into his crew instead. Knowing Dom will do anything for Letty, Hobbs asks for his assistance in exchange for a full pardon.
At first, Letty has no memory of Dom and doesn't hesitate to work against him, but when Dom goes out of his way to save her and try to remind her who she is, it sparks a dim flicker of recognition. She eventually decides to follow her gut and switches sides to help Dom, even though she still doesn't remember him. She stays with Dom at the end of Fast & Furious 6, and continues working with Dom and his crew throughout Furious 7. Eventually, Letty gets her memories back after hitting her head during Furious 7, at which point she remembers her wedding to Dom. Dom and Letty finally take their long-overdue honeymoon at the beginning of Fate of the Furious, although like most things in Dom and Letty's relationship, it doesn't exactly go according to plan.
Dom and Brian's contentious beginnings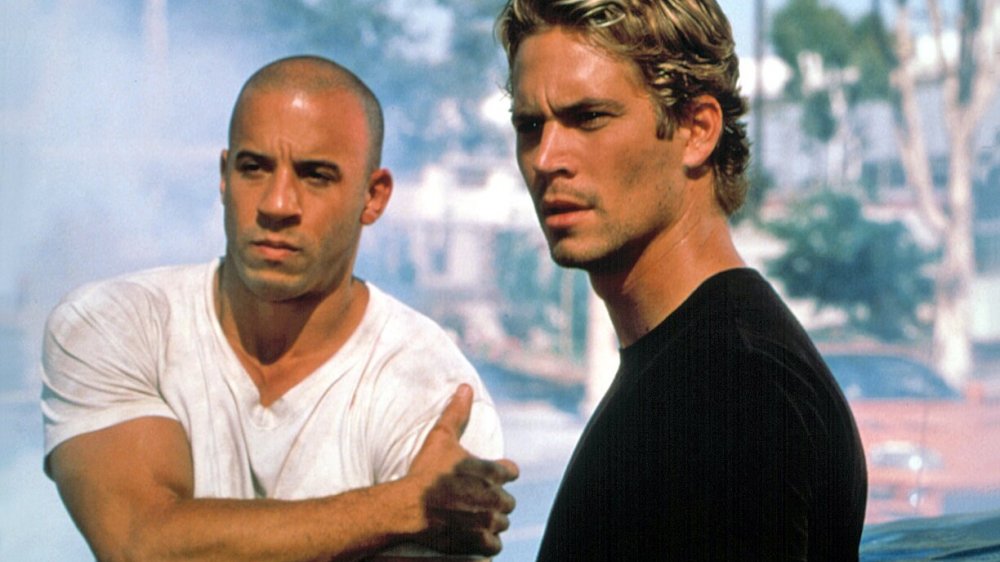 It's hard to recall a time when Dom and Brian O'Conner were not ride-or-die companions, but in the first Fast and the Furious film, they're on opposite sides of the law. Dom and Brian first cross paths when Brian, an L.A. police officer, is assigned to go undercover to investigate a group that's stealing electronics out of 18-wheelers. At first, Dom is wary of Brian, but eventually he warms up to him after Brian helps him evade the police. Meanwhile, Brian is still maintaining a carefully crafted persona, engineered to gain Dom's trust so he can arrest him.
However, Brian genuinely likes Dom, as well as his sister Mia, and finds himself increasingly conflicted the deeper he gets into his investigation. Eventually, Brian blows his own cover in order to get medical help for a member of Dom's crew who's seriously injured. Betrayed, Dom tries to evade the police, but in the process, wrecks his car and resigns himself to being arrested. Brian realizes then that he can't bring himself to arrest Dom, and instead gives him the keys to his own car, allowing Dom to escape. At first, Dom and Brian don't keep in touch, and Brian remains a police officer, but by the end of the fourth film, Brian fully cuts ties with the law in order to break Dom out of prison, showing once and for all that he considers Dom family.
Dom and Brian become brothers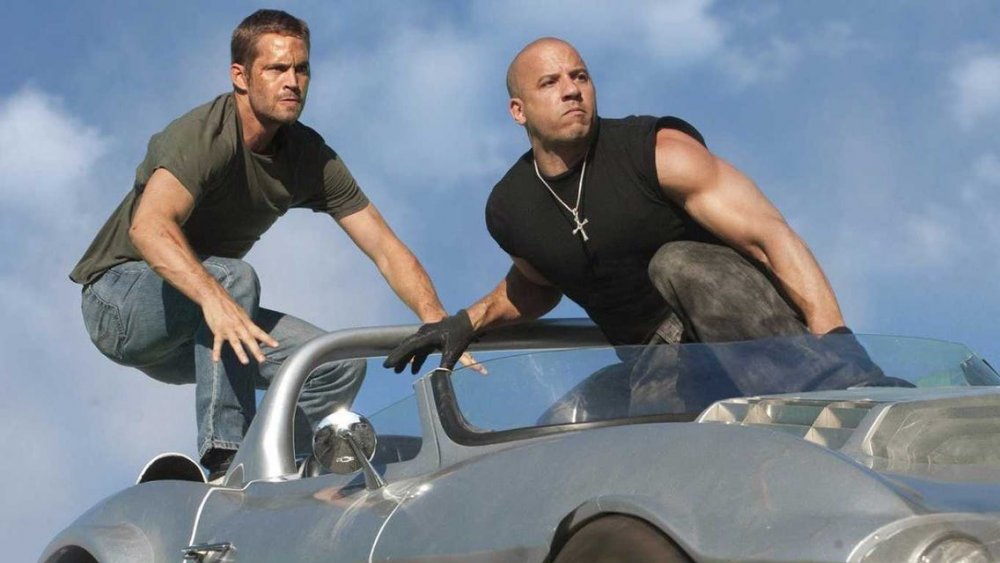 After breaking Dom out of prison, Brian can't go back to being a police officer or FBI agent, and instead joins Dom and Mia in their criminal activities. He functions as Dom's right-hand man during several heists, and the two grow ever closer the longer they work together. Simultaneously, Brian's relationship with Mia deepens, and she eventually becomes pregnant by the end of Fast Five. Dom is thrilled to become an uncle to baby Jack, and comes to think of Brian as his brother.
During the filming of Furious 7, Paul Walker was tragically killed in a car accident. Initially, Vin Diesel and the rest of the Fast crew considered simply shutting down production, since many of them were close to Walker, especially Diesel. But instead, they decided that the best way to honor Walker was to give Brian the happy ending he deserved. The ending of Furious 7 was rewritten to give Brian O'Conner a peaceful exit from the franchise, allowing him to retire from his life of crime to go raise his children — including a second baby, this time a girl — with Mia. Although Brian is alive and well in the movies, and presumably still in close contact with Dom, he's often talked about as someone who is deeply and profoundly missed, subtly breaking the fourth wall so the films can acknowledge the painful loss of Walker while still allowing Brian to live on.
Dom's crew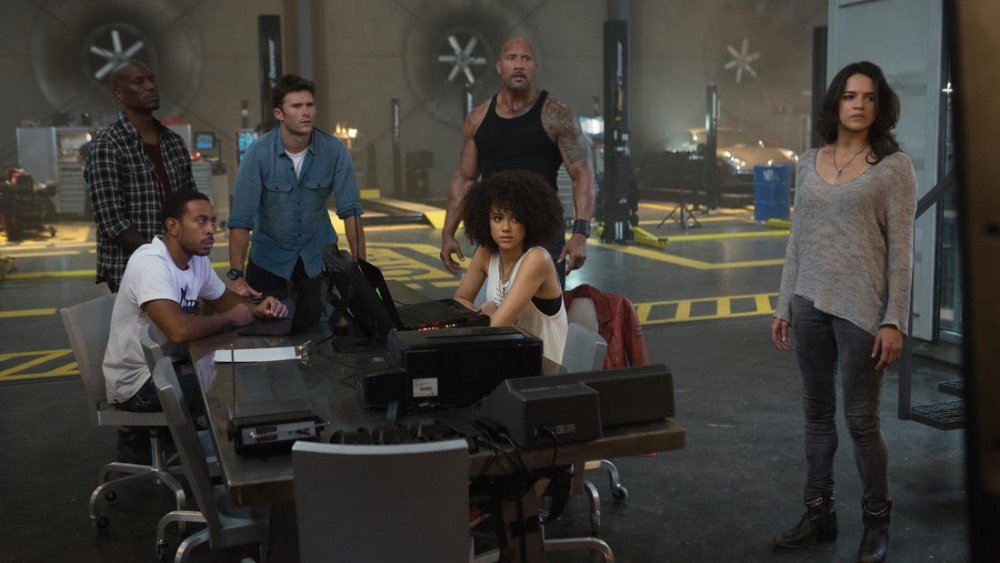 While no one in the Fast films has been as close to Dom as Brian or Letty, he's always surrounded himself with close friends that he refers to as his "family." Family is a hugely significant theme in the Fast and the Furious movies, secondary only — perhaps — to mind-blowing stunts and cars driving very, very fast. While the cast of secondary characters Dom has surrounded himself with fluctuates for the first few films, he now has a core group of associates he relies on for pretty much every mission he goes on, each with their own particular skill set.
Roman Pearce (Tyrese Gibson) was actually Brian's friend first, and was roped into his first Fast escapade by the erstwhile police officer during the events of 2 Fast 2 Furious. But Brian later enlisted him to help with a heist in Fast Five, touting his ability to talk himself out of any situation, and he's been an integral part of Dom's crew ever since. Acting as a counterpart to Roman is Tej Parker (Ludacris), a skilled hacker and engineer who also made his first appearance in the second film, but joined in the fifth. The most recent addition to the crew is Ramsey (Nathalie Emmanuel), a hacker and innovator who joined the crew in Furious 7.
Luke Hobbs has also been a regular member of Dom's crew since Fast Five, but they've since gone their separate ways, mostly so Hobbs can spin off into his own franchise. Dom's crew also occasionally includes his friends Leo (Tego Calderon) and Santos (Don Omar), although they don't ever play a major role in the heists, and don't appear to be as close to Dom as the others.
Fallen crew members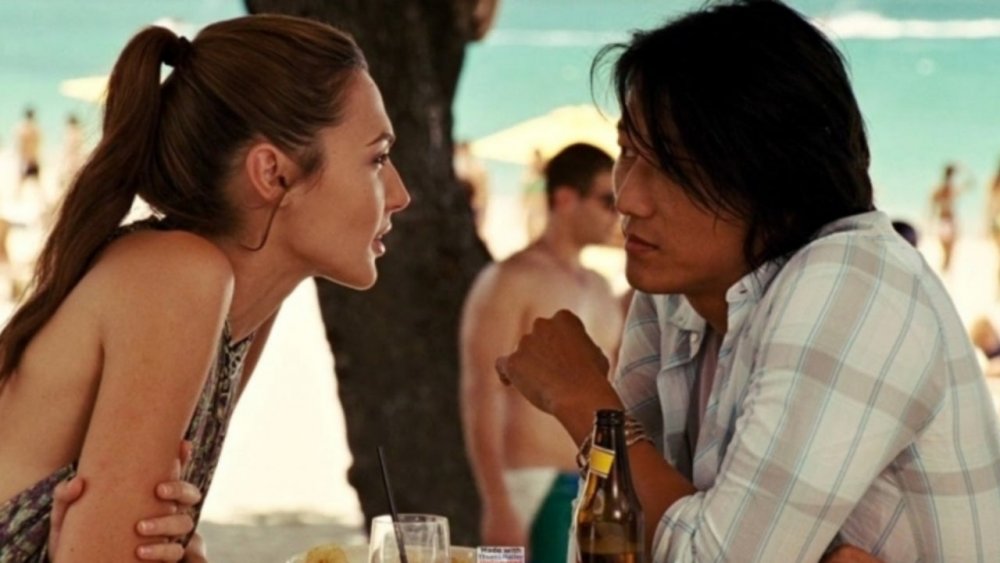 Being a part of Dominic Toretto's "family" is not without risks, and several of Dom's associates have wound up losing their lives as a result of their association with him. The first to fall was Jesse (Chad Lindberg), who worked in Dom's auto shop in The Fast and the Furious and was killed in a drive-by shooting after landing on the wrong side of a local organized crime leader. Next to go was Vince (Matt Schulze), Dom's childhood friend who was part of Dom's crew in the first film, then dropped off the grid for a while before returning in the fifth film. Vince resented Brian for his influence in Dom's life, but cared about Dom enough to name his son after him. Unfortunately, Vince was killed during an effort to save Luke Hobbs.
Then there are the losses that had an even larger impact on Dom and the rest of his crew. Gisele Yashar (Gal Gadot) initially worked for an opponent of Dom's in the fourth film, but wound up switching sides when Dom showed that he valued her life more than her employer. And Han Seoul-Oh (Sung Kang) met Dom in Mexico between the first and fourth films, and worked closely with him ever since. Han and Gisele got together in Fast Five, and she sacrificed herself to save Han in Fast & Furious 6. Grieving, Han moved to Tokyo, where he was run off the road and supposedly killed by Owen's brother Deckard Shaw (Jason Statham) in The Fast and the Furious: Tokyo Drift. The loss of Han motivated Dom through the events of Furious 7, but as the trailers for F9 have revealed, Han is actually still alive — somehow.
From DVD players to saving the world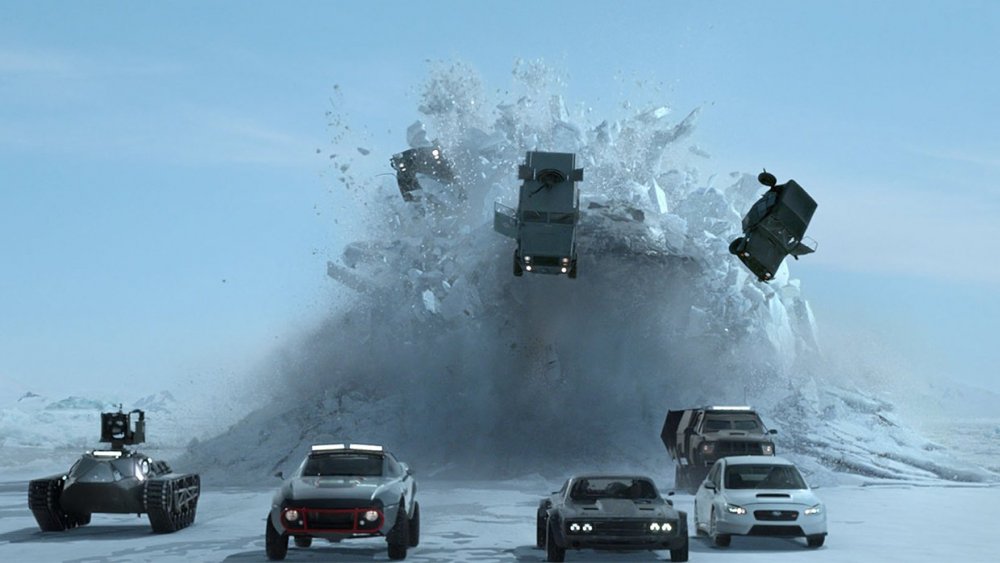 It's easy to wonder how a franchise that started out with small-scale electronics heists has somehow graduated to nuclear terrorism and — in the case of Fast and Furious spinoff Hobbs and Shaw — literal superheroes, and the truth is that the shift wasn't all that gradual. In the first Fast film, Dom and his crew are stealing DVD players and running an illegal street racing ring, which all seem like pretty run-of-the-mill, everyday sorts of crimes. 2 Fast 2 Furious and Tokyo Drift both follow characters other than Dom, but by the fourth film, although Dom's targets have gotten bigger, he's still largely pulling the same sorts of heists. A fuel tanker is much bigger than a DVD player, for sure, but it's still executed in much the same way as his earlier schemes.
However, in Fast Five, the whole franchise pivots in the extreme when Dom and his crew go from stealing cars (off a train, sure, but still in line with their earlier plans) to planning an elaborate high-speed heist to steal an entire bank vault. In-canon, this is motivated mostly by revenge; practically, it was an effective way of rejuvenating the franchise by adding more ridiculous action and high-energy fun. From there, it's a more or less straightforward — if not entirely logical — trajectory, with Dom's team morphing from petty thieves into an elite mercenary squad that keeps getting hired to take down increasingly more ambitious and diabolical baddies. Does it make real-world sense? No, but in the Fast and the Furious universe, it somehow works.
Dom becomes a father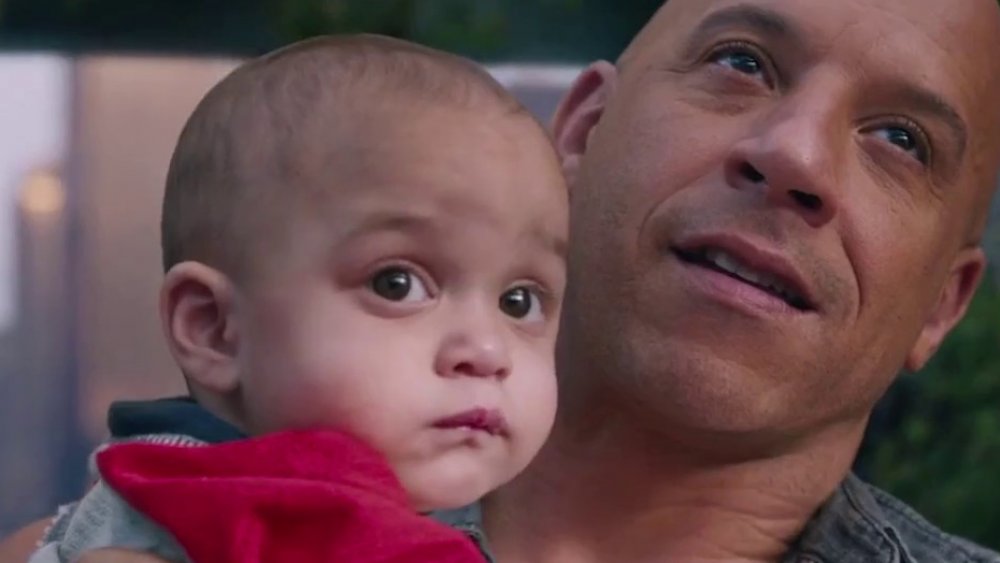 One of the biggest curveballs the Fast franchise has thrown at Dominic Toretto to date is when he's ambushed on his honeymoon at the beginning of The Fate of the Furious by a terrorist named Cipher (Charlize Theron), who forces him to assist her in her plan to start a nuclear war, pitting him against his own crew. It's hard to imagine anything that would cause Dom to betray his family — including Letty, who had only recently remembered that they were married — but Cipher found the one thing that Dom would cherish even more than his chosen family — his infant son.
It turns out that when Dom found out Letty was alive and Elena stepped away from their relationship, she was actually pregnant. She wound up giving birth to a son offscreen, and the two were subsequently kidnapped by Cipher to use as leverage over Dom. Elena hadn't given her son a first name yet, referring to him only by his middle name, Marcos, so Dom could choose his first name. Cipher winds up executing Elena as punishment when Dom allows Letty to escape, but he ultimately manages to save his son, whom he commits to raising with Letty. At the end of The Fate of the Furious, Dom introduces his son to his crew by his new name — Brian. 
Dom's enemies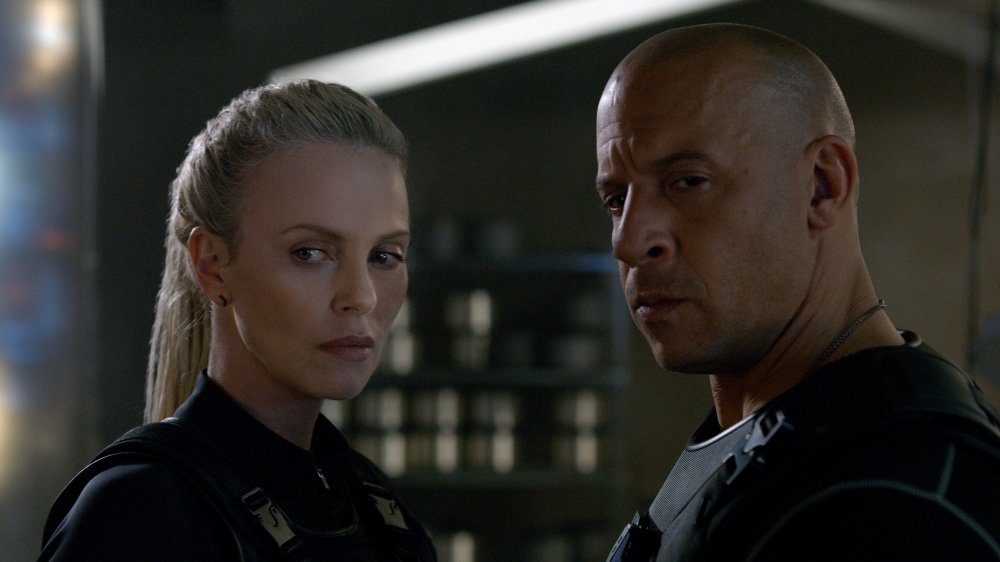 Dom has faced a number of opponents throughout his Fast and Furious adventures, ranging from small-scale crooks to full-on supervillains. In the first film, Johnny Tran (Rick Yune) runs a rival street racing gang in L.A., which seems almost cute compared to the antagonists Dom has gone up against since. Fast & Furious brings the drug lord Arturo Braga (John Ortiz), who arranges for the death of Letty and works with the Shaw brothers, but is supposedly still in prison going into F9. Hernan Reyes (Joaquim de Almeida) is the drug lord Dom's crew robbed at the end of Fast Five, killed at the end of that film by Luke Hobbs.
The sixth film sees Dom facing off against Owen Shaw, and then in the seventh film, he goes head to head with Owen's brother Deckard. However, despite both Shaw brothers attempting to execute some pretty nasty, world-threatening schemes — and Deckard going so far as to kill (as far as Dom knows) a member of Dom's crew — they're now on more or less amicable terms with Dom, after they both helped rescue his son from Cipher in The Fate of the Furious. Cipher, on the other hand, remains not only free, but still intent on causing a nuclear war, and — if the trailers for F9 are any indication — determined to kill Dom in the process.