Brie Larson's Transformation From Sitcom Star To Captain Marvel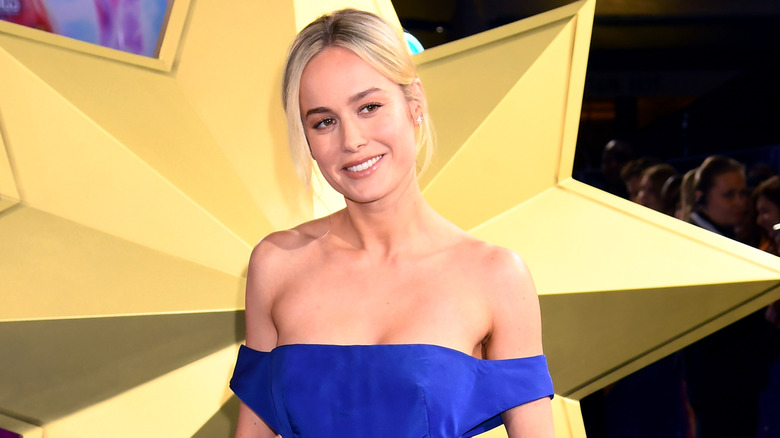 Dave J Hogan/Getty Images
It's been quite a few years since Brie Larson's last starring role. However, 2023 will prove to be a fruitful year for the actress, with several projects set to debut. The most notable of them all is "The Marvels," her triumphant return to playing the role of Captain Marvel after the 2019 film, which she followed up with cameo appearances in "Avengers: Endgame," "Shang-Chi and the Legend of the Ten Rings," and the Disney+ series "Ms. Marvel." 
However, Larson wasn't always one of the strongest beings in the Marvel Cinematic Universe. Not too long ago, she was a child actor struggling to make it big in Hollywood. A few iconic films and critically-acclaimed performances later, Brie Larson became one of the biggest actresses of the 2010s. Her mainstream breakthrough, "Room," not only netted her an Academy Award, but it put her on the map enough to catch the attention of Marvel Studios.
Alongside her return to the MCU with "The Marvels," 2023 will also see Larson join the iconic "Fast and Furious" franchise in their latest installment, "Fast X." Additionally, the actress is set to star in an Apple TV+ series "Lessons in Chemistry" as a brilliant chemist-turned-TV chef, which will be her first regular series role since 2011. Though the journey to unstoppable movie star is rarely easy, Brie Larson has faced numerous challenges to becoming a force to be reckoned with in Hollywood, though, like her Marvel character, she has always persevered.
Brie Larson's acting debut is all thanks to Jay Leno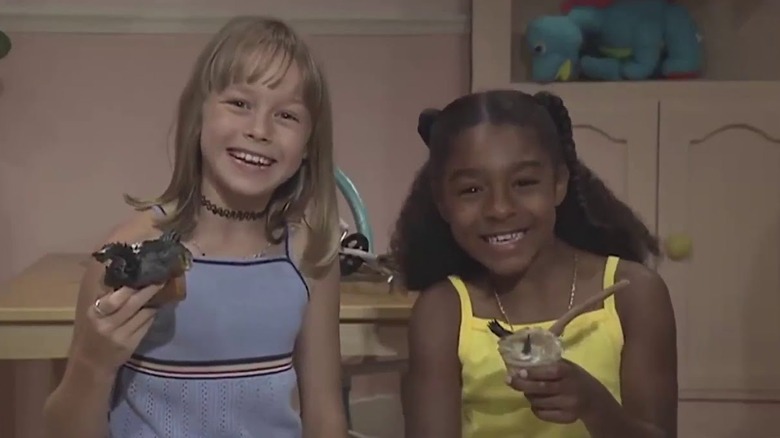 NBC
Brie Larson, born Brianne Desaulniers, expressed an interest in acting at age six, later moving to Los Angeles with her mom after her parents got divorced. Within a year, she became the youngest actor to enroll in the legendary American Conservatory Theater in San Francisco, where actors like Denzel Washington and Winona Ryder cut their teeth. Larson attributes this early ambition to her mother, claiming that her maternal grandparents "wouldn't allow her to have that kind of life," as she told Elle Magazine. 
After adopting the last name "Larson" from her great-grandmother in an effort to appeal to casting directors, Brie began to regularly book roles. The first of those was for a commercial parody on "The Tonight Show with Jay Leno" in 1996, promoting "Malibu Mudslide Barbie." Thankfully, Larson was charming enough as a child actor to be invited back for over a dozen more parodies like the "Road Kill Easy Bake Oven," later telling Jimmy Fallon in 2017 that the experience was "where I learned that I had comedic timing." 
That comedic timing would later come in handy for Larson as she began to book more roles on TV, becoming a series regular on "Raising Dad," where she played the daughter of Bob Saget's character during the show's single-season run in 2001.
She achieves minor success as a teenage pop rock star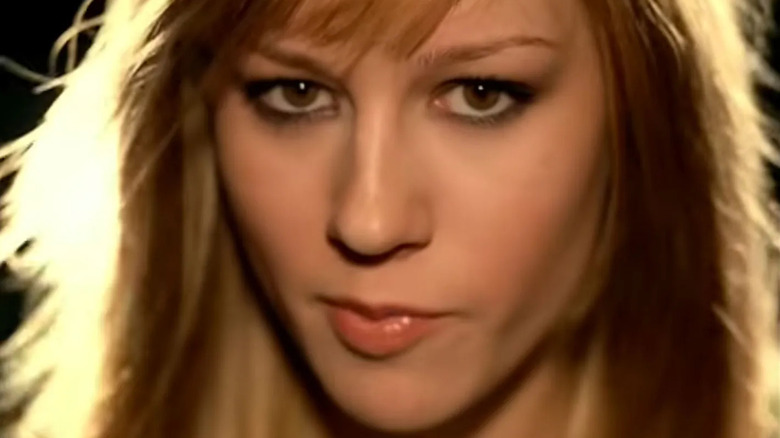 YouTube
While Brie Larson was still far from becoming an Oscar-winning movie star, her time in the spotlight would come sooner than she thought. As her child acting career slowly continued, Larson eventually recorded an invisible song, "Invisible Girl," and uploaded it to her website, where a local Los Angeles radio station picked it up. At age 15, Larson was offered a record deal by Casablanca Records, giving her the same shot at stardom as teens of the time like Taylor Swift or Miley Cyrus.
Larson's record label had her quickly record her debut album, "Finally Out of P.E.," which after several delays was finally released in fall 2005. The album's lead single, "She Said," was a minor hit on the Billboard charts. The album's thirteenth and final track, "Hope Has Wings," was featured in "Barbie and the Magic of Pegasus," which Larson promoted by performing on the "Barbie" float during the 2005 Macy's Thanksgiving Day Parade. 
Although Larson clearly had the potential to reach an audience of angsty mid-2000s teens, the pop star life wasn't meant to be. In hindsight, everything seems to have worked out for the best, with Larson claiming in an interview with Buzzfeed News in 2015 that she was "so insecure and so hard on myself back then," though her musical side wouldn't get sidelined for long. 
Larson books more roles, but misses out on the big ones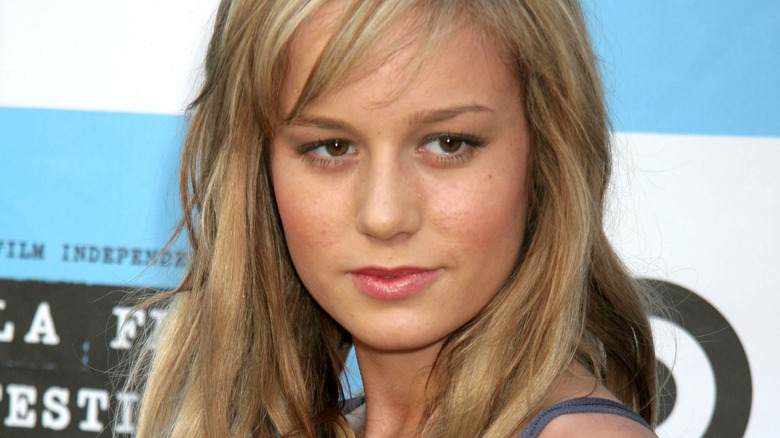 s_bukley/Shutterstock
Even though the Avril Lavigne treatment wasn't right for Brie Larson, she still had her burgeoning acting career. In 2006, shortly after her album's minor success, Larson starred in "Hoot," a film about a family's efforts to protect an owl habitat from environmental destruction, co-starring Luke Wilson, Logan Lerman, and even Jimmy Buffett. The film wasn't well-received by critics, although Larson's performance was commended by some for how well she fit into the role. 
Larson also played a minor role in "Remember the Daze" starring Amber Heard and Lyndsey Fonseca, which debuted at the Los Angeles Film Festival in 2007 but was subject to criticism as well. At this point in her career, Larson was struggling to find a memorable enough role to launch her to the next level. It was even more of a sting when she didn't land parts in movies that went on to become great successes, losing out on both Elliot Page and Olivia Thirlby's roles in the critically-acclaimed 2007 film "Juno." 
As she told Vulture in 2014, she took these losses hard, claiming, "I came close enough on many roles to get both encouraged and completely devastated." Although she continued to try out other professions, such as a brief stint as a DJ, she was always drawn back to acting.
United States of Tara offers a role that defines Brie's youth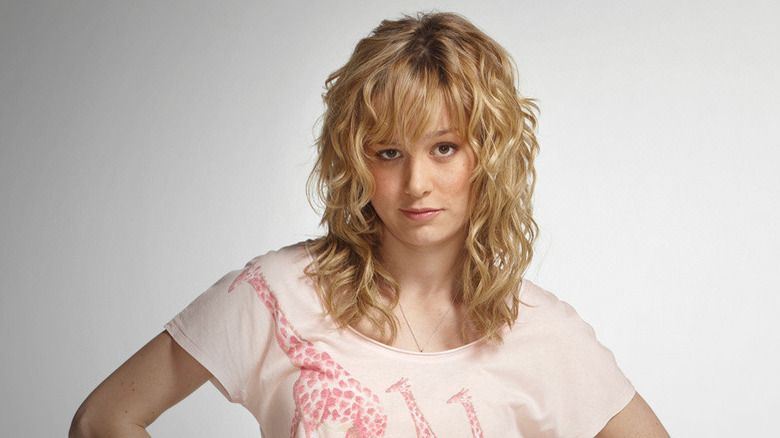 Showtime
There was a lot riding on "United States of Tara," a 2009 Showtime series set to star Toni Collette as a woman with dissociative identity disorder. Brie auditioned to play Collette's character's daughter Kate in the pilot, allowing her to potentially act alongside her greatest acting hero, but unfortunately, she didn't land the part. That is, until the show was picked up and Kate was recast, giving Brie another shot at the part, which she eventually locked down. 
Ironically, this finally paired Brie with the show's creator, Diablo Cody, who had penned "Juno." Being a series regular on a Showtime series for three seasons gave Larson a lot of opportunities, such as the 2009 comedy film "Tanner Hall" and even a role in "Our Town" for the Williamstown Theatre Festival. Amongst all these other projects, however, Larson felt closest to Kate from "United States of Tara," who is rebellious and selfish towards her struggling mother.
Although critics had lots of praise for the show, particularly for the performances of both Collette and Larson, it was canceled by Showtime after its third season in 2011. In an interview with Buzzfeed, Larson lamented the show's cancellation and regrets not spending more time on her character's bedroom set during their final day of shooting, saying, "I didn't say my final good-byes to those walls."
Scott Pilgrim vs. the World makes Brie the envy of all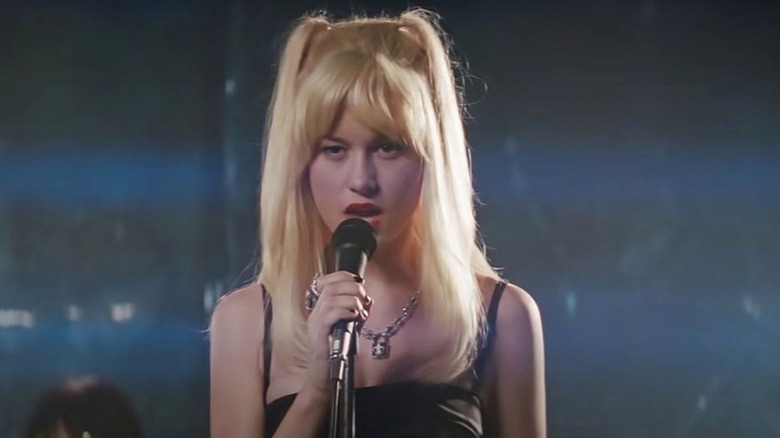 Universal Pictures
After "United States of Tara," Brie Larson's jobs started to get more high-profile. In 2010, she co-starred in Noah Baumbach's "Greenberg" alongside Ben Stiller and Greta Gerwig, which helped raise her profile among independent film fans. However, she made quite an impression on mainstream audiences when she was cast in Edgar Wright's 2010 film "Scott Pilgrim vs. the World," adapted from the graphic novel series. 
If Larson had struggled to grab the attention of casting directors before, that changed with her "Scott Pilgrim" audition. According to Edgar Wright in an interview with Entertainment Weekly, "Brie — who was 19 at the time, maybe she was even 18 when she auditioned — blew everybody else away." That's certainly the energy Wright wanted from the character of Envy Adams, the ex-girlfriend of Michael Cera's Scott Pilgrim and lead singer of the successful rock band The Clash at Demonhead, making good use of Larson's experience as a musician.
Even though "Scott Pilgrim vs. the World" didn't perform well at the box office, its cult following has kept her portrayal of Envy Adams alive, with Vulture heralding The Clash at Demonhead as one of the best fake rock bands in cinematic history. Fortunately, Larson will be returning to the role with the rest of the film's cast for a Netflix animated series, proving that Larson's performance is as irreplaceable as it gets. 
Brie's independent drama roles make an impact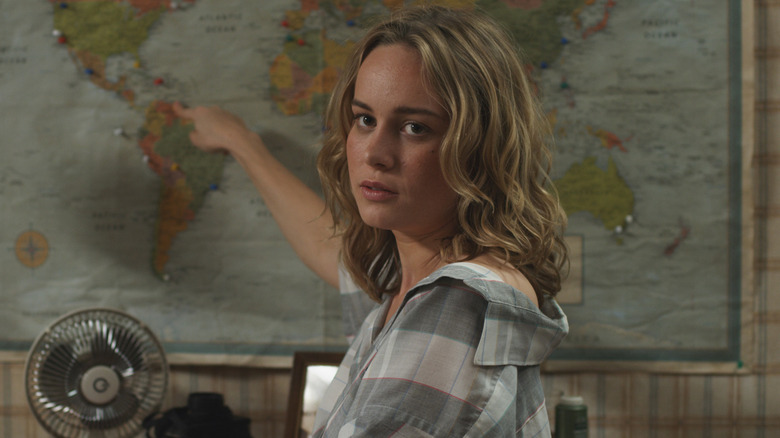 7A Productions
Even though Brie Larson could've easily chased the Envy Adams fame, her career naturally gravitated towards independent films. Following "Scott Pilgrim vs. the World," Larson starred in the drama film "Rampart" opposite Woody Harrelson. This time around, the connection she felt to her character, like the one she had with Kate from "United States of Tara," didn't showcase Larson's best habits as an actor. As she told The Los Angeles Times, the consequence of playing the emotionally intense role meant it "took three times as long to get out of that depression as it did to just do the scenes."
It wasn't long before Brie Larson became an indie darling, even with films like an adaptation of Douglas Light's book "The Trouble with Bliss," which critics felt was a step down from the source material. Around this time, Larson also dipped her toe into responsibilities behind the camera. In 2012, she co-wrote and co-directed the short film "The Arm" with Jessie Ennis and Sarah Ramos, which was awarded the Special Jury Prize at Sundance that year. It was becoming clear to the industry as a whole that Larson was someone to keep their eye on. 
Short Term 12 proves she can be a standout amongst a stellar cast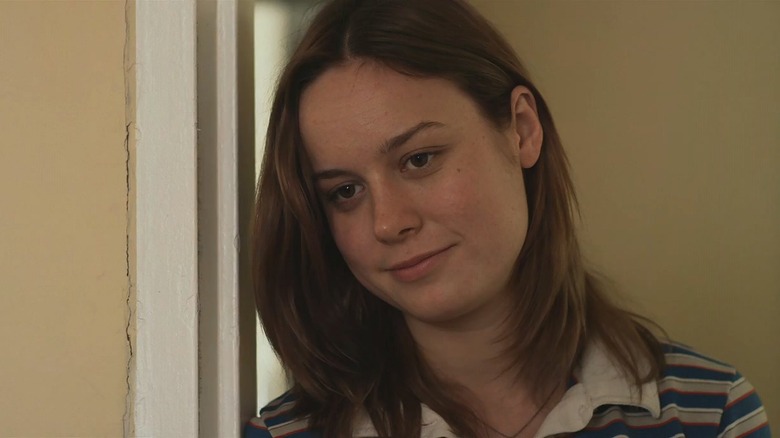 Cinedigm
The comedic timing Brie Larson perfected on "The Tonight Show with Jay Leno" didn't go to waste during these indie darling years, either. Larson played a prominent role in the 2012 studio comedy "21 Jump Street," based on the late 1980s TV show of the same name. This time around, Larson's talent didn't go unnoticed, with one reviewer for Slate calling her "a find of major proportions as Schmidt's goofy love interest." She also guest-starred in several episodes of Seasons 4 and 5 of NBC's "Community" as Rachel, a romantic interest for Danny Pudi's TV-obsessed Abed.
However, Brie's breakout role came as a result of her dramatic prowess, with Destin Daniel Cretton's "Short Term 12" in 2013. After an audition over Skype, Larson was cast as Grace, the supervisor for a home of troubled teenagers who is also dealing with her own unresolved trauma. The film contains many soon-to-be stars of the late 2010s, including Rami Malek, Kaitlyn Dever, and Lakeith Stanfield, but it speaks to Larson's powerful performance that she's the standout of the film.
"Short Term 12" quickly became Larson's most notable performance, even winning her an Independent Spirit Award in 2014. A reviewer for The Telegraph correctly predicted Larson's eventual success, writing of her in "Short Term 12" that she "gives a performance (sweet, sad and strong) that marks her out for a stellar career." However, not even they could've anticipated what would come next for Larson. 
Brie's comedic skills are tested with her 2015 performances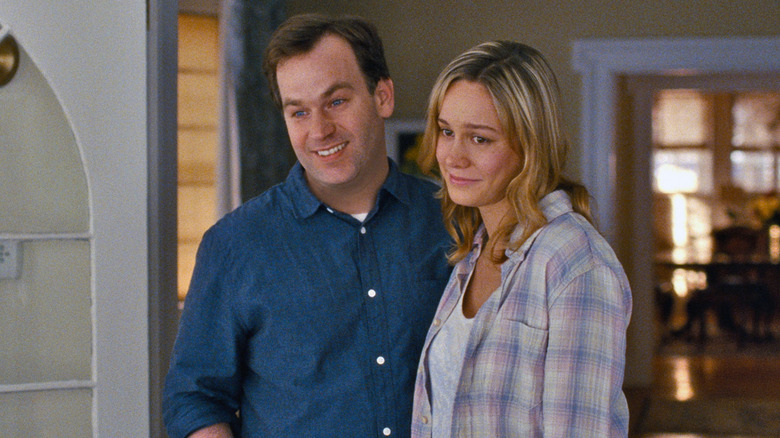 Universal Pictures
2015 became a turning point for Brie Larson's career in Hollywood, as she became an even more recognizable star. In the years leading up to 2015, her profile began to grow with minor appearances in films like "Don Jon," "The Spectacular Now," and "The Gambler," all of which continued to earn her acclaim as an up-and-coming star. Still, Larson was eager to showcase the comedic timing she had been so proud of learning years ago as a child actor.
One of these efforts was "Digging for Fire," a comedy starring Jake Johnson and Rosemarie DeWitt as a couple who find evidence of a dead body in their backyard and rope in their close friends to investigate. The film notably lacked a script: It was shot over 15 days based on a two-page outline written by Johnson and director Joe Swanberg, with actors encouraged to improvise dialogue and come up with their characters' backstories. Larson's role as Max was originally intended to have romantic chemistry with Johnson's, but Larson's own contributions to the story nixed that. 
Also in 2015, Larson starred in Amy Schumer's "Trainwreck," as the lead actress' sister. While Schumer's character struggles with commitment in relationships, Larson plays devil's advocate as a happily married woman. In fact, her husband in the film is played by comedian Mike Birbiglia, who also starred alongside Larson in "Digging for Fire," keeping her in the company of good comedy. 
Room transforms Brie from indie darling to Oscar winner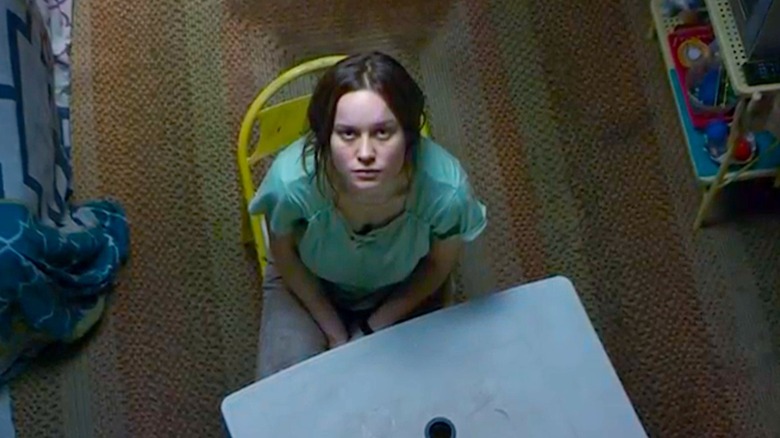 A24
While "Digging for Fire" was liked by critics and "Trainwreck" was a box office success, Brie Larson's other film in 2015 earned the actress her best reviews yet. That film was "Room," directed by Lenny Abrahamson and based on Emma Donoghue's 2010 book. In the film, Larson stars as Joy, a young woman who is held captive for seven years, bearing her captor a son during that time, played by Jacob Tremblay. 
Like many of her previous roles, Larson committed fully to getting into the mind of this incredibly traumatic role. With the help of a nutritionist, Larson adopted a strict diet to portray Joy and isolated herself in her own apartment, telling Vancouver City News that during production, "It took a lot to recoup at the end of the day." Even though this proved to be an exhausting endeavor for the actress, it paid off in dividends, with critics raving about her and Tremblay's harrowing performances.
The film was an awards darling in the 2015-2016 season, with Larson winning the Academy Award for Best Actress at only 26 years old. In her acceptance speech, she took the moment to thank audiences for their acceptance of her, stressing the importance of movie fans in the film industry. For someone at the pinnacle of fully-fledged movie stardom, Larson expressed a warm humility in this speech.
Kong: Skull Island brings the blockbuster movie star out of Larson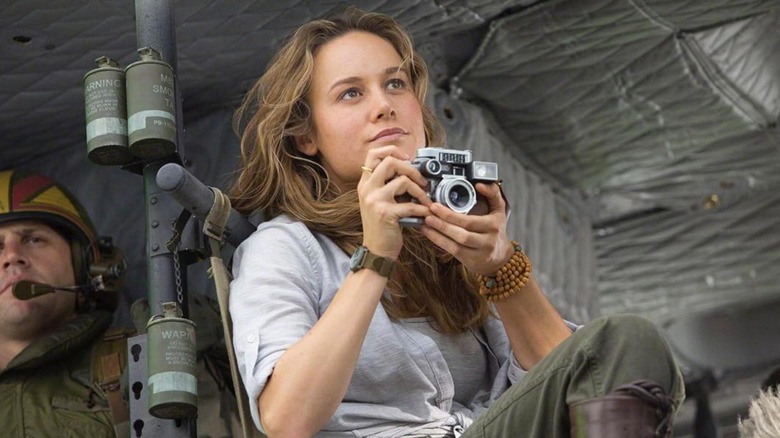 Warner Bros. Pictures
"Room" made Brie Larson a household name seemingly overnight, as she also secured a Golden Globe and BAFTA win for her performance in the movie. Nevertheless, she was hesitant to accept a similar role or be pigeonholed by playing a traumatized mother, instead opting to embrace her newfound status as an international movie star. In 2016, she hosted "Saturday Night Live," once again proving that even as an acclaimed dramatic actress, she possessed unparalleled comedic talent.
Larson continued to embrace her potential as a movie star, following up "Room" with the 2017 film "Kong: Skull Island." In it, she plays Mason Weaver, an investigative photojournalist who joins the expedition to find the legendary King Kong in an attempt to expose the cruelty of humans towards nature. Unlike previous "King Kong" films, Larson's character isn't defined as the beautiful damsel-in-distress who gets kidnapped by the giant ape, expressing to Vanity Fair, "I thought it was fun that I didn't have to be this pristine creature." 
Some critics considered this a step down for the actress, despite Larson's enthusiasm for the film. An article for The Washington Post about actresses' struggles with aging out of roles writes about Larson, "One year you're winning an Oscar for ... an emotionally demanding drama; the next, you're ... gasping your way through a great big monkey movie." But Larson would prove them wrong by showing that she could be a strong blockbuster lead. 
Brie Larson shakes up the Marvel universe as Captain Marvel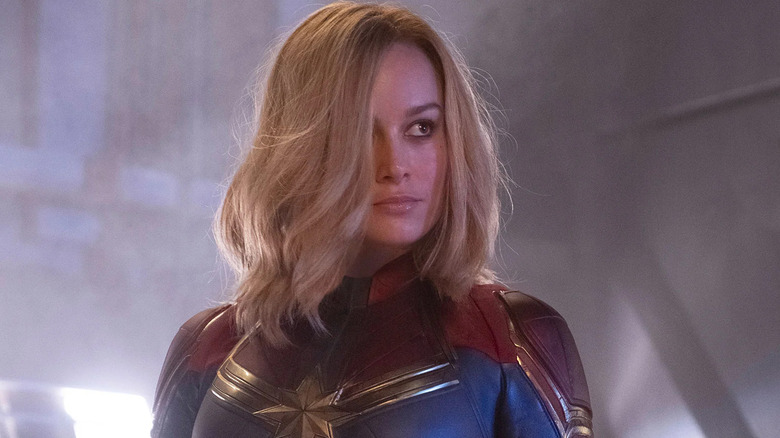 Marvel Studios
Shortly after Brie Larson skyrocketed into success following "Room," she was introduced at San Diego Comic-Con in 2016 as the latest addition to the Marvel Cinematic Universe. Larson was set to star as Carol Danvers, the very first female superhero to lead her own solo film in the MCU with 2019's "Captain Marvel." Despite Larson's eagerness to chase success, the role was not without its responsibilities: She said in an InStyle interview that she was attracted to the role due to Danvers' strength, explaining, "She's not ever shrinking herself down." 
The film was also quite different from Marvel's typical style at the time. Coming off the heels of 2018's superhero tragedy "Avengers: Infinity War," "Captain Marvel" turned back the clock to the mid-1990s, when Carol Danvers becomes the first superhero contact of Samuel L. Jackson's Nick Fury, and eventually a hero for the refugee shapeshifters known as Skrulls. The role required Brie Larson to adopt a superhero physique in real-life, involving a nine-month physical training regimen. 
Thankfully, Larson's effort paid off, with critics praising the film for its originality amongst growing superhero fatigue in the Marvel universe. According to one review for The New Yorker, that's all thanks to the film's heroine, stating, "Praise be to Larson, for reminding us that [superhero films] can be bringers of fun." Although the actress also faced sexist criticism from some comic book fans, the praise for her role was probably enough to tune it out. 
Brie embraces her quirky side in her directorial debut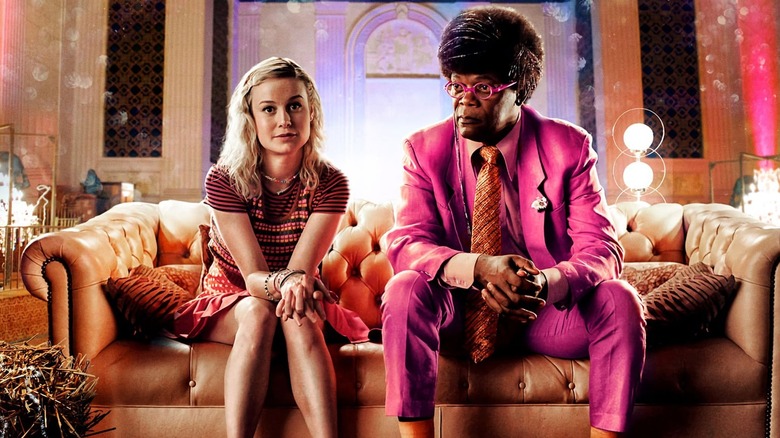 Netflix
"Captain Marvel" marked the third on-screen collaboration between Brie Larson and Samuel L. Jackson, as the two had previously starred together in 2017's "Kong: Skull Island." However, long before "Captain Marvel" was even shot, Larson recruited Jackson for her directorial debut, "Unicorn Store," which premiered at the Toronto International Film Festival in 2017, where it was bought by Netflix and released on their streaming service later in 2019.
Along with directorial duties, Larson also stars as Kit, an artist who is offered by a mysterious salesman to own a unicorn if she accomplishes a certain number of specific requirements. Not only was the role close to Larson's heart, but it was a project that had been a long time coming. Prior to signing on as director, Larson auditioned for the film in 2012 but didn't land it. When it came back around following the success of "Room" with the option to direct it, she took it as her chance to show Hollywood her untapped filmmaking skills. 
Unfortunately, critics were split on the final product, with some praising its earnestness and depiction of femininity, while others criticized its lack of consistent tone. However, some critics correctly noted that Larson showed potential behind the camera, with ScreenDaily commending Larson for "[navigating] through a cute story's clear limitations to deliver a film that's often quite funny." 
The pandemic allows Brie to focus on Internet vlogging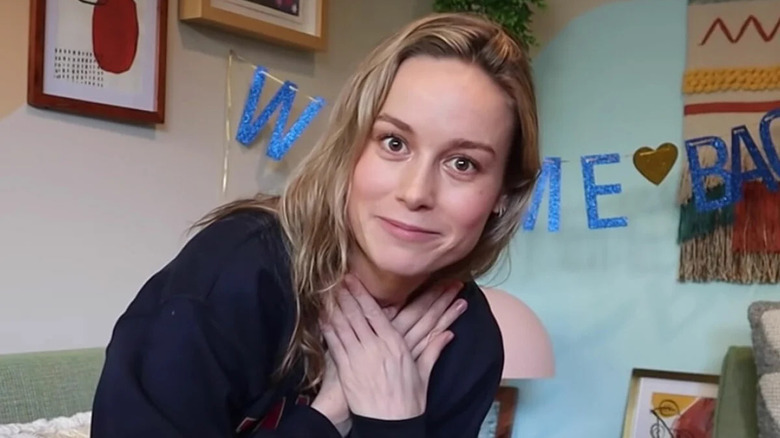 YouTube
Brie Larson's career was on a steady incline around the release of "Captain Marvel," with the actress reprising her role in 2019's "Avengers: Endgame." However, everything came to a halt in 2020, when the COVID-19 pandemic forced Hollywood into shutdown. It ended up giving Larson a necessary break from acting. Having turned 30 years old and noticing she was being offered lots of roles reminiscent of "Room," she told Harpers Bazaar in 2023, "I had all the same normal fears as everybody else about being single and being 30." 
Larson didn't spend the pandemic in hiding, however, and chose instead to remain closely connected to her online fanbase. This resulted in her starting her own YouTube channel, where she posted workout vlogs, Q&As, and even tours of her island in perhaps the best quarantine video game, "Animal Crossing: New Horizons." In 2021, Larson also started her own podcast with Jessie Ennis, "Learning Lots," which featured guests such as former co-stars like Birbiglia, Tremblay, Gillian Jacobs of "Community," and Melissa McCarthy. 
The pandemic even led to her own fans discovering Larson's musical past after the actress began posting guitar covers on her social media pages, including "the 1" by Taylor Swift and even her own former The Clash at Demonhead cut "Black Sheep." In a time when Hollywood was stuck in limbo, Larson remained ever so relevant online, before finally making her big-screen return in 2023. 
As the real-life Captain Marvel, Brie advocates for social change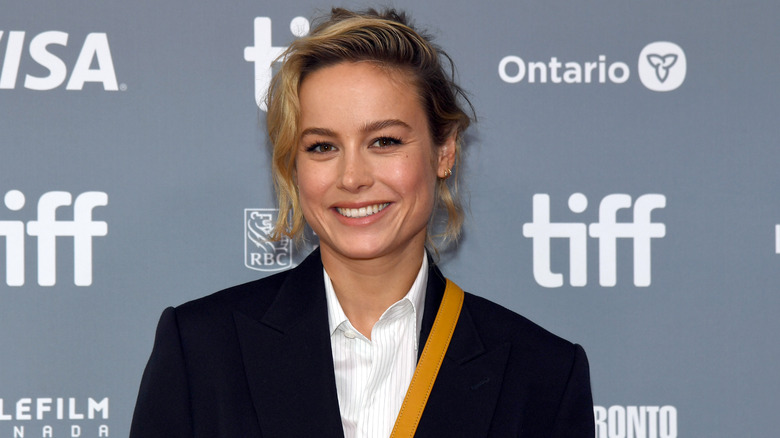 Kevin Winter/Getty Images
Off-screen, Brie Larson has been an advocate for social change and women's rights. This has resulted in some pretty controversial moments from the actress, including one instance when she opted not to applaud Casey Affleck after presenting him the Academy Award for best actor in 2017, following sexual assault allegations against him. When questioned about the action by Vanity Fair, she asserted, "I think that whatever it was that I did onstage kind of spoke for itself." 
Things got more heated for Larson in 2019, when, during press for "Captain Marvel," she advocated for more diversity among film critics and journalists, resulting in the review-bombing of her MCU debut. The criticism has continued to follow her to this day, despite efforts of review aggregate Rotten Tomatoes to deter this type of targeted trolling. Larson has remained vocal about what she believes in, telling Jane Fonda in an interview with Porter magazine that "it doesn't feel right to [her] to be quiet." 
To this day, Larson remains a strong advocate for social justice. She was one of 300 women who organized the Time's Up initiative to protest sexual harassment in Hollywood, and has been a vocal supporter of issues like inclusion, transgender rights, and law enforcement accountability. Although her role in the Marvel Cinematic Universe has her wearing colorful superhero outfits, it's her activism that's really heroic. 
The Marvels partners Larson with fellow MCU heroines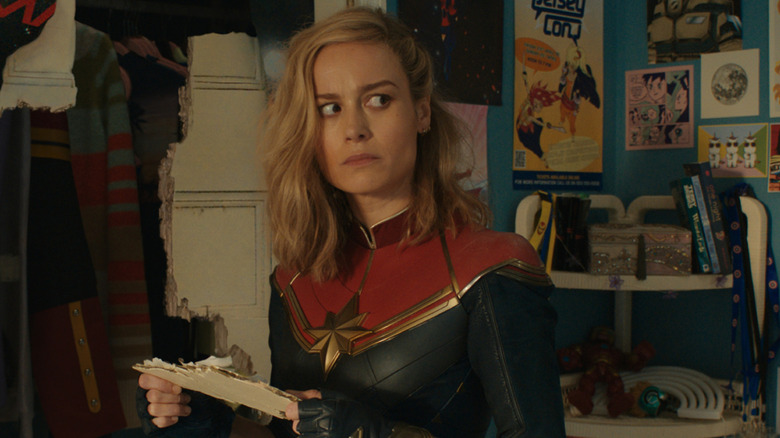 Marvel Studios
2023 will be a big year for Brie Larson, especially with her role as Captain Marvel. She last portrayed the character in the mid-credits scene of 2021's "Shang-Chi and the Legend of the Ten Rings," directed by her former "Short Term 12" and "Just Mercy" collaborator Destin Daniel Cretton. She also made a cameo in a post-credits scene at the end of the Disney+ series "Ms. Marvel," teasing her story in the upcoming 2023 MCU film, "The Marvels."
Before that, however, Larson will be entering the "Fast & Furious" franchise in "Fast X," joining an ensemble cast that includes Vin Diesel, Jason Momoa, and Michelle Rodriguez. "Fast X" will be a relatively small role for Larson compared to "The Marvels," which finds Carol Danvers taking the lead for the first time since 2019's "Captain Marvel," although this time she won't be alone. 
"The Marvels" will team up Larson's Danvers with two other MCU heroines: Iman Vellani's Captain Marvel superfan Kamala Khan from "Ms. Marvel," as well as Monica Rambeau from 2021's "WandaVision," portrayed by Teyonah Parris. The film finds the trio of heroes swapping places every time they use their powers, which may tie back to Carol's past with the Kree. It's one of the most highly-anticipated films of 2023, which likely comes as a surprise to Larson, who in 2022 asked Variety, "Does anyone want me to [play Captain Marvel] again?" The short answer: Yes, they do.