Where You've Seen The Cast Of Young Sheldon Before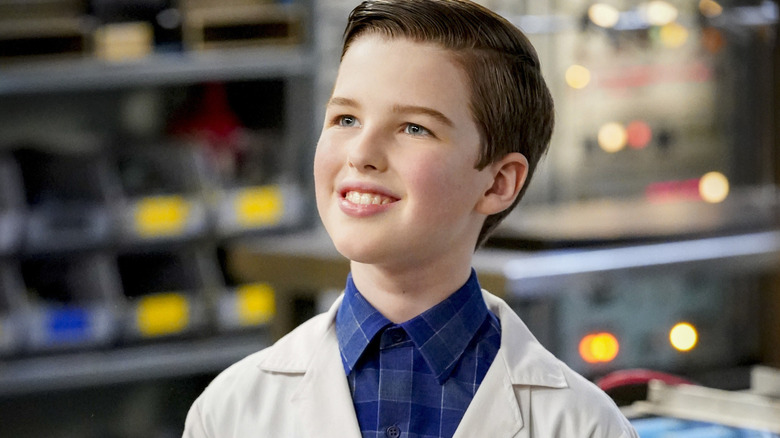 CBS
A prequel can be tough to pull off, especially when it looks back at a popular character from an existing smash hit. But in 2017, "Young Sheldon" debuted, flashing back to the childhood of Sheldon Cooper, the star of the wildly popular "The Big Bang Theory." Though some may have had their expectations set low, the series soared to become one of the best prequels on television, a mix of heartfelt family drama and quirky kid comedy. 
But in taking the story back to the late 1980s (and eventually the early '90s), the series had to recast many of the characters already seen on "The Big Bang Theory." In addition to series star Jim Parsons (who continues to narrate the adventures of his younger self), an entirely new roster of younger actors came in to fill out the cast. Some of them are fresh-faced stars, some are well-known TV veterans, and some are the kinds of actors you recognize, but may not be able to place right away.
Well, Bazinga! We're here to help, as we've tracked down the Hollywood histories of the cast of "Young Sheldon," so that you can know where it is that you might recognize them from.
Iain Armitage as Sheldon Cooper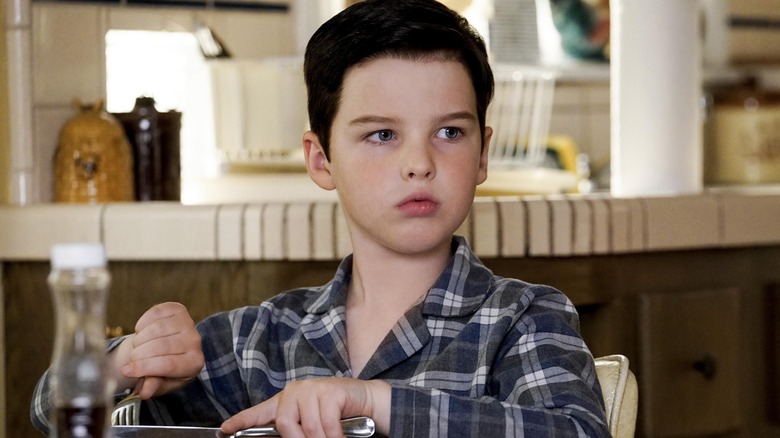 CBS
The star of "Young Sheldon," young Iain Armitage takes over for Jim Parsons in the role of Sheldon Cooper from "The Big Bang Theory." But while Iain was only nine years old when the prequel series premiered in September of 2017, it might surprise readers to learn that it was hardly his first time in front of the camera. Years before the series, Armitage made his name on YouTube, running his channel "Iain Loves Theatre," where he hosted a series of erudite reviews of musicals and stage plays. In fact, his first video was posted in 2012, when he was just four years old.
Gaining some level of notoriety thanks to his YouTube series, Armitage made his unintentional TV debut in an episode of "Impractical Jokers," before getting official casting calls. His first came in an episode of "Law & Order: Special Victims Unit," ahead of snagging roles in a string of 2017 indie films. This includes "The Last Castle" from Destin Daniel Cretton and starring Brie Larson, "Our Souls at Night" with Robert Redford and Jane Fonda, and "I'm Not Here" with J.K. Simmons and Sebastian Stan.
While starring on "Young Sheldon," Armitage has had a recurring role as Ziggy Chapman on "Big Little Lies" and has even done voiceover work for cartoons like "Scoob!" and "Paw Patrol: The Movie."
Lance Barber as George Cooper, Sr.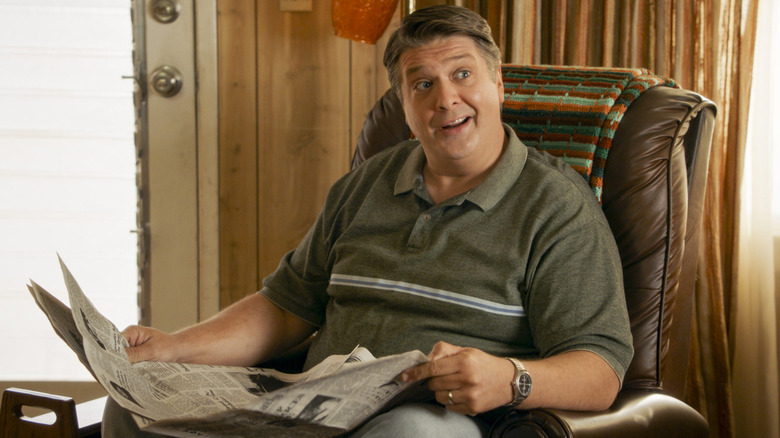 CBS
Playing Sheldon's father George Cooper Sr. is actor Lance Barber. Oddly enough, he actually made a previous appearance on "The Big Bang Theory" — as a different character — years before starring in "Young Sheldon." That role was as a peer of Sheldon's in a Season 5 episode, a bully named Jimmy Speckerman. He must have impressed producers, because several years later he re-appeared as Sheldon's dad.
While Barber can count George Cooper Sr. as his first starring role on a hit series, it's hardly his first time appearing on a popular show. In fact, his very first TV role came in an episode of "ER," and he quickly made a career as a guest starring actor across any number of big name productions. This includes appearances in episodes of "Gilmore Girls," the David Duchovny series "Californication," and the detective comedy "Monk." In 2005, Barber joined a show's main cast for the first time, playing Paulie in the Lisa Kudrow sitcom "The Comeback." It was an odd series and role, in that he starred in Season 1 way back 2005, before returning nearly a decade later when it came back to HBO for its second season.
If you recognize Barber from anywhere though, it's probably his recurring role as Bill Ponderosa, sleazeball brother of Maureen, in "It's Always Sunny in Philadelphia."
Zoe Perry as Mary Cooper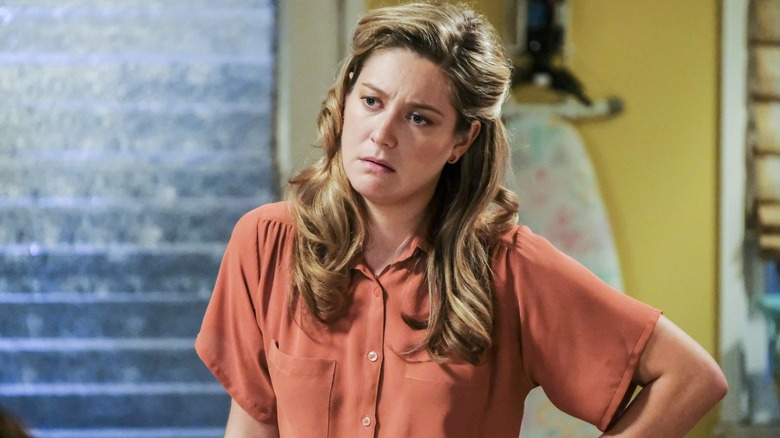 CBS
Every family sitcom needs a great mom, and "Young Sheldon" has Zoe Perry as Mary Cooper. Like many in the cast, her role on the series is her first time joining such a long-running success, but Perry can actually trace her TV career all the way back to the 1990s. In a strange twist of fate, she actually played a young version of another classic sitcom character in flashback sequences, playing Jackie Harris in a pair of episodes of "Roseanne" that revisited the youth of its title character. This is doubly ironic, because the older version of Jackie was played in that series by Laurie Metcalf, who also plays the older version of Mary Cooper on "The Big Bang Theory."
Though that episode of "Roseanne" started Perry out on a long journey in Hollywood, she'd actually wait more than a decade before her next TV appearance, which came in a 2006 episode of "Law & Order: Criminal Intent." She seemed to find a niche in legal dramas, though, popping up for single-story parts on "Cold Case," "Deception," and "Conviction" over the next few years, before landing a recurring role on "The Family" starring Joan Allen, Rupert Graves, and Alison Pill.
Just before starring on "Young Sheldon," Perry had closed out a nine-episode stint as political spoiler Samantha Ruland on "Scandal."
Annie Potts as Meemaw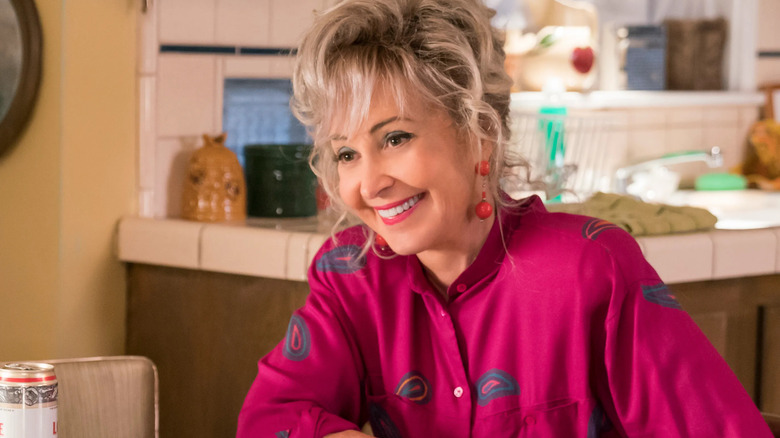 CBS
To play the role of Grandma Cooper — better known as Meemaw — "Young Sheldon" enlisted the services of an '80s icon, totally appropriate for a series initially set in that decade. That icon is Annie Potts, who fans will probably recognize from her role in the 1984 classic "Ghostbusters," where she played cynical receptionist Janine Melnitz. She'd come back to reprise the role in 2021 for the legacy sequel, "Ghostbusters: Afterlife," too. In between, of course, Potts had a long and successful career, both on TV and at the movies.
In cinemas, you might know Potts from movies like "Pretty in Pink" as Iona, Andie's quirky friend and co-worker, or as Liz in the cult classic Whoopi Goldberg comedy "Jumpin' Jack Flash." On TV, Potts starred for four seasons on "Any Day Now" with Lorraine Toussaint between 1998 and 2002, before a recurring role on "Joan of Arcadia" in 2004. Other recurring TV parts saw Potts appearing in four episodes of "Law & Order: SVU" and five episodes of "Chicago Med," while she played GiGi Stopper on the short-lived Leslie Bibb comedy "GCB."
Of course, you may also know Potts for her voice. In addition to doing work for cartoons like the 2020 reboot of "The Rocketeer" and "Johnny Bravo," Potts might be best known as the voice of Bo Peep in the "Toy Story" franchise.
Montana Jordan as George Cooper, Jr.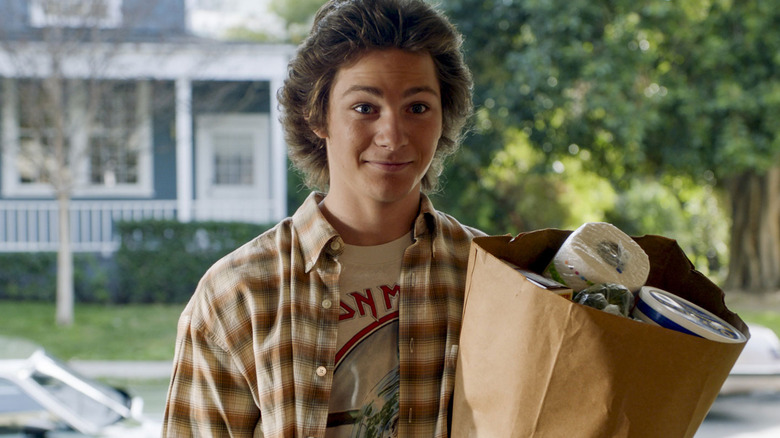 CBS
On "The Big Bang Theory," it's Jerry O'Connell who stars as George Cooper, Jr., Sheldon's older obnoxious brother. For "Young Sheldon," the role required a much younger actor, and in stepped Montana Jordan. While he's appeared in every episode of "Young Sheldon," as well as a single flashback episode of "The Big Bang Theory," his part as George Jr. is actually one of just two on-screen roles in his career, so it's not likely that you'd recognize him from anywhere else. 
His other role, though, comes in the film "The Legacy of a Whitetail Deer Hunter," a 2018 Netflix movie from writer-director Jody Hill. The film stars Josh Brolin as a hunter named Buck Ferguson who brings his friend and cameraman Don — played by Danny McBride, who also co-wrote the screenplay — on a weekend sojourn into the woods with his son Jaden. Montana, of course, plays Jaden, and while the movie didn't garner many positive reviews, its cast is often cited as one of its few bright spots.
Though the film was released after he began starring on "Young Sheldon," it was actually filmed earlier. In 2015, he won the role by beating out a reported 10,000 applicants for the part of Jaden.
Raegan Revord as Missy Cooper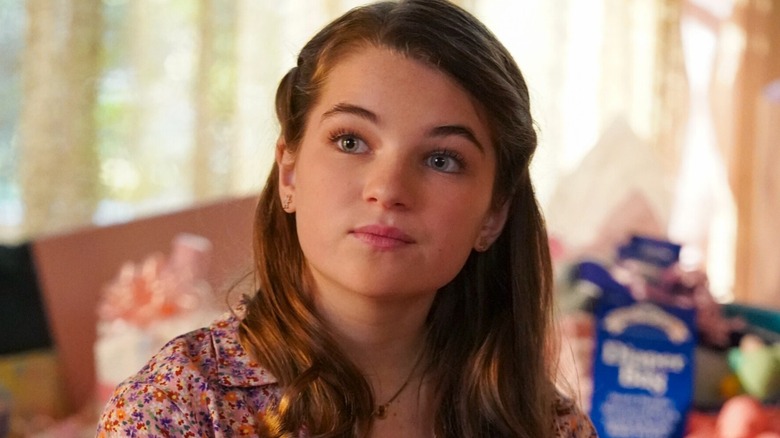 CBS
In "The Big Bang Theory," Sheldon has a fraternal twin sister Missy, who pops up here and there and is played by Courtney Henggeler. For "Young Sheldon," the series obviously needed a younger actor to play the role, and that's where Raegan Revord comes in. Unlike her co-star and on-screen brother Montana Jordan, though, Revord's resume stretches back a bit further beyond "Young Sheldon," beginning in 2014, when she was just seven years old, in a pair of episodes of the hit sitcom, "Modern Family."
The next year, she appeared in an episode of the Netflix series, "W/Bob and David," a revival of sorts of Bob Odenkirk and David Cross's '90s cable comedy, "Mr. Show with Bob and David." From there, Revord also guest starred and showed up alongside Lily Tomlin and Jane Fonda on Netflix's "Grace and Frankie" and on the similarly-titled "Alexa & Katie" (another Netflix comedy, this time starring Paris Berelc and Isabel May as teenaged best friends).
Wallace Shawn as Dr. Sturgis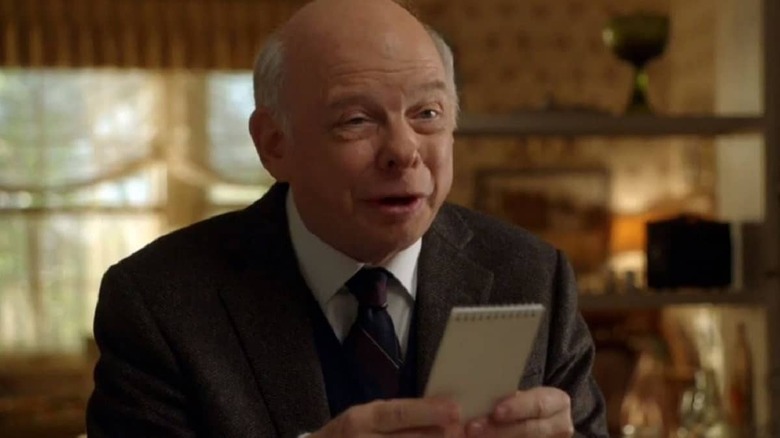 CBS
Annie Potts, who plays Sheldon's Meemaw, isn't the only "Toy Story" alum to have a major role on "Young Sheldon." The other is Wallace Shawn, who plays Meemaw's boyfriend, Dr. Sturgis. The veteran character actor Shawn, with his unmistakable nasally voice, gives life to the ever-frightened Rex in the "Toy Story" films. If you're a child of the '80s, though, you probably know Shawn best for his role as the villainous Vizzini, rapscallion and rival to the Dread Pirate Roberts in the Rob Reiner classic, "The Princess Bride." 
Children of the '90s, however, remember Shawn for another role — another teacher, in fact, as he starred in "Clueless" as the lovelorn Mr. Hall, who Cher (Alicia Silverstone) matches up with fellow teacher Ms. Geist (Twink Caplan). He returned to the role again for the "Clueless" sitcom spin-off, which aired for three seasons. Of course, still other fans — mostly those who follow sci-fi — will remember Shawn best for his recurring role on "Star Trek: Deep Space Nine," where he played the cantankerous Grand Nagus, leader of the Ferengi Alliance, whose love of beetle snuff is legendary.
Teens in the 2000s might known Shawn from his stint on "Gossip Girl" as Cyrus Rose, though, and yet other memorable roles in his career include runs on "Crossing Jordan" (as Dr. Stiles), "The Cosby Show" (as Jeffrey Engels), and "Murphy Brown" (as Stuart Best).
Ed Begley Jr. as Dr. Linkletter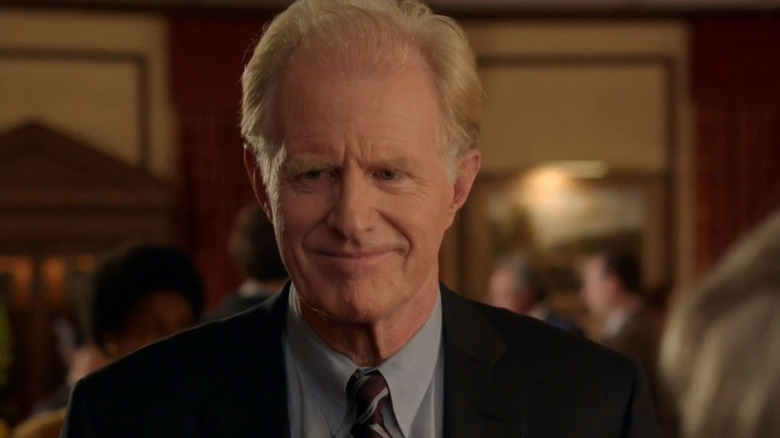 CBS
Today's younger audiences watching "Young Sheldon" may not recognize Ed Begley Jr. at all, and that's odd to think, because there was a time when he was one of the biggest names on television. Of all of the cast of the series, Begley Jr. might have one of the longest and most prolific filmographies, which begins all the way back in the 1960s, with his acting debut in an episode of "My Three Sons." Over the decades, he's been on more TV shows than one can count, with more than 300 credited roles on IMDb, but we can try to give you a brief overview of some of his most important work.
For starters, older audiences will no doubt recognize Begley Jr. from his leading role on the '80s medical drama "St. Elsewhere," where he played Dr. Ehrlich for all six seasons of the show's award-winning run. Sci-fi aficionados might recognize him as Sgt. Greenbean from the original run of "Battlestar Galactica," or more importantly, his recurring role as Steve Fletcher on the hit sitcom "Mary Hartman, Mary Hartman." He starred as the family patriarch Gil Buckman on the short-lived "Parenthood" series in 1990, and on the ill-fated (and frankly terrible) sci-fi comedy "Meego" in 1997 as Dr. Parker.
In the 2000s, Begley Jr. continued playing doctor roles, on "7th Heaven" as Dr. Hastings and on "Kingdom Hospital" as Dr. Jesse James. Though we can't possibly rattle off every part he's ever played, we couldn't let his bio be complete without mentioning his role as Hiram Gunderson on the critically acclaimed "Six Feet Under."
Matt Hobby as Pastor Jeff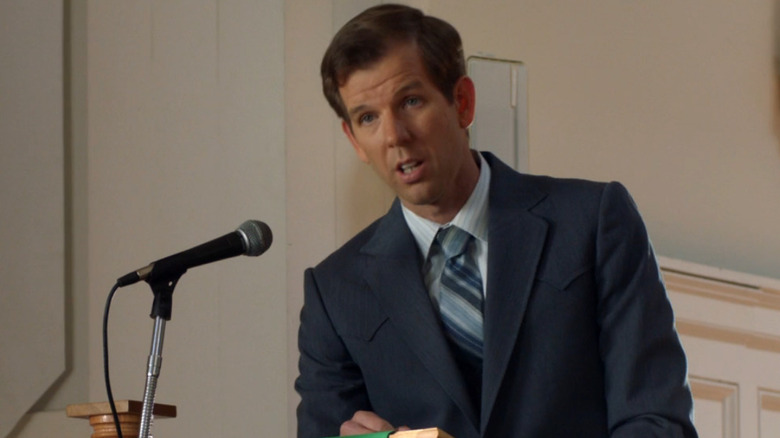 CBS
Even a family sitcom needs an arch nemesis for its hero, and Pastor Jeff often serves as the foil for "Young Sheldon," engaging the scientifically-minded Sheldon in some surprisingly hard-hitting discussions on science vs. religion. Playing the quasi-villain is actor Matt Hobby, who's played a handful of key roles in his career that you might know him from.
On HBO's acclaimed period crime drama "Boardwalk Empire," Hobby had a recurring role in Season 3 as Phillip, the house servant for the Thompsons, appearing in five total episodes. A few years later, he took a part in The CW drama "Hart of Dixie" with Rachel Bilson and Jaime King, playing Rudy, one of Tansy Truitt's three brothers. Not long before he debuted on "Young Sheldon," Hobby had held a role on the two-season series "The Grinder," the Rob Lowe comedy about a Hollywood lawyer named Dean Sanderson who moves back to his hometown to take over his family's law firm. There, Hobby played Pat Landy, a partner at a rival firm who butts heads with Sanderson and his family.
Doc Farrow as Coach Wilkins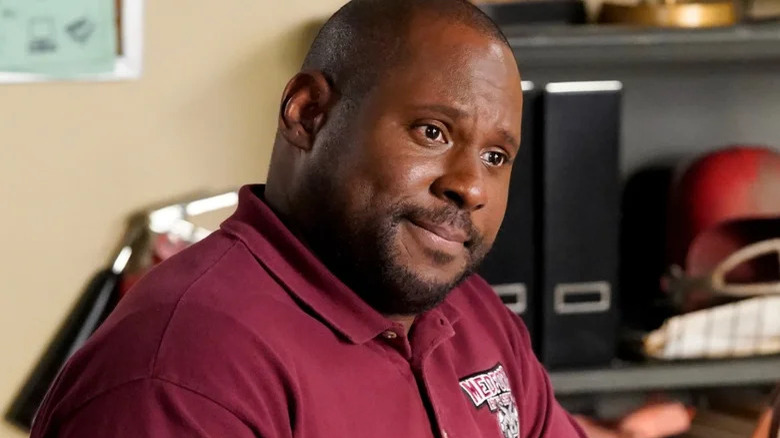 CBS
To most kids, the phys ed teacher was either the nicest member of the faculty or the meanest, and fortunately for Sheldon, Wayne Wilkins is the former, the friendly and affable school coach. In fact, Wilkins takes center stage in his own story, dealing with the breakdown of his marriage while leaning on his friend George Cooper Sr. for support. He's played by Doc Farrow, a journeyman actor who counts Wilkins as his first ever recurring role on television.
Prior to the series, Farrow had only ever appeared in single episodes of other shows, starting out playing mostly unnamed background characters. This included episodes of "Pretty Little Liars," "Modern Family," and "Scorpion" early in his career, while moving on to episodes of "The Goldbergs" and "The Good Place" not long before he made his debut on "Young Sheldon." Since then, he's also popped up on "Curb Your Enthusiasm" and "Arrested Development," as well as in an episode of the revival of "Will & Grace," though his roles were small enough that it's more likely you'd be recognizing him as Coach Wilkins when you watch those shows rather than the other way around.
Melissa Peterman as Brenda Sparks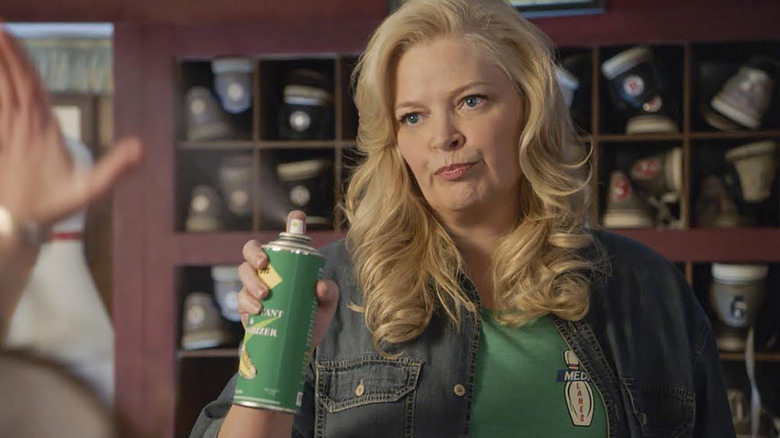 CBS
From Wilson on "Home Improvement" to Urkel on "Family Matters," the sitcom formula wouldn't be complete without the nosy neighbor. In the case of "Young Sheldon," it's Brenda Sparks, the mother of Billy and Bobby who works at the local bowling alley. She's played by Melissa Peterman, who made her acting debut back in 1996 as a background character in the Coen Bros. classic, "Fargo."
Despite her cinematic beginnings, Peterman's career has been almost entirely on television, first with an episode of "Just Shoot Me" in 2000. If you recognize her, though, it's probably from her starring role in the long-running family sitcom "Reba" with Reba McIntire, where she played the religious Barbra Jean Hart, a cloying rival-turned-would-be-friend to the series' star. If you watch country music game shows, though, it's almost certain that you know her as the host of "The Singing Bee," a competition that tossed together elements of karaoke and spelling bee.
From there, Peterman became a fill-in host or celebrity guest on the game show circuit, so you might recognize her from episodes of "Home & Family" and "The $100,000 Pyramid," or "Dancing Fools," just to name a few.
Craig T. Nelson as Coach Ballard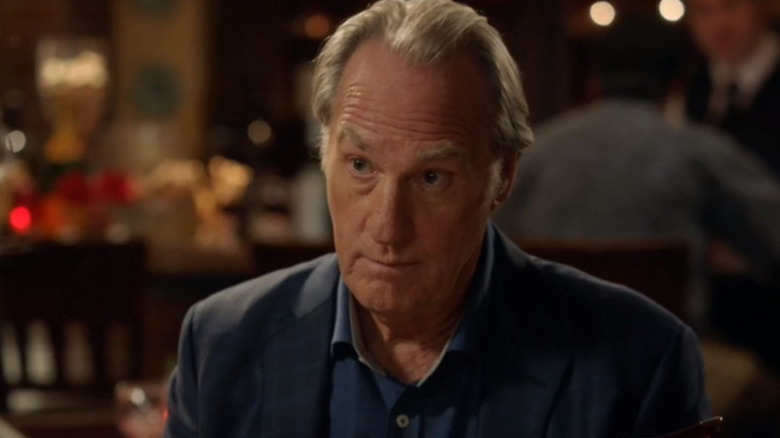 CBS
With Ed Begley, Jr., Wallace Shawn, and Annie Potts, "Young Sheldon" has recruited its fair share of '80s stars, but there's still one more: Craig T. Nelson, who plays Dale Ballard. Owner of the local sporting goods store, Ballard is also Missy Cooper's baseball coach — an appropriate role, considering Nelson is easily best known for playing the title character on the '90s classic sitcom "Coach." Nelson played Hayden Fox, a football coach at a state college, for nine seasons and 200 episodes. He even won an Emmy for his performance.
Prior to "Coach," Nelson had recurring roles on "Private Benjamin" and was part of the main cast of the crime drama "Chicago Story" in the '80s. Beyond that stretch of success on TV, though, Nelson has also had plenty of hits at the movies. He starred in classics like "Poltergeist," "Action Jackson," and "Turner and Hooch" in the '80s, and following his run on "Coach" appeared in "The Devil's Advocate" with Keanu Reeves. But while many audiences may recognize Nelson's face from one of his many famous films or popular TV shows, it's also his voice that might stand out to you. That's because in "The Incredibles" and its sequel, Nelson played Bob Parr, Mr. Incredible himself.
Emily Osment as Mandy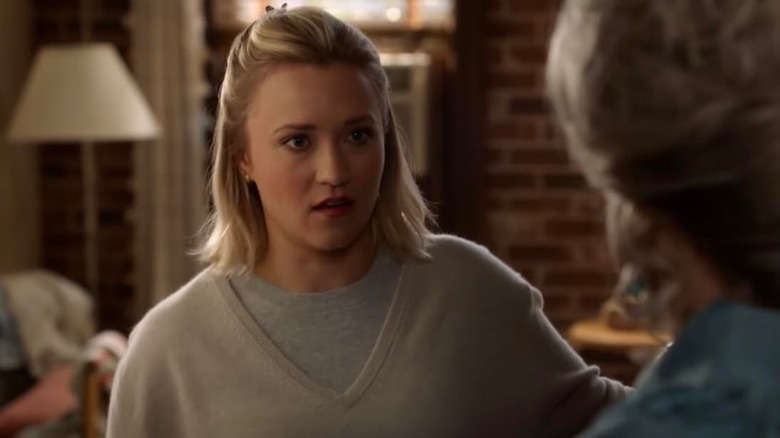 CBS
"Young Sheldon" has seen its share of surprising breakout recurring guest stars, and audiences were introduced to another in Season 5 with the arrival of Mandy, the older woman who George Jr. becomes smitten with. She's played by actress Emily Osment, sister of former child actor and "Sixth Sense" star Haley Joel Osment. While she never really hit it big in a blockbuster movie like her brother, Emily Osment did have a number of major roles in her career prior to joining "Young Sheldon" that you might know her from.
Starting her career the same year that "The Sixth Sense" premiered, Osment's first acting job was in the film "The Secret Life of Girls," though it's more likely you'd recognize her from her role as Gerti Giggles in the second and third "Spy Kids" movies. But her biggest role by far began in 2006, when she starred alongside Miley Cyrus on Disney's iconic series "Hanna Montana" as best friend Lilly Truscott. From there, Osment moved to more serious fare, starring in the Crackle thriller "Cleaners" in 2013, while also doing voice work for cartoons like "Kick Buttkowski" and "Rainbow Brite." 
More recently, Osment has had starring roles on a pair of short-lived dramas, "Almost Family" and "Pretty Smart," as well as a recurring part on Michael Douglas' "The Kominsky Method." If you were a kid in the late 2000s, though, you might also know Osment for her music, as she released an album in 2010, and shot a number of music videos to accompany it.