Why Mandy From Young Sheldon Looks So Familiar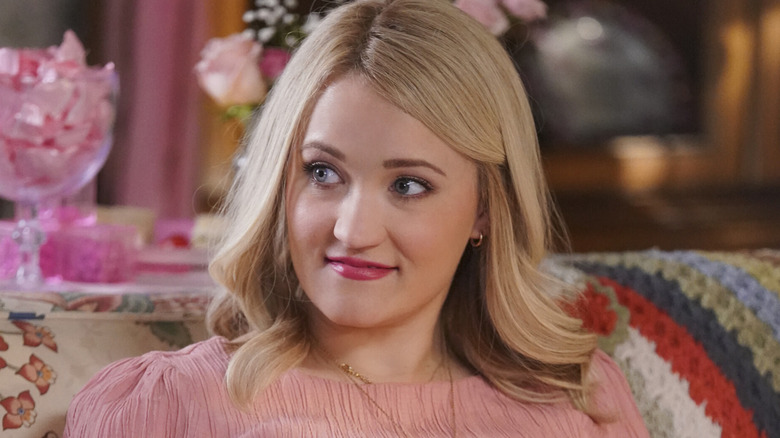 Michael Yarish/CBS
In Season 5 of "Young Sheldon," viewers were first introduced to Mandy, a 30-year-old woman who meets Sheldon Cooper's (Iain Armitage) older brother Georgie (Montana Jordan) at the laundromat owned by the boys' fun-loving grandmother Connie (Annie Potts). While it definitely wasn't love at first sight, to say little of their 13-year age difference, their relationship matures and Mandy eventually becomes pregnant, which adds a fun dramatic flare to the comedic prequel. Mandy quickly becomes part of the family with their daughter Constance, who was named after Sheldon and Georgie's "Meemaw" herself.
Before taking on the role of the quick-witted Mandy on "Young Sheldon," Emily Osment — the younger sister of "The Sixth Sense" star Haley Joel Osment — was featured in an abundance of other hilarious television sitcoms and even action-packed films. And while she appeared in her share of dramatic projects, her performance as Mandy showcases her comedic acting chops that shined through in several previous roles. Here's where you may have previously seen Osment prior to her joining the "Young Sheldon" cast as Georgie's love interest.
She was the cool agent Gerti Giggles in Spy Kids
Emily Osment has been acting from a very young age and guest-starred in several beloved comedies like "3rd Rock from the Sun" and "Friends." Her first truly notable role was in the original "Spy Kids" film series as Gerti Giggles, who rocked unforgettable helicopter pigtails that allowed the cool youngster to fly. Gerti debuted in "Spy Kids 2: Island of Lost Dreams," as the super-spy younger sister of the antagonistic Gary (Matt O'Leary). She starts as a competitive villain/possible love interest for our protagonist Juni Cortez (Daryl Sabara) before eventually seeing the corruption within her own family. Gerti's clever turn in the film's climax gives young Osment plenty of material to show off both her dramatic and comedic talents, especially so early in her career.
Osment returned as Gerti for "Spy Kids 3: Game Over," where her fantastical hairstyle made a fabulous comeback. She reminds Juni of the importance of family while inspiring him to take up the family business as an agent once again. In the larger-than-life end sequence, Gerti's inspiring message fully resonates with Juni and he recruits everyone he considers family to help fight the gargantuan enemy. 
Silly roles like this primed her to lead her own series and even co-star in one of the biggest television shows in history.
She was Miley's loyal, best friend Lilly on Hannah Montana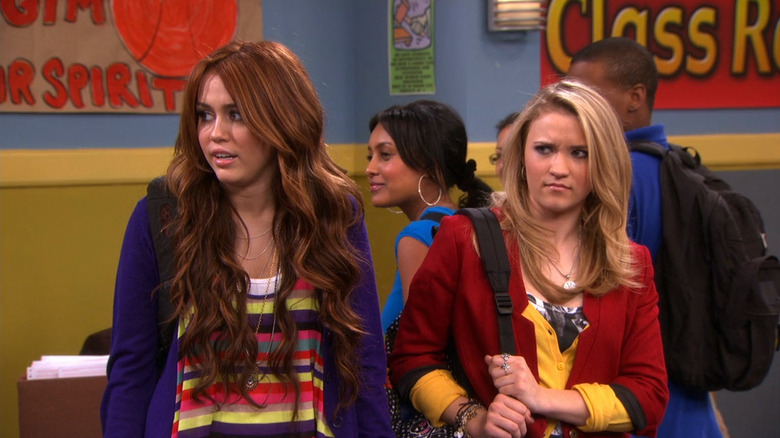 Disney Channel
You might also recognize Emily Osment from arguably her most notable role as Lilly Truscott on the smash hit series "Hannah Montana." The show became a worldwide sensation with Osment's Lilly as the best friend to pop superstar Hannah Montana (Miley Cyrus). Osment's superb sense of comedic timing shines through as she plays off with Cyrus in a plethora of laughable situations. She even gets a chance to play a heightened version of her character as the clownish Lola Luftnagle with a variety of bob-cut, neon wigs.
The chemistry between the two young stars helped propel "Hannah Montana" to extraordinary success. However, their story behind the camera becomes a bit more complicated when one looks back at the drama between Cyrus and Osment, though they came out strong in the very end. Following the series finale, we also learned what Osment really thought of Cyrus, which exemplifies how the two actresses grew as people as they reached young adulthood.
Coincidentally, the two even had their guest-starring roles on the raunchy comedy "Two and a Half Men," where you also may have seen Osment following her scene-stealing role in "Hannah Montana." 
Osment played Gabi Diamond on the relatable sitcom Young & Hungry
Emily Osment showed off her goofier side in the coming-of-age hit "Young & Hungry," as the striving personal chef Gabi Diamond. Contrary to her last name, things don't always go as smoothly as the youthful cook would like leading to a series of memorable antics. "Young & Hungry" highlights the best qualities of Osment's acting history with slapstick comedy, sarcastic comebacks, and relatable young adult situations as she navigates life in San Francisco with her equally zany friends.
"Young & Hungry" was a fresh start for ABC Family as it transitioned into the trendy Freeform network. Ahead of the series premiere, Osment talked about the new beginnings with MTV News saying, "It is physical [comedy] and it is a sitcom, but it's older and it's sexy and it's funny, and it's a different style," Osment continued. "It pushes the limits for ABC Family." 
The forward-thinking series helped shift the landscape towards the new vision with fellow former Disney Channel star Ashley Tisdale both behind the scenes as a producer, and as a recurring guest star, adding a fun cherry on top of this enjoyable hit. The two even share ridiculous sequences together, making "Young & Hungry" an unmissable entry from Osment that many fans will remember her from.
She starred in the binge-worthy Netflix comedy Pretty Smart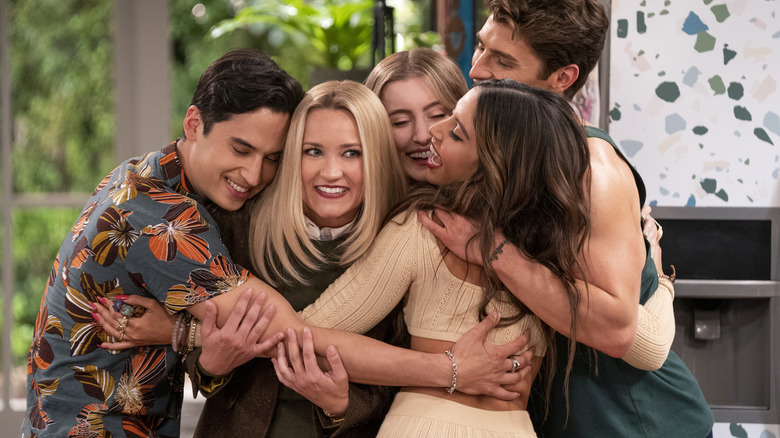 Patrick McElhenny/Netflix
Emily Osment lent her talents to the heartwarming Netflix comedy "Pretty Smart" as the snarky brainiac Chelsea. Funny enough, fans may even see shades of Sheldon Cooper (Iain Armitage/Jim Parsons) here as her character is extremely similar. Osment stars as Claire's (Olivia Macklin) rigid older sister, who moves in with her and her untroubled friends in Los Angeles. 
The show cleverly balances Chelsea's overachieving academic life with her sister's more carefree attitude. At first, the two seemingly couldn't be more different before they inevitably discover their similarities and grow closer as sisters. Osment's knack for snarky remarks comes in handy here as she adapts to the influencer's paradise, while also empathetically capturing her kinder moments with authenticity. She even has a romantic will-they-won't-they relationship with previous Disney Channel star Gregg Sulkin (from "Wizards of Waverly Place"), which gives "Pretty Smart" an added dose of nostalgia fans will surely enjoy.
Unfortunately, the cozy and colorful series was canceled after only one season, though you can still visit this heartfelt tale anytime on Netflix.