Ted Lasso Season 3 Episode 9 Review: Colin Scores Big With His Story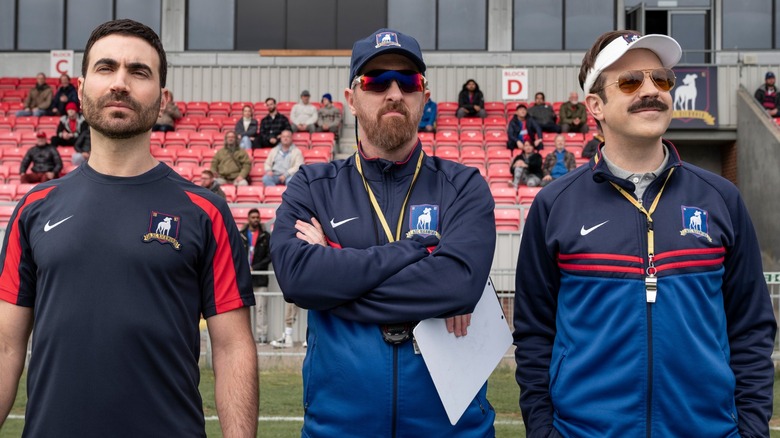 Apple TV+
EDITORS' RATING :
10 / 10
To say "Ted Lasso" has been uneven this season is an understatement. There've been highs like "4-5-1" and "The Strings That Bind Us," and there have been lows like "Smells Like Mean Spirit" and "Sunflowers." Season 3, Episode 9, "La Locker Room Aux Folles," falls into the former category with a soccer-centric story that has us having all the feels, and it's good to be in that groove.
The story is essentially the tale of what happens after Isaac (Kola Bokinni) discovers Colin's (Billy Harris) secret — he's gay and he's kept that information from everyone on the team. Isaac is mad as hell and it's not entirely clear why. Is he mad at Colin for being gay, or is it something else? Then going into halftime an especially rude fan says some derogatory things to the team and Isaac goes after him. The fan is ejected, Isaac gets a red card, and the team has to play the second half of the game a man down. But during their halftime break, Colin gets up his courage and finally tells them he's the reason Isaac did what he did. The team accepts him for who he is and this causes Colin to play better than he had before, so the team wins despite Isaac's absence.
While the rest of the team has accepted Colin, though, Isaac is still a wildcard. But then, Isaac stops by Colin's house. He points out that Colin kept the fact that he's gay from him for years. He's hurt — did Colin really think he wouldn't accept him? But Colin explains that even though he was 99% sure he would, that remaining percentage had a huge hold on him. Isaac understands and even comes in to play video games with him.
There are other stories too: Rupert (Anthony Head) tries to get Nate (Nick Mohammed) to cheat on his girlfriend Jade (Edyta Budnik), but Nate leaves before anything can happen and goes to Jade's apartment instead. Keeley (Juno Temple) realizes that the break with Jack (Jodi Balfour) is actually a breakup. And best of all, after avoiding an earlier press conference, Roy (Brett Goldstein) decides to do one and ends up delivering a touching speech about understanding Isaac's actions. But this is Colin's story, with an assist from Isaac, and it's excellent.
Colin's story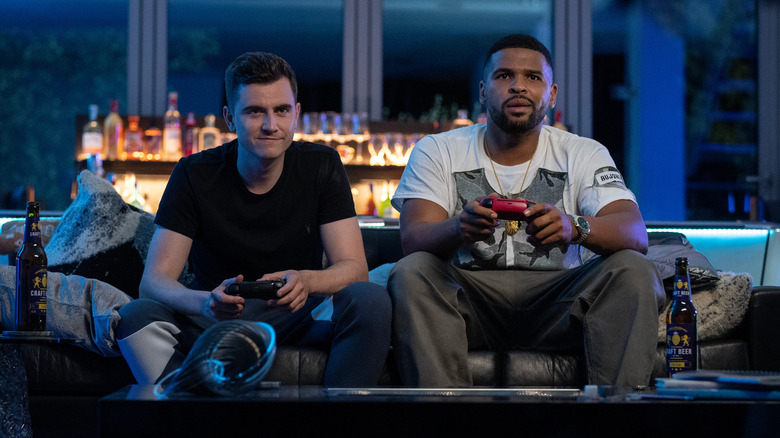 Apple TV+
Colin has been struggling with his sexuality for a long time, and we've been privy to it since the beginning of the season. He's surreptitiously dated guys, and he and Trent Crimm (James Lance) even bonded over their shared sexuality. But it's not until Isaac finds out that Colin really has something to worry about.
Coming out is hard, even when you're 99% sure your teammates are going to support you, and Colin has been feeling all of that. That's why he plays so well when it's finally out there and everyone on the team says they support him — he's unburdened for the first time. While these aren't easy scenes to watch, they pay off in spades. And the cherry on top is the scene with Isaac and Colin at the end of the episode. Isaac has gotten what he needed to off his chest and even told Colin he loved him ... sort of.
These are touching and nicely done scenes that manage to show the camaraderie of the team through their interactions with Colin. Even Ted's (Jason Sudeikis) painful story comparing Colin's situation to that of an American football fan is delivered with the right amount of pathos. There's nothing about this storyline I don't love.
That said, I do wonder about the people who don't support gay rights who previously liked this show and now despise it. I have no problem with a show that has a point of view, but "Ted Lasso" waited until the third season to really let its left-leaning side out. That's plenty of time for people to grow attached to Ted and company, which will make some people love "Ted Lasso" all the more, but turn off a potential segment of the audience. While this may not be getting a lot of headlines for the show, I do wonder if Apple's popular show will decline in popularity because of this and, if so, how much they care.
Other storylines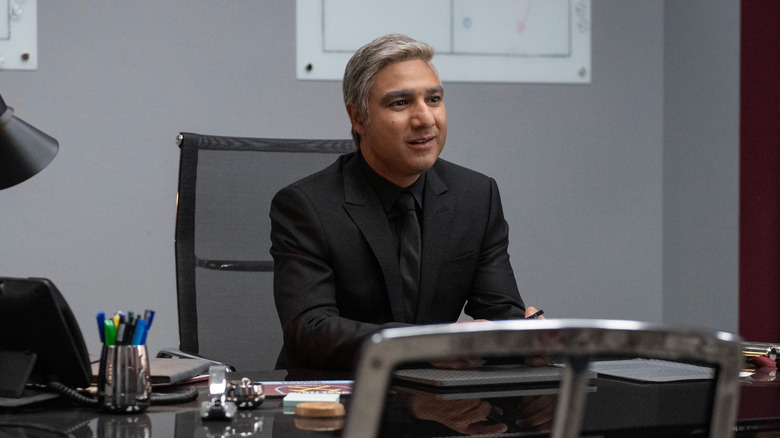 Apple TV+
Of the other storylines in this episode of "Ted Lasso," the one involving Nate might be the most consequential. Nate may have been a jerk to Ted, but the show has steadily been building back his credibility since then. He still makes mistakes — texting "Thanks" to Rupert when he said he won't let Ted into a West Ham game again instead of setting him straight, for example — but he's been trying. And having a girlfriend has really shown his softer side.
So while it isn't a big storyline, his rejection of Rupert trying to make him cheat is a big deal. He doesn't come out and tell Rupert he's leaving because he has a girlfriend, which could come back and bite him, but at least he gets out of there and goes to Jade's. A much more comfortable situation for him, even if Rupert, now that he knows Nate's in a relationship, will keep trying to make Nate cheat.
I also must give a shout-out to Rebecca (Hannah Waddingham) for her scene with Roy. While Roy has a lovely moment toward the end, it's Rebecca who gets him there. When he rejects doing a press conference, it's Rebecca who sets him straight. She tells him to get out of his own way and he hears her, even if he doesn't show it right away. It's a wonderful scene and it's Rebecca that makes it work.
All in all, this was one of the more touching episodes of "Ted Lasso." While Colin had the primary story, Isaac, Nate, Roy, and even Keeley needed a bit of cheering up too, and thankfully they all had someone there for them. This is a good example of how positive this show can be. While there are dark times, the positives outweigh the negatives by a mile.
"Ted Lasso" Season 3 is currently airing on Apple TV+ with new episodes every Wednesday.