Ted Lasso's Hannah Waddingham Didn't Want Rebecca To Get Her Act Totally Together In S3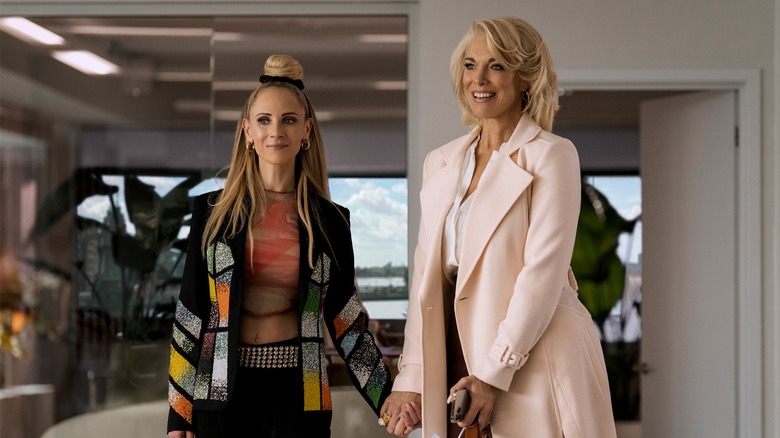 AppleTV+
When we first meet "Ted Lasso's" Rebecca Welton (Hannah Waddingham), she's hit rock bottom. After her cheating ex-husband Rupert Mannion (Anthony Head) divorces her to marry a younger woman, Rebecca decides to get revenge on Rupert by ruining the only thing he truly loves — his prized football team, AFC Richmond. She does so by hiring college football coach Ted Lasso (Jason Sudeikis) in an attempt to derail the team's success, and throughout most of Season 1, she's presented as a vindictive, spiteful antagonist who works to undermine Ted and the team despite their continual push for success.
Things shift near the end of Season 1 when Rebecca (having been won over by Ted's charm) eventually reveals the truth and promises to work on becoming a better person. Season 2 shows Rebecca finally starting to reclaim some of her own happiness, due in no small part to the incredible and uplifting friendship she has with Keeley Jones (Juno Temple). Season 2 ended with Rebecca being perhaps the happiest we've ever seen her, finally letting go of her lingering resentment toward Rupert, enjoying a brief (and somewhat scandalous) relationship with Richmond player Sam Obisanya (Toheeb Jimoh), and growing closer to her estranged mother.
Although it certainly seems like Rebecca's life is moving in the right direction as we enter Season 3, actor Hannah Waddingham has made it clear that she's not quite ready for Rebecca to get her act together — as she believes the character has proven she doesn't quite know how to function.
Waddingham thinks Rebecca's journey is far from over
During an interview with Entertainment Weekly, Hannah Waddingham expressed her desire to keep Rebecca Welton's life a bit messy in Season 3, saying that the character isn't ready to get her act together just yet and still has much to learn.
"But the biggest thing for me was, I was like, 'Can she not be completely all together?'" Waddingham explained. "I don't feel like we've traveled with Rebecca all the way through this of her not knowing how to function to suddenly have her all collected. So I was like, 'If she takes a couple of steps forward, can she please take maybe three or four back instead of one?'" Waddingham went on to assure fans that her wish came true and that Rebecca will continue to be "utterly clueless in her own life" in the highly anticipated final season of "Ted Lasso."
Though these comments may come as a shock to some fans of "Ted Lasso," since much of the past two seasons have focused on Rebecca's continual efforts to get her life back in order, it's safe to say that the series' mixture of comedy and drama make it certain that Rebecca's life won't ever be perfect. The fact that Waddingham herself fought for the character to take a step back implies that Rebecca still has much more to learn and that her journey of growth is not yet complete. Although it will certainly be intriguing to see where Rebecca's story goes in this upcoming season, it's clear that her life will still be just as hectic and dramatic as the previous seasons — which one has to hope will make for some good television.