Ted Lasso's Jason Sudeikis Is Involved In Almost Every Part Of Production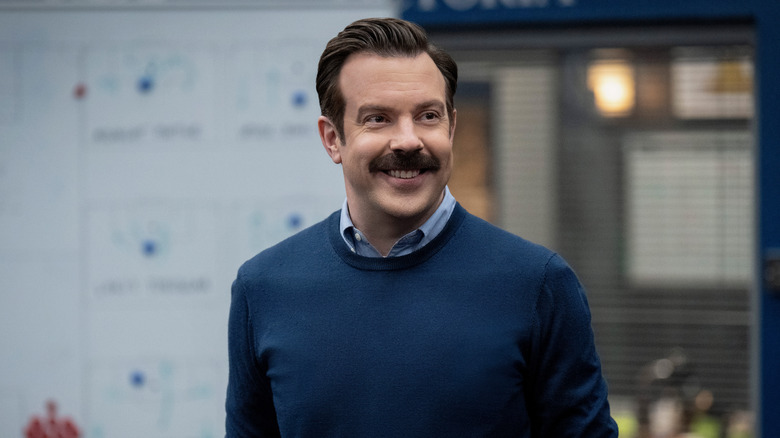 Apple TV+
When you hire Jason Sudeikis, you don't just get an actor. You get an industry veteran with impeccable comedic timing who also happens to be able to put pen to paper. On "Ted Lasso," Sudeikis not only leads the Apple TV+ ensemble, but he's also one of the creators of the series, along with Bill Lawrence, Brendan Hunt, and Joe Kelly. In the series, Sudeikis stars as Lasso, a former American football coach who finds himself coaching European football. Lasso's knack for finding the positive in even his impossible situation first irritates most of the AFC Richmond team and fanbase, but he slowly wins them over and even learns a few rules about soccer along the way. 
As creator and lead actor, Sudeikis said he is involved in every aspect of the "Ted Lasso" production. In an interview with CNN promoting "Ted Lasso" Season 3, Sudeikis revealed his workload for the show goes way beyond just being the lead actor for the show.
"I didn't edit during production just because it was just too big of a load to carry with the writing and the acting, but then you know, being a producer, I was there on set every day going behind-the-scenes with notes, supporting our directors and our DPs. When I go and watch, editing now, it's a thrill. That's a credit to the work that the writers did, but then also the way these actors portray them," Sudeikis said. 
Ted Lasso was actually born all the way back in 2013 and now it's ending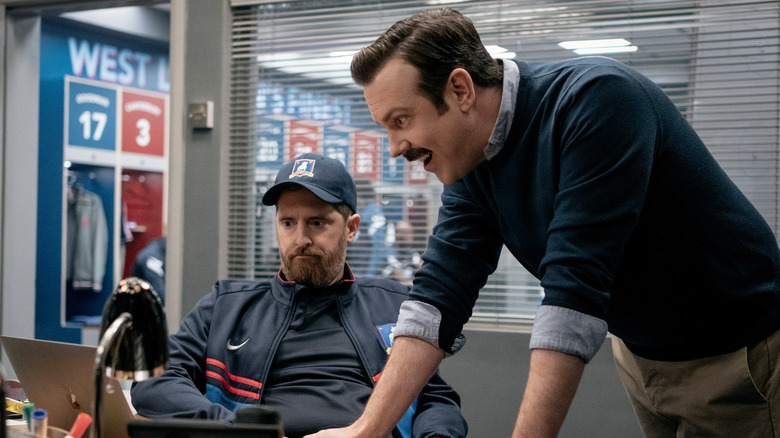 Apple TV+
Ted Lasso's origins actually go back to a series of 2013 commercials for NBC Sports where Jason Sudeikis would promote the network's Premier League coverage as his character, a lovable American who didn't quite know what he was talking about. Sudeikis revealed in an interview that it wasn't even his idea to jump Lasso from the comedy bits to a television series. In fact, the suggestion came from Sudeikis' then-partner, fellow filmmaker Olivia Wilde. Sudeikis was shockingly not immediately supportive of the shift from commercial to series. 
"After doing the second video, it really unlocked elements of the character that we found very, very fun to write and portray and view the world through. So, one day in 2015, my partner Olivia [Wilde] came up to me one day and said, 'You know, you should do Ted Lasso as a show,' and I said, 'I don't know,' but then after marinating on it, I thought maybe this could happen," Sudeikis told Sports Illustrated in August 2020.
Lasso got his retirement jersey 10 years after his creation, as Sudeikis revealed "Ted Lasso" Season 3 will mark the end of the series. However, Lasso fans still have hope of seeing the character again, as Sudeikis confirmed that there is a chance for spinoffs.