Will Ant-Man And The Wasp's Ghost Be In Future Marvel Movies?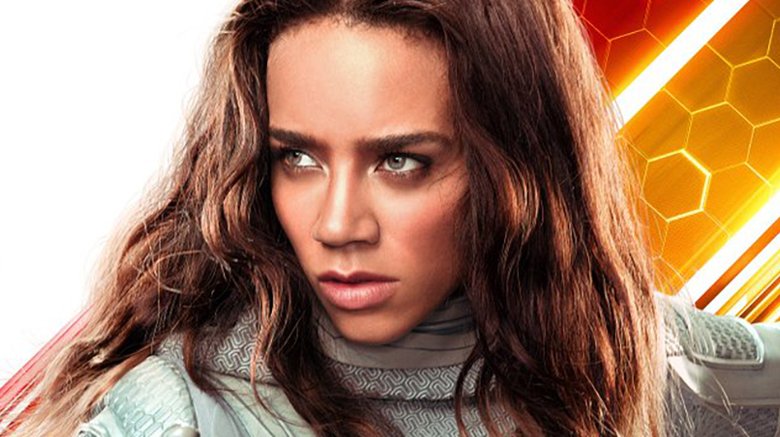 Marvel Studios
Contains spoilers for Ant-Man and the Wasp
In Ant-Man and the Wasp, Hannah John-Kamen's Ghost stood out for more reasons than one. Her striking all-gray suit, the blood-red orbs through which she peers, her superhuman abilities — those all caught our attention, but it was her complexity, her determination to survive, and the fact that Ant-Man referred to her as a friend in the film's mid-credits scene that had us hoping to see more of her in the future. 
As it turns out, Marvel always meant to keep the door open for a Ghost return. 
Marvel Studios president Kevin Feige told Birth.Movies.Death. that the "story was always ... to keep her around," and that the villain-turned-not-totally-bad-person might pop up in future franchise installments. 
"In this case, the story was always — spoiler! — to keep her around. This was not the story of defeating a villain and everybody cheering. This is a different kind of villain story," Feige revealed, adding that "when and where" Ghost will next appear is something Marvel brass will have to sort out.
Feige then compared fans' interest in Ghost to theirs in Black Panther's Shuri, the titular hero's super-genius sister played by Letitia Wright. 
"There's nothing better than struggling over the decision about what characters to bring into a movie, casting those characters, writing and putting them together in a way that works in the movie, and then have audiences go, 'We love them, when are we going to see them again?' Shuri for sure is a great example of that," he said. 
Now that the studio head knows viewers took to Ghost like flies to honey, he and his fellow creatives can map out how she'll fit into the upcoming phases of the Marvel Cinematic Universe. "With Ghost, it is, step one: complete. As for step two, we'll see where we go with that," Feige concluded. 
There's no telling how exactly Ghost will make her comeback, but Feige is definitely suggesting that she will have one. It's interesting to note that he said zilch about the character returning for a potential third Ant-Man film, and while it certainly remains a possibility that she'll appear in the three-quel, Marvel fans might be more attracted to the motion that she'll star in a Thunderbolts movie.
Popular speculation suggests that Marvel is working on a film based on the team of former villains that has included characters like Beetle, Fixer, Moonstone, Screaming Mimi, Bullseye, Green Goblin, Juggernaut, Red Hulk, Punisher, Venom, and even Black Widow, Deadpool, and Hawkeye. Of course, Ghost was on the roster as well, joining the crew in the Heroic Age comic storyline. 
Many have referred to Ghost's introduction in Ant-Man and the Wasp and fellow Thunderbolt member Helmut Zemo appearing in Captain America: Civil War, in which Daniel Brühl played the character, as evidence that Marvel could be putting together such a project. 
What makes the theory more plausible is that Guardians of the Galaxy director James Gunn once told Screen Rant that he'd love to bring the Thunderbolts to the big screen, and that Feige said he would likely be able to do just that if Guardians performed well. That was in 2014, and Guardians of the Galaxy was a rousing success. Since then, John-Kamen herself has also stated "it would be an honor" to be a part of a Thunderbolts movie. 
At the end of the day, perhaps Marvel really is planning to bring John-Kamen's Ghost back in a Thunderbolts flick, with Gunn as the planned director. There's a lot of maybes involved in this scenario, but in the MCU, we've certainly seen stranger things than a well-liked ex-villain circling around for another moment in the spotlight.