Lacey Chabert Conquered A Fear Of Heights For A Stunt In Hallmark's Groundswell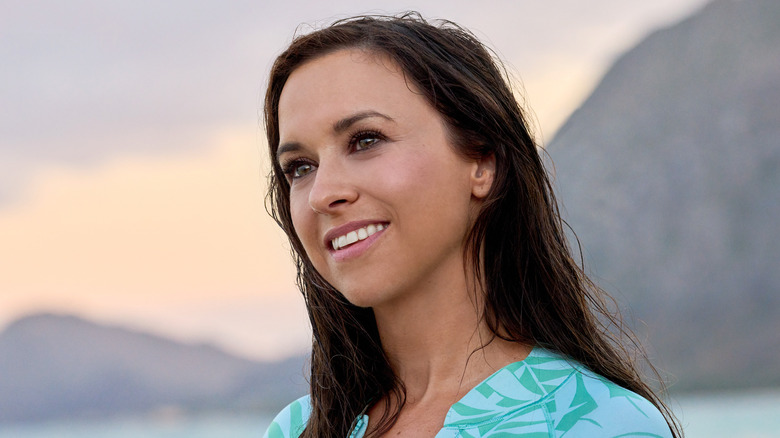 Crown Media
It might be surprising that after a decade-plus-long relationship and more than 30 movies, Lacey Chabert still has more to learn while working with The Hallmark Channel. While the movie plots may seem simple, there are still plenty of opportunities for Chabert to grow. Case in point: she recently conquered her fear of heights for her Hallmark Movies & Mysteries flick "Groundswell."
In the movie, Chabert plays a chef, Emma, hoping to find herself in Hawaii through surfing lessons with a sexy instructor (Ektor Rivera). Chabert took to Instagram in August to share a video from the on-location shoot, where she ziplined for a stunt. "Did I mention I'm terrified of heights?" Chabert captioned the video, pointing out that the camera operator flew right along with her. "I've never ziplined before and I've always wanted to," she said in the clip, which featured the Steve Miller Band's "Fly Like an Eagle." "So I'm really excited, but I'm pretty scared." It was quite a long ride too, from a platform above through a long, green valley.
Chabert loves filming Hallmark movies, and she's said that her Hallmark costars contribute to why she loves it. "I also appreciate how my friends at Hallmark take such great care of me," she told Pop Culture Principle. "We've become like family!" That family showed their love and support for her stunt in the comments — even from some former stars who had jumped ship to the competing GAC Family channel.
Danika McKellar, Alicia Witt and others expressed joy for Lacey Chabert's stunt
After sharing the video of her ziplining moment on Instagram, Lacey Chabert's Hallmark channel costars celebrated the Queen of the Hallmark Movie in their comments. "This is amazing!! you did it.... sides in hand too," "Christmas Tree Lane" star Alicia Witt commented, referring to the script excerpts Chabert held. Chabert's costar and bestie since childhood, Kimberly J. Brown, said, "so cool!" The two have been friends since they both played Young Cosette on Broadway in "Les Misérables" in 1993.
Even former co-stars who left Hallmark to join the fledgling competitor GAC family had positive things to say to Chabert for her bravery. Danica McKellar, who has since accepted a huge production deal with GAC, said simply "Good job!!" with a love emoji. "Christmas in Toyland" star Jesse Hutch suggested another test of bravery. "Great song! And good times!!! I say we got the bungee jumping next!!!," he wrote, explaining he'd jumped several times before. "Always a bonus when you can do it for a film too," he added. "Well played."
This wasn't the first time Chabert faced fears during a shoot. While filming "Winter in Vail" she skied over a frozen lake and flew 40 miles an hour over slopes in an inner tube. Even in "Groundswell" she did a little of her own surfing with costar Ektor Rivera, whose snapshot is captured in her ziplining video. But Chabert still gave proper credit to her "Groundswell" stunt double, Emily Luke, in a separate Instagram video.