Hallmark's Lacey Chabert Was Terrified Of Winter In Vail's Frozen Lake Scene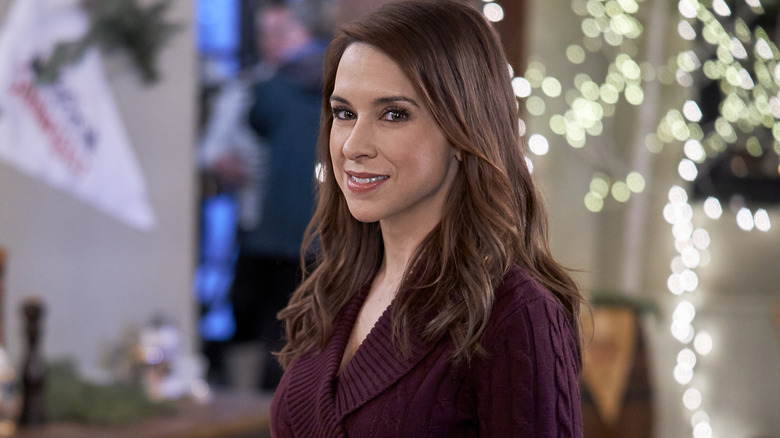 Crown Media United States LLC/David Brown
For an entire generation of television viewers, Lacey Chabert is undoubtedly best known as one of Hallmark Channel's go-to stars. She has, of course, spent the better part of the past decade-plus earning that title, working almost exclusively on projects for the greetings card company's film and television lineup. And as fans of such sticky sweet fare can tell you, quite a few of her roles have come in Hallmark's signature collection of winter-set romantic fables.
Though many of Chabert's winter-time Hallmark flicks are Holiday-centric, that's not entirely the case with her 2020 offering, "Winter in Vail." That flick finds Chabert playing a Los Angeles-based business lady who impulsively quits her job and movies to the titular skiing mecca in the dead of winter after being passed over for coveted promotion. Once in town, she meets a hunky local who helps sway her affections to the town's many snow-bound charms. That eventually includes a little cross-country skiing which, as the actor admitted during a 2020 Hallmark Channel interview, was actually pretty scary, as the scene was shot on a real frozen lake.
"We were on a real lake!" Chabert exclaimed during the interview, going on to say, "And I was honestly terrified, because in movies that never goes well ... the frozen lake." The actor goes on to add the film's crew went to great lengths to ensure the safety of the ice, but still claimed, "I was having a mild panic attack." 
That lake walk was one of several daring acts Chabert endured for Winter in Vail
After a prompt from the Hallmark Channel show's host, Lacey Chabert went on to admit performing such acts for a movie is quite different since she's had children, laughing that her parental instincts kicked in to tell her, "This is dangerous, I shouldn't be doing this." That didn't stop her from taking things a step further for another scene later in "Winter in Vail" — one that involved hitting the snow-covered slopes on an inner tube.
Even if she couldn't help but note, "Oh my gosh, it was so much fun," in recounting the shooting of that particular scene, Chabert actually made it sound like it was way more dangerous than skiing a well-frozen lake. "I don't even know if the footage actually does it justice," she said, "but we were going up to like 40 miles per hour." Given that they're doing so with little between their bodies and the frozen tundra besides winter wear and a stylish beanie, one can clearly see the danger there. Chabert obviously did too, later claiming, "I was trying to look cool, like I'm having fun. And the whole time I'm just like, blood-curdling screams."
If you've seen "Winter in Vail," you know the inherent danger of such scenes pales in comparison to the utter charm they bring to the story. And even as uneasy as Lacey Chabert was shooting them, she happily added, "Honestly, I would go back and do it all again."