Hallmark Christmas Movie Queen Lacey Chabert On The 'Fast And Furious' Filming Schedules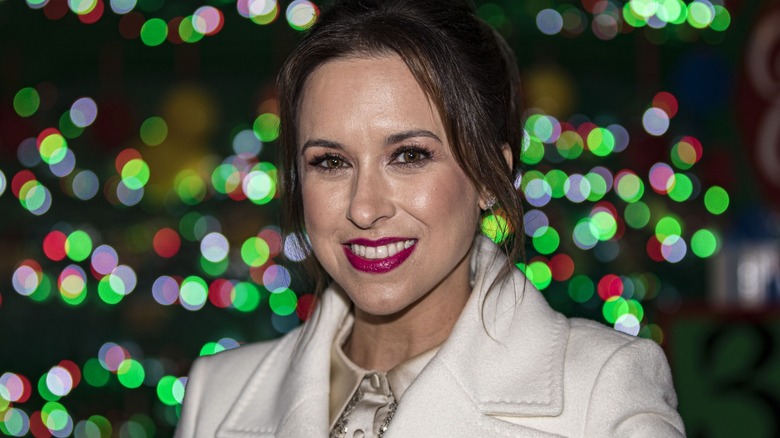 Daniel Knighton/Getty Images
At this point, everyone loves a good Hallmark movie or two. The straight-to-television films have become a staple of the industry, giving fans genre-spanning stories, including romance, comedies, and holiday movies. Everyone knows how the studio reps out the projects, with numerous films broadcasting yearly, but Hallmark legend Lacey Chabert recently pulled back the curtains on the insane filming schedule.
"So the schedule is fast and furious," the "Mean Girls" actress told "The Tonight Show." "We do them in 15 days, and it's really long days. Sometimes they air, like, two months after we filmed it." If that wasn't enough to impress fans, Chabert also revealed that Hallmark shoots across the world, so it isn't just long days on a soundstage. 
When asked whether Hallmark films shoot on location, Chabert confirmed that they often do, going on to say she has shot on location in Belgium and South Africa, for example. "That was amazing," Chabert said, regarding her shoot in South Africa. "We were staying on the reserve where we were filming and, I mean, you'd have to peek out the door to make sure the giraffe wasn't right in front of your door. It was magical."
While that experience was quite memorable for Chabert, she has undoubtedly collected a number of memorable experiences thanks to her frequent work on Hallmark films.
Lacey Chabert is a legend in the Hallmark game
Jimmy Fallon touched on this during his interview, but Lacey Chabert is undoubtedly the queen of Hallmark, with over 30 acting credits to her name. Her first appearance on the channel came in 2010's "Elevator Girl," playing a free-spirited woman who falls in love with a successful lawyer after being trapped in an elevator with him.
The actress then took a few years off from Hallmark movies, but when she returned, she came back with a vengeance. In 2014, she starred in "The Color of Rain," and her Hallmark dominance began there. Over the next eight years, she took the world by storm, assembling the Infinity Stones of Hallmark movies. Some of her biggest hits were the "Crossword Mysteries" series, "Pride, Prejudice, and Mistletoe," and the "Wedding Veil" trilogy.
With over 30 movies under her belt and counting, Chabert is the undisputed queen of Hallmark, with no signs of slowing down. Over her decades-spanning career, she has practically become the face of the network. And while the long filming schedules may be a challenge, it's clear that Chabert knows exactly what draws fans into these movies, perfecting the Hallmark recipe throughout her films. We seriously doubt anyone ever takes the Hallmark crown away from her.