The Complete Evolution Of SNL's Weekend Update Segment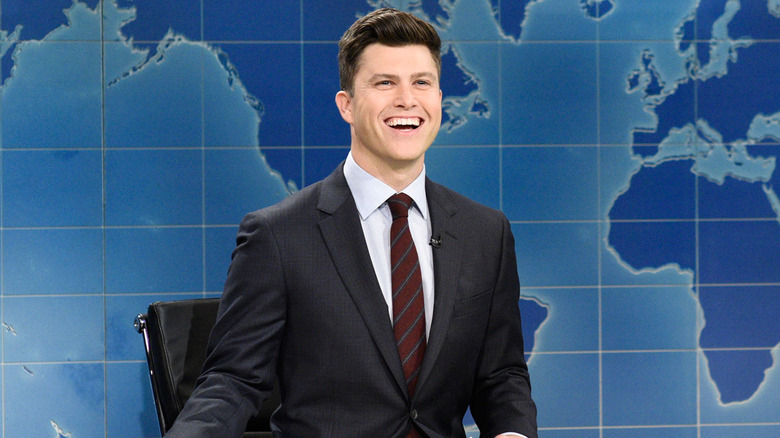 NBC Universal
Weekend Update is one of "Saturday Night Live's" longest-running and most beloved traditions. The segment takes place every episode, typically right at the halfway mark, breaking up the show's other comedic sketches and musical performances. For almost 50 seasons, viewers have been tuning every week to enjoy the satirical yet brilliant news segment parody. Audiences hang on every word, dying to see what jokes their favorite anchors have about current events and popular culture.
As a whole, the segment is undoubtedly a hit, but with a history this long, there have definitely been some ups and downs. A lot can happen in five decades, and over the course of the Weekend Update's lifespan, many changes have occurred. The name can change, the format can be restructured, the set can be redesigned, and the anchors can come and go in a flash. In fact, 35 people have commanded the news desk at one point or another. This segment is one with a decidedly traveled history, complete with twists, turns, and a few pit stops along the way. Here's the complete evolution of Weekend Update, from 1975 to now.
Season 1: The debut
NBC
Weekend Update isn't just the longest-running sketch in "SNL" history, but it's been a constant fixture since the very beginning. Its origins date back to the show's very first episode, which aired Oct. 11, 1975. It was a wacky idea, with no guarantees of success or substance, but show writer Herb Sargent and "SNL" cast member Chevy Chase thought it could work and decided to give it a try. Had these television geniuses not decided to take a risk on a random brainchild, the world would never have been introduced to the brilliant segment we know and love today.
Chase wasn't just one of the idea men behind Weekend Update — he was actually the show's first anchor. He was charismatic and charming and quickly popularized a myriad of quippy catchphrases and bits. Some of his more iconic ones include greeting audiences with "I'm Chevy Chase ... and you're not" and repeatedly and randomly announcing as a news story that "Generalissimo Francisco Franco is still dead." He was just intended to be part of the writing staff, but Lorne Michaels deputized him to run the segment when he saw how well Chase handled political news satire in some early rehearsals. Regardless of what bits he indulged in during his segments, Chase always signed off, "That's the news, goodnight, and have a pleasant tomorrow."
During this first-season run, the very first Weekend Update "guest" also appeared on the segment in the form of Emily Litella, an elderly correspondent character portrayed by Gilda Radner. John Belushi also made occasional appearances as himself, providing editorials or reporting on the weather.
The late '70s: The era of shuffling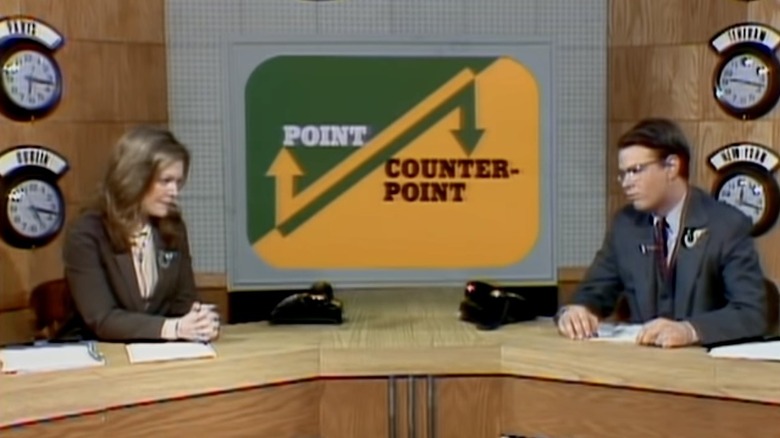 NBC
While Chevy Chase's reign as anchor continued beyond Season 1 and he commanded the news desk for the Season 2 premiere, his tenure didn't last long. He was absent for the following two episodes, and cast member Jane Curtin filled in for him. It seemed all was back to normal upon his return, and he hosted a few more episodes, but then a major shock came when he left for good midseason, making a final appearance on Oct. 30, 1976, and becoming the first regular "SNL" cast member to retire from the show.
Curtin was named his immediate and permanent replacement, taking control the very next episode, with the segment being officially dubbed "Weekend Update with Jane Curtin." Curtin stayed on as a solo anchor for the rest of Season 2 with no other major changes to the segment, allowing an air of stability and familiarity to return in the wake of Chase's abrupt exit.
Despite this brief period of normalcy, a general instability followed in the next few seasons. In Season 3, Curtin was paired with Dan Aykroyd (the segment's first-ever co-anchorage), with the Weekend Update set also changing. Then, in Seasons 4 and 5, Curtin was paired with Bill Murray, with the segment again moving back and forth between different sets. For this period, it seemed there was no uniform or cohesive Weekend Update image that audiences could become accustomed to.
Enter Season 6: The era of experimentation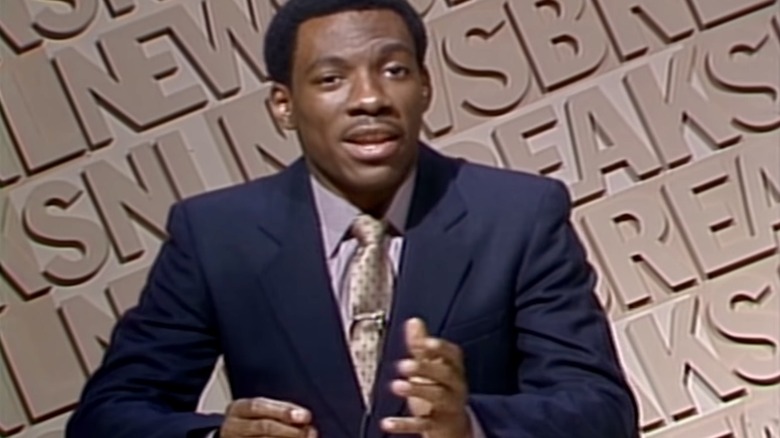 NBC
The sixth season ushered in a whole slew of changes, as at the end of Season 5, the show's entire cast departed, and a new producer, Jean Doumanian, was brought in to rebuild the show. Doumanian raised an entirely new cast from the ground up, including the new Weekend Update anchor, Charles Rocket. Rocket initially took over the desk as a solo anchor, but was joined after a few episodes by co-anchor Gail Matthius.
Season 6 was notable for switching up a lot of the show's traditional practices, with Weekend Update being no exception. For the season's 10th episode, aired on Feb. 14, 1981, there was not one, but three separate news segments. There was the standard Weekend Update with Rocket and Matthius, but then there were also two bonus segments with Eddie Murphy.
The experimentation continued, with the season's 12th episode dropping the traditional Weekend Update segment altogether and replacing it with "Saturday Night NewsLine." This new installation was composed of three mini-segments dropped in throughout the episode, each covering a different beat or topic. There was the science segment, hosted by the character Dr. Jonathan Lear (Mark King); an Oscars segment hosted by the arts and leisure correspondent (Bill Murray); and a news segment by Rocket (somewhat similar to Weekend Update, but with slight changes and a new set).
Farewell, Season 6: Cleaning up the mess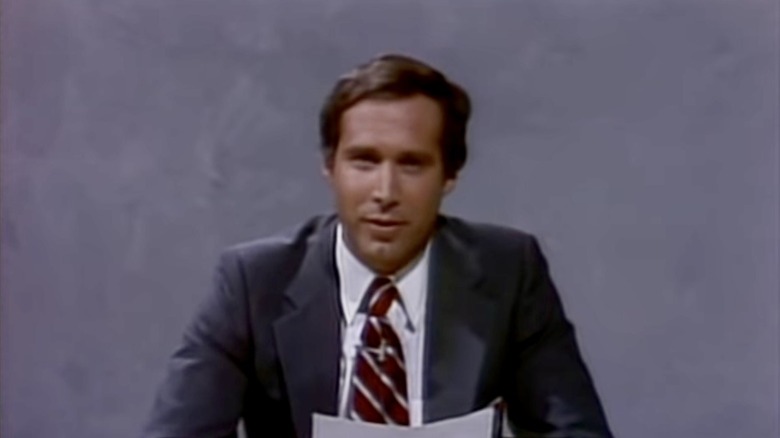 NBC
Following the fiasco of changes and experimentation that characterized Season 6, it was clear that serious issues needed to be addressed on the show. The "Saturday Night NewsLine" segments were introduced in the second-to-last episode of the season, and while it would have just been easier (and less jarring) to resolve things over the break, the NBC brass wasn't going to allow even more episodes of this chaos to hit the airwaves.
Immediately following the "Saturday Night NewsLine" episode, executive producer Jean Doumanian was fired and promptly replaced with Dick Ebersol. Ebersol then kept the trend running and proceeded to fire most of the "SNL" cast, including Weekend Update anchor Charles Rocket (who dropped an F-bomb on live TV in a separate sketch). Someone needed to pay the price for the Season 6 crimes, and heads were rolling at the 30 Rockefeller Plaza stage.
For the Season 6 finale, Ebersol asked original anchor Chevy Chase back to anchor Weekend Update one more time, granting "Weekend Update with Chevy Chase" its first TV appearance in years. He appeared alongside Al Franken. The segment was even done with the same style and set as in Season 1, offering whiplashed audiences the peaceful offering of a nostalgic return to the good old days.
The early '80s: A revolving door of anchors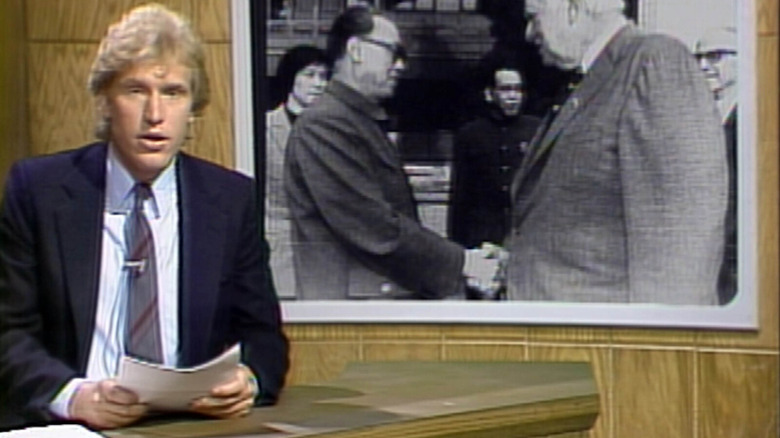 NBC
During the early 1980s, whilst under the management of executive producer Dick Ebersol, the Weekend Update segment saw no rest. There were constant changes, and no one sat behind the desk long enough to get comfortable. At the start of Season 7, Brian Doyle-Murray was brought on to anchor the segment, now titled "SNL Newsbreak." At first, he co-anchored with Mary Gross, then went solo for a brief stint, and was finally joined by Christine Ebersole for the remainder of the season.
For Season 8, Murray was replaced with Brad Hall, and the segment again changed names, this time to "Saturday Night News with Brad Hall." Hall remained behind the desk for about one and a half seasons, before being pulled midway through Season 9. For the remainder of the season, there were no standing or permanent anchors. Instead, "SNL" cast members and guest hosts served as anchors, bringing a chaotic and ever-changing air to the segment.
A few months into Season 10, Christopher Guest was brought on to be a permanent anchor of "Saturday Night News," finally allowing some dust to settle over the news desk. While Guest officially took over and made his first anchor appearance on Dec. 1, 1984, the following week had no news segment whatsoever. It is the only episode in the show's 48-season run to not have one.
The late '80s: A return to stability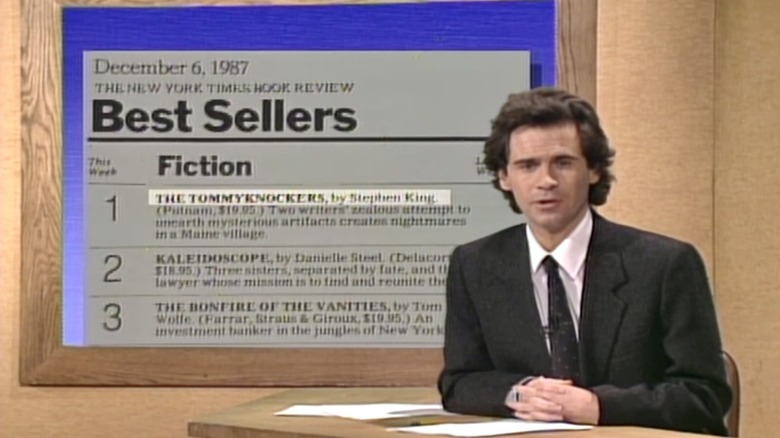 NBC
At the end of Season 10, following a four-season run as showrunner, Dick Ebersol finally stepped down from the "SNL" helm, with ex-producer Lorne Michaels returning to replace him. In direct opposition to Ebersol, and likely a reaction to the constant shifting, anchor swapping, and name changing that characterized the "SNL" news desk under his reign, Michaels finally stability back to the show.
At the start of Season 11, Michaels rebuilt the show with an entirely new cast again, brought in Dennis Miller to anchor, and renamed the segment as the originally titled "Weekend Update." Miller remained at the desk for six years, staying on until the end of Season 16, anchoring for the last time on May 18, 1991. At the time, this marked the longest solo run of a Weekend Update anchor (though this record would eventually be surpassed by Seth Meyers).
With the luxury of time on his side, Miller was able to install himself as not just an anchor, but the anchor, a familiar face that greeted audiences every week with "Good evening, and what can I tell ya?" and closing with "Guess what, folks? That's the news, and I am outta here!"
The early '90s: The anchor of many talents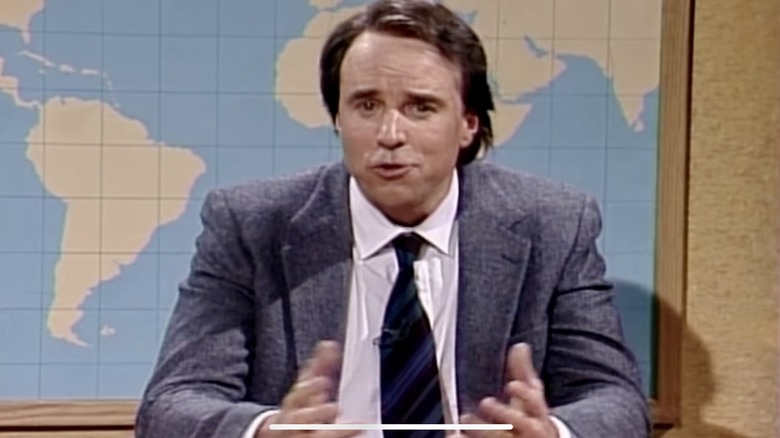 NBC
At the start of Season 17, following Miller's leave, Kevin Nealon took over as Weekend Update anchor. Nealon was actually no stranger to the segment, and had found himself behind the desk several times before. He was already a cast member on "SNL" and occasionally made guest appearances on Weekend Update with popular characters such as "Mr. Subliminal" and his classic straight-man approach. Nealon remained behind the Weekend Update desk for a fairly solid three-season period, signing off weekly with "I'm Kevin Nealon, and that's news to me."
Nealon eventually stepped down as anchor, on his own accord, due to the fact that he felt Weekend Update was taking away other opportunities for him on the show. He felt his talents shone brighter when performing and acting in sketches, and it was too difficult for him to do both. Rather than stretch himself too thin, Nealon brought his talents back to sketches, and his run as an anchor came to a close. While his departure from the news desk was final, he did remain a cast member through the end of Season 20.
The mid-'90s: The era of bad blood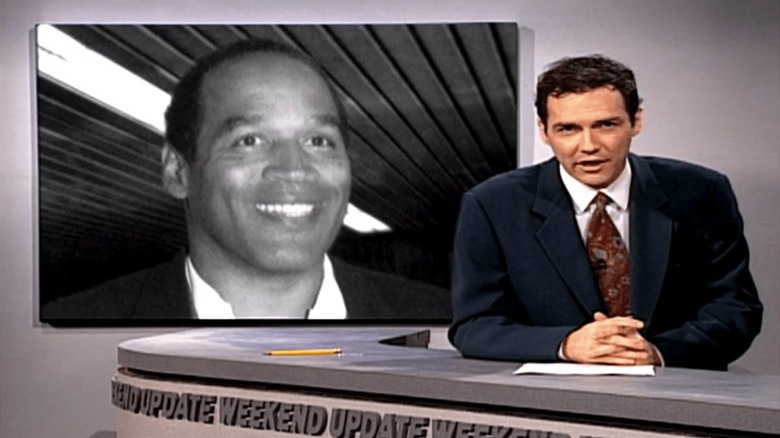 NBC
At the beginning of Season 20, Norm Macdonald was brought on to replace Nealon. Macdonald anchored without a hitch for several seasons and became known for opening each Update with "I'm Norm Macdonald, and now the fake news." He was well-known for his frank delivery, mixed with his tendency to explain his own jokes. He frequently poked fun at Frank Stallone, Germany, and the Clintons. He was a popular anchor who brought note-to-self bits and other in-jokes to the gig, and Chevy Chase even said (via Outsider) he was the best of them all — not counting himself, of course.
Given his popularity, it was strange when he was fired from the position during the middle of the 23rd season and replaced with Colin Quinn. However, Macdonald claims he knows exactly what happened. According to him (via The Daily Beast), it's because during his stint as anchor, it's possible that he made one too many (or perhaps a hundred too many) O.J. Simpson jokes.
For context, NBC executive Don Ohlmeyer was a very close friend of O.J. Simpson, and didn't kindly to Macdonald's constant bagging and unflattering jokes regarding Simpson's criminal case and reputation. If you ask Macdonald, that's why he got the boot, but if you ask Ohlmeyer, it's probably because he just wasn't that funny. We'll probably never know, but regardless, there was definitely some sort of tension happening off-camera at 30 Rock in the '90s.
The early 2000s: Two times the fun
NBC
After Colin Quinn's departure in 2000 came a long stint characterized by comedy duos, with the show switching to a two-anchor format and remaining that way for the next eight years. Over the summer of 2000, current "SNL" cast members auditioned for the anchor spots, with Jimmy Fallon and Tina Fey winning out. The two anchored together until Fallon left to pursue a film career at the end of the 29th season, officially signing off for the last time on May 15, 2004.
Following Fallon, the co-anchor baton was passed to cast member Amy Poehler, marking the first time in "SNL" history that two women were at the helm of the Weekend Update segment. While Fey temporarily left the show for the first few episodes of Season 30 to go on maternity leave, with Horatio Sanz assuming her chair for the time being, she soon returned and anchored alongside Poehler through the end of Season 31.
Beginning in Season 32, Poehler co-anchored the segment alongside Seth Meyers. However, she left the show in the fall of 2008, during the middle of Season 34, to attend to motherly duties (the birth of her first child). During this season, there were also several previous Weekend Update anchors that returned to the desk to guest host, including Tina Fey as "Special Women's News Correspondent" and Chevy Chase as "Senior Political Correspondent."
The early 2010s: A solo mission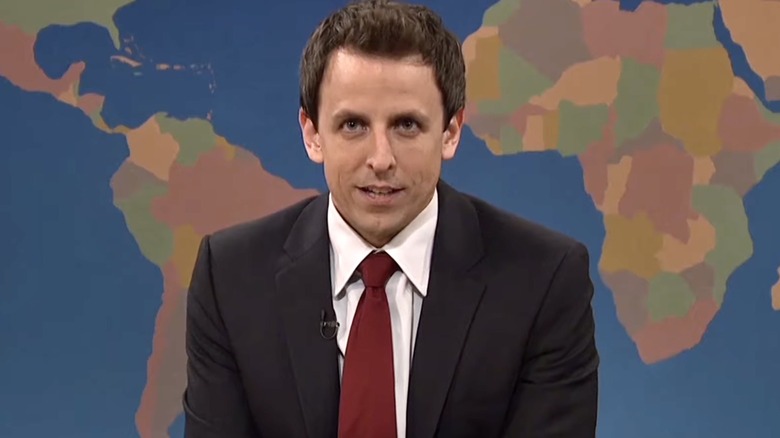 NBC
Immediately following Poehler's departure, Meyers began hosting Weekend Update alone, acting as the first solo anchor in over a decade, with the segment officially retitled "Weekend Update with Seth Meyers." Poehler did return briefly for two episodes later in the season but announced during the Dec. 13, 2008, episode that this would be her final show as an official cast member.
Meyers stayed on as the sole anchor all the way through the end of Season 38, breaking Dennis Miller's previous record for the longest Weekend Update stint. While he was the only official Weekend Update anchor during this time, he was occasionally joined by his predecessors, including Jimmy Fallon, Tina Fey, and Amy Poehler, for one-off guest anchor appearances.
After several years on the job, Meyers was going to leave the show to replace Jimmy Fallon as the host of "Late Night." Fallon was going to be moving on to take over as host of "The Tonight Show." Meyers remained into Season 39 for a brief period, but the official word was that his reign as king of Weekend Update would soon be coming to its natural conclusion.
Season 39: A fresh face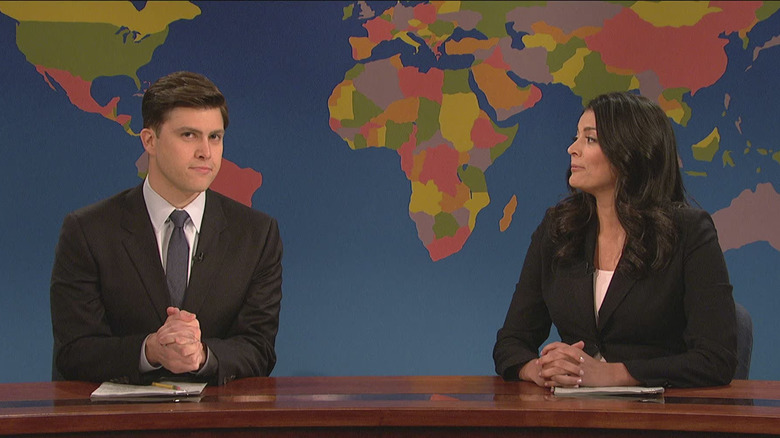 NBC
Beginning in Season 39, Seth Meyers was joined at the news desk by cast member and new co-anchor, as well as occasional Weekend Update guest, Cecily Strong. However, Meyers officially retired from Weekend Update midseason, with a final show on Feb. 1, 2014. Following this episode, "SNL," as well as other programs including "Late Night" and "The Tonight Show," all had to go on break to accommodate the air time taken up by the 2014 Winter Olympics.
When "SNL" returned on March 1, 2014, it was immediately apparent something about the show was very different. There was an entirely new fresh face in the mix, as Cecily Strong was joined at the Weekend Update desk by "SNL" writer Colin Jost. Jost had been a head writer for the series and joined the cast for the sole and exclusive reason of anchoring the Weekend Update segment, rather than to take part in any of the show's myriad of sketches and skits. The two co-anchored the segment together through the end of Season 39, at which point Strong left the segment.
2014 to present: The long run
Beginning in Season 40, Michael Che was promoted from the cast to replace Cecily Strong and host Weekend Update alongside Colin Jost. This pairing is incredibly notable for myriad reasons. Not only was this the first time that two men co-hosted the segment together, but Che also made "SNL" history by becoming the show's first-ever Black anchor. The two are a match made in heaven. Fans adore them, and they mesh so well together that they not only have long-running bits, like their beloved joke-swapping tradition, but are still co-anchoring to this day, all the way through Season 48. In fact, together they hold the top two current records for longest Weekend Update stint, with Jost earning the top spot on Oct. 23, 2021, and Che earning the second seat on Jan. 29, 2022.
They knocked Seth Meyers from his throne, but there don't appear to be hard feelings there. Meyers returned to Weekend Update for the Oct. 13, 2018, episode, and, together, the three men engaged in a bit called "Really?!? With Seth, Colin, and Michael," a niche reference to a segment Meyers and Amy Poehler would do together during their stint as co-anchors. Another notable returning anchor is Tina Fey's Dec. 18, 2021 appearance, which she did to fill in for Jost while he was positive for COVID-19. While they sometimes have these old dogs return to relive their glory days, as of now, it's clear which anchors hold the titles of reigning kings over Weekend Update.
The future: What's next?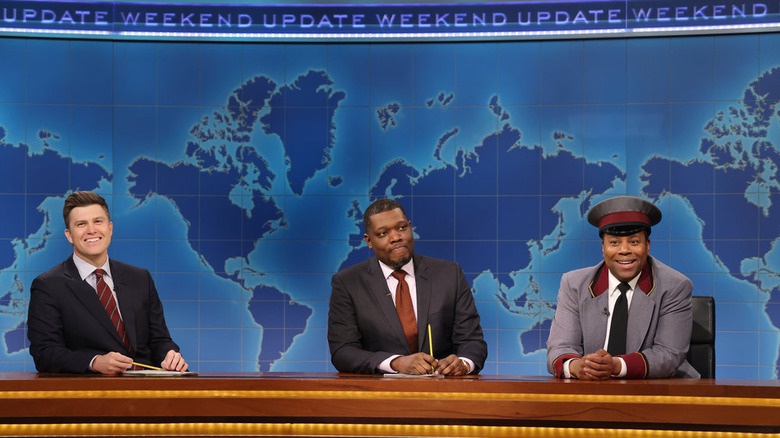 Rosalind O'Connor/NBC
As of now, Colin Jost and Michael Che are still currently seated behind the Weekend Update Desk, but is that always going to the case? How long will their reign last, and which one of them is going to blink first? For a while, in 2022, it seemed like Che was just about ready to retire from the segment, announcing at a pop-up show in a Minneapolis hair salon that he was leaving the show and was tired of the "news" bit.
However, a few months later, Che backtracked and confirmed that he would be staying on the show. It's not that there was any misreporting or confusion in regard to the news of his departure, Che says he was, in fact, being serious when he originally said he was leaving (though no one really believed him). The reason he wanted to leave, however, was that he felt he wanted more time to work on other projects, but after talking with Lorne Michaels, he said, together they came to an agreement about his workload and Che decided to stay on the show.
As of right now, there is no confirmed news that either of the two anchors plans to step down from their Weekend Update posts, so fans of the comedy duo can relax for the time being. While one can never be certain what the future may bring, the word right now is that it's business as usual.