SNL Fans Applaud Colin Jost And Michael Che's Increased Weekend Update Savagery In Season 48 Episode 5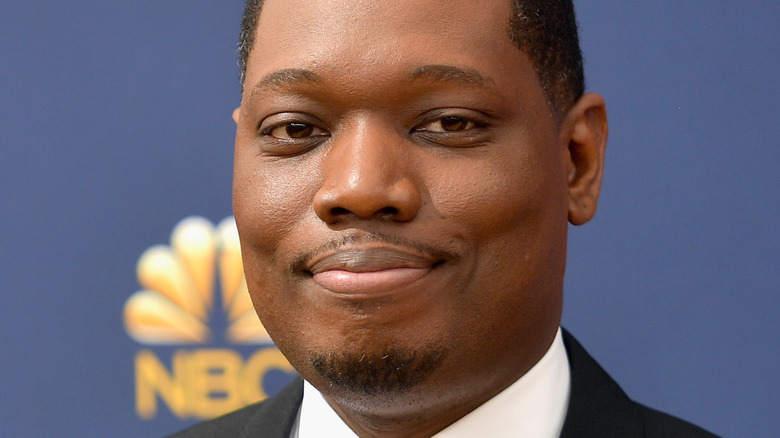 Matt Winkelmeyer/Getty Images
Season 48 of "Saturday Night Live" is currently in full swing, and as usual, anchors Colin Jost and Michael Che keep knocking the internet dead with their "Weekend Update" savagery. On the November 5 episode — which featured host Amy Schumer and musical guest Steve Lacy — the duo decided to turn it up a notch, cracking jokes about Kanye West, Kyrie Irving, CNN, Elon Musk, and countless others.
"The latest job reports show that last month the US economy added over 200,000 jobs," explained Jost in one of their bits, adding: "We'll see about that, said Elon Musk," referencing Musk's massive Twitter layoffs (via CNN). In another joke that people were talking about online, Che told viewers: "Kanye West was suspended from Instagram again for posting a disparaging message about Jewish people...I'm noticing a trend with Kanye: His business deals went bad and he just started calling it a Jewish conspiracy, sorta like when his albums got bad he just started calling it gospel." Jost later followed up the crack with a recent report about budget cuts at CNN and reported scale-backs of original content, calling out the show "Stanley Tucci: Searching for Italy," specifically.
"Yeah, apparently there was a flaw with the business model of giving Stanley Tucci millions of dollars to eat gelato," Jost blasted. Fans have been calling the "Weekend Update" one of the pair's best, with there being countless praise for Jost and Che on YouTube and social media.
'This was the most savage Weekend Update the boys have done in a long time'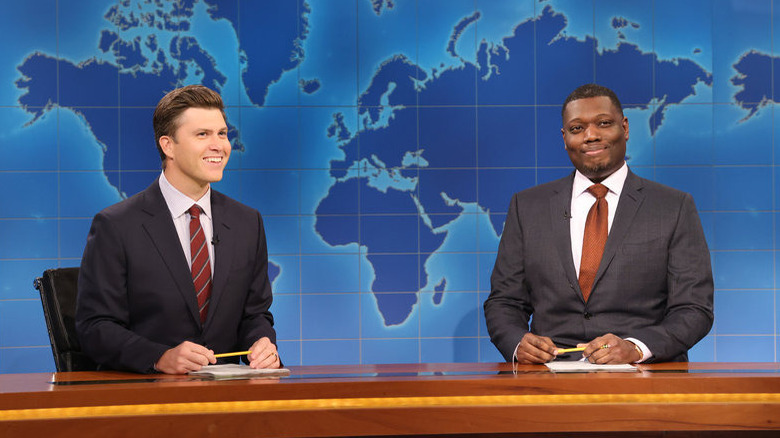 Will Heath/NBC
Fans of "SNL" have been giving Colin Jost and Michael Che major props for their work in the November 5 episode of "SNL," with some saying it was a "Weekend Update" for the ages.
"This was the most savage Weekend Update the boys have done in a long time," wrote YouTube user clever username in the comments section of the "Weekend Update" YouTube video. "BRAVO gentlemen. This was top-tier work," they added. Migi Playz, another YouTuber in the comments section, said: "Once again Colin and Michael hitting the ball out of the park with every joke they tell." Twitter user @FaithRubPol declared: "Colin Jost & Michael Che are the best things to happen to SNL in years."
Back in May 2022, "SNL" fans were relieved to hear that Che would be returning to the show for its 48th season after there was some speculation that he'd be leaving. "I don't have any plans to leave just yet," Che said on Bill Simmons' podcast. He and Jost have been doing their thing as the "Weekend Update" hosts since 2014 when Che replaced legendary cast member Cecily Strong as Jost's co-anchor. Che went on to become the first Black co-head writer in "SNL" history in 2017, with him being promoted to one of the top spots along with Jost.
"Colin Jost and Michael Che really clock in and kill it every week," praised Twitter user @jay_zimmer during the November 5 episode. User @DaveWritesBad concluded: "Comedy Central should just make The Daily Show a 2 anchor show, starring Michael Che and Colin Jost."