The Ending Of The Goldbergs Explained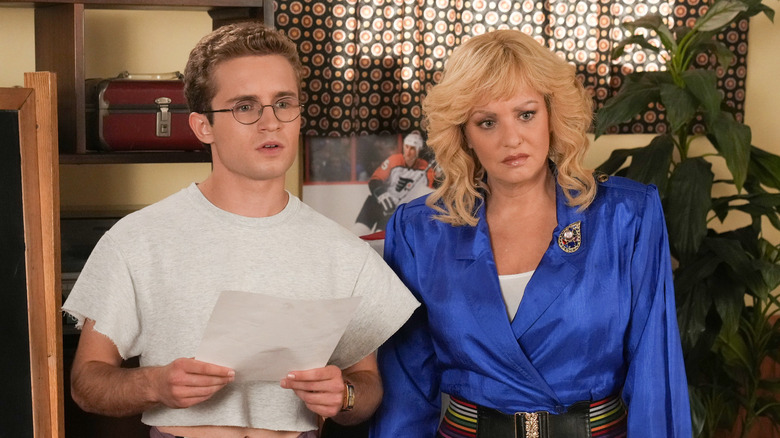 ABC
It's no longer 1980-something, but this isn't the end for the Goldbergs — even though it's the end of the 10-season show. Fans first met the Goldberg family in 2013, and the show survived the loss of cast members from both death and scandal, yet the series persisted until fans and creators got the cancelation news. The series centers around six members of the Goldberg family: Beverly (Wendi McLendon-Covey), Murray (Jeff Garlin), eldest child Erica (Hayley Orrantia), middle child Barry (Troy Gentile), and the Goldbergs' youngest and arguably favorite son, Adam (Sean Giambrone). To round out the family shenanigans, George Segal played the beloved Pops aka Albert Solomon.
Of course, the story fictionalizes the real Adam Goldberg's journey to Hollywood and the fame that came along with it. Yet the show is essentially "Adam Goldberg, the early years." The series kicks off with an 11-year-old Adam and the trials and tribulations that come along with navigating middle school, high school, and eventually college with an overbearing and meddling mother.
"The Goldbergs" may seem like a run-of-the-mill sitcom without too much of a need for explanation. However, the show covers plenty of nuances between grief, coming-of-age plots, timeline confusion, and family dynamics that aren't surface-level. The last few episodes of the series particularly focus on the symbolism and the themes of growing up and moving on. Well, we're here to get into the nitty-gritty implications of the finale and what it means for the kooky Goldberg family and their future.
What's up with the timeline?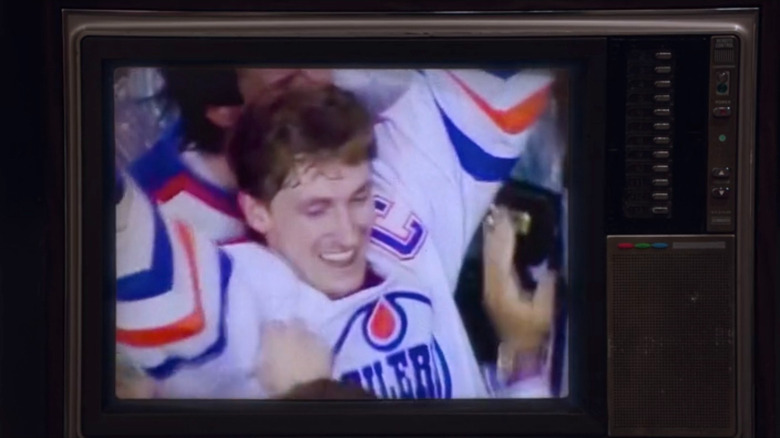 ABC
The beauty of "The Goldbergs" comes from the fact that murky memories decades in the making shape the show. When we think back on our life moments, they aren't necessarily in chronological order. Everyone's life story consists of fractured puzzle pieces that will never quite fit together when we sit down and evaluate where we've gone and where we're going.
The series acknowledges this early on with Adam's sentiment that it's "1980-something" at the beginning of each episode. While the characters' major moments through school, college, and marriage are in chronological order, the details are a bit fuzzier. There are countless moments in the series that don't add up timeline-wise. However, the show brilliantly accounts for this by telling fans not to expect a perfect timeline. Basically, they built inconsistencies into the structure of the series, which helped them focus on the larger picture rather than tedious details.
For example, we see the Flyers and the Oilers duke it out in the Stanley Cup Finals during Season 10. These teams faced off against each other twice in the '80s: 1985 and 1987. The Oilers won both times and the captain, Wayne Gretzky, held up the Cup first in both games. It would make more sense if the 1997 game appeared in the show, given that it's already covered about ten years of plot. Yet if you look closely at Gretzky's Cup moment in both games, the scene in the show matches his 1985 glory — proving, once again, that specifics don't matter.
Working through a codependant relationship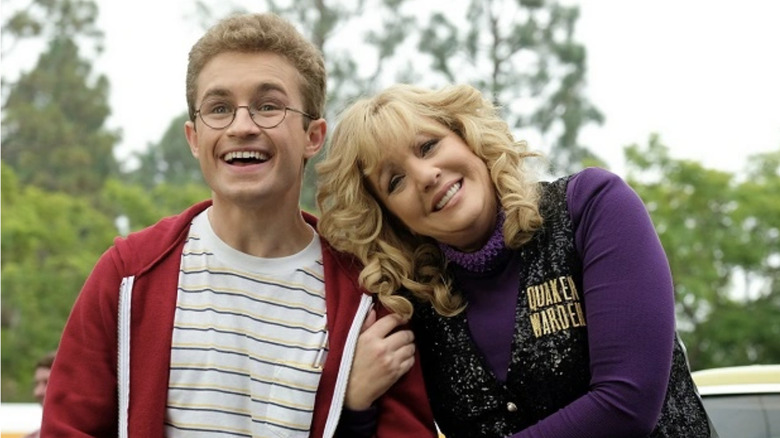 ABC
There's no denying that Adam and his mother have a borderline creepy and codependent relationship. Not only has it prevented Beverly from focusing on her own life, but it stunted Adam's growth his entire life and blows up almost every relationship he's had since middle school. Toward the end of the series, Beverly starts to realize that she's coddled and held Adam back, going as far as reaching out to Adam's exes to discover if she was a determining factor in her son's breakups. To Beverly's shock (but no one else's), it's unanimous — her stifling meddling killed Adam's love life.
In the series finale, both mother and son must confront their codependent relationship — but not before one last cringe moment from Adam. When Beverly reconnects with her high school sweetheart at her school reunion, Adam does everything he can to sabotage them. He goes back to his teenage antics by making a scene onstage and causing a scene. Given that he's nearly 20, both of the Goldbergs realize that something has to change.
Moving past main character energy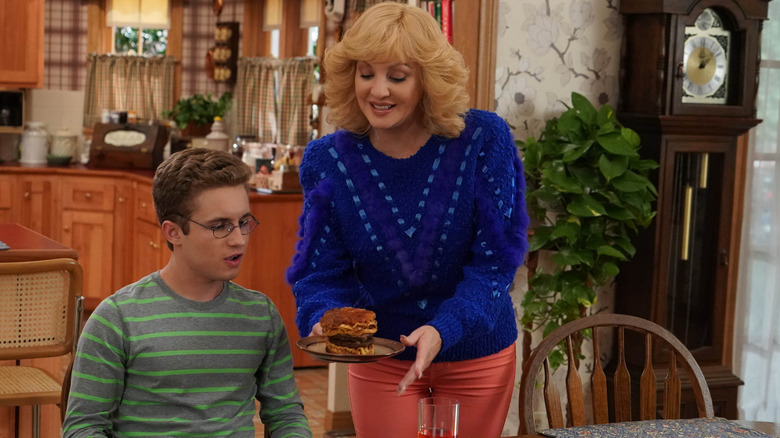 ABC
The loss of the Goldberg's patriarch irrevocably changed the show's tone, but the series doesn't deal with it all that much after the initial few episodes following his death. The series finale takes us back to this massive loss when Adam grapples with his mother's readiness to move on and date again. Adam is clearly not ready to accept that his mom deserves a life after his father.
But throughout the episode, he quickly realizes that he needs to be an adult and acknowledge that his mother's happiness is more important than forcing her to stay stagnant after the biggest loss of her life. Both need to stop meddling and attempting to control each other's lives For the first time, Beverly holds her son accountable for the selfish behavior that she helped instill in him. Meanwhile, Adam takes a significant step toward realizing that not everything is about the youngest Goldberg sibling and his main character energy.
Back to the future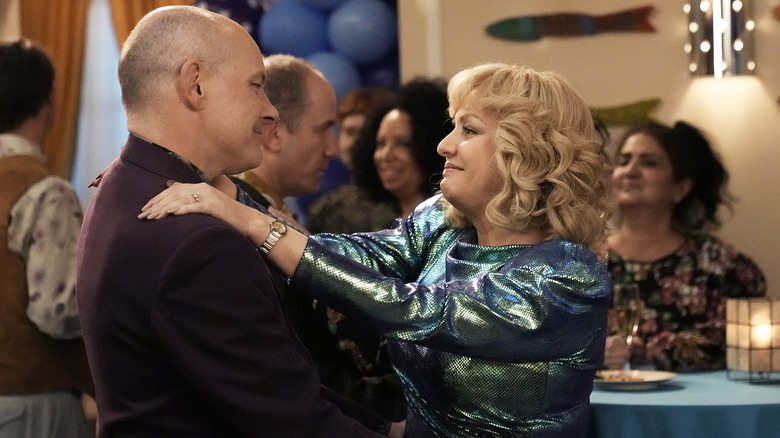 ABC/Scott Everett White
Of course, the show has to end with one last homage to an '80s movie: This time, it's "Back to the Future" (the 1985 Hollywood staple helped define the sci-fi genre, after all). The final episode tackles the concept of time travel and life regrets during Beverly's reunion. And what's a Goldberg movie reference without some prop action? Pop Pop gives Adam a DeLorean that he randomly got from his scammer son.
Of course, Adam doesn't actually time travel, yet the moderate cliché symbolism tackles the Goldbergs' need to confront their past mistakes to do better in the future. Adam uses the DeLorean to reconnect Beverly with her first love, righting his childish attempts to thwart them. The moment helps Adam and Beverly work toward a healthier relationship where they can make their own choices without interference. Things are looking up for Beverly because she ends up with her ex and embraces her journey to find her own happiness outside of her kids.
A doomed relationship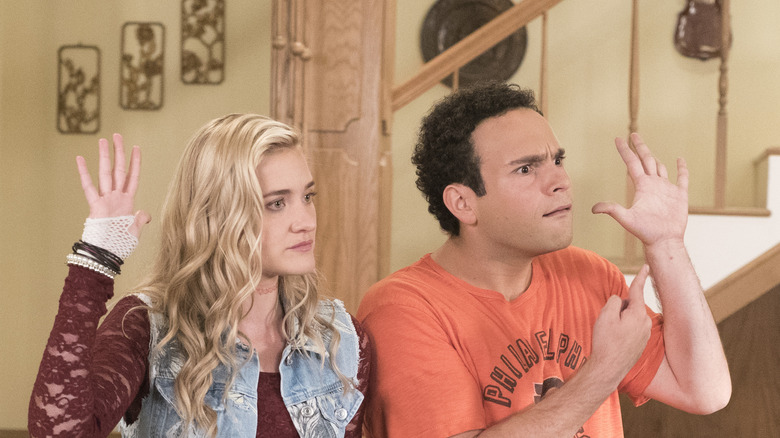 ABC
At the beginning of the show's final episode, both the Goldberg and the Schwartz families make it clear that no one takes Barry and Joanne's (Beth Triffon) relationship seriously. The two spend several seasons trying to justify their relationship. However, the two couldn't be more mismatched. They bring out the worst in each other, and their entire relationship feels like a coupling of convenience.
They're so desperate for their families to get behind their relationship that they chaotically decide to elope. Naturally, Beverly is furious when she finds out, and in a rare moment, the fans can agree with her outrage over her kids' life choices. Shocker of shock, their relationship clearly doesn't last.
In the short-lived '90s-centric spinoff, "Schooled," we see Lainey (AJ Michalka) go on a date with a single Barry. Adam also heavily implies that the two eventually end up married sometime in the future. Fans didn't know at the time that Barry is a divorcee when that date happens. It's not clear when Joanne and Barry lay their relationship to rest, but no matter how hard they tried, it was never meant to last.
Adulting with a (mostly) mature relationship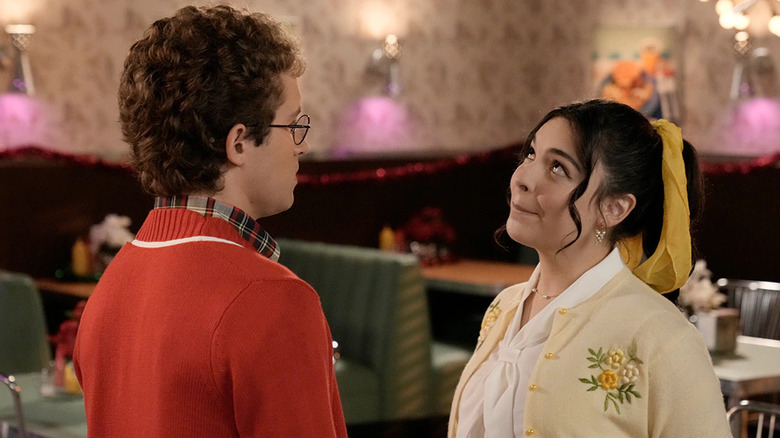 ABC
At its core, "The Goldbergs" has always been about Adam's journey to grow up and eventually become a Hollywood success. And up until the very last episode, his immaturity levels failed to match his age. Yet despite Adam putting off entering the "real world," he makes significant strides in the finale. Between the penultimate episode and the final episode, Adam's adulthood is put to the test with his girlfriend, Carmen (Isabella Gomez).
Carmen helps Adam realize that he's not the center of the universe and that he can't micromanage other people's life choices. After Adam gets accepted to NYU, he insists that Carmen should ditch her life and join him in New York. Of course, she calls him out, and the two work through their fight as a team. Ultimately, Adam has the epiphany that he's more like his mother than he'd like to admit. Eventually, he allows Carmen to make her own choice without any pressure.
At the show's close, Adam and Carmen are still together and in a bit of an on-the-nose scene, the two drive off in the DeLorean, embarking into the unknown together. Sure, it may be an overdone way to end a story (we're looking at you, "Grease"), but it's a classic for a reason. Adam Goldberg is finally ready to grow up, which closes out the show's premise.
The real Adam Goldberg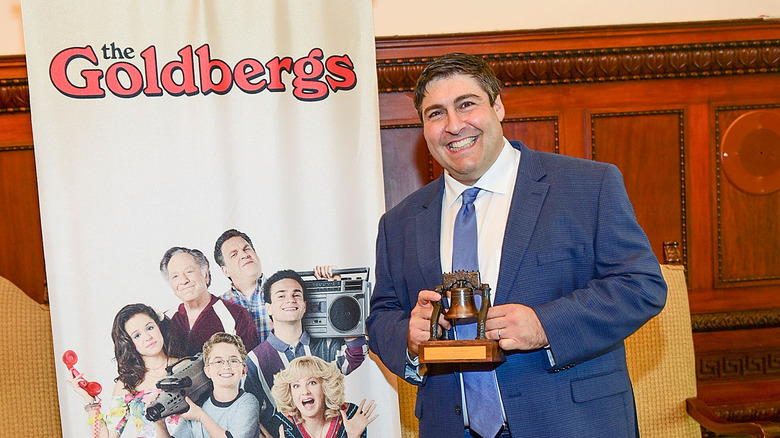 Lisa Lake/Getty Images
Though Adam clarifies that he and Carmen don't know exactly where they're going, Adam Goldberg's real-life story makes it clear where he's headed. Given that the real Adam F. Goldberg attended NYU, it's safe to say that the fictionalized version of his character follows his dream to attend the esteemed university. Fictional Adam's early movies and writing may not have been Hollywood-worthy (or even tolerable for fans to watch), but we know that he's eventually successful. The real Adam Goldberg had two small acting roles between 1997 and 2000 — and he wrote his first short in 2000.
Goldberg went on to write films like "Fanboys," "Aliens in the Attic," and, of course, created and wrote episodes for "The Goldbergs" and "Schooled." 2006 marked Goldberg's first foray into producing, and he went on to produce many of the projects he wrote, including the two series that chronicles his life story. It's good to know that the fictional Adam has a bright future ahead of him.
From overbearing mother to grandmother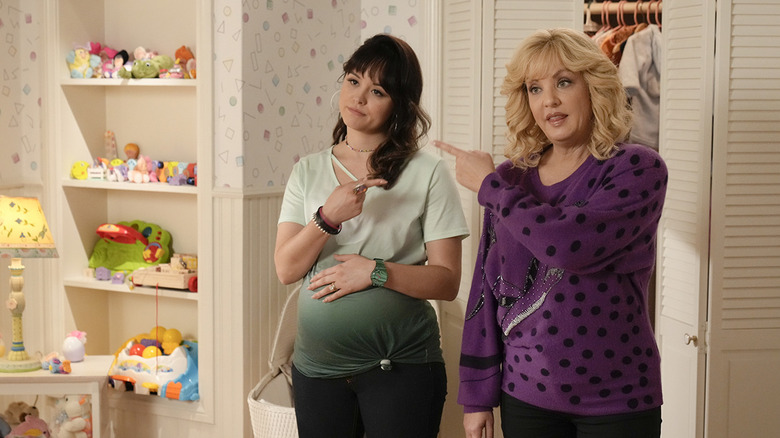 ABC
In the last season of "The Goldbergs," we watch Beverly go from a doting (and overbearing) mother to channeling some of that energy into being a grandmother. If the family didn't have Erica and Geoff's (Sam Lerner) daughter, Muriel Allison Goldberg-Schwartz, to focus on, the Goldbergs might have been lost to their grief over Murray and Pops. The couple names their daughter after the gone but not forgotten family members, which signifies hope for the future instead of dwelling on the past.
Most importantly, Muriel helps Beverly let go of her children as she moves on to this new chapter of her life. Adam is going off to college, Erica has entered motherhood, and Barry is ready to become a doctor. Erica and Geoff get married pretty early in life, which offers Beverly an easier transition for her children leaving the nest. Erica even uses some of her mom's wisdom on her own mother as she attempts to help Beverly move on from the only role she's known for over two decades.
Things come full circle when Muriel's first word is "bubby," which thrills Beverly. The small moment signifies the importance of Beverly in her granddaughter's life, and she's able to let go without completely letting go. For the time being, Beverly still has one kid in the house, even though her dynamic with Erica has shifted to equals rather than a strictly mother-daughter relationship. Now, both women can focus on channeling that love into Muriel and the future of the Goldbergs.
No regrets when it comes to family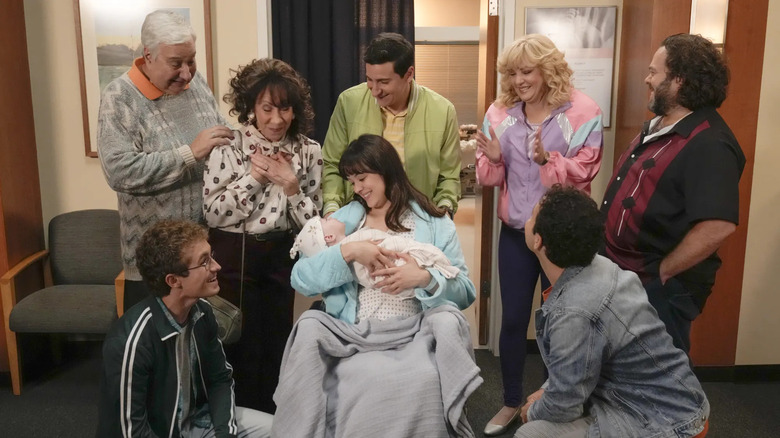 ABC
It's only natural to look back at your life and pinpoint the precise moments that defined it — for better or worse. The entire "Goldbergs" series does just that, with Patton Oswalt's narration as an older Adam remarking on his early life. And though it's easy to fall into the trap of wishing to change choices that altered the trajectory of your life, Adam is content with his past — even his meddling mother.
Family has always been at the forefront of the series, and that doesn't change with the finale. An older and wiser Adam says that he "wouldn't change a thing" about his life. Fans watch a flashback sequence of some of the Goldbergs' mistakes and triumphs. And as much as Adam looks up to Marty McFly and his time-traveling shenanigans, Adam finally ditches his desire to live in fictional worlds and appreciates the real one he lives in.
Adam had to deal with losing the two most important men in his life at a young age, which gave him the strength to head out into a post-Beverly world to live the life he dreamt of. As much as his father scoffed at Adam's love for movie-making, Murray only wanted success for his son. But they knew. despite all of the Goldbergs' mistakes, family made it all worth it for Adam.
The legacy of Pops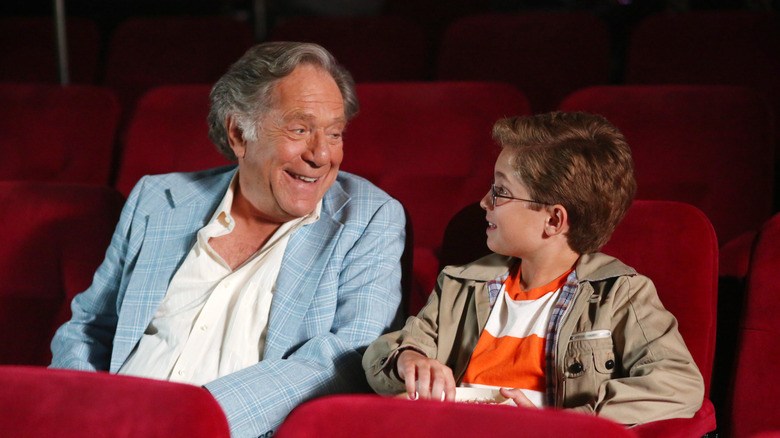 ABC
Beverly may be a grandma now, but the series naturally had to honor its OG iconic grandpa, affectionately known as Pops. Beverly's father, Albert, taught his daughter everything she needed to know about being a grandparent. Sadly, George Segal passed away prior to Season 9 due to a bypass surgery that didn't go as planned. "The Goldbergs" dedicated the Season 9 premiere to Segal with a touching tribute to the actor's iconic and heartfelt moments on the series.
Murray may not have been great at encouraging his children, but Pops was Adam's partner in crime for all of his movie-making endeavors. Between cheering his grandson on and appearing in his films, Pops kept the magic in Adam's life alive. The tribute ends with Pops' quote, "If you just believe in yourself, you can't lose." And the words, "We'll miss you, George," close out the memorial.
Even though Pops was missing during the series' final two seasons, his presence never quite left the show in the way that Murray's did. The series finale closes out with a clip from Pops saying, "I'm gonna miss you guys." The sentiment is there for both the show's creatives and its fans, using the heart of the show to bid farewell after ten seasons. The sweet moment extends to the fact that Beverly wants to live up to her father's legacy as a grandparent. It also reinforces the notion that Adam's success is primarily due to Pops' encouragement and sense of whimsy. Adam may need to grow up, but Pops showed him that he never has to let go of his imagination — and that's a beautiful thing.
Jeff Garlin's controversial departure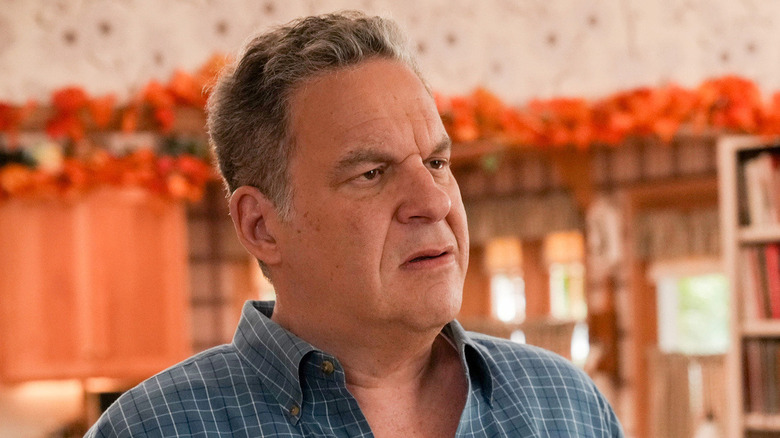 ABC
Sometimes, real-world issues play a part in the trajectory of a TV show — and oftentimes, it's the kiss of death for a show that's run for as long as "The Goldbergs." Unfortunately, the series has had quite a few scandals involving essential cast members. And while it's critical to put the safety of the cast first, these issues can impact how long a series will last. When it comes to "The Goldbergs," two stars faced allegations of unacceptable behavior. One such actor was Jeff Garlin, who played the Golberg kids' lazy and sardonic father. In the wake of an investigation into the reports that Garlin made lewd comments and touched cast members without their consent, Garlin left "The Goldbergs".
Garlin adamantly defended his behavior, chalking it up to his sense of humor. And despite his alleged behavior making his co-stars uncomfortable, he maintained that it was an overreaction. The actor told Vanity Fair, "It's about me and my silliness on set. They don't think it's appropriate. I do. That's where we're at." He maintained that leaving was his decision, adding, "I've not been fired because of it. We just think differently." It's unclear whether or not writers would have written him out if he didn't opt to leave. Nevertheless, his absence changed the tone of the show.
When a fan insisted that creatives should have just canceled the show, series matriarch Wendi McLendon-Cove fired back on Twitter (via E! News), "It's hard to incorporate someone who doesn't want to be there and wants to leave mid-scene." She added, "We [weren't] about to re-write the 2nd half of the season. We're doing our best." 
Cast change controversy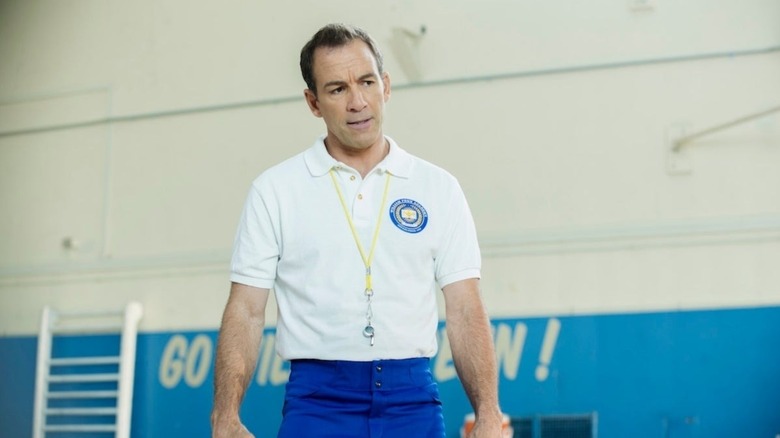 ABC
Unfortunately, Garlin's exit wasn't the only unexpected departure the series had to contend with. A season before Garlin's controversy, actor Bryan Callen — who played Coach Mellor — faced a litany of accusations of sexual assault, as the Los Angeles Times reported. The allegations span from 1999 to as recently as 2017. In addition to the assault accusations, Callen was alleged to have coerced Tiffany King into engaging in sexual acts with the promise of cash and notoriety. Callen was also accused of targeting minors. 
While people often looked the other way with the all-too-common act of power abuse and bribery of young Hollywood hopefuls in the past, the #MeToo era has put this behavior on blast to hold perpetrators accountable no matter the timeframe. Like Garlin, Callen denied the accusations. While the network alleged that they wrote Coach Mellor off the show for "plot reasons," it's unclear if that's the case, given that from a plot standpoint, the show suffered. Sadly, the loss of George Segal as Pops came right before the last season, and with three core characters missing from the show, it's not surprising that "The Goldbergs" didn't last another season. 
If you or anyone you know has been a victim of sexual assault, help is available. Visit the Rape, Abuse & Incest National Network website or contact RAINN's National Helpline at 1-800-656-HOPE (4673).
Where do we go from here?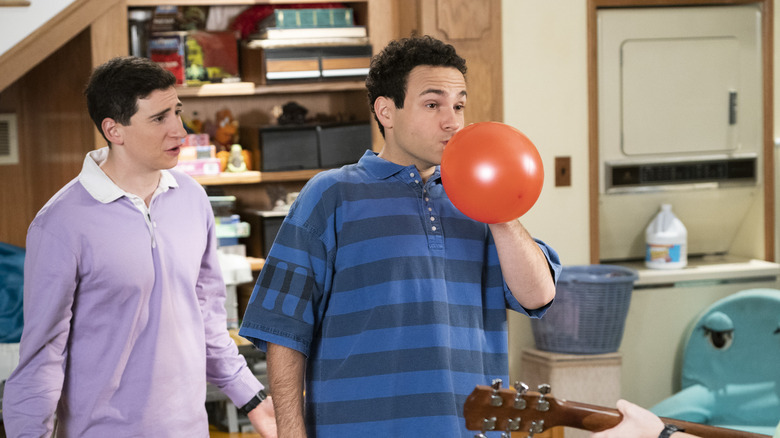 ABC
So, where do our characters end up after the '80s and well into the '90s? Without watching "Schooled," fans miss quite a few vital developments within the Goldberg family. Given his immaturity, Barry may not seem destined to complete his dream of becoming a doctor. But by the '90s, he matured enough to get that coveted M.D. Meanwhile, Geoff's pursuit of becoming a doctor seemed more likely, and he also achieved his goal.
Unfortunately for Lainey, she doesn't fulfill her dream of musical stardom. Somewhere along the way, she seems to have drifted from Erica, but we do get a bestie reunion in "Schooled," where fans watch Lainey become a caring and compassionate music teacher.
The one-season spin-off occurred before Callen's departure from the series, so Coach Mellor is still in his position at the school — even though he was missing from the last few seasons of "The Goldbergs." Naturally, Beverly still inserts herself into the going-ons of the school and the former guidance counselor is the principal by the events of "Schooled." Funnily enough, Adam's bully, Johnny (Sean Marquette), is the custodian in "Schooled."
The OG ending: Goldberg inception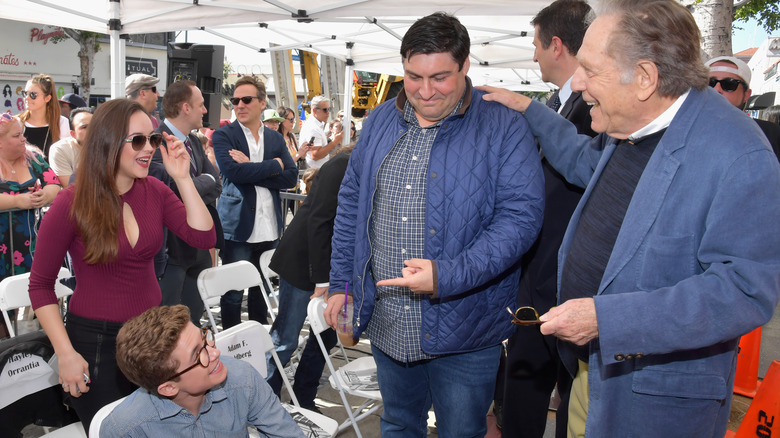 Lester Cohen/Getty Images
Adam Goldberg had a very different ending planned for the series. About a week before "The Goldbergs" series finale aired, the show's creator answered a question that fans supposedly asked him "on a daily basis": Will he ever appear in the show? We now know that this didn't happen, but Goldberg originally intended to grace the screen of the series he created. 
He told Pop Culture Reference, "I had an epic plan to bring back every single real person in the series for a penultimate finale, finally revealing myself on the show while also segueing into a potential new chapter of my life with my real wife I've been with since I was 18." Including the real Goldbergs would have been easy to explain if the series ended with the real Adam Goldberg producing the series we just watched in a meta twist. They could have even included the cast's real auditions.  
The producer added, "But following my life and home videos takes lots of time/communication/effort, so the new team scrapped that concept and instead wrote stories/characters that were pure fiction midway Season 7." It's fun to think about how meta the finale could have been, but the one the show ended up going with is satisfying in its own way.