What The Cast Of The Goldbergs Should Really Look Like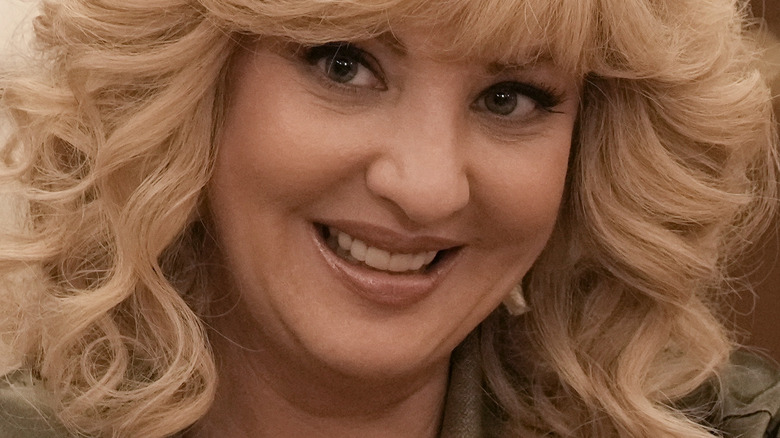 Scott Everett White/ABC
"The Goldbergs" is the ABC sitcom mega-hit that is based on the real-life 1980s family of series creator, head writer, and executive producer, Adam F. Goldberg. It debuted in September 2013 to mixed reviews but gained enough of a following to finish the year 14th on the network and was renewed. Instead of suffering a sophomore slump, "The Goldbergs" actually improved in its second season, both in critical reception and in viewers, and since then it's gained and lost some ground. But over the course of its 10-year run, the show has averaged around six million viewers consistently. In this age of hundreds of channels and dozens of streaming options on top of that, that's very respectable.
"The Goldbergs" owes a lot to the bevy of funny people who help to put it on the air every week — it's produced by Dan Levy, the genius writer, director, producer, and star of "Schitt's Creek," and one of its production companies is Adam Sandler's Happy Madison Productions, which is behind most of Sandler's monster hit films and many others.
But the real stars of the show are the Goldberg family and friends themselves — not just the actors we know and love, but the real people they portray. How alike are they to their counterparts, really? Let's find out.
Sean Giambrone as Adam Goldberg vs the real 1980s Adam Goldberg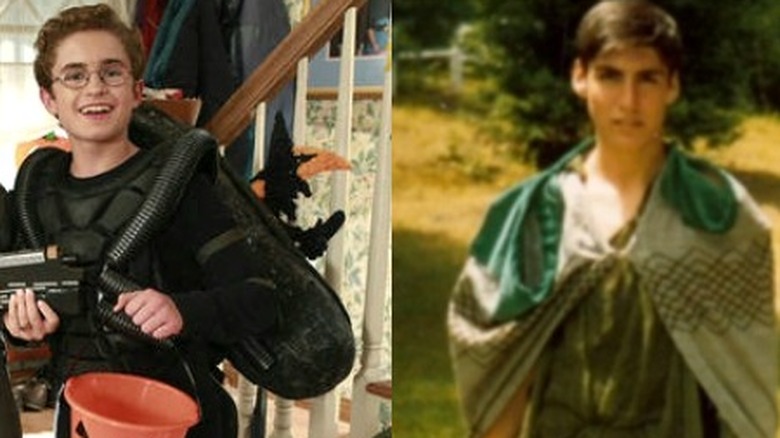 ABC
While both are constantly hovering around the scene with an ancient, hulking RCA video camcorder, playing with various "Star Wars" and "Transformers" toys, and being beaten up by big brother Barry (Troy Gentile on TV), there are some differences between the TV Adam and the real-life Adam.
To start, Sean Giambrone is towheaded, while Adam actually has very dark hair. And while Adam is, as his mother would undoubtedly point out, a very handsome young boy, Giambrone's Adam has that polished, Hollywood sheen that, even in his role as a nerd, can't be fully dimmed. On the other hand, TV Adam's voice, in what one can only hope is an artistic choice rather than a biological reality, has been mid-change for the entire series' run thus far, or so it seems. Real Adam has described himself as a late bloomer, so perhaps the jokes surrounding the extended voice cracking are an acknowledgment of that.
Regardless of small superficial differences, however, the high-spirited optimism of Adam Goldberg is consistent across both personas. His home movies are filled with his smiles and laughter and general good nature that bubbles up and out through the screen, while the TV version is similarly upbeat and ready to face the world. It's no doubt this positive outlook that brought him his success in making "The Goldbergs" come to our TVs.
Wendi McLendon-Covey as Beverly Goldberg vs the real Beverly Goldberg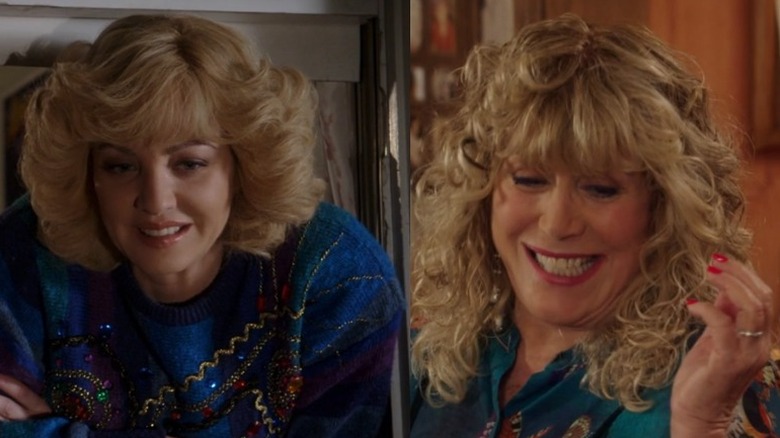 ABC
Known by her children as a "Smother," Beverly Goldberg, both in the TV show and in life, is all about her kids. She is clingy, obsessive, and invasive, but she is also loving, supportive, and kind. Star Wendi McLendon-Covey, previously of "Bridesmaids" and "Reno 911," fully embraces Bev's bedazzled martyrdom and jazzercising guilt trips, and is the standout feature of each and every episode. When the real Beverly offered up some of her actual trusty sweaters from back in the day, McLendon-Covey aptly introduced them into her character's wardrobe.
The real Beverly Goldberg has appeared as herself a few times, too. In Season 5, Episode 11 ("The Goldberg Girls"), she appears with the other members of her friend group in a scene in which her TV version is hoping to emulate them later in life; the real Beverly is as gleefully profane as Adam portrays her in the show.
Then at the end of Season 6, Episode 4 ("Hersheypark"), a closing segment feature has both Beverlys sitting down together as McLendon-Covey has a short chat with the real Mrs. Goldberg, reading an excerpt from one of her infamous guilt trip letters. The content of the 12-page missive is hilariously damning, but the real Beverly merely shrugs it off: "Well, a little guilt doesn't hurt."
Troy Gentile as Barry Goldberg vs the real Barry Goldberg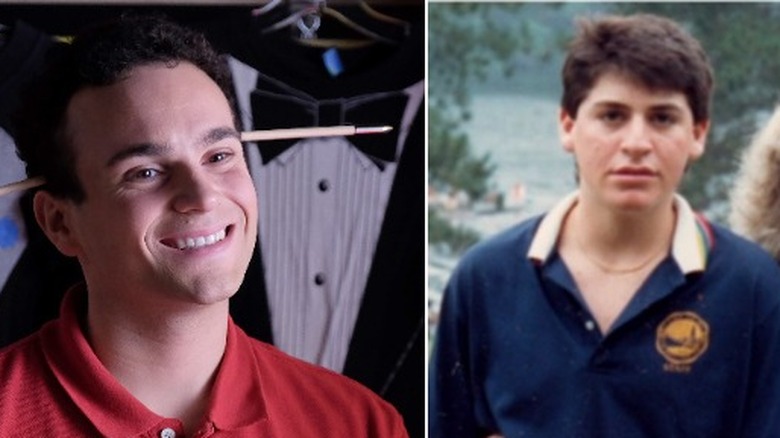 ABC
In one sense, Troy Gentile's portrayal of middle child Barry in "The Goldbergs" is so outsized as to be a caricature of a teenage older brother. In another, his over-the-top reaction to any given stimuli seems like the embodiment of it. Perhaps it is the difference in perspective one can have seeing his antics as an adult versus from the remembered viewpoint of a kid, or maybe Gentile simply works in that sweet spot, maintaining a perfect balance between the authentic and the absurd. Whatever it is, his performance is second only to his TV mother in terms of sheer comedic and entertainment value, for which the real Barry Goldberg should be eternally grateful.
It's not likely that the real Barry — regardless of the video evidence of parallel adventures — actually was as much of a manic, amazing train wreck of glory as TV Barry. Sure, he really did have a group of friends he called the JTP (for Jenkintown Posse), and he really did make insane basketball highlight reels of himself, and he really did portray Donnie Wahlberg in his brother's shot-for-shot remake of the "Hangin' Tough" music video, and he really did grow up to become an actual medical doctor despite all that ... you know what? Maybe the real Barry is as crazy as TV Barry. They both love it when you call them Big Tasty.
Jeff Garlin as Murray Goldberg vs the real Murray Goldberg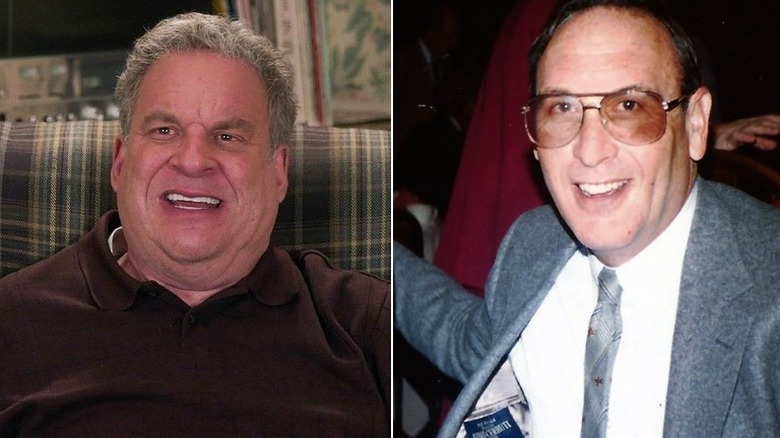 ABC
Who better to play the scowling, cantankerous patriarch in "The Goldbergs" better than Jeff Garlin? Garlin's brusqueness fits the standard set by both Adam's home videos and his reminiscences of his dad's personality. The show's voiceovers always stress that even though Murray Goldberg was apt to yell or disapprove, he was really supportive underneath.
TV Murray is happy to let his wife Beverly take charge of the house and the kids because that's where she thrives; his job is to run the furniture store and say no to anything that comes his way. As for the real Murray, there appears to be corroboration in the video archives for every utterance of "moron" in the show. Fortunately, neither the TV version nor the real-life one is malicious in his insults. On the contrary, his words are almost motivational in their intent.
Sadly, the real Murray passed away in 2008, so viewers have never gotten a chance to hear from him first-hand. Coincidentally, the show killed off Garlin's character in the off-season between Season 9 and Season 10 as he was fired from "The Goldbergs" due to misconduct. Still, as a character in the show, Murray was beloved in his own gruff way. 
George Segal as Pops vs the real Pops Solomon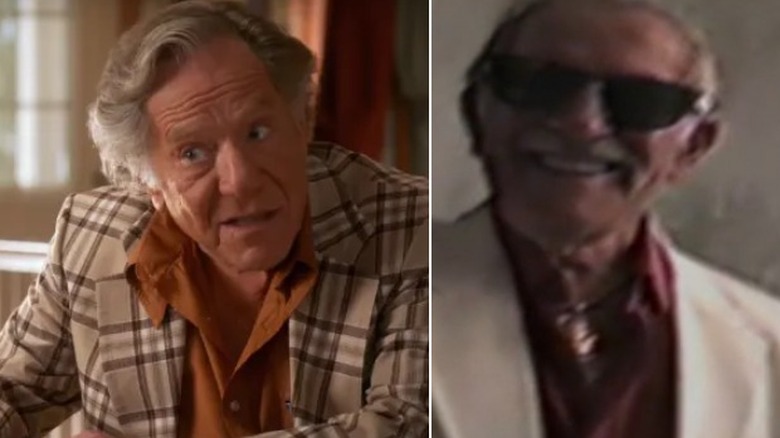 ABC
TV Adam, with his childlike enthusiasm, often calls Pops his best friend and knowing those words are also coming from the mind of "The Goldbergs" series creator adult Adam lends the weight of nostalgia to the feeling as well. Throughout his time on the show, George Segal's Pops frequently collaborates and conspires with Adam to get into all manner of childish mischief and silliness. He's his trick-or-treat buddy, his frequent movie remake co-star, his regular cohort, his confidante, and the subject of his first documentary.
The video footage of Pops supports the depiction of him as a cheeky old guy, sort of like a precocious youngster who never grew up. He's always got a sly grin; as if there's a double entendre in whatever he's just said but he's the only one who hears it. Truth be told, Segal's performance feels perhaps more innocently affable than the real guy, who, from what we can tell, acts like he definitely knows what he's getting into.
When Segal died on March 23, 2021, "The Goldbergs" was right in the middle of Season 8, with Pops appearing in the next three episodes. An end credit title card was added in Episode 14 ("Love Triangle"), memorializing the veteran actor, while the Season 9 premiere ("The Goldbergs' Excellent Adventure") is a full-on tribute to Pops, both the real man and the actor who portrayed him so lovingly.
Hayley Orrantia as Erica Goldberg vs Eric Goldberg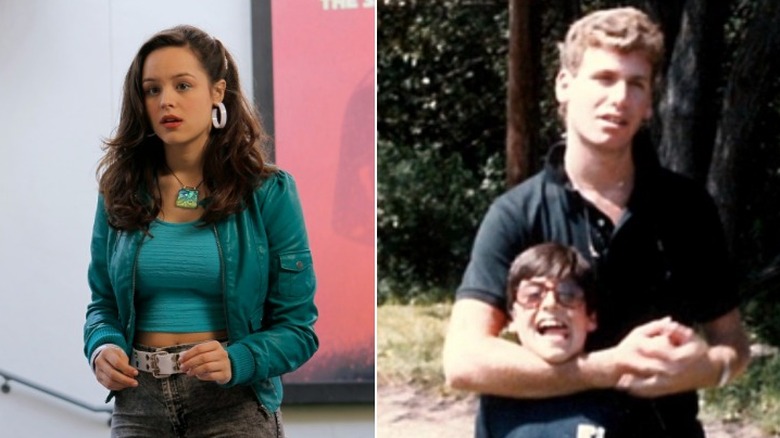 ABC
The character of Erica Goldberg is where we start to see major differences in the characters in "The Goldbergs" versus the real people they portray. Adam Goldberg's real-life oldest sibling is actually named Eric, whereas the TV show changed the character to a young woman, likely for some parity and contrast in their storytelling. Eric never had Erica's dreams of being a rock star, but when your show casts someone with Hayley Orrantia's musical chops, it's best to lean into them. The differences don't stop there, either.
Suffice it to say that the eldest Goldberg son didn't actually go on to marry Geoff Schwartz (Sam Lerner on TV), but the real Eric apparently warmed to the gender swap after he realized it allowed him to deny any and all parallels with the character of Erica, even though there have been storylines that were taken directly from Eric's real life.
In Season 5, Episode 18 ("MTV Spring Break"), there is an incident with a knish that the real Eric admits in an after-credit interview with Orrantia that is 100% accurate. Moreover, like Erica, Eric also grew up to become a doctor, and while he could often be put off by his baby brother, he was always someone Adam looked up to — literally and figuratively.
Sam Lerner as Geoff Schwartz vs the real Geoff Schwartz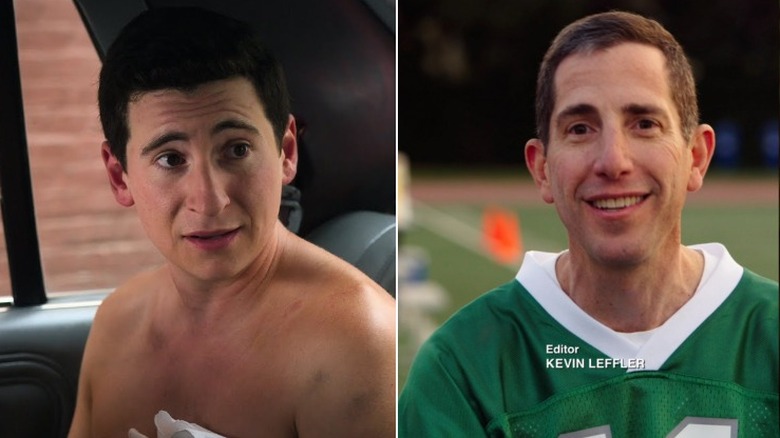 ABC
A lifelong friend of Barry's and a charter member of the Jenkintown Posse (JTP), Geoff Schwartz, as played in "The Goldbergs" by Sam Lerner, is a soft-spoken, awkward, good-natured boy, and really we have no video evidence to disprove that. The few appearances we have of the real Geoff in the show portray him having fun and goofing around with his friends, be it by screaming "JTP" at each other, performing staged basketball stunts, or playing a friendly football game against the actors who portray the JTP. 
To this end, the TV version seems to be pretty close to spot on, even if the real Geoff says the character is only "loosely based" on his true persona. Maybe that just means he never threw a toaster in the air only to watch it fall.
He does have a point, though. In the show, TV Geoff has a long-held crush on Barry's older sister, Erica, that's forever unrequited until it isn't. It's similar to TV Barry's long-held crush on Erica's best friend, Lainey (AJ Michalka), also unrequited until it isn't. Both relationships are also similar in that they are both fictional; Erica in real life was really Barry's older brother Eric and Lainey's character is solely a creation of the show. Fictional relationship or not, viewers have rooted for Geoff to get the girl for years, and now he has her. What a win for the JTP.
Kenny Ridwan as Dave Kim vs the real Dave Kim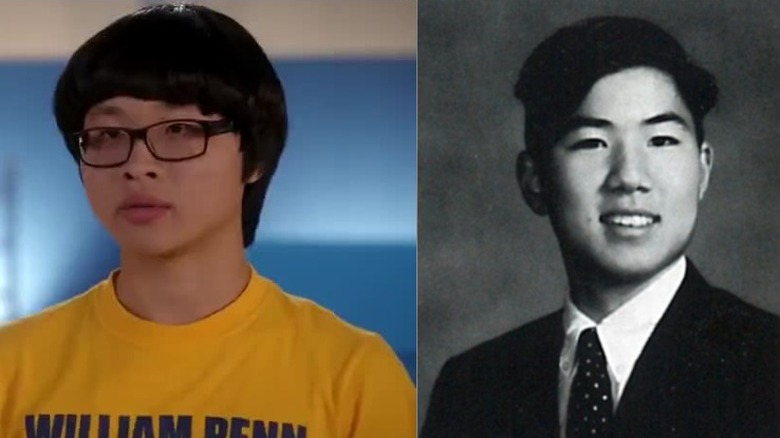 ABC
We've no idea if the real Dave Kim's name is always said only in full, but in "The Goldbergs," TV Dave Kim's name must never be shortened. He is not Dave or even David, and he will never be Mr. Kim; he is Dave Kim, forever and always.
TV Dave Kim wears body-hugging turtlenecks, loves "The Princess Bride" (and Erica Goldberg), has a sarcastic bon mot for every occasion, and sports a pin-straight bowl-cut hairdo like nobody's business. He is a tried and true fan favorite because actor Kenny Ridwan plays him so gamely and with such effortlessness.
Real Dave Kim, on the other hand, had a much better haircut. Yes, he really did throw a party one time and yes, a bunch of kids tore up his house, but beyond that, a closing title card in the Season 1 "The Goonies" inspired episode ("Goldbergs Never Say Die!") reveals that real Adam and real Dave Kim only ever hung out one time, so everything else he does on the show — virtually everything viewers love about him — is made up. Not that that makes him any less lovable.
Jennifer Irwin as Virginia Kremp vs the real Virginia Kremp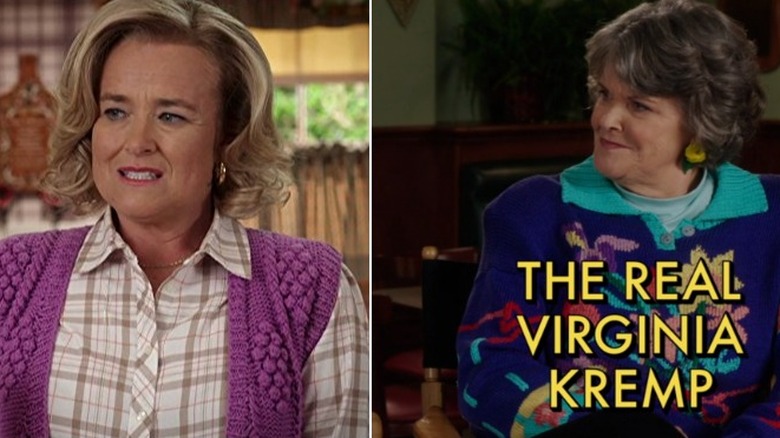 ABC
Neighbor and a member of Beverly's group of meddling friends — known as the Yentas, or sometimes the Frentas — Virginia Kremp is the Yang to her Yin. Where Beverly is chaos personified, Virginia is peaceful order. There are no screams of endearment in the Kremp household just as there are no formal Christmases at the Goldbergs', but the ladies get along famously, both on television and in the real world.
Despite the very real differences between the families, the Goldbergs and the Kremps became close overall and stayed that way through the years. One of the most endearing views into the future "The Goldbergs" ever provided was in the Season 5, Episode 11 ("The Goldberg Girls") postscript with the real members of the friend group talking and laughing with the women who portray them in the show. If TV Beverly is worried she'll be alone later in life, she only has to look to the end of this episode to see that her girlfriends will be by her side for decades to come. That's truly something to be thankful for.
Stephanie Katherine Grant as Emmy Mirsky vs the real Emmy Mirsky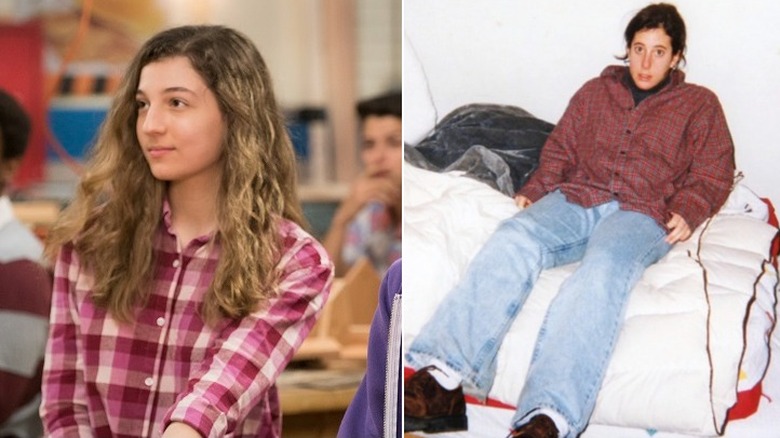 ABC
Emmy Mirsky is one of three young women from Adam's past (along with Jackie Geary and Brea Bee) to appear in "The Goldbergs" and play their own mothers as TV Adam interacts with the TV versions of their younger selves. But the most influential and longstanding of these relationships is definitely the one he still holds with Emmy.
As Adam explains in his closing segment in the Season 1 episode dedicated to Emmy ("Muscles Mirsky"), they were only ever the best of friends — a fact backed up by the real-life Emmy at the end of the Season 5, Episode 19 ("Flashy Little Flashdancer") – but that friendship was one of the most meaningful of his life.
Emmy's role in the show is much smaller, appearing in just over 40 episodes over its 10-season run thus far (via IMDb), but Emmy (played by Stephanie Katherine Grant) always packs a (literal) punch, giving as good as she gets and often getting recognized as "one of the guys." In fact, when TV Emmy wants Adam's help getting a boy's attention, Adam has a hard time seeing her as someone with romantic interests. It's honestly the downfall of every tomboy in every teen rom-com who has a crush on her oblivious guy friend, so it's fortunate real Emmy didn't go down that road.
Jacob Hopkins as Chad Kremp vs the real Chad Kremp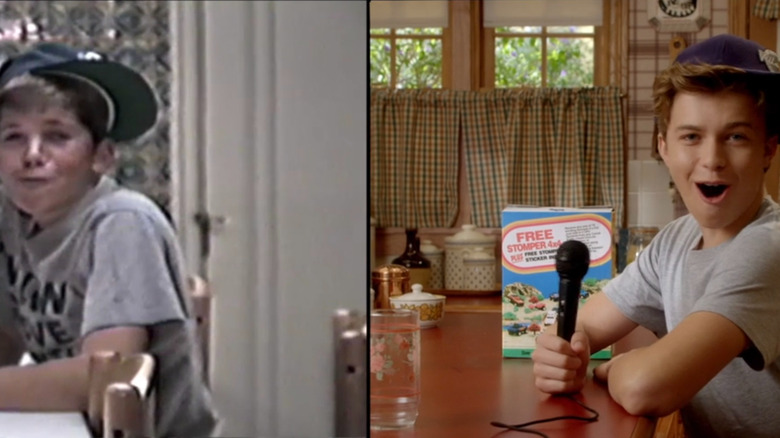 ABC
Although his "The Goldbergs" TV mom gets a lot more screen time, the real Chad Kremp plays a much bigger role in the life of the real Adam Goldberg than any other non-family member. Actual best friends forever, the videos Chad and Adam made together, shown at the end of several episodes side-by-side with their TV version counterpart, are some of the funniest moments those old home movies have to offer, and that's saying a lot.
Real-life Chad has gotten to live a little bit of that real Hollywood life as well, playing his own father in "The Goldbergs" since Season 4. Most days, however, he runs his family's flower shop in southeastern Pennsylvania, just as TV Chad tells TV Adam he plans to do someday. All in all, it seems the show tried to do a pretty reliable representation of the friendship, and those parallel videos are proof enough of that, but such a stable friendship must not provide enough drama for a recurring role.
Patton Oswalt as adult Adam Goldberg vs series creator Adam F. Goldberg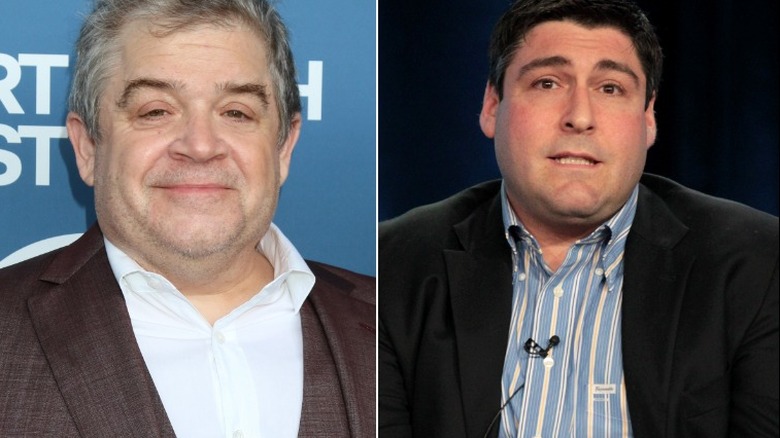 Kathy Hutchins/Shutterstock & undefined & Frederick M. Brown/Getty
Although never seen, Patton Oswalt voices the adult Adam in "The Goldbergs," offering both narration and a nostalgic lens to each episode. He imparts not only cultural significance, but relates how a moment, event, or item is important to the Goldberg family. In this way, Patton is probably most like his real-life counterpart, because it's Adam's actual stories going into each episode and informing the way Patton will relay those memories to the viewers.
On the other hand, not being on camera gives Oswalt the luxury of having more freedom to deliver his lines naturally, adjusting as directed without the pressure of a full physical performance. Oswalt's role also performs a key function in the show's structure, without which it would fall apart. 
The very nature of "The Goldbergs" is that its setting is a real place but a conceptual time: namely, the 1980s. It exists in that nebulous expanse as we remember it, rather than how historians would map it on a timeline. Oswalt's primary job, therefore, is to instill a lazy irreverence in his narration while also exalting the theme of the week, be it "Transformers" or New Kids on the Block. He must convince the audience the death of Optimus Prime was a touchstone moment in Adam's life, while not knowing if it happened before or after "Return of the Jedi." Most importantly, as he says, "it was 1980-something, and it was awesome."