Kevin Costner Allegedly Leaving Yellowstone After Season 5
There has been no shortage of Kevin Costner drama as of late. With the recent news that the "Yellowstone" star will be separating from his longtime partner, Christine Baumgartner, the actor's life seems to be in total upheaval. This is, of course, in addition to all of the alleged drama behind the scenes of the hit Paramount Network series.
Now Entertainment Tonight is reporting that sources close to the "Yellowstone" production team have let slip that Costner won't be returning, whether Taylor Sheridan's neo-western series continues after Season 5 or not. Though cast members like Wes Bentley have downplayed the Costner rumors, there seems to be too much smoke at this point for a fire to be completely absent from the Montana ranch.
However, Costner's lawyer, Marty Singer, denied that his client has been problematic on the set of "Yellowstone" during its latest season. "The idea that Kevin was only willing to work one week on the second half of season 5 of 'Yellowstone' is an absolute lie," he told ET in a February statement. "It's ridiculous, and anyone suggesting it shouldn't be believed for one second."
There's a lot of cross chatter about what's going on with Costner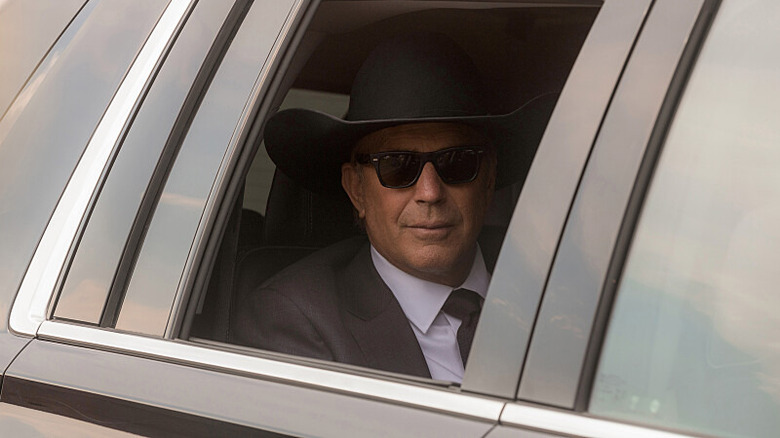 Paramount Network
Kevin Costner's attorney, Marty Singer, went on to defend the star, even as "Yellowstone" rumors continue to swirl. "As everyone who knows anything about Kevin is well aware, he is incredibly passionate about the show and has always gone way above and beyond to ensure its success," Singer concluded.
Meanwhile, Matthew Belloni, a Puck News correspondent who broke the story about the Costner drama, suggested that things were not going smoothly behind the scenes of the show. "'Yellowstone' is really in limbo right now until they can figure out whether Costner is coming back or, more likely, whether he's going to be written out of the show," Belloni said. "Once that determination is made, they can finish writing the second half of this season, shoot it, and it will likely air in the fall."
Though it's hard to make heads or tails of whether this information is correct or not, it seems that there are too many voices suggesting Costner is leaving "Yellowstone" behind for it to all be much ado about nothing. Either way, with at least four other shows on Sheridan's plate, the writer will no doubt be fine whether the flagship series continues or not.
What does this mean for the future of Yellowstone?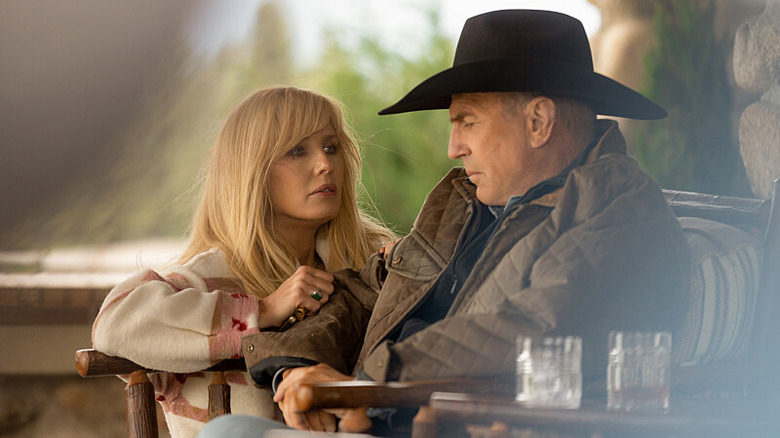 Paramount Network
There's been a ton of speculation over the past few months about what "Yellowstone" could look like moving forward. Fan theories have even emerged suggesting that John Dutton could die in "Yellowstone" Season 5, Part 2, which would give Kevin Costner an easy out while potentially allowing the series to continue in one form or another. 
In addition to all of the Dutton prequel series that have materialized, like "1883" and "1923," more are on the way, including one spin-off that will star Matthew McConaughey. The Hollywood Reporter suggests this project is ready to go and is feasible regardless of Costner's involvement moving forward. This suggests McConaughey's show could be set in the present day and could incorporate other "Yellowstone" characters. However, this is purely speculation at this point as there's currently no news on what this other spin-off could be about.
Taylor Sheridan also wants to continue exploring the past with the forthcoming "Bass Reeves" series, following the famous lawman. With all these projects in the works, it's obvious that the "Yellowstone" franchise has outgrown Costner. It's simply too big to fail at this point, and hopefully, Costner continues doing well and finding success in his personal life moving forward.