Where You've Seen The Cast Of Mrs. Davis Before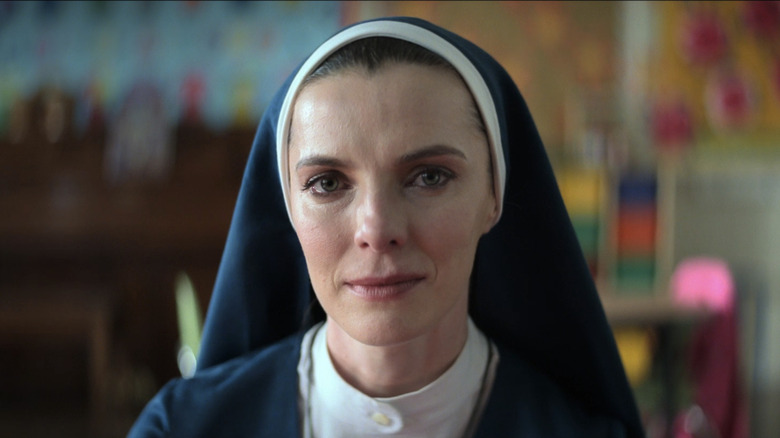 Peacock
Faith and technology collide in Peacock's confounding new dystopian satire adventure series, "Mrs. Davis." Created by Tara Hernandez ("The Big Bang Theory") and Damon Lindelof ("Lost," "Watchmen"), the show is a time-hopping extravaganza filled with sword-wielding medieval nuns, castaways, rogue magicians, a celestial falafel joint run by Jesus, and a worldwide hunt for the Holy Grail, all overseen by an omnipotent algorithm known as Mrs. Davis. It isn't a comedy with dramatic moments, nor really a drama with comedy, but rather a quirky, high-flying experiment in the very nature of storytelling, predetermination, and free will all at once — giving an audience as much as they can handle, then giving it a little bit more.
The saga of Sister Simone, the wayward modern-day nun at the heart of it all, uses the structure of a mystery crossed with a road movie, which gives each episode the opportunity to pack in a wild amount of guest stars and familiar faces. Some are characters whose importance unfolds slowly over the course of the series, while others are simply around for one delightfully bonkers moment and then never heard from again. Let's take a look at where you've seen the cast of "Mrs. Davis" before. Beware: Spoilers lie ahead!
Mathilde Ollivier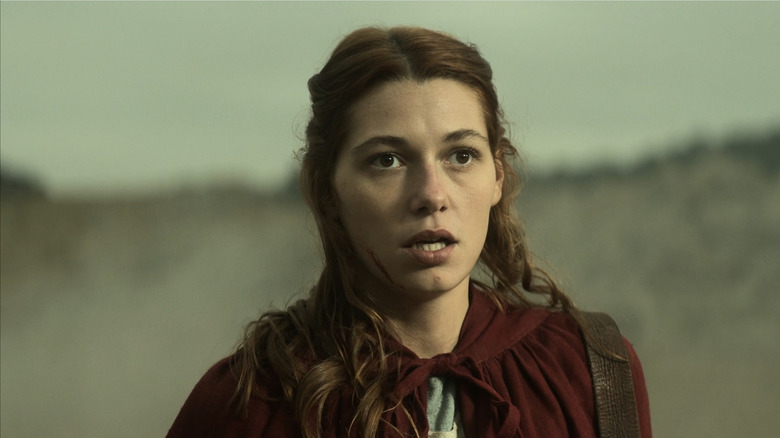 Peacock
We first meet Clara (Mathilde Ollivier) in the show's opening minutes, a 14th-century nun whose skill with a sword allows her to escape with the Holy Grail (represented here as an off-center serving bowl with a slightly golden hue) when her convent is attacked. But as we see in a later episode, Clara's situation is a little more complicated than that. She is indeed a protector of the Grail, and her dedication to her vows does indeed put her in danger. The part about being a medieval sister knight, however? Not so much.
Actress and model Ollivier got her start early, studying dance and drama as a child in her native France before moving to London, and later New York, to pursue her acting dreams. She first made a splash on the screen in the 2018 World War II zombie flick, "Overlord," starring Jovan Adepo and Wyatt Russell, and quickly followed that up with a very different WWII film, 2019's "A Call to Spy." In 2020 she co-starred alongside Alicia Silverstone in the comedy, "Sister of the Groom," and the "Groundhog Day"-style action yarn, "Boss Level." "Mrs. Davis" is not Ollivier's streaming series debut, either; in 2022 she was part of the international ensemble of the Netflix mindbender, "1899."
Tom Wlaschiha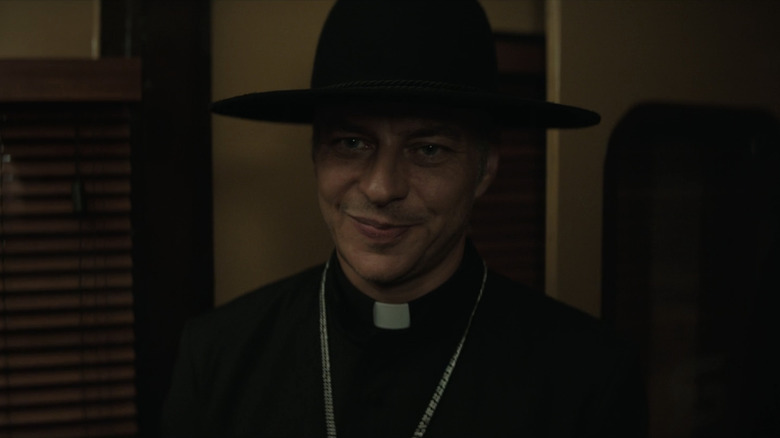 Peacock
In "Mrs. Davis," people are often simultaneously not who they appear to be, and exactly who they appear to be. Take the sinister priest, Father Ziegler (Tom Wlaschiha). When he kidnaps Simone's old flame, Wiley (Jake McDorman), as part of his own hunt for the Grail, Wiley assumes that he is merely an actor playing a role as part of Mrs. Davis' narrative manipulations. He doesn't have the details quite right, but he's correct that there is more to Ziegler than meets the eye; the priest may not be working for the algorithm, but his loyalties do not lie with God, or even with the Catholic church. The character is also a potent example of how the show's byzantine mysteries and double-crosses are often motivated by the simplest and most direct human desires.
German actor Wlaschiha has been on the big and small screens for nearly 30 years, though genre audiences likely recognize him from two of his most recent roles — as a faceless man, Jaqen H'ghar, in "Game of Thrones" and as a Soviet prison guard, Dmitri, in Season 4 of "Stranger Things." Prior to his trip to Westeros in 2012, Wlaschiha had small roles in Steven Spielberg's "Munich" and the 2008 World War II thriller, "Valkyrie." On TV he has been recently featured in new adaptations of Wolfgang Petersen's 1982 U-boat drama, "Das Boot," and "Dangerous Liaisons" for Starz.
Tim McInnerny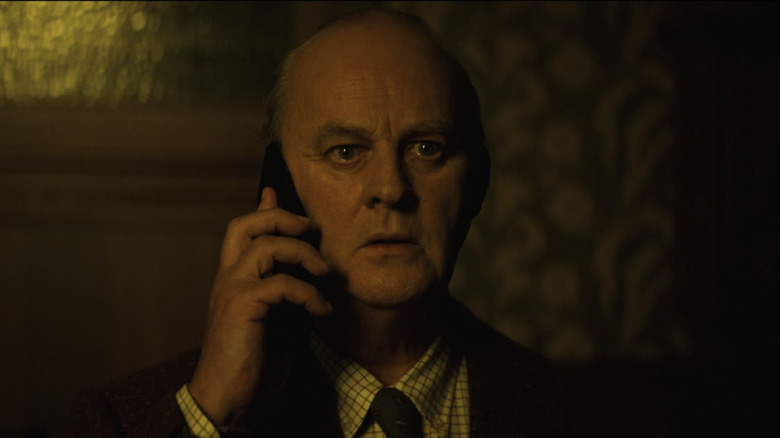 Peacock
Every mystery starts with a first step, and Simone's first step toward the Grail leads her straight to Apron Man, (Tim McInnerny), named this because he is a stern man in an apron. In their pursuit, Simone and Wiley make their first contact with the Order of the Coin, the sisterhood (and their male servants) dedicated to the Grail's protection. Wiley also confronts his inadequacies while competing against Apron Man in Excalibattle, a "hands on a hard body"-style contest held on a giant sword in a small Scottish town.
With over 100 credits to his name, McInnerny has been a mainstay of British film and television for decades. Like Wlaschiha, he is a "Game of Thrones" alum, appearing as Northern lord, Robett Glover, in Seasons 6 and 7 of the HBO series. But for fans of British television, he is still likely best known for his roles opposite Rowan Atkinson, Hugh Laurie, and Stephen Fry in the time-hopping "Blackadder" series in the 1980s. Disney fans might immediately clock McInnerny as Cruella DeVil's (Glenn Close) sycophantic assistant in the 1996 live-action remake of "101 Dalmatians" and its 2000 sequel, while rom-com aficionados would possibly know him best as one of Hugh Grant's circle of down to earth friends in "Notting Hill."
David Arquette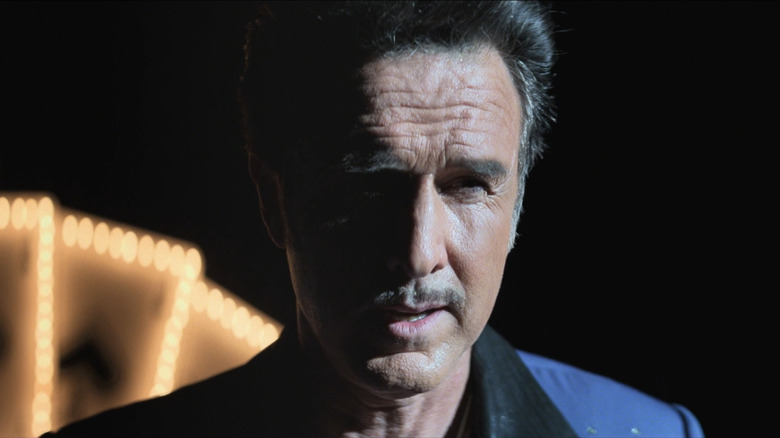 Peacock
Before she was Sister Simone, she was Lizzy Abbott, the daughter and partner in crime of a pair of low-rent casino magicians living in Reno, Nevada. As we see in Episode 2, young Lizzy (Stella Grace Fitzgerald) was an active part of her parents' act, serving as an audience plant for an elaborate card trick performed by her father, Monty (David Arquette). Lizzy is obviously the apple of Monty's eye — even if he does have her roping in suckers on the casino floor every night — and his untimely death not only still haunts Simone, but instilled in her a deep hatred of Mrs. Davis, as the algorithm was somehow involved in the accident that took his life.
Son of comic actor, Lewis Arquette, and sibling to actors Rosanna, Patricia, Alexis, and Richmond, David kicked around TV in bit parts for the first few years of his career before hitting it big as dweeby deputy, Dewey, in Wes Craven's "Scream." The post-modern slasher made stars out of its relatively unknown cast including Neve Campbell and Matthew Lillard, and while Arquette has never hurt for work in the last three decades, his muse led him to more unusual projects like the 2002 cult monster movie, "Eight Legged Freaks," and a brief career as a professional wrestler.
Behind the scenes, Arquette has produced a number of television series, including "Hollywood Name Game" and "Cougar Town" with his ex-wife, Courteney Cox. He has also dipped his toe into directing from time to time, helming episodes of "CSI: Miami" and the NBC supernatural drama, "Medium," starring his sister, Patricia.
Elizabeth Marvel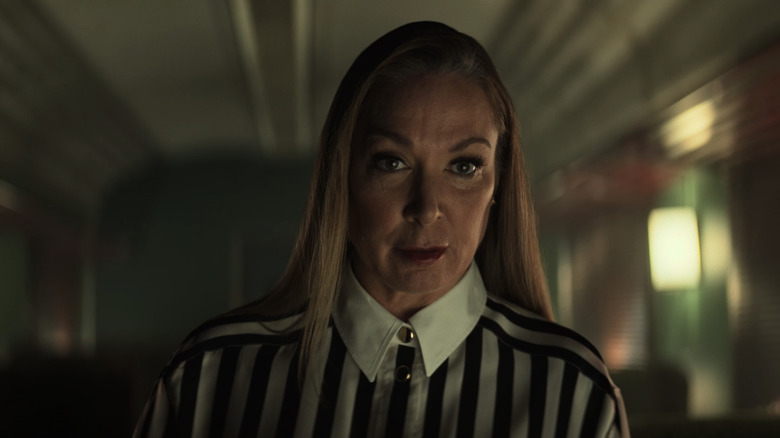 Peacock
While Simone's relationship with her father was warm and loving, her relationship with her mother, Celeste (Elizabeth Marvel), was a bit more distant and chilly — even before Celeste shot her daughter through the liver with a crossbow. On stage, Celeste was Monty's assistant, but in their normal life, Monty was overwhelmed by his wife's brilliance and her booby-trapped room full of inventions. In the present day, Celeste is the owner of a lucrative and powerful surveillance company that keeps tabs on her prodigal daughter, among many others. She is convinced not only that Monty faked his death years ago, but that Simone is his accomplice.
For most of her career, Marvel has split her time between stage and screen, winning acclaim and four Obie awards for her work in the theatre. On-screen she worked with the Coen brothers in "Burn After Reading" and "True Grit," where she played the older version of Hailee Steinfeld's Mattie Ross, and with Steven Spielberg in "Lincoln" alongside her husband, Bill Camp. Like many New York actors, she has appeared often in "Law & Order: Special Victims Unit" and in recent years has become the go-to actress to play the mother of unusual young women, as in the Elizabeth Holmes docudrama, "The Dropout," the MCU-adjacent horror series, "Helstrom," and here.
Katja Herbers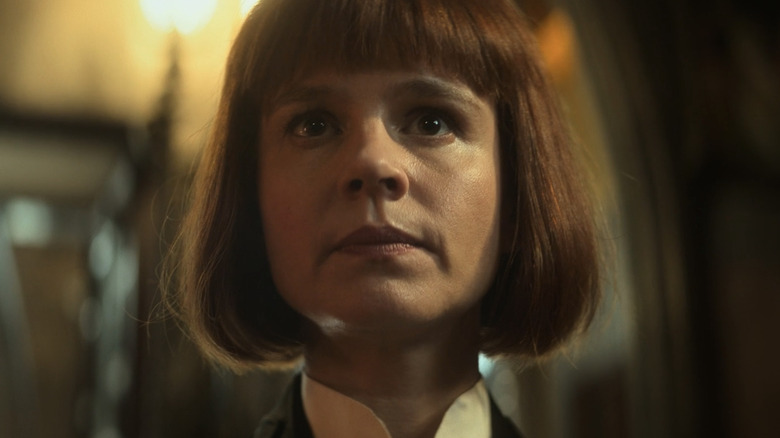 Peacock
"Mrs. Davis" has a lot of cold, distant mothers in its ranks, from Celeste to Clara's mother, Mathilde (Katja Herbers). Mathilde is a sister of the Order of the Coin, as severe as her haircut, and seems to have reserved all of her motherly affection for tending to the Grail and its odd quirks and curses (like turning smelly if it is left still for too long). It is that distance that inspires Clara on her own journey to protect the Grail against her mother's wishes. Mathilde, meanwhile, risks her daughter's love and her own place in the Order on an outlandish scheme to have the Grail seen by 1% of the world's population (per the ancient Articles of Care) all at once.
Herbers, a polyglot actor and musician, was born in Amsterdam to a family of classical musicians. She studied psychology and theatre and made her feature debut in the 2002 Dutch family film, "Pietje Bell." American audiences wouldn't be introduced to her for another decade or so, as physicist Helen Prins in WGN's atomic bomb drama, "Manhattan."
Small roles in shows like "The Americans" and "The Leftovers" followed, and starting in 2018 she played the daughter of Ed Harris' ruthless businessman cowboy in the hit HBO series, "Westworld." Though that role garnered Herbers plenty of attention stateside, horror fans might know her better from her starring role opposite Mike Colter in the CBS exorcism procedural, "Evil."
Ben Chaplin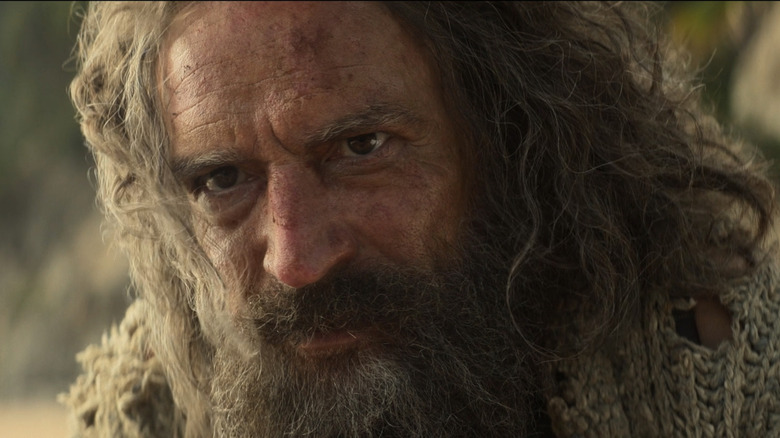 Peacock
A mangy, bedraggled castaway on some far-off island somehow manages to collect enough potassium nitrate from tree bark and the droppings of his cat Apollo to make an explosive. He launches his makeshift rocket into the night in the hopes that its light will attract a rescue ship. Miraculously, it does; once on board, the castaway is given a quick update on the state of the world. In short, all war, hunger, and unrest have been solved by the algorithm known as Mrs. Davis. But this castaway, a scientist named Arthur Schroedinger (Ben Chaplin) knows something that the all-knowing AI does not — something dangerous but crucial to Simone's search for the Holy Grail.
Those of us who remember Chaplin as the young heartthrob at the center of "The Truth About Cats and Dogs," the 1996 "Cyrano de Bergerac" riff starring Janeane Garofalo, might have a hard time recognizing Chaplin under his scraggly gray hair and beard in those early scenes. But the British actor has always been more than just a handsome face; even in his male ingenue years, he chose interesting parts, as in the Henry James adaptation, "Washington Square," or the 2001 thriller, "Birthday Girl," opposite Nicole Kidman.
Chaplin has worked with director Terrence Malick twice; in the 1999 war drama, "The Thin Blue Line," and 2005's "The New World," and in recent years has appeared on television in the BBC newspaper drama, "Press," and Joss Whedon's embattled Victorian superhero drama, "The Nevers" on HBO Max.
Margo Martindale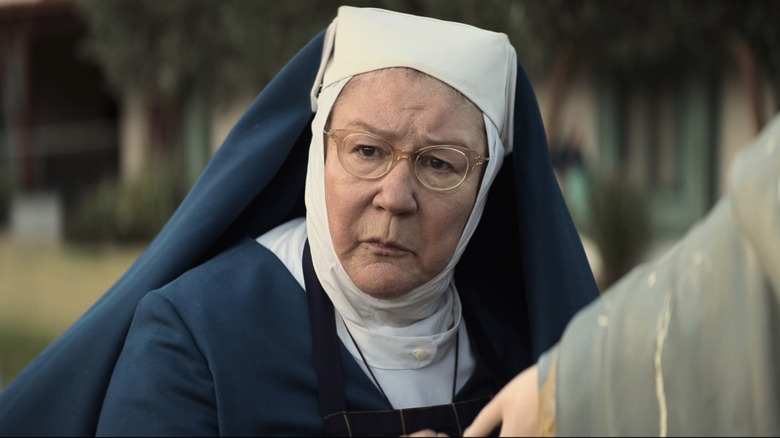 Peacock
Not every mother in "Mrs. Davis" is bad — or at least, there's one who isn't: The Mother Superior of Simone's desert convent, (Margo Martindale). When Lizzy Abbott shows up at the home of the jam-making sisters, seeking to become a novitiate after a stunning religious experience, Mother Superior is understandably skeptical. But as Lizzy — and after taking her vows, Simone — proves herself to be a warm and welcome presence in the convent, she comes around to this odd duck of a nun. Everything seems to be going well for Simone in her new life until Mother Superior announces that the convent has been sold and all the nuns are to be assigned elsewhere immediately.
Martindale, a Texas native and former cheerleader, had a few small television roles in the late 1980s, including in the classic Western miniseries, "Lonesome Dove," before making her feature debut in the 1990 Tom Cruise racing drama, "Days of Thunder." From there her career took off, with over 120 film and television credits over the last three decades, including "Million Dollar Baby," "August, Osage County," and 2023's "Cocaine Bear."
In 2011, Martindale won her first Primetime Emmy for the role of Kentucky crime boss, Mags Bennett, in FX's "Justified," and she would go on to win two more Emmys in 2015 and 2016 for playing deep cover KGB handler, Claudia, in "The Americans." Her reputation as one of our greatest character actors precedes her so much that she played a version of herself in the animated Hollywood satire, "BoJack Horseman," named Character Actress Margo Martindale.
Chris Diamantopoulos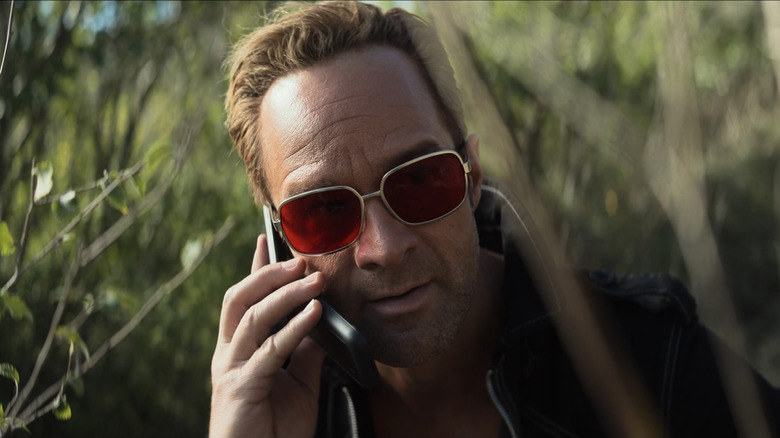 Peacock
Simone is not the only person in the world who hates Mrs. Davis. As she discovers when she reconnects with Wiley, there is an entire resistance network of commando-cosplaying dudes working around the clock to free the world from the tyranny of the algorithm. At the center of the resistance is JQ, an Australian whose leadership style and overall vibe read as a cross between tech guru and Crossfit instructor. JQ certainly looks the part of a cool tactical genius, but his intensity and fancy toys (paid for by Wiley's family fortune) can only go so far as to hide the fact that he and his army of radicalized internet trolls are not very bright.
It's rare when a performer can play both Mickey Mouse and Moe from the Three Stooges, and on top of that, nearly ruin "The Office" for a large swath of its fans. Chris Diamantopoulos is that performer. A man of a thousand voices, he has been featured in "Family Guy" (as Dean Martin), "Batman Unlimited" (as Green Arrow), and the 2022 "Beavis and Butthead" revival. In 2013 he took over the voice of Mickey Mouse for a new series of slapstick, visually inventive Disney shorts alongside the late Russi Taylor as Minnie and Tony Anselmo as Donald Duck.
On camera, his roles have been just as iconic, stepping into Moe Howard's bowl cut and scowl for the 2012 "The Three Stooges" film co-starring Will Sasso and Sean Hayes as Curly and Larry, respectively. And in 2013 he committed the cardinal sin of briefly getting in the middle of Jim and Pam's marriage as Brian the documentary cameraman in the final season of "The Office."
Andy McQueen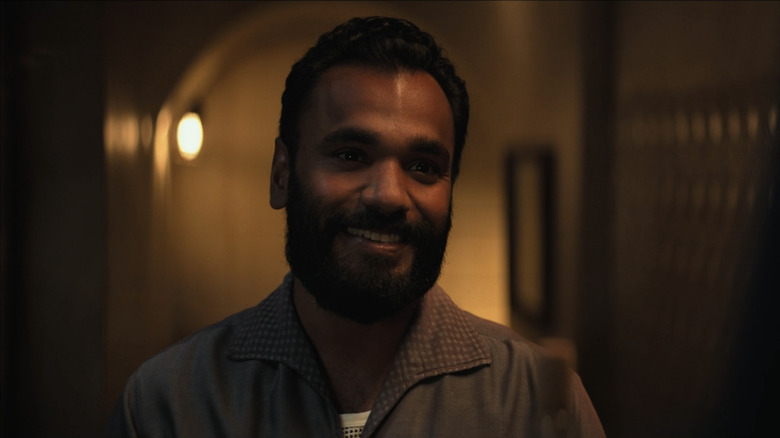 Peacock
There's no getting around it: Andy McQueen plays Jesus in "Mrs. Davis." One of the show's most audacious conceits is that it takes the notion that nuns are the brides of Christ literally. Simone has a healthy, even sensuous relationship with her heavenly husband, who humbly serves falafel and shawarma in a diner that she can visit when she prays. But the search for the Grail strains their formerly happy union, as Simone is forced to confront the inconvenient fact that she only loves Him, but He loves the entire world.
McQueen is a Canadian film and television actor, best known for appearances in Starz's "The Girlfriend Experience," the 2018 HBO adaptation of "Fahrenheit 451" starring Michael B. Jordan and Michael Shannon, and the 2021 miniseries based on Emily St. John Mandel's apocalyptic novel, "Station Eleven." In 2020 he was nominated for a Canadian Screen Award for his role in the thriller, "The Disappearance of Clifton Hill," and again in 2023 for playing Det. Malik Abed in the forensic procedural, "Coroner." Also in 2023, McQueen took a villainous turn on the third season of the Netflix series, "Outer Banks," menacing that show's cast of beautiful treasure-hunting dummies as Caribbean gangster, Carlos Singh. 
Jake McDorman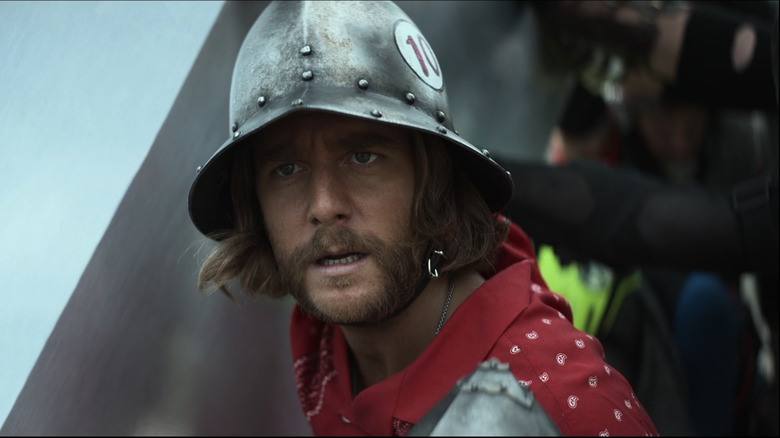 Peacock
Preston Wiley III (Jake McDorman) is an extremely wealthy young man who has been posing his entire life. A fake cowboy turned sort-of fake resistance agent against Mrs. Davis, there is little substance in Wiley's life that he can hold onto; it seems like the last real thing he ever had was his love for Simone. The two met in a hospital as kids, a rodeo champ and a wizard, each sharing half of a donated liver. That connection proves integral to their search for the Grail, their mission to destroy Mrs. Davis, and perhaps even saving the entire world — if only he can get over the fact that he lost his girl to the literal son of God.
A former teen actor, McDorman first made his mark as frat boy Evan Chambers in the ABC Family series, "Greek," in 2007. Since then he has bounced around various film and TV projects, where his all-American good looks often belie his goofy sensibilities and ace comic timing. For every "The Right Stuff," where McDorman plays straight-laced astronaut Alan Shepard, there's a "What We Do in the Shadows," which casts him as the perpetually reincarnated paramour of ageless vampire, Nadja (Natasia Demetriou). On the big screen, he has appeared in "Live Free or Die Hard," Greta Gerwig's coming-of-age comedy, "Lady Bird," and the 2022 lottery heist flick, "Jerry and Marge Go Large," starring Bryan Cranston and Annette Benning.
Betty Gilpin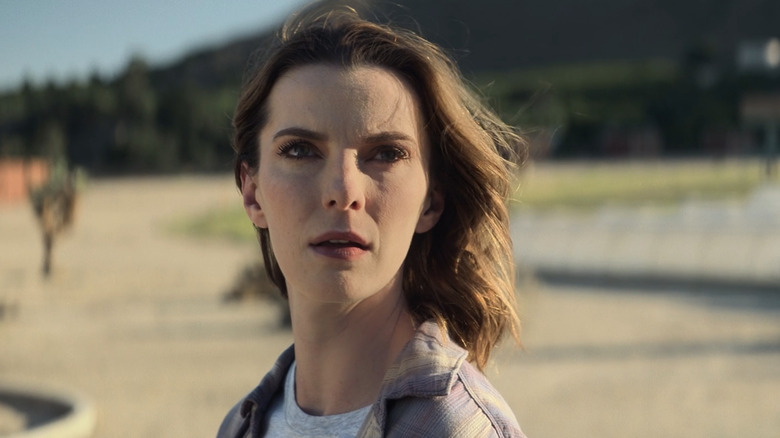 Peacock
As the Kindergarten teacher (Kim Hawthorne) who serves as a surrogate for Mrs. Davis notes in Episode 2, Sister Simone (Betty Gilpin) leads a very interesting life as a nun. Raised by magicians, the former Lizzy Abbott met and fell in love with Jesus after a desperate act of prayer. Now she has been conscripted in a worldwide hunt for the Holy Grail — but why her? The question weighs heavily both on Simone and on the entire series; is this fate? Is she really the most important person in the world, as Mrs. Davis has told her? Or is that just another manipulation — a push, in magician parlance — to make her think that she is following her own free will when really she is just a cog in a massive machine?
The daughter of character actors Jack Gilpin ("Billions") and Ann McDonough ("Moonstruck"), Gilpin paid her dues through the 2000s with small roles in various "Law & Order" series before joining the cast of the Showtime drama, "Nurse Jackie," in its final three seasons. Two years later she won her biggest role to date in the Netflix wrestling series, "GLOW," co-starring opposite Allison Brie and Marc Maron as 1980s actress, Debbie Eagan, who finds herself performing in a nascent all-female wrestling show with the former best friend (Brie) who slept with her husband.
In 2019 her "rich liberals hunt conservatives for sport" satire, "The Hunt," became an unexpected political football after its release was delayed for several months. In 2022, Gilpin co-starred in the Starz Watergate drama, "Gaslit" as Mo Dean, wife of Nixon White House counsel, John Dean (Dan Stevens).