Chris Diamantopoulos Has Some Strong Words For The Office Fans Who Hate Brian, The Boom Mic Guy - Exclusive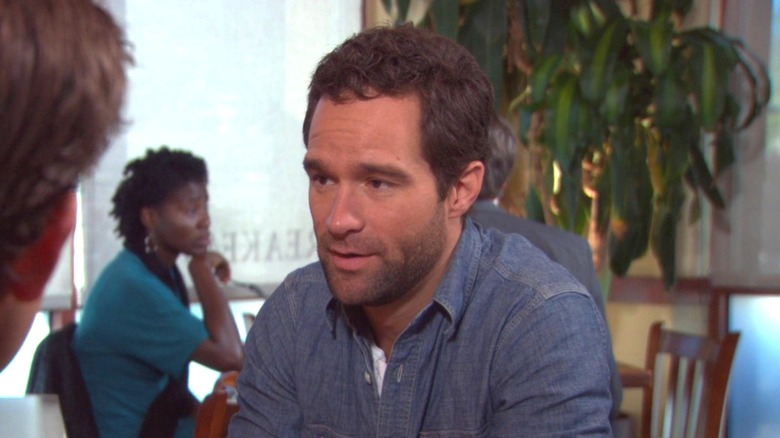 NBC
Who would have thought that a simple boom mic guy trying to make a PBS documentary would cause so much tension within the "Office" fandom? Okay, so Chris Diamantopoulos isn't actually a boom mic documentarian — and his character did cause a significant hurdle for one of TV's most beloved couples. But really, can you blame a guy for developing heart eyes for Pam Beesley? After all, he watched her grow from a timid receptionist to a badass artist and a fiercely strong woman. Jim Halpert can certainly relate. Yet after years of waiting for Pam and Jim to get their ish together, fans wanted no part of any threats to their relationship. 
When the couple finally defines the relationship in Season 4, it's smooth sailing from Niagara Falls and beyond. Enter Brian, the boom mic guy, who steps out in front of the cameras to shake things up in Season 9 when Pam and Jim are constantly fighting about Jim's new job. 
Looper exclusively spoke to Chris Diamantopoulos, who set the record straight about Brian and the fans who hate him (with a lighthearted and good-humored vibe). 
Actors aren't their characters, folks!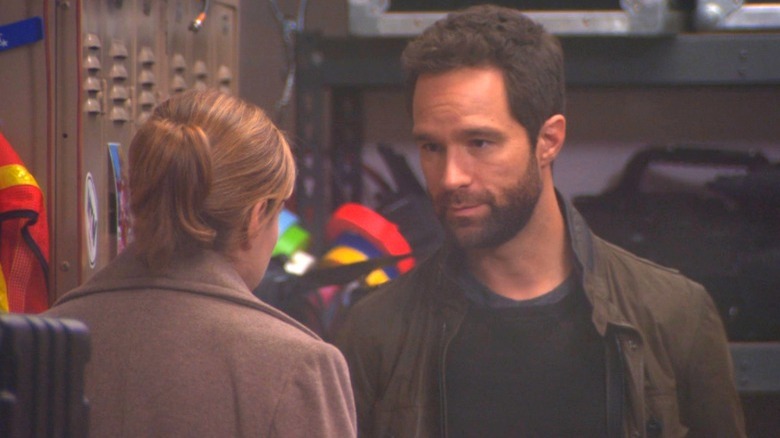 NBC
At the mention of his hotly contested role on "The Office," Chris Diamantopoulos jokingly apologized. The actor also agreed that seeing the couple go through their first realistic hurdle since coupling was nice.
On what he would say to "The Office" fans who threw shade at Brian for getting between Jim and Pam with such a meta storyline, Diamantopoulos wants fans to realize that not everything is perfect, even in the healthiest relationships. He said, "First of all, I would say, 'Wake up and smell the reality, folks.' ... In every relationship, you got to put the extra work in. Sometimes things go by the wayside, and yeah, that's reality."
And for anyone who forgets, actors are not their characters. It's super uncool to harass an actor just because you don't like their character. Diamantopoulos continued, "The other thing I would say to them is, 'Hey, people watching screens — I'm an actor. I didn't try to break up Jim and Pam. I didn't do this. I was hired.' The last thing I would say is, 'You can see in Pam's eyes that she's a little more into Brian. I'm sorry. She doesn't go there, but she wanted to. So you know what, guys? Sorry, but f*** you.'" Of course, if you've ever met Diamantopoulos, you'd know that he has a sardonic sense of humor. So don't go picketing his house, okay?
Diamantopoulos wants to assure fans that "Brian's doing great." He joked, "Brian's living in the Turks and Caicos. He's a fly fisherman. He's really good."
There's no off-screen beef with PB&J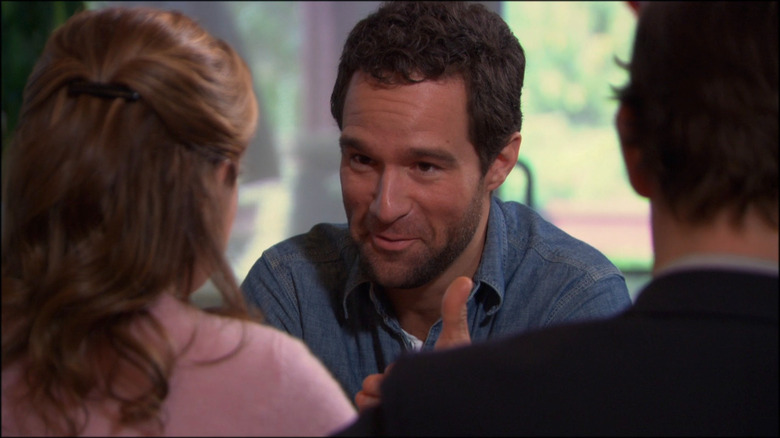 NBC
Though fans can be savage about Brian, Chris Diamantopoulos loved working with John Krasinski and Jenna Fischer. "They are pros to the nth degree, and I'm such a fan of what John and Jenna did both on the show and how their careers have exploded — rightfully so — off the show," he gushed. "I showed up on that set very penitent and deferential with the notion that I am here to help if I could, and I know this is a very tricky situation because it's got to be wrapped up very delicately." 
Diamantopoulos foresaw that there would be fan resistance when he signed on, but that's the gig. "I knew that any instance where the character pushed into the territory where the audience might perceive that there's a threat there would leave me, the actor, probably being reviled, but that's my job," he explained. "... As a fan of the show, it broke my heart to see their marriage in trouble, but as a professional actor, I was ready to give Jim a run for his money." 
New episodes of Chris Diamantopoulos' new show, "Mrs. Davis," stream Thursdays on Peacock.