Migration - Everything You Need To Know
While Illumination has been dominating the animation industry with its multitude of multi-million dollar family-friendly franchises, this holiday season will see the studio take flight into new territory with its next animated feature, "Migration." Illumination's most recent film, "The Super Mario Bros. Movie," blew everyone away at the box office, becoming the highest-grossing movie of 2023 so far, and it's the animated movie with the biggest worldwide opening weekend ever with nearly $1 billion earned. 
Box office domination isn't anything new for the studio. Illumination's in-house productions "The Secret Life of Pets," "Sing," and "Despicable Me" have all gone on to spawn their own billion-dollar film series, with the latter currently reigning as the highest-grossing animated franchise of all time. Time will tell if "Migration" has what it takes to join these box office heavyweights. For now, it's time to waddle through everything known about the upcoming animated production.
When will Migration be released?
When "Migration" was first announced in February 2022, it was slated to be released on June 30, the same day as "Indiana Jones and the Dial of Destiny." That date was moved to December 22 of that same year, likely in an attempt to avoid competition with the upcoming summer blockbuster and aim for a holiday audience.
Although the film will still have its fair share of titles to compete with during this time, including Timothée Chalamet's "Wonka" on December 15 and the DC film "Aquaman and the Lost Kingdom" on December 20, it will surely find an audience given its seemingly lighthearted, family-friendly nature and Illumination's successful history.
The initial announcement also revealed the attachment of a few key figures to the project, including Benjamin Renner as director. Meanwhile, "White Lotus" writer Mike White is on the screenplay, and Illumination head Chris Meledandri serves as producer.
What is the plot of Migration?
"Migration" follows the escapades of a family of ducks who manage to convince their father to go on a larger-than-life journey. The film sees the family travel through several states and countries between New England and the Bahamas, including New York City. Along the way, their bravery will be put to the test with the ducks encountering a variety of dangers from harsh weather to vicious predators.
If Illumination is good at anything, it's finding universal stories that can attract a wide audience, and it seems "Migration" will be no different. The film appears to be blending its comedic road trip premise with themes about family and stepping out of one's comfort zone, which is sure to hit home for many. Add its holiday release date to the mix, and it appears that Illumination's newest feature checks all the boxes for a fun-filled family flick.
Who is starring in Migration?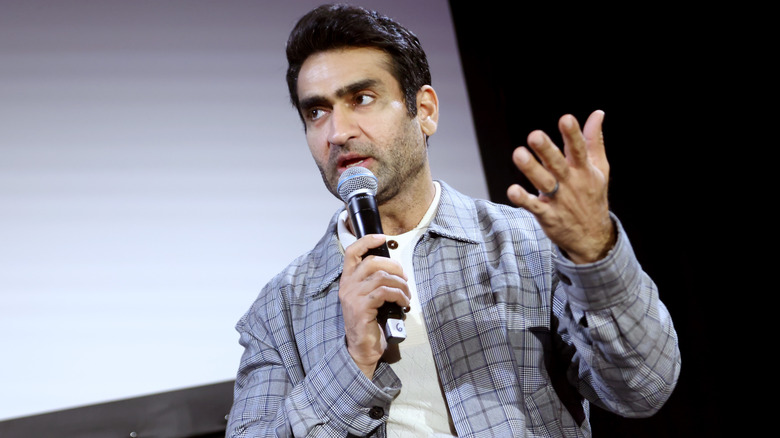 Tommaso Boddi/Getty Images
Illumination made sure not to skimp on the voice cast of "Migration" with a wide array of star-studded A-listers announced at CinemaCon on April 26.
Providing the lead voice of anxious father Mack is none other than "The Big Sick" and "Eternals" star Kumail Nanjiani. The true leader of the flock, however, is Pam, Mack's partner, who will be voiced by "Hunger Games" actor Elizabeth Banks. Both actors have lent their voices to the "Lego Movie" franchise, with Nanjiani voicing Jay in "The Lego Ninjago Movie" and Banks voicing Wyldstyle in both "The Lego Movie" and "The Lego Movie 2: The Second Part."
Rounding out the family includes enthusiastic brother Dax (Caspar Jennings), young daughter Gwen (Tresi Gazal), and less-than-enthused Uncle Dan (Danny DeVito). DeVito previously headed another Illumination entry as the titular character in 2012's "The Lorax." Rounding out the cast are Carol Kane as the friendly Erin the heron, Keegan-Michael Key as a homesick parrot, David Mitchell as the leader of a duck farm, and Awkwafina as a scrappy New York pigeon.
Who is directing Migration?
Helming "Migration" is French filmmaker and cartoonist Benjamin Renner, whose most beloved project is perhaps the 2012 film "Ernest & Celestine." Based on Gabrielle Vincent's children's book series of the same name, the adaptation became a massive hit at film festivals during its initial release, receiving numerous nominations and accolades from such notable events as the Toronto International Film Festival, the Hong Kong International Film Festival, and the Cannes Film Festival. It was even nominated for an Academy Award for animated feature film alongside such titles as "The Wind Rises" and "Frozen," ultimately losing to the Disney film.
Renner's second and so far only other feature, 2017's "The Big Bad Fox and Other Tales...," is also highly acclaimed. It currently holds a 97% Tomatometer rating and 95% audience score, with many critics praising its "simple, classic animation style" and humble storytelling. 
"Migration" will be the director's first English-language project.
Is there a trailer for Migration?
A teaser trailer for "Migration" arrived alongside the release of "The Super Mario Bros. Movie." Although it's two minutes long and gives viewers a good idea of what's to expect from the family romp, it doesn't give much away about the film itself.
Following a showcase of Illumination's other properties, including "Despicable Me," "Sing," and "The Super Mario Bros. Movie," the teaser presents the duck family as they prepare to depart on their journey. The flock takes off, rushing through their woodland home before meeting the lush blue sky. The teaser ends on a darkly comedic note with the family huddled up during a thunderstorm and Uncle Dan doubting their chances of survival just before a strange visitor stares them down.
It may not be a substantial look at what's to come, but the teaser offers a pleasant glimpse of the film. Perfectly translating Benjamin Renner's simple yet expressive character designs to 3D animation, "Migration" is a visual treat complemented by solid voice acting. As more comes out about this intriguing release, there will surely be plenty more to quack about.
What will Migration be rated?
"Migration" has been given a PG rating by the Motion Pictures Association as the film "contains action/peril and mild rude humor." It's more than likely that the rating given to "Migration" won't be off-putting to many families, but given its elements of adventure, the film is sure to have a few moments where the stakes are risen. Judging from the teaser trailer, there may also be some imagery that could give kids a bit of a fright, most notably the large-eyed heron that stares down the duck family. 
This rating has done little to hamper the success of any previous Illumination movies. From 2010's "Despicable Me" to this year's "The Super Mario Bros. Movie," every Illumination release has been given a PG rating by the MPA. There may be some jokes here and there that will fly over the heads of younger audience members, but for the most part, its library is all family-friendly to the upmost degree, and it appears "Migration" will be joining that flock.