Why The Super Mario Bros. Movie Blew Everyone Away At The Box Office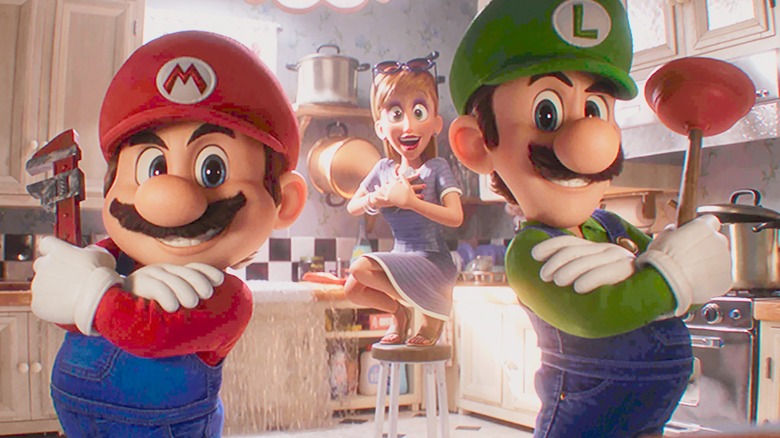 Nintendo/Illumination/Universal Pictures
"The Super Mario Bros. Movie" spent the week making history in the animation world. Illumination's first collaboration with Nintendo launched with over $375 million at the global box office, making it the largest worldwide opening weekend for an animated film. It surpassed the previous champion, Disney's "Frozen 2," which currently ranks #13 amongst the highest-grossing films of all time. 
Not only has the film already secured its position as the current biggest box office opening of 2023, topping the likes of "Ant-Man and the Wasp: Quantumania" and "John Wick: Chapter 4," but its domestic release in the United States is the biggest opening for an animated film since Pixar's "The Incredibles II." It's not surprising when you consider the global popularity of "Super Mario Bros." as a franchise, but the film faced a lot of adversity and doubt leading up to its release before becoming an indisputable box office smash.
For some, the success of "The Super Mario Bros. Movie" was guaranteed the second that Nintendo and Illumination confirmed they were working together. Others were more convinced that it would be a simple crowd-pleaser after early trailers showcased what a proper film adaptation of Nintendo's most iconic video game would look like. As it continues to top the box office charts in the next few weeks, it's worth taking a look at some of the biggest reasons why moviegoers are flocking to the theaters to see this film. 
Super Mario Bros. is the best-selling video game franchise in the world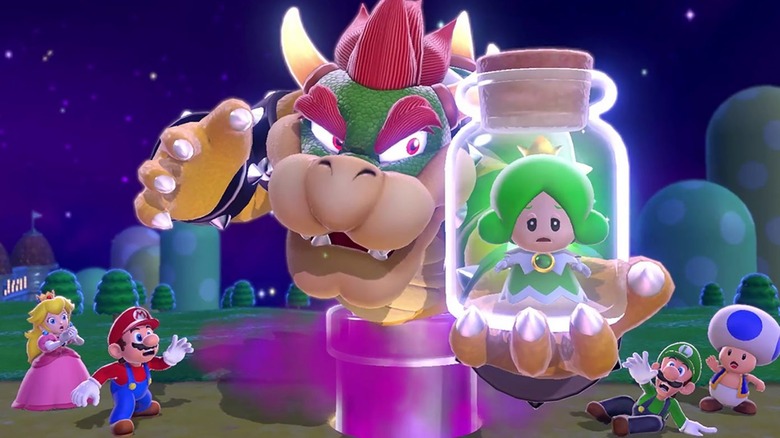 Nintendo
No history of video games is complete without mentioning "Super Mario Bros." The franchise began way back in the medium's infancy with the 1981 arcade release "Donkey Kong," before it blew up in popularity with the worldwide release of the Nintendo Entertainment System (or its Japanese counterpart, the Famicom) in 1985. Even then, critics were positive that "Super Mario Bros." would be an international phenomenon. 
"Super Mario Bros." has remained a staple of Nintendo's carefully curated brand throughout the '90s, 2000s, and 2010s. The series has spawned countless spin-offs, from "Mario Kart" to "Mario Party," with some of these series ranking on their own among the best-selling video game franchises of all time. Collectively, over 800 million video game units have been sold, with the series' most recent entry, "Super Mario 3D World + Bowser's Fury" on Nintendo Switch, selling just under 10 million units in 2021. 
Predictably, the series has been prime material for adaptation into an animated film for a very long time. Its colorful aesthetics, unique world, and lovable cast of characters not only appeal to kids, but to nostalgic adults who grew up with the franchise's earlier entries. It's no surprise that the series' success in the video game sphere has translated to its success at the box office, as there's no denying that the "Super Mario Bros." kingdom stands strong, even today. 
Nintendo has a lot to prove after the 1993 movie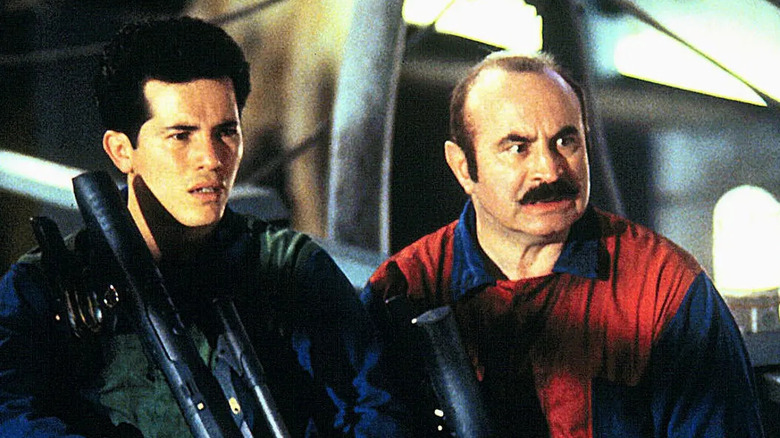 Buena Vista Pictures Distribution
Unfortunately, "The Super Mario Bros. Movie" isn't Nintendo's first brush with translating their most beloved franchise to film. In 1993, "Super Mario Bros." was released as a live-action movie starring Bob Hoskins and John Leguizamo as Mario and Luigi, respectively. Similarly to the Illumination movie, the film follows the two blue-collar brothers working as plumbers in Brooklyn, New York, before being sent through an interdimensional portal to another world inhabited by a kingdom of dinosaurs.
Notably, the film was a critical failure, and bombed at the box office. In a review, The New York Times said that the film's final 30 minutes were nearly unwatchable, and criticized its inability to capture the magic of the original games. "Super Mario Bros." was even hated by the cast, with Bob Hoskins naming the film as one of his biggest regrets (although Leguizamo has embraced it in recent years). 
In a somewhat happy ending, the film itself has also been embraced by cult audiences, with directors Rocky Morton and Annabel Jankel telling Variety that midnight screenings held at Quentin Tarantino's New Beverly Cinema helped them feel proud of the work they'd done — although Morton admitted that it might have turned out differently if Nintendo was more involved. Nevertheless, hardcore "Super Mario Bros." fans were optimistic about Illumination's chances given that Nintendo is very careful with their IP nowadays, with many of them excited enough to see the film in theaters. 
Mario fans want to see the games they love done justice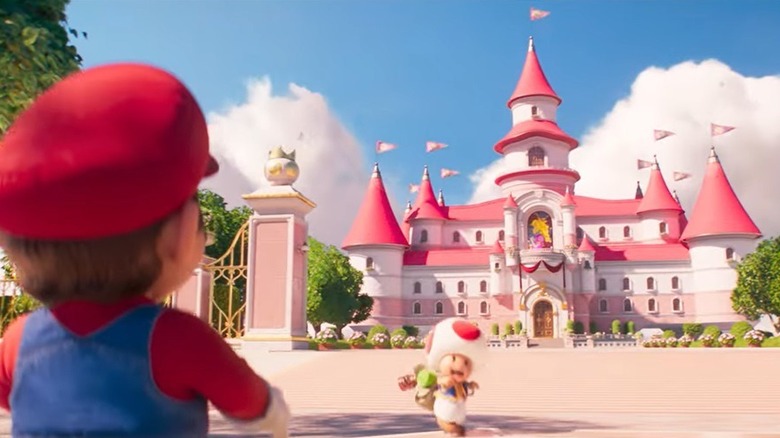 Nintendo/Illumination/Universal Pictures
Given that "Super Mario Bros." first caught the attention of gamers way back in the 1980s, there are nowadays many adults who grew up playing titles like "Super Mario World" and "Super Mario 64." Although Illumination's more original projects, like the "Despicable Me" films or "Sing," may not appeal to them, there's a whole generation who will be curious to see their favorite childhood games even be referenced in "The Super Mario Bros. Movie."
Critics seem to be noting the film's dedication to appealing to its longtime fans, and how the movie is focused on channeling their nostalgia for the game and its many iconic elements while opening up the world to new audiences. This is arguably a strength that Illumination has lacked with their previous adaptations of Dr. Seuss's story books, with films like "The Grinch" and "The Lorax" criticized for their lack of faithfulness to the source material's original messaging. 
Thankfully, faithfulness is the name of the game in "The Super Mario Bros. Movie." The film's visuals beautifully recapture the aesthetics of recent "Mario" titles like "Super Mario 3D World" or "New Super Mario Bros." It's quite the far cry from the 1993 film, which took quite a few major creative liberties with the design of characters like Bowser or Toad, while Illumination's film remains true to the characters that video game fans have come to know and love. 
Illumination knows how to draw an audience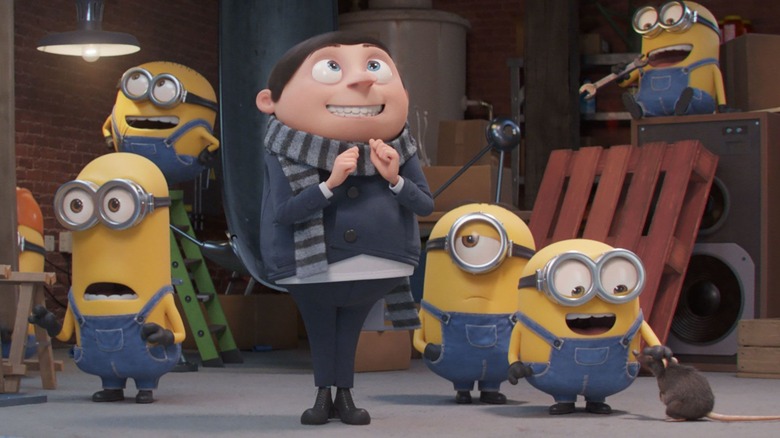 Illumination/Universal
Even though Illumination has been criticized at times for their range of output, they've never failed to release a film that does incredibly well commercially. "The Super Mario Bros. Movie" is not their first box office success, nor even their first in a long time. The studio debuted in 2010 with the original "Despicable Me," which introduced audiences to the adorable (or annoying, depending on who you ask) Minions, who have become the company's mascots. 
Since "Despicable Me," Illumination's film have often been box office successes, with the spin-off film "Minions" ranking in the top 30 highest-grossing films of all time, next to releases by Marvel Studios and Disney. Most of the company's success has been attributed to their low-cost production, with Illumination CEO Chris Meledandri telling The New York Times their secret: "Very few management layers, clear decision-making, [and] shortening the length of time you spend developing a movie." 
Even the seeming lack of appeal for older audiences has surprisingly drawn crowds to Illumination films. In 2022, a TikTok trend found young adult men wearing suits to see Illumination's "Minions: The Rise of Gru," in large numbers, which eventually spread worldwide and led to some theaters banning moviegoers in formal wear. 
The movie is a nostalgia ride for children of the '80s and '90s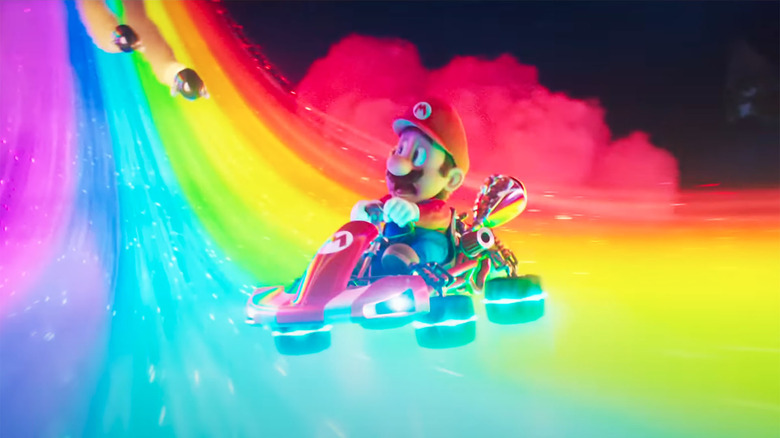 Illumination
"The Super Mario Bros. Movie" does its darndest to appeal to not only fans of the series' more recent entries, but longtime followers from its classic arcade days. Whether it's through iconic '80s needle drops, the appearance of memorable enemies from the franchise, or broader meta references to the series' history, "The Super Mario Bros. Movie" is a surefire blast for anyone who grew up playing any "Mario" game. 
Nevertheless, this has resulted in criticism from some reviewers, who feel this over-attention to detail and making the film's visuals deeply faithful to the source material have left the movie lacking in plot, character development, and overall message in a way that other video game-centric films, like Disney's "Wreck-It Ralph," weren't. 
Still, no "Super Mario Bros." game has ever been critically acclaimed for its story, aside from RPG titles like "Paper Mario: The Thousand Year Door" or "Mario and Luigi: Superstar Saga." Many of those who care enough to see Mario and his friends translated to the screen likely won't mind the lack of a cohesive story. For "Mario" fans, the appeal of the games has always been visuals and action, which is no different when it comes to an animated film from Illumination. 
There are way too many Easter eggs to catch in one sitting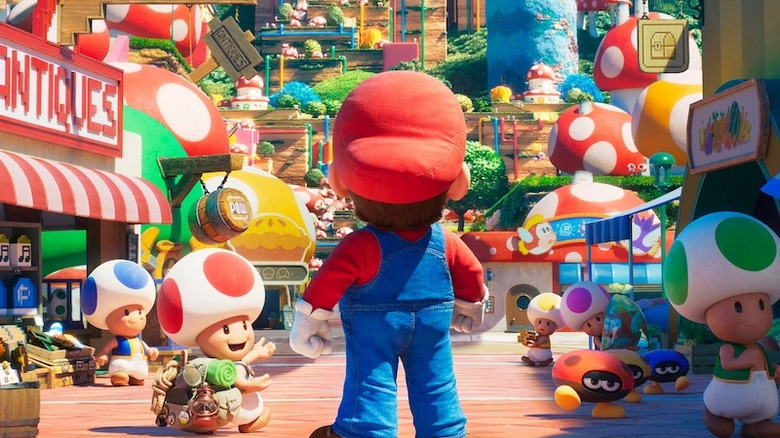 Illumination
There's no question that there's a lot to take in with every frame and every moment of "The Super Mario Bros. Movie." Sequences like Mario and Luigi's early scenes in Brooklyn, or Mario's introduction to the marketplace of the Mushroom Kingdom, are chock full of references and Easter eggs to not only Mario's own series of games, but even Nintendo's other properties. For instance, one scene in Mario's bedroom features references to "Star Fox," "F-Zero," and "Kid Icarus" in the span of only a few minutes.
Other references throughout the movie poke fun at some tropes and details that fans of the "Super Mario Bros." franchise will be particularly tickled by. As Mario and Toad try to sneak into Peach's castle, they're stopped by two Toad guards who smugly tell them, "the princess is in another castle," a reference to Toad's declaration at the end of every Bowser's castle level in the original NES title. 
Overall, every watch of "The Super Mario Bros. Movie" will likely result in spotting a background cameo, callback, or visual flourish that will excite anyone who's familiar with the "Super Mario Bros." series. For video game fans especially, who already love to dig for Easter eggs, complete achievements, or explore the corners of video game worlds to their fullest, "The Super Mario Bros. Movie" begs for repeat viewings.
Voice casting controversy invites curiosity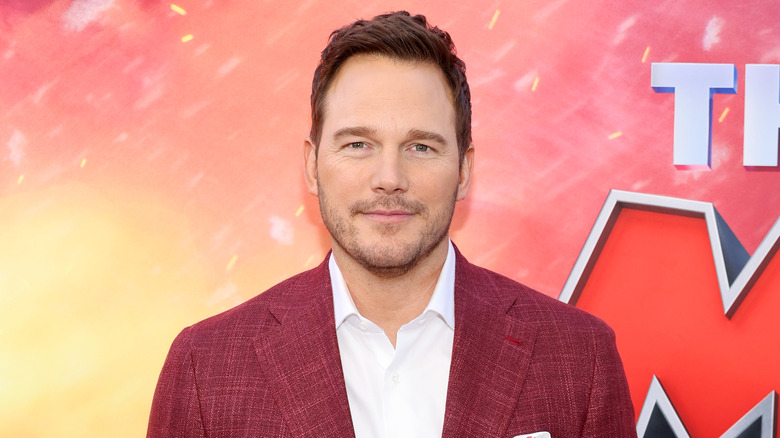 Amy Sussman/Getty Images
Prior to any sneak peeks or trailers, all fans had regarding "The Super Mario Bros. Movie" was the film's official cast announcement, which was revealed during a Nintendo Direct in September 2021. Among the most controversial of those reveals was Chris Pratt being chosen to voice Mario, replacing the character's long-time voice actor Charles Martinet (although Martinet was confirmed to appear in the movie in various, secretive roles). 
Other castings that divided "Super Mario Bros." fans included Charlie Day as Mario's twin brother Luigi, as well as Seth Rogen playing Mario's rival Donkey Kong, which both led to Internet memes and ridicule. Many fans of both video games and animation detested Illumination's decision to cast Hollywood stars rather than professional voice actors. Pratt told Extra TV that he understood fans' concerns, but urged, "Go watch the movie and then we can talk." 
Despite some fans still feeling hesitant about the casting choices, they certainly turned up to the theater to see for themselves, just like Pratt asked. While some critics felt that Pratt and Day still weren't the right fit for the characters, others felt they certainly delivered with originality, loyalty to the games, and comedic chemistry. Even Kotaku noted the beauty of Martinet voicing Mario and Luigi's dad, in a moment that somewhat passes the torch to the two voice actors. 
Jack Black fans never leave the theater disappointed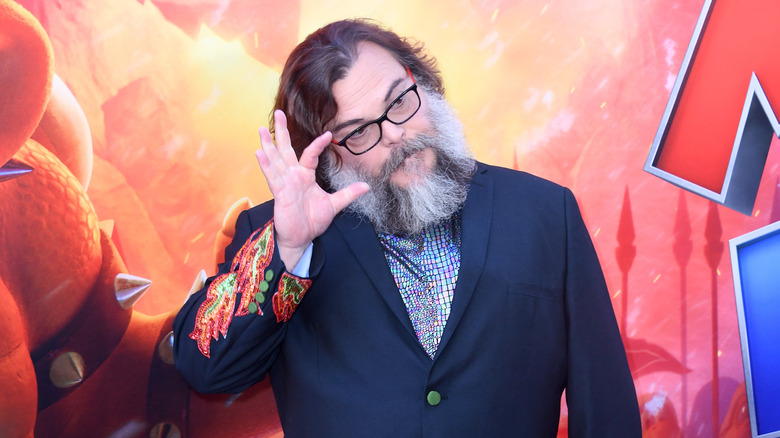 Albert L. Ortega/Getty Images
Jack Black has been receiving nothing but praise for his contributions to "The Super Mario Bros. Movie," in which he plays the film's antagonist and scene-stealer, Bowser. Not only were fans excited for the announcement that Black was joining the film, but they were even more thrilled when the film's first trailer was revealed, showcasing how he brought his A-game to play the king of the Koopa army. 
Even so, none of the previews or hype leading up to the movie truly captured Black's fantastic performance. While the trailers showed off Bowser as a terrifying threat to the Mushroom Kingdom, in the actual film it's revealed that Bowser is pining for Princess Peach's hand in marriage, making for some devastatingly funny moments. In one standout scene, Bowser takes a moment alone with a piano to sing an ode to Princess Peach, called "Peaches," which is a brilliant use of Black's musical genius.
If Black's presence in the film wasn't enough to draw an audience, "Peaches" certainly is, as the song has already begun to climb the iTunes charts only a few days after the movie's release. Black even stars in a music video for the ballad, fully clad in Bowser-inspired garb. It will be tragic if "Peaches" doesn't become the next "We Don't Talk About Bruno."
It's a film that begs to be seen on the big screen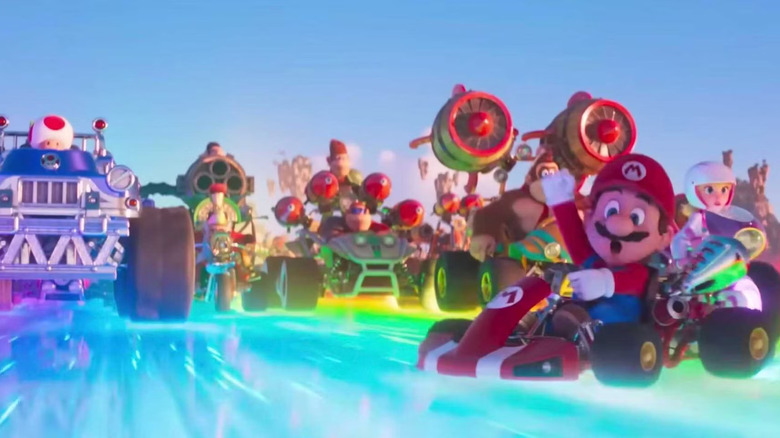 Nintendo/Illumination/Universal Pictures
Illumination has often been criticized in the past for its storytelling, overused popular music needle drops and low-brow humor, which is never more present than in the "Despicable Me" franchise. However, where the animation studio has always excelled is in its visuals, which often come to life more brilliantly on a movie screen than they would on a regular TV, laptop, or especially smartphone. "The Super Mario Bros. Movie," in this regard, is no exception. 
If anything, this is a quality that the company shares with Nintendo, which is often are praised for creating video games with stunning visuals and gameplay but lackluster stories or narrative themes. Nevertheless, the film overdelivers when it comes to its action sequences, as equally fluid in terms of animation as they are overwhelming in the visual sense. Take, for instance, the film's Rainbow Road scene, which offers an action-packed, "Mad Max: Fury Road"-style road battle between the Kong army and Bowser's forces, while playing off tropes and references from the "Mario Kart" franchise. Anya Taylor-Joy even drew a comparison in a recent interview between this film and her upcoming portrayal of "Furiosa" in the "Fury Road" prequel. 
Some movie fans have a distrust of early reviews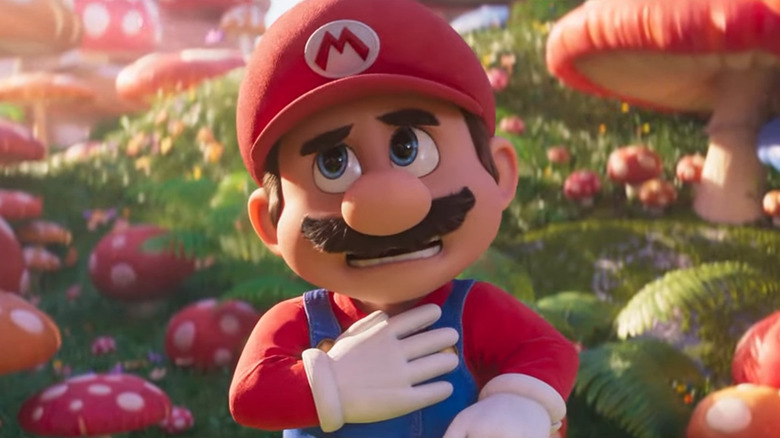 Nintendo/Illumination/Universal Pictures
Pre-release reviews of "The Super Mario Bros. Movie" were less-than-kind about its cinematic qualities. While some rightly appreciated the film as a love letter to Nintendo's biggest franchises, others were critical of its plot, soundtrack, and humor. Others were wary as it began to hover around a 50% critic rating on Rotten Tomatoes. 
Nevertheless, fans were distrustful of the film's early criticisms, some of which labeled "The Super Mario Bros. Movie" as one of Illumination's worst. That certainly came as quite the surprise for hardcore "Super Mario Bros." advocates, who worried that Illumination would wash out the franchise's most appealing qualities.
Given the divisiveness of reviews prior to the film's release, "Super Mario Bros." fans had to be gratified that Illumination did a good job faithfully adapting their beloved franchise, especially compared to the 1993 Hoskins and Leguizamo-led film. While it may not be enough to woo over non-fans of the Nintendo series, the distrust of those early reviews convinced skeptical Nintendo fans to check it out for themselves. 
It's been a good few years for video game adaptations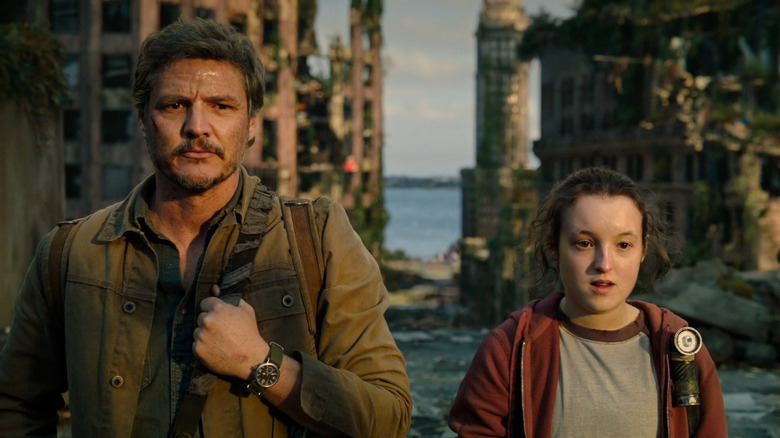 HBO
The genre of video game-inspired movies has had a rocky past, making Nintendo hesitant to license their intellectual property in the past, with game designer Shigeru Miyamoto telling Variety in 2023, "[They] were fearful of all the failure of past IP adaptations." Thankfully, the tide has changed lately thanks to more faithful adaptations of the original games.
One of those successes has been the live-action "Sonic the Hedgehog" films starring Ben Schwartz as the titular blue blur. Early trailers concerned hardcore fans of the series due to Sonic's design, resulting in a last-minute delay so that Paramount Pictures could redesign the character's look to more closely resemble the Sonic from the games. Once the film debuted, audience response to the movie and its 2022 sequel was extremely positive.
Even more recently, HBO had a bona fide hit on its hands with its adaptation of Naughty Dog's "The Last of Us," which worried fans who were devoted to the original game's actors. Nevertheless, Pedro Pascal and Bella Ramsey proved themselves to audiences, securing the show a second season renewal only two weeks into airing. By then, fans trusted "The Super Mario Bros. Movie" to live up to expectations. 
Nintendo's heavy involvement in the film pays off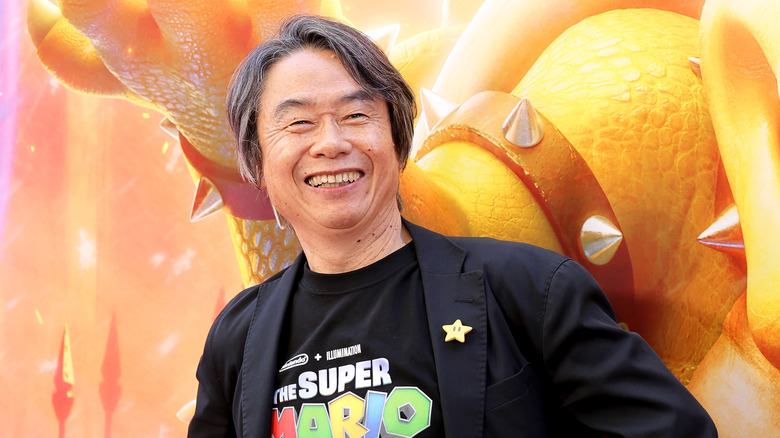 Amy Sussman/Getty Images
Given Nintendo's prior experience with the 1993 "Super Mario Bros." film, they were much more concerned with making sure Illumination's project would represent the company's brand and be consistent with what Mario's biggest fans were familiar with. As a result, Mario creator Shigeru Miyamoto served as co-producer of the film, alongside Illumination's CEO Chris Meledandri, who welcomed the input of one of the most influential figures in video game history.
Describing Nintendo's motivation for entering the world of film to Rolling Stone, Miyamoto cited the company's desire to "focus on the idea of wanting people to enjoy Nintendo and love Nintendo as Nintendo," resulting in a film collaboration with Illumination, as well as the addition of Super Nintendo World as a theme park at Universal Studios. It was important for Miyamoto, as a herald of Nintendo's original spirit, to capture that spirit outside the world of video games.
Nintendo fans may have been worried that like the 1993 film, Illumination's take on "Super Mario Bros." would be distant from what they envisioned. But Nintendo was careful to make sure the film didn't erase previously conceived notions about Mario's backstory or characterization. 
Mario's iconic music has never sounded better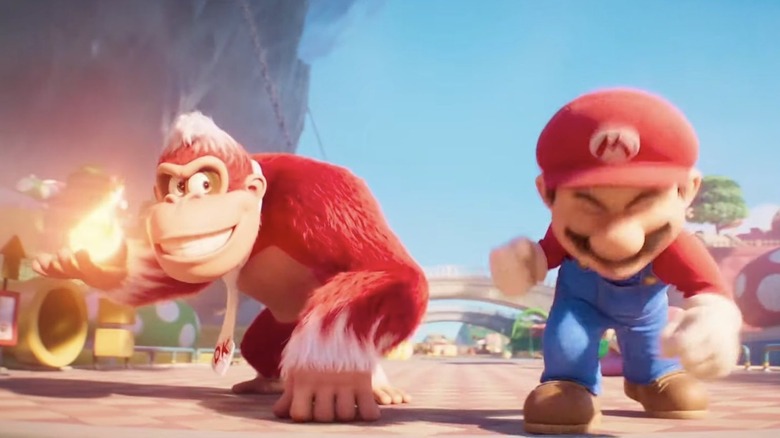 Nintendo/Illumination/Universal Pictures
Of course, "The Super Mario Bros. Movie" wouldn't be as adored by fans unless it featured some of the franchise's most iconic music tracks. Composer Brian Tyler helmed the film's soundtrack, borrowing melodies and songs from Koji Kondo's original music throughout the franchise's history. This is mostly present in the film's many action sequences, which interpolate familiar themes that will make any "Super Mario Bros." fan sitting in the theater squeal with excitement.
Tyler described to Variety the process of adding Kondo's original music to the film's soundtrack as "[wanting] to have built-in nostalgia where it immediately feels like Mario." This even contributes to some Easter eggs from the film, such as Luigi's ringtone being the iconic GameCube jingle, or Bowser and Kamek duetting on piano to play the World 1-2 music from the original "Super Mario Bros." 
However, some fans found plenty of reasons to criticize the soundtrack. Along with oddly-placed popular songs during some of the film's key moments, fans took to social media to lament the lack of credit given to composer Grant Kirkhope, who wrote the infamous "DK Rap" that is featured in Donkey Kong's introduction scene. It's an oversight that Illumination hopefully corrects in future releases. 
A whole new generation is being introduced to Mario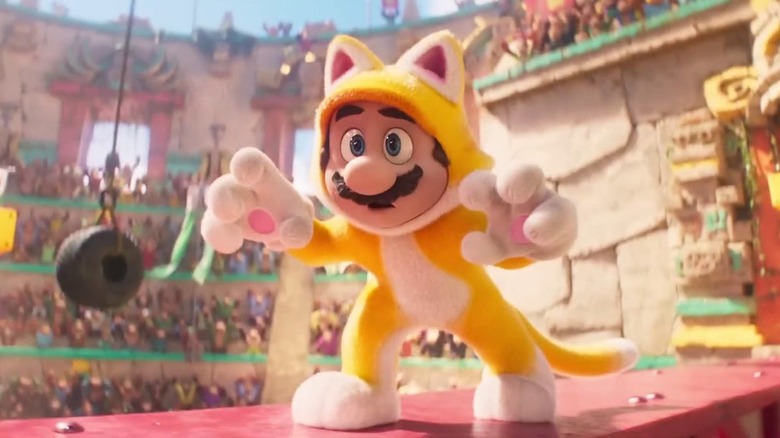 Nintendo/Illumination/Universal Pictures
One of the biggest appeals of making "The Super Mario Bros. Movie" for Nintendo was to create a film that not only provides fan-service for longtime "Super Mario Bros." players, but also introduces the world of the games to those who may not be familiar with them. Former Nintendo of America president Reggie Fils-Aime described the intent of the Illumination partnership to IGN as "a great introduction to folks who are not as familiar with the world of Mario." 
"The Super Mario Bros. Movie" does a great job of appealing to younger audiences, an aspect that can certainly also be applied to the "Super Mario" video games, which thrive off fun gameplay and lovable characters rather than complex themes or controls. 
Although the film is certainly not for everyone, kids will likely walk out of the theater desperate to play the latest entry in Nintendo's franchise. Even nostalgic adults may find themselves returning to their favorite childhood classics after having fun watching the Illumination movie. Either way, it wouldn't be surprising if the film's box office success was a result of either of these groups going back for seconds. 
The film industry is in the midst of an animation renaissance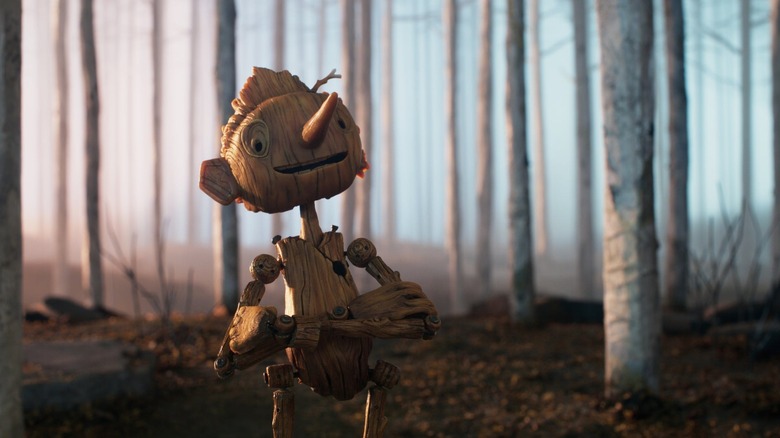 Netflix
It's quite a good time to be an animation studio in Hollywood these days. The past few years have seen a boom in original animated films. Many film critics date this back to the release of Sony's "Spider-Man: Into the Spider-Verse," which adopted a comic book-inspired aesthetic to reinvent the superhero genre. 
More films have profited off this mindset, including Dreamworks' "Puss in Boots: The Last Wish," which like "The Super Mario Bros. Movie," was a smash-hit at the box office despite the "Shrek" film franchise being dormant since the last "Puss in Boots" film a decade ago. Audiences seem starved for animation that's not only hand-crafted, but contains more heart and soul than other IP-based films that have been released lately.
The sentiment was even echoed during Guillermo del Toro's acceptance speech at the 2023 Oscars, after winning Best Animated Film for his stop-motion masterpiece, "Pinocchio." Del Toro championed animation, saying, "Animation is cinema, animation is not a genre, and animation is ready to be taken to the next step." "The Super Mario Bros. Movie" may not innovate, but it does satisfy audiences starved for heartfelt animation. 
The Super Mario Bros. Movie could be the start of something bigger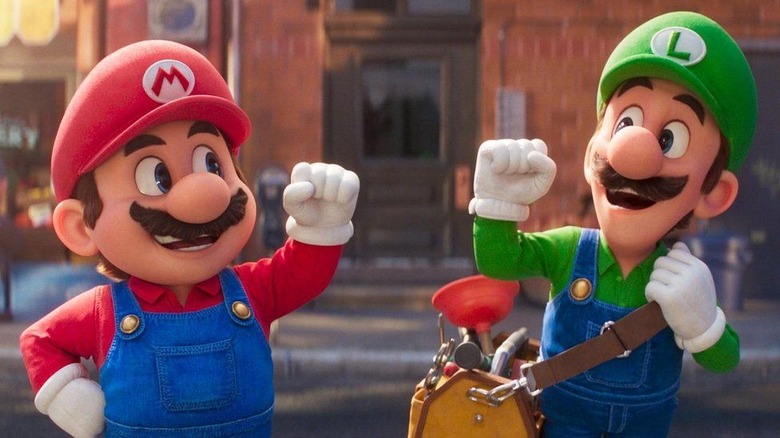 Nintendo/Illumination/Universal Pictures
In the world of video games, Nintendo reigns supreme with its many intellectual properties and dedication to giving the fans what they want. Translating to film, Nintendo is primed to continue this, with "The Super Mario Bros. Movie" being the start. Even before the film's release, both fans and industry pundits alike were interested in the possibility of a Nintendo Cinematic Universe. This feeling was echoed by the film's cast, who expressed their hopes for the franchise to have a future. 
Although many film fans are growing tired of cinematic universe and the exploitation of franchises for profit, "The Super Mario Bros. Movie" certainly promises more from this world. A post-credits scene teases the introduction of Yoshi, while other plot threads perfectly set up a potential "Donkey Kong Country" spin-off. Even Charlie Day has indicated he'd be down to reprise his voice role in a "Luigi's Mansion" movie. Like it or not, the box office success of "The Super Mario Bros. Movie" only proves what a great idea this could be. 
Illumination, for all its flaws, knows its way around a franchise, and Nintendo's interest in expanding its brand only makes this a greater possibility. For Nintendo fans eager to see their favorite characters on the big screen, seeing "The Super Mario Bros. Movie" is not unlike Marvel fans seeing the first "Iron Man" in 2008.