Ted Lasso Season 3 Episode 7 Review: Total Football Is Taken Too Far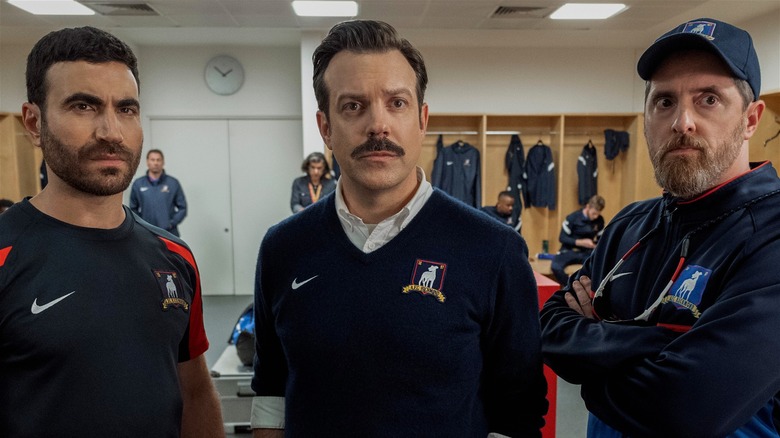 Apple TV+
We're back to our regularly scheduled programming after a rather odd outing in Amsterdam last week, and it's good to be home. But that's no reason to assume everything will be perfect. Richmond is still losing badly to anyone and everyone and the revelation of Total Football last week hasn't been tried yet. Meanwhile, Keeley (Juno Temple) is trying to navigate Jack's (Jodi Balfour) love bombs; Nate (Nick Mohammed), a sheer force of evil to most, is feeling insecure about a girl; and Sam (Toheeb Jimoh) is preparing to open his restaurant.
First, let's talk about the team. Ted Lasso (Jason Sudeikis) and Beard (Brendan Hunt) agreed last week to try the Total Football strategy, which they introduce to the team this week with a presentation by Coach Beard. The presentation fills us (and the team) in on Total Football but it's an extremely long introduction to the strategy and it seems unlikely anyone except the most die-hard soccer nuts will really be listening. Nonetheless, there are some nice moments that still make it fun. However, when he suggests they try it, the whole team protests.
The team scrimmages and things don't go well — then or the other times they scrimmage. And when they try the strategy in a game, it's more of the same ... until Jamie (Phil Dunster) tells Ted to put him in a different position at halftime. While they don't win the game, there's finally a ray of light, and it may be what the team needs to keep going. After so many problems on the field this season, it's nice to see Jamie of all people being the one to step up and show them how to win with the strategy Ted has been championing. I don't know what will happen after this but if it keeps them moving forward, I'm all for it.
Two love stories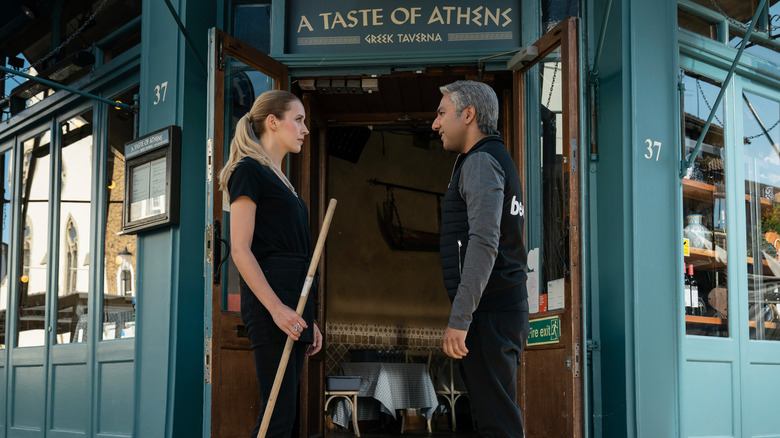 Apple TV+
Meanwhile, Keeley meets Jack for breakfast and is given the gift of a first edition of "Sense and Sensibility." However, when she goes to work she finds she can't tell Barbara (Katy Wix) about the relationship. So when Jack comes in and sees she's torn between wanting their relationship to be public or private, Jack announces their relationship to the office, charming Keeley. This was a really well-done scene and although Jack is still a question mark in a lot of ways, it's nice to see her so easily claiming the relationship.
Later, Keeley goes to see Rebecca (Hannah Waddingham), and Rebecca suggests Jack is love-bombing her. She compares Jack to Rupert (Anthony Head), gently warning Keeley. Keeley isn't worried, at least until Jack fills her office with daisies. She tells Jack she needs to stop sweeping her off her feet and Jack agrees to back off a little and let Keeley do something for her every now and then. This storyline seems like it's far from resolved; while Keeley seems optimistic about the relationship, it's hard to know for sure, and even Keeley seems uncertain about whether Jack will really let her take the reigns once in a while.
Separately, Nate is in his office when his mother (Neelam Bakshi) texts about Tuesday night dinner in honor of his sister's birthday. He's been crushing on the hostess at Taste of Athens, Jade (Edyta Budnik), and suggests going there. His mother says she's cooking instead, but when he's there he brings Jade up. He's against asking her out but then his mother shows him a map his father made for her when he asked her out. This inspires him to ask Jade out by creating an elaborately decorated box. As he's walking to meet her, though, he trips and drops the box and it gets run over by a car. He asks her out anyway and she says "yes."
This is a really cute storyline, and even though it's hard not to hate Nate for what he's done to Ted and the team, this storyline makes you like him at least a little. Nate has some problems with confidence and that's illustrated well here, to the point of it almost being annoying. But when Jade says yes and his reply is "good," it's a really nice moment — as is the moment when they meet at a restaurant right after he texts his mother about his worries over her not showing up. I don't know what they're planning on doing with Nate but it looks like he could be on the road to redemption, or at least something like it.
The heart of the episode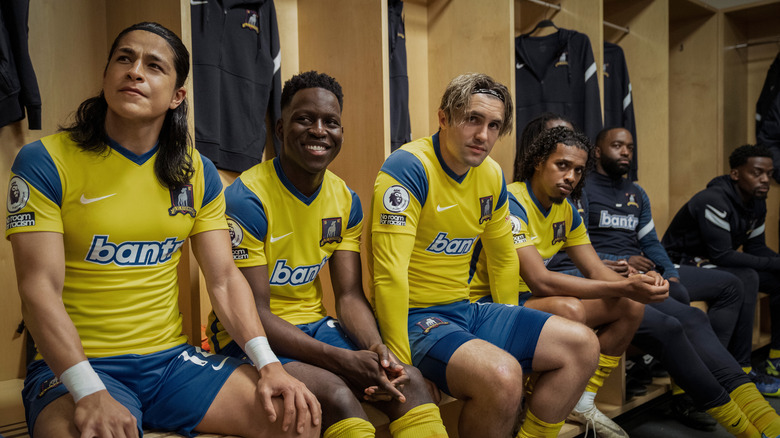 Apple TV+
Finally, Sam is preparing to open his restaurant. He goes there one day to ask for a reservation for his dad and sees Simi (Precious Mustapha), the chef, obsessing over the poor treatment of refugees, especially on the part of Home Secretary Brinda Barot (Lucy Bayler). Later, Sam tweets at Barot to reconsider her position and gets a scathing comment back about how he should "shut up and dribble." The next day he finds his restaurant was broken into with a message on the wall echoing the Home Secretary. Sam comes into the locker room with a head of steam, pushing Isaac (Kola Bokinni) aside, until he sees his father (Nonso Anozie) and he starts to cry. This part of the program is absolutely heartbreaking, and Toheeb Jimoh plays his part perfectly.
Sam and his father talk in private. His father tells him to not "fight back, fight forward" and gets him laughing. Sam takes him to see the restaurant even though it's not in tip-top shape anymore and finds his team fixing it up for him. This is a minor storyline in comparison to the one about Total Football but it's also the heart of this episode. The team's members show up for one another and that's something Ted Lasso taught them. When one of them suffers, the others figure out how to make it better, and while this has been demonstrated before, it's demonstrated again here with great clarity.
While I enjoyed all of the storylines in this week's episode, I'm not convinced the episodes need to be this long. Things like the explanation of Total Football could have been cut down or cut completely, and the episode still would've had the same impact. The show has so much goodwill that it's easy to give it a pass, and a little more time with Ted and the other characters doesn't feel like a hardship. Still, it would be nice if they tried to make the episodes a little shorter. We love Ted, but our love has limits.
"Ted Lasso" Season 3 is currently airing on Apple TV+ with new episodes every Wednesday.