Why Only Murders In The Building Season 3 Will Likely Disappoint Nathan Lane Fans - Exclusive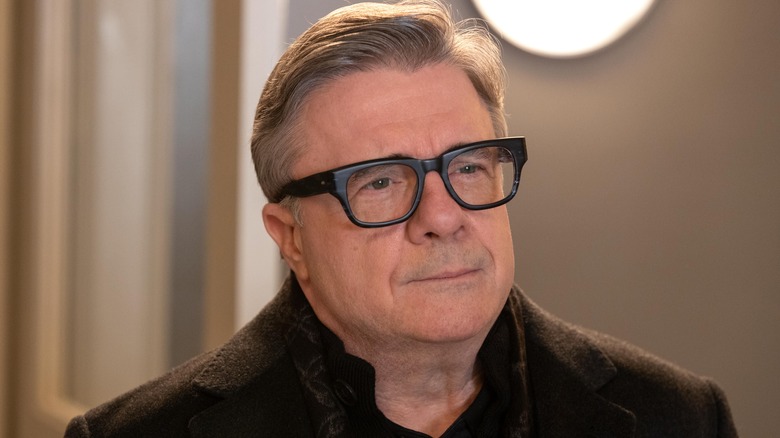 Hulu
"Only Murders in the Building" has proven to be a surprise hit and has found a loyal audience during its two seasons on Hulu. The series stars Steve Martin, Martin Short, and Selena Gomez as three aficionados of true crime podcasts who begin investigating a real murder in their apartment building on Manhattan's Upper West Side, with the trio launching their own podcast about their efforts.
The breezy mix of mystery and comedy has attracted not only plenty of viewers and critical acclaim, but also other comedic stars willing to join legends Martin and Short along with the versatile Gomez. Among the famous faces making cameos or landing recurring roles are Shirley MacLaine, Andrea Martin, Amy Schumer, Jimmy Fallon, Jane Lynch, Michael Rapaport, Tina Fey, Amy Ryan, and Nathan Lane.
Lane, a theater and comedy icon in his own right, won an Emmy for his portrayal of Teddy Dimas, who owns a chain of delis, likes to invest in Broadway shows, and has a decidedly illegal business on the side selling jewelry taken off dead bodies in their graves. He also invests in the podcast at the behest of Martin Short's Oliver, but he comes to regret it when he becomes a suspect in the Season 1 murder.
Although Lane was a standout member of the cast in Seasons 1 and 2, he told us in Looper's exclusive interview that Season 3 is going to be a different story. "When we last left Teddy Dimas, he was under house arrest awaiting trial," said Lane. "I think my son — [played by] this lovely actor, James Caverly — might pop up in Season 3, but I'm not."
Why Nathan Lane won't be back for Season 3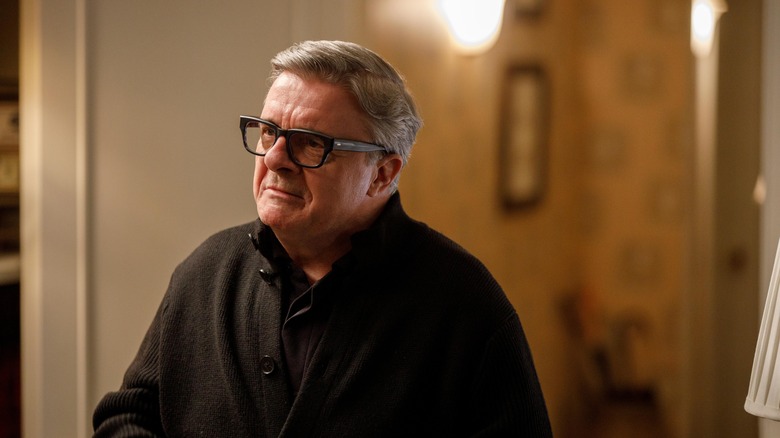 Hulu
Season 3 of "Only Murders in the Building" began filming in January 2023, with Steve Martin, Martin Short, and Selena Gomez joined by a new ensemble of guest stars, including the great Meryl Streep. "Now, it's only Meryl in the building," joked Nathan Lane. "It's Meryl Streep and Paul Rudd and a whole bunch of new people." It's true: The "Ant-Man" star has also joined the cast (after dying in his debut at the end of Season 2), along with Streep, Jesse Williams, Ashley Park, and others.
But Lane himself won't make a third appearance as Teddy Dimas. "I've been doing a Broadway play ["Pictures from Home"], so I've not been able to be a part of this season," he explained. "Amy [Ryan, whose Jan Bellows was Season 1's murderer] and I discussed that maybe she and I meet, perhaps in prison, and seek revenge on everyone."
Lane says that the writing on "Only Murders," along with the chemistry and star power of its three leads, has made the show an attractive stop for a wide range of guest talent. "It's now become a very popular place to work because it's filled with movie stars," he said with a laugh. "The writing is so good, and Marty and Steve and Selena — they're delightful company and so gracious."
While we're sad that Lane won't show up for Season 3, you can see him (and Amy Ryan) now in the surreal new big-screen comedy "Beau Is Afraid," or wait for his next movie from "Borat" director Larry Charles. "We did this R-rated, subversive queer musical based on 'The Parent Trap' called 'F***ing Identical Twins,'" he said, laughing again. "It's pretty funny."
"Beau Is Afraid" is in limited release and expands wider this Friday (April 21).