The Ending Of Only Murders In The Building Season 2 Explained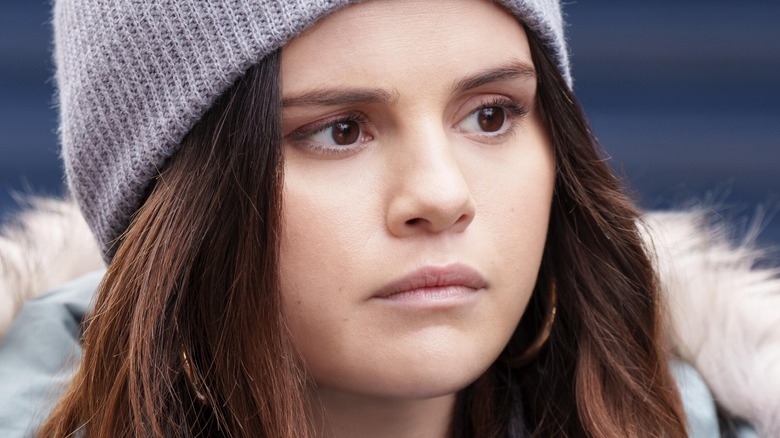 Craig Blankenhorn/Hulu
Just like the first season, "Only Murders in the Building" Season 2 is full of twists and turns. New characters like Lucy (Zoe Margaret Colletti) and Alice (Cara Delevingne) get thrown into the mix, and there are numerous celebrity cameos (the likes of Shirley MacLaine and Amy Schumer pop up in the show's sophomore outing). But, despite all the new faces, it turns out that Bunny's (Jayne Houdyshell) killer is someone we've known all along.
In the finale of "Only Murders in the Building" Season 2, the podcasting trio wins at last as Mabel Mora (Selena Gomez), Charles-Haden Savage (Steve Martin), and Oliver Putnam (Martin Short) figure out what happened to the departed matriarch of the Arconia. After a number of red herrings and misdirects, the killer gets dramatically revealed in a trap set by the podcasters. It's a thrilling finale that brings many of the show's relationships full circle. Read on for our explanation of how it all goes down. Spoilers ahead.
How the Season 2 finale ties into the first season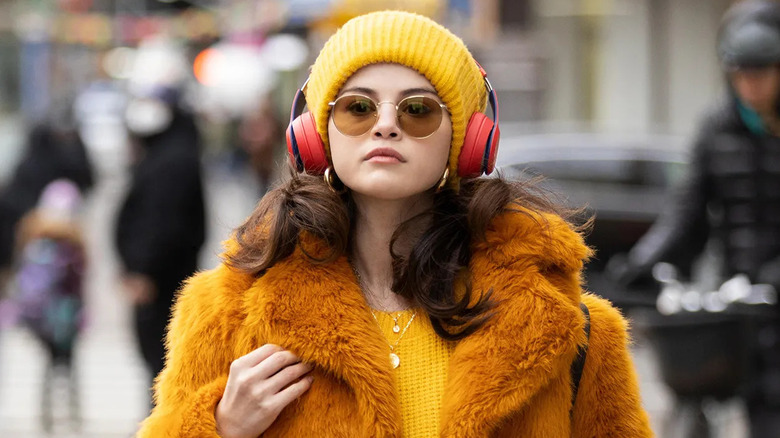 Hulu
By the end of the penultimate episode of "Only Murders in the Building" Season 2, viewers had all the pieces they needed to put the puzzle together. In fact, most of the major clues were hidden in the first season of the show. It all goes back to Cinda Canning (Tina Fey) and the original true crime podcast that inspired the trio, "All Is Not OK in Oklahoma."
This podcast is all about the disappearance of Oklahoma teenager Becky Butler. What starts as a disappearance quickly becomes an apparent murder case. The thrilling show elevates Canning's career status, turning her into a big name in true crime circles. All these aspects wind up being important elements in solving the murder in Season 2. Mabel interrogates Cinda's meek assistant Poppy (Adina Verson) and prods her until she reveals that the murder in "All Is Not OK" was faked — Poppy is actually Becky Butler.
"Only Murders in the Building" Season 2 set up a lot of its own narrative threads, but none of them turned out to be quite as important to solving the case as the information from the first season. This was an intentional misdirect from showrunner John Hoffman. From the moment he knew there was going to be a second season, he decided that the two were going to be heavily intertwined. "I always understood that because of where we ended Season 1 with Bunny's death, that Season 2 was gonna have to be very connected to Season 1," Hoffman told The Hollywood Reporter. The creator explained that, for the characters, the ending comes full circle to the podcast that brought them all together in the first place.
Who killed Bunny?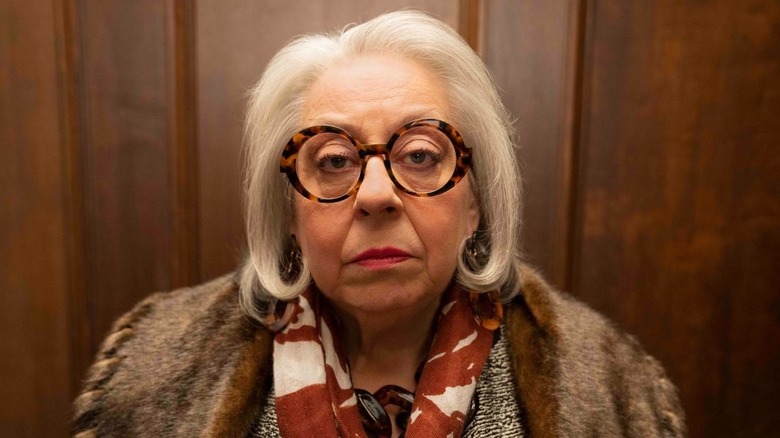 Hulu
In the end, Mabel is the one who puts the pieces together — Bunny was killed by Poppy, Cinda's seemingly dutiful assistant. It turns out that Poppy was the mysterious texter who tried to frame Mabel the night of the murder. When Poppy (in reality Becky) confesses, she explains that she was the one who came up with the idea for "All Is Not OK in Oklahoma." She made up the story, pitched it to Cinda, and asked for a job in return. But, as time went on, Becky discovered she would have to take drastic measures to fake her death.
This is where Detective Kreps (Michael Rapaport) — revealed to be "Glitter Guy" — comes in. Kreps fell for Poppy/Becky and helped her plant evidence to make it look like Becky was killed by the mayor. Becky's motive was ultimately not about Bunny, but her boss Cinda. She wanted to be recognized for her ideas, which led to her plotting the murder of Bunny and pinning it on Cinda. With her boss out of the way, Becky believed it would be her time to shine as a star podcaster.
Another thread that wound up being important in figuring out the truth is the Rose Cooper story that Poppy pitched as a podcast to Cinda. Rose is the artist who faked her disappearance to bring attention to her work. "The fact that Poppy might have been aware of that story or become aware of that story; she brings it to Cinda as a potential story for the podcast," John Hoffman told The Hollywood Reporter. "There's a relationship between those two stories. Poppy disappeared herself to find success from Oklahoma." This seemingly unrelated hoopla about the painting wound up being one of the season's most important clues.
The meaning of 14 Savage is finally revealed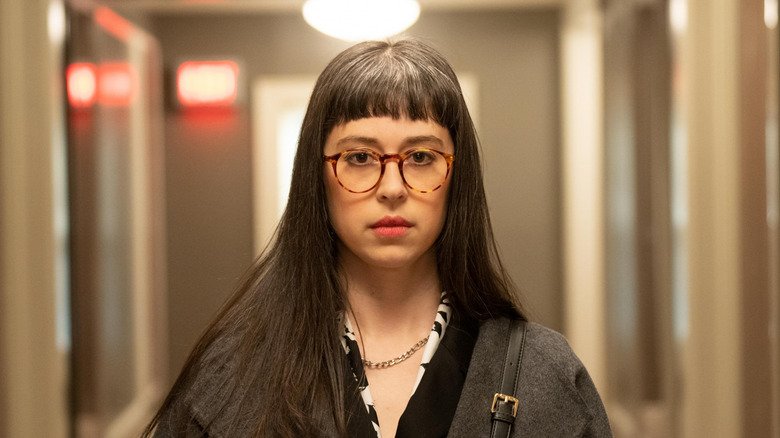 Hulu
Bunny Folger's last words to Mabel sounded to the "Only Murders in the Building" trio like the number 14 and the word "Savage." This was interpreted by the characters to maybe refer to Charles-Haden Savage or perhaps the 14th floor of the Arconia. All these theories turned out to be much more complicated than the simple truth. In reality, Bunny was saying "14 sandwich." She was using her last ounce of strength to point the finger directly at Poppy by reciting her sandwich order at the Pickle Diner, the liverwurst and marmalade off-menu special.
Bunny probably didn't even know her murderer's name. Since the only times Bunny would see Poppy was at the Pickle Diner, she was trying to communicate to Mabel the only thing she did know — her rancid sandwich order, which she referred to as "freak food." The killer's bizarre order may have also been a metaphor. The menu calls the #14 the off-menu special, noting that it's " A favorite in our family, but an acquired taste for sure! So... officially unofficially on the menu!" Since Poppy was seemingly not involved with Bunny at all, she didn't seem to be on the menu of suspects. Like her sandwich, she was the off-menu special nobody thought to look for.
Playing on Poppy's insecurities
Hulu
In the big finale, "Only Murders in the Building" gathers all the characters from its second season in one room as our heroic podcasters lay out the truth of what happened. In reality, the Agatha Christie-style killer reveal party that Mabel, Charles, and Oliver throw for the residents of the Arconia is a trap meant to ensnare Bunny's real murderer. Everyone involved is acting on multiple levels — Poppy is pretending to be an innocent party, but everyone else is also playing a role. When Cinda praises Mabel for seemingly solving the crime (she blames Cara Delevingne's Alice, which is all part of the ploy), Poppy breaks. Since Mabel knew her motive, it was easy for her to lean on Poppy's insecurities and get her to slip up by revealing details that only the killer would know. It is these details — an allergy to Bunny's bird and knowledge of the Arconia's secret passages — that ultimately give Poppy away.
Mabel is centered as the one who solves the mystery for a reason. She is the emotional center of the show and the character young viewers are supposed to latch onto. "Only Murders in the Building" creator John Hoffman told Elle that Mabel is the "viewpoint" for fans. "The guys are a little more set in their ways. They're fully formed in their demeanors and their behaviors and their insane ways sometimes. Of the three, Mabel is the one most in formation." While Oliver and Charles both show some character growth, Mabel is the one who is most personally invested in the crime. She was a suspect and has the most to prove, and in the end the show gives her that opportunity to come out on top.
Cinda Canning isn't totally innocent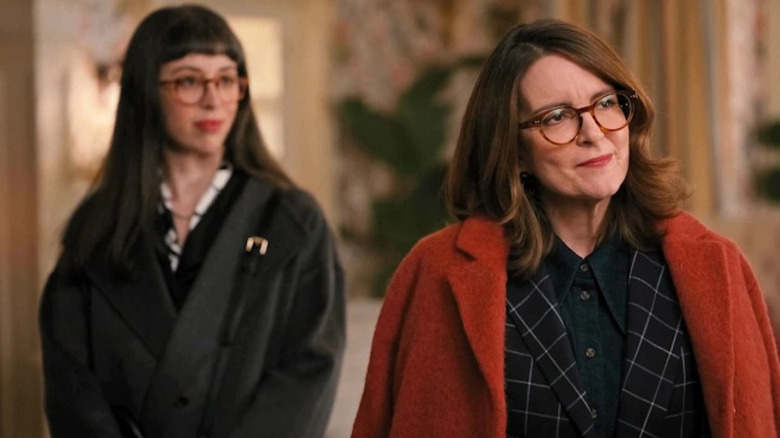 Hulu
Perhaps the biggest red herring in all of "Only Murders in the Building" is Cinda Canning. The elite podcaster always comes off as callous and willing to do absolutely anything to get a story. She is still a terrible boss and her treatment of Poppy is unacceptable, though she was being tricked the whole time and the plot twists in the Season 2 finale put Cinda's actions into a new perspective. During the recording of "All Is Not OK in Oklahoma," she was manipulated by Becky as much as the audience was. The implication held over from earlier episodes that Cinda would work with crooked cops like Kreps to plant evidence is proven wrong.
She might not be a criminal, but Cinda certainly isn't innocent. "Only Murders in the Building" creator John Hoffman said that she had to be awful to Poppy in order for the audience to believe Poppy's motive and backstory in the first place. "It felt like Cinda was more awful in those moments so that we could lean into the potential of Poppy flipping and becoming disloyal to her," Hoffman told /Film. "We were highlighting the worst aspects of Cinda in the worst moments, because she's hellbent on being successful herself." When Cinda couldn't achieve this success, she took it out on Poppy. In that way, she is at least partially to blame for driving Poppy to the extreme levels of pressure that made her kill Bunny.
Oliver finally comes clean to his son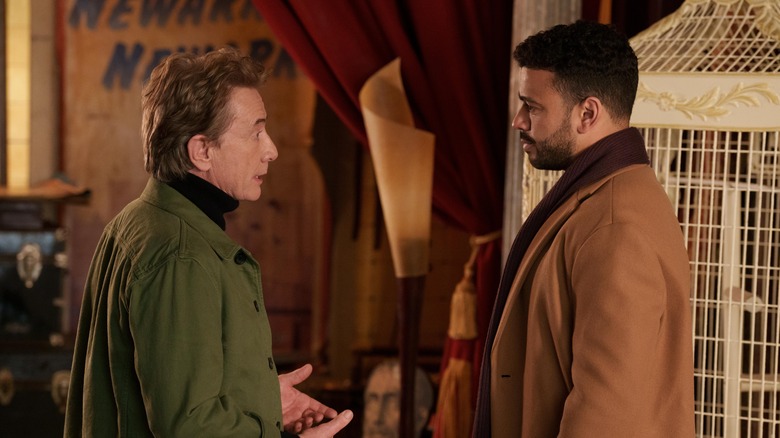 Hulu
One key theme in both seasons of "Only Murders in the Building" is family. As Oliver struggles in relating to his son, he flounders professionally as well. These two themes are linked clearly at the end of Season 2. The tension centers around the reveal that Oliver's son Will (Ryan Broussard) is not biologically his. Once he learns that Will is the biological child of Teddy (Nathan Lane), Oliver is conflicted over whether or not he should tell his son the truth. After hiding it from him all season, Oliver finally comes clean to Will at the very end of the season finale.
As it happens, Oliver doesn't have to say much at all — Will tells him that he knows the truth and that it doesn't matter. He says that Oliver raised him, and that's what makes him his father. This resolution for Oliver comes right before he takes a call offering him a role directing on Broadway. Just as the character fixes his relationship with his son, he is rewarded with professional success. Oliver is allowed to finally commit himself to the theater with this personal issue no longer weighing heavy on his mind. The theme that family is who you choose to be with runs through the other characters as well, from Charles' relationship with Lucy to Mabel's found family with her fellow podcasters.
Charles makes a big comeback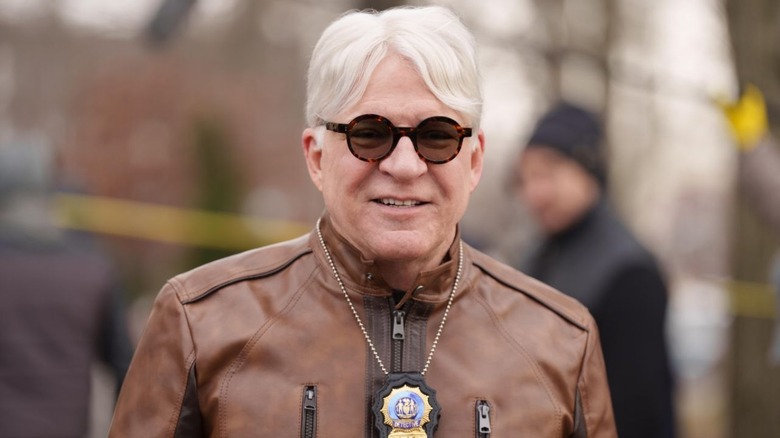 Hulu
Similar to how Oliver's arc resolves, Charles-Haden Savage gets a happy ending that implies success in both his personal and professional life. Charles' arc in Season 2 is ultimately also about reconnecting with an estranged loved one. And while Lucy isn't biologically his kid either, the show makes the argument with both storylines that it really doesn't matter. In Charles' case, his conversation with Lucy on the set of the "Brazzos" reboot implies that after the events of the season he has resolved to be a bigger part of her life again. In the same scene, Charles is given a positive boost — out of a wheelchair and onto his feet on "Brazzos." His professional success goes hand in hand with him being a better person in his own life.
We see Charles-Haden Savage starring in Oliver's Broadway production in the finale's one-year-later scene. This implies that the "Brazzos" role has reinvigorated his career, especially considering that he scored a starring role on New York's biggest stage starring opposite a big-name actor. We all know how Oliver feels about his acting, so that must have been a hard role to score.
We already know who the victim is in Season 3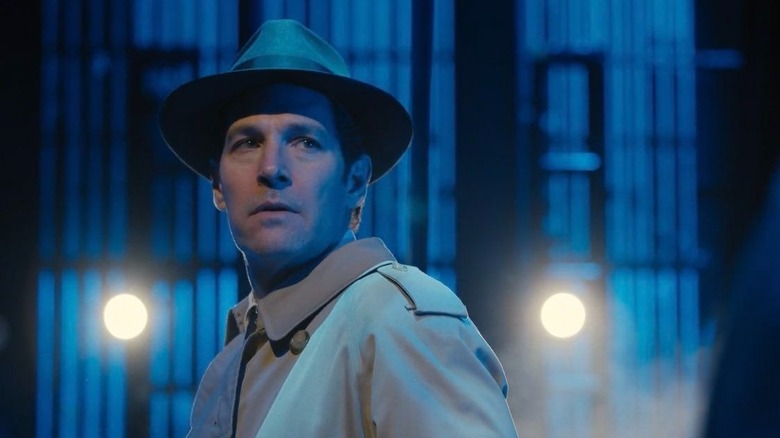 Hulu
At the end of the Season 2 finale, it seems like all the characters can finally breathe easy. That changes in a flash-forward set one year later. We see Oliver's Broadway production is about to go live for what seems like the first real night of shows. Charles is playing one of the leading roles, but across from him, we see a familiar face: Paul Rudd appears in these final moments as Ben Glenroy, a narcissistic actor who has formed a rivalry with Charles during their time on stage. But, just as Rudd's character is supposed to deliver his opening monologue, he suddenly collapses and viewers realize he is the victim of Season 3.
It seems like "Only Murders in the Building" is setting Charles up to be Season 3's prime suspect the way Mabel was in Season 2. There is also likely to be suspicion cast on Oliver, so Season 3 is already shaping up to be the most dangerous and personal yet. Whether we will see Rudd feature in Season 3 prominently is still unknown. Considering we already know he is the murder victim, we doubt we will get to see that much of him. Still, Rudd fans can hope for some flashbacks that help contextualize that pivotal Season 2 ending. Speaking to Variety, creator John Hoffman said: "Paul Rudd, after making an auspicious entrance into the world of our show at the end of Season 2 as Ben Glenroy, is someone we clearly want to know more about and see in our upcoming Season 3 — as he is a clear source of many upcoming questions and, as ever with our show, many twists yet to come!"