Why Jan From Only Murders In The Building Looks So Familiar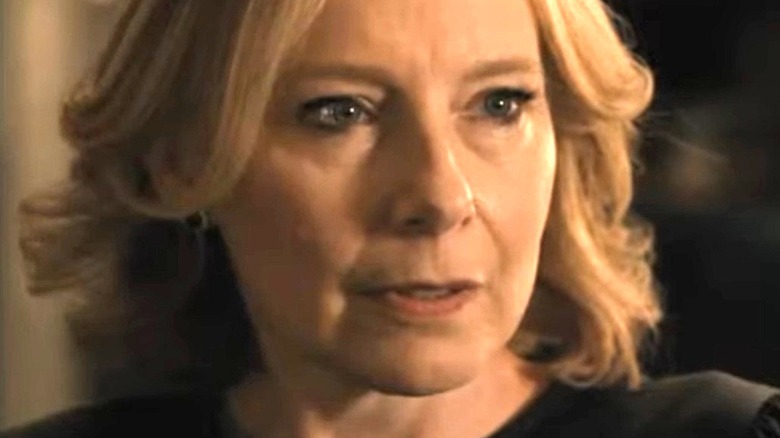 Hulu
For the past year, it's been seemingly nowhere but up, up, up for "Only Murders in the Building," Hulu's delightfully off-kilter mystery comedy series about a trio of unlikely true-crime podcasters. After the runaway critical and audience success of the first 10-episode season, which was released between August and October 2021, the streaming service was quick to renew the show for a second season.
Now, "Only Murders in the Building" year two is gracing our screens week by week, and it is proving to be an even better, funnier, more endearing, and more addictive batch of episodes. In the most recent episode, "Here's Looking at You," the show surprised viewers by bringing back a Season 1 character we assumed to be all but done for: Jan Bellows, the bassoonist who briefly dated Charles (Steve Martin) and seemed to be a peripheral presence in the larger plot, only to turn out to have a role in the season's central murder mystery that nobody saw coming.
The return of Jan on Season 2 is welcome not just because of its sheer curveball factor, but also because the actress who plays her was one of the most delightful presences on the show's original ensemble, more than holding her own against the starry central trio of Steve Martin, Martin Short, and Selena Gomez. If you've found yourself wondering where you might have seen the highly respected actress in question before, there are many possible answers. Here are a few of the likelier ones.
Amy Ryan was a recurring actress on The Wire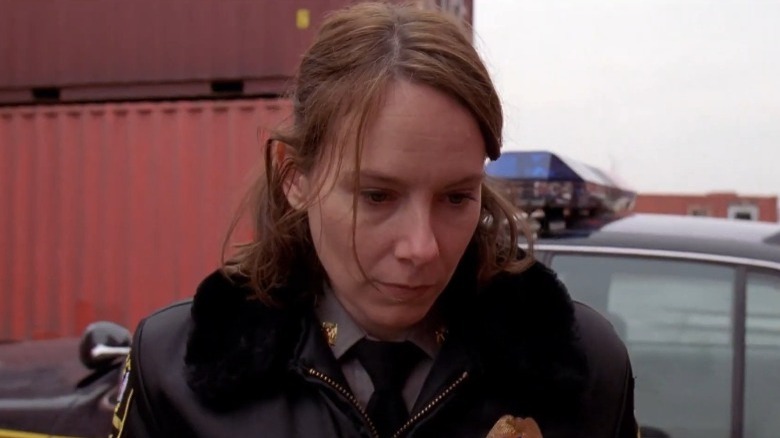 HBO
American actress Amy Ryan has long been one of the most reliable and underrated performers of her generation. Starting out on the stage, she had already racked up an impressive number of acclaimed credits both on and off-Broadway by the time her screen acting career began to pick up steam in the 1990s.
After making guest appearances on acclaimed drama series like "ER," "Chicago Hope," and "Homicide: Life on the Street," Ryan's major screen breakthrough came in 2003, when she joined the recurring ensemble of the landmark HBO series "The Wire." As was always the case with anyone in the epic ensemble of "The Wire," her character, port authority officer Beadie Russell, had a key part to play in the series' procedural tapestry, but was realized with a degree of complexity and inner life that far exceeded her ostensible plot role.
Russell initially joined the series on Season 2 as the officer responsible for finding the bodies of thirteen dead women in a shipping container. She subsequently began to assist the Baltimore Police Department in their investigation throughout the season, which proved personally challenging as she had to master the nitty-gritty of detective work on the fly while also raising two kids all on her own. Eventually, she struck up a romance with Jimmy McNulty (Dominic West), which faced some turbulence as the investigation went on but ultimately became one of the longest-running and most central relationship arcs on "The Wire."
She was Michael Scott's soulmate Holly Flax on The Office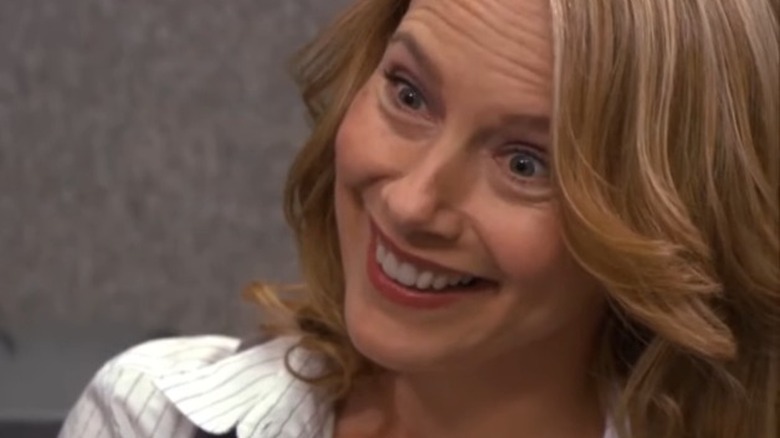 NBC
If there's one thing fans of "The Office" know, it's that Michael Scott's (Steve Carell) temperament could be personally difficult to deal with, to say the least. The awkward, erratic, immature Scranton, PA regional manager of Dunder Mifflin Inc. was known for frequently driving his employees, acquaintances, and even viewers up the wall with his antics — the worst things of which had the effect of making it hard for Michael to sustain healthy relationships.
To the surprise of the entire Scranton branch, especially Michael himself, the cast of "The Office" was eventually joined by someone who not only could match Michael's madcap energy beat for beat, but actually found it appealing and even managed to understand him through it. That someone would, of course, be Holly Flax, the HR Representative who joins the series on Season 4 after Michael's nemesis Toby (Paul Lieberstein) leaves for Costa Rica.
Played by Amy Ryan in a luminous turn that proved she could be just as adroit of a comedic performer as she was at drama, Holly broke down Michael's walls of suspicion against any and all HR people by revealing herself to also be a goofy, prank-loving dork, as well as one of the most genuinely good-natured people to have ever set foot in the Dunder Mifflin Scranton office. Holly and Michael's relationship became a key element of "The Office," and allowed Michael to develop immensely as a character and a human being.
She joined the Oscar-nominated big leagues with her work in Gone Baby Gone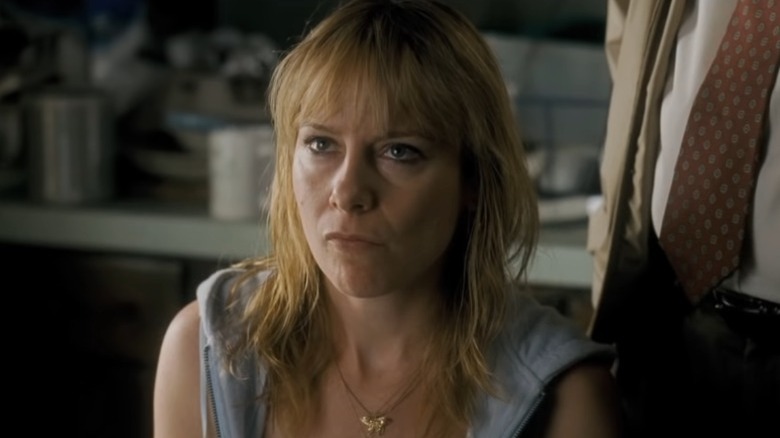 Miramax Films
The feature debut of Ben Affleck behind the cameras, 2007's "Gone Baby Gone" was a highly acclaimed crime thriller that impressed critics and audiences not only with its first-time director's high degree of confidence and craftsmanship, but also with the amount of texture and local color that got packed into such a taut genre exercise.
Adapted from the eponymous 1998 novel by Dennis Lehane, "Gone Baby Gone" follows Boston private detectives Patrick Kenzie (Casey Affleck) and Angie Gennaro (Michelle Monaghan) as they try to untangle the kidnapping of four-year-old girl Amanda McCready (Madeline O'Brien). In addition to the police force and the suspects, the film also gives a lot of attention to Amanda's family — most of all her mother, Helene McCready, played by Amy Ryan in a performance that netted her an Academy Award nomination for Best Supporting Actress (via IMDb).
At the beginning of the film, Helene is seen in the local news on TV, begging for her daughter to be returned. As Patrick and Angie delve deeper into the case, they learn that Helene's relationship with her daughter has had a history of complications, as Helene is a drug addict who works as a mule for a local baron and has never fully gotten the hang of healthy mothering. Ryan's ability to get Helene's flaws across without shortchanging her aching humanity proved her mettle as an elite-tier film actor.
She had a crucial role to play in the showbiz satire of Birdman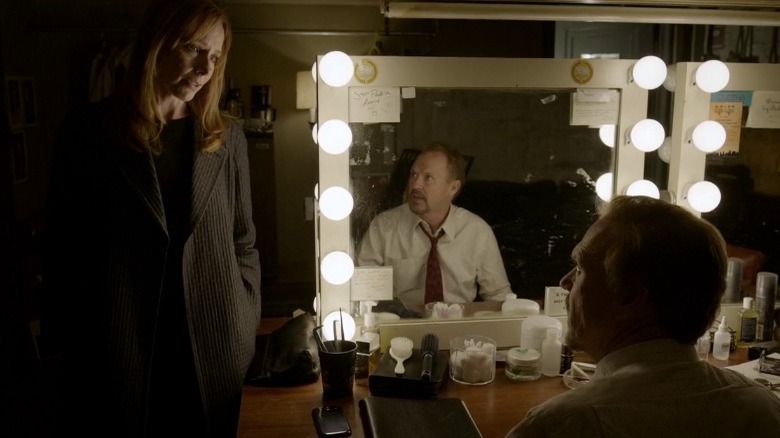 Searchlight Pictures
Alejandro González Iñárritu's "Birdman or (The Unexpected Virtue of Ignorance)" was one of those once-every-few-years cosmic alignments of exciting stars that arthouse American cinema occasionally graces us with. In addition to Michael Keaton in a role tailor-made to showcase his underrated dramatic and comedic abilities, the best picture Oscar-winning black comedy also featured Emma Stone, Naomi Watts, Zach Galifianakis, Andrea Riseborough, Amy Ryan, and Edward Norton, all playing roles which allowed them to flex every acting muscle in their bodies.
Ryan, in particular, had a very special mission to carry out within the film's raucously entertaining showbiz satire. Playing Sylvia Thomson, the ex-wife of protagonist Riggan (Keaton), she appears only in a few scenes, away from the hustle and bustle of the play rehearsals and preparations, with most of her screentime consisting of quiet, intimate conversations with Riggan. In those conversations, Sylvia rises to the role of human anchor amid the escalating war of egos happening elsewhere in the film: Her sobering, unimpressed, melancholy retorts to Riggan's constant pity parties remind him, and the audience, of truths that all the surrounding Broadway pomp and media circumstance tend to obfuscate. Ryan and Keaton's grounded rapport evince an entire lifetime of highs and lows, ultimately proving crucial to the film's tricky emotional balance. Justly enough, Ryan won the SAG Award for outstanding performance by a cast along with her fellow stars (via IMDb).
She played Camille Biros in Worth
American director Sara Colangelo is becoming well-known in the indie scene for her eagerness to explore prickly, complex dramatic material with the utmost care and sensitivity. After demonstrating that aptitude in 2014's "Little Accidents" and especially 2018's great, unsang "The Kindergarten Teacher," she brought her unique skill set to fact-based storytelling in the 2020 film "Worth."
Written by Max Borenstein, "Worth" tells the story of the September 11th Victim Compensation Fund, which was created shortly after the 9/11 attacks with the mission of offering appropriate compensation to the victims' families. The film follows the legal, moral, and existential conundrum that ensues when a group of attorneys are tasked with determining how much a human life can possibly be worth financially. One of those attorneys, Camille Biros, based on one the Fund's real-life administrative deputy, is played by Amy Ryan.
Although "Worth" generally opts for a pragmatic procedural approach to its story, the better to emphasize the challenge of maintaining level-headedness in dealing with the aftermath of such a fundamentally harrowing tragedy, it does show the human challenges that the Fund's administrators were faced with. In one of those challenges, Biros comes across the story of Graham Morris, a gay man who is not legally entitled to compensation because he and his late partner weren't considered family by the state. She sets out to do everything she humanly can to help Graham, in one of the film's most touching shows of solidarity under hardship.