Selena Gomez Gets Candid About Steve Martin And Martin Short's On-Set Behavior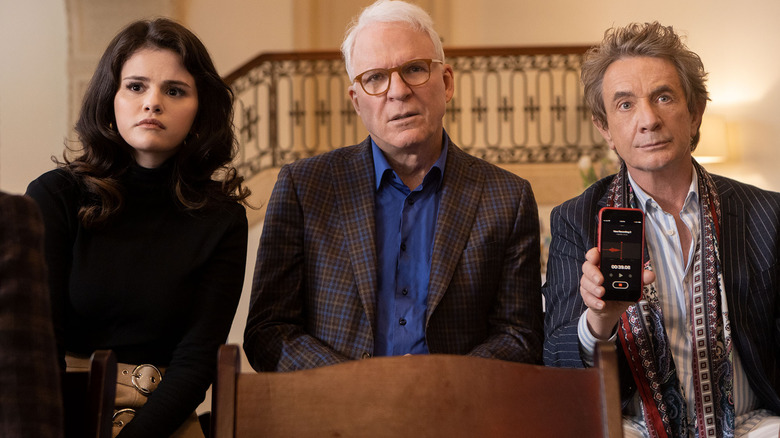 Hulu
It's become all the rage for TV shows to get their own podcasts, often with stars of the series in question to host them. They'll provide listeners with behind-the-scenes factoids about the making of the show, bring on guests from in front of or behind the camera to fill in any gaps of knowledge, and share all kinds of on-set stories that otherwise might not make it to the public. "The Office" has a couple of podcasts to its name, and Nickelodeon favorite "Ned's Declassified School Survival Guide" recently got an auditory show of its own. 
For fans of Disney sitcoms of the 2000s, "Wizards of Waverly Place" got a podcast hosted by former stars Jennifer Stone, who played Harper on the show, and David DeLuise, who played Jerry Russo. The podcast only has a few episodes so far, but they dive into many aspects of production, and on episode 4, they even got Alex Russo herself, pop culture sensation Selena Gomez, to stop by to chat. She provided an honest conversation about her time on the series and even spoke about her current gig on Hulu's "Only Murders in the Building." 
More specifically, she discussed what it's like to work with comedy legends Steve Martin and Martin Short and shed some light on their behavior away from the cameras.
Selena Gomez is now in on all of their bits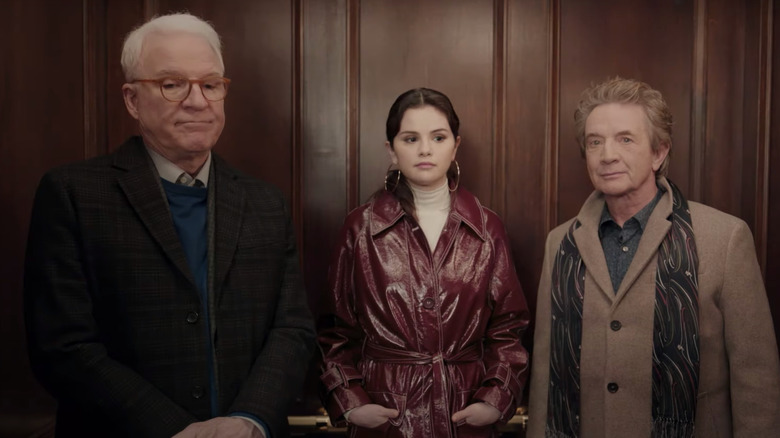 Hulu
Most actors are lucky enough to get one iconic TV role in a lifetime, let alone two. Selena Gomez is now one of the lucky ones, with "Only Murders in the Building" becoming a streaming phenomenon in short order. When Gomez appeared on the "Wizards of Waverly Pod" podcast, she spoke incredibly highly of her co-stars. She stated, "It's so awesome working with Steve and Marty. They're just, I mean, they're brilliant. They're lovely, they're smart, they are always on time." 
Gomez goes on to explain how being punctual is a big deal for her because she makes an effort to always be 10 minutes early whenever she has to be somewhere. But Steve Martin and Martin Short sound like a couple of stand-up guys, as Gomez goes on to say, "They're just lovely. I have the best time, and they're constantly doing bits. It's hysterical. I'm like, now I know all their bits, so I'm kind of like, 'Oh, here's the punchline.'"
Gomez knew from the start that she wanted to work with Martin and Short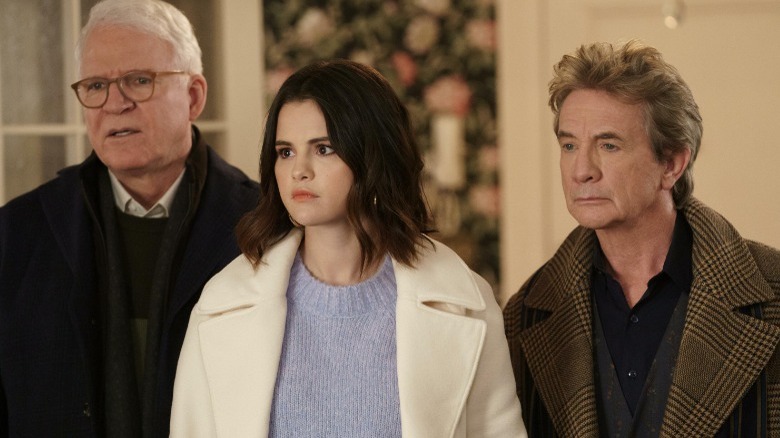 Hulu
By the sound of it, Selena Gomez hit it off with Martin Short and Steve Martin immediately, proving that the chemistry viewers see between her and the beloved comedy duo on "Only Murders in the Building" is just as prevalent behind the scenes. Though there was no way to know that the three of them would become a strong act together, Gomez knew from the moment the opportunity to work with them was presented to her that she had to take it on. She revealed as much during a June 2022 interview with Deadline.
"It just felt like it was something I really wanted to do. They were all so lovely. And working with Steve and Marty would be a dream," she recalled thinking to herself when she got the "Only Murders in the Building" offer. Gomez adds that in the time since she started working with Short and Martin, she's learned a lot — mostly how to give her comedic performances a tad more bite. "Marty will look at me and say, 'I did that,'" she adds, with Martin and Short commending her for her character work as Mabel Mora thus far.
If you're hoping to see Selena Gomez, Martin Short, and Steve Martin do what they do best on the small screen again soon, fret not. "Only Murders in the Building" Season 3 is expected to reach Hulu in the near future.