Love Is Blind: Kwame's Decision At The Altar Has Fans In Complete Shock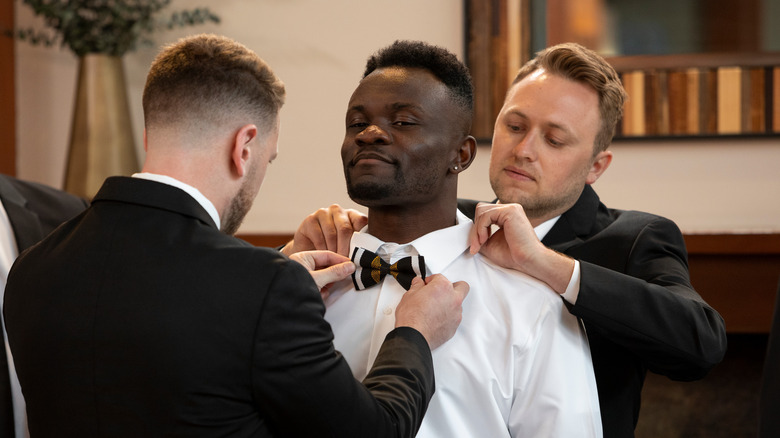 Netflix
Despite all the setbacks, mean girls, false promises, last-minute changes of heart, and technical malfunctions at the live reunion, there were still three couples who managed to say "I do" at the end of "Love is Blind" Season 4. Two of those couples didn't surprise people — namely, Tiffany and Brett and Bliss and Zack — but one couple almost broke Twitter with their surprise vows.
As it turns out, many fans remain shocked that Season 4 couple Kwame Appiah and Chelsea Griffin said yes to each other at the altar. Though the pair ultimately confirmed that they're still together in the "Love is Blind" reunion special, Twitter users have been expressing surprise that the two ever got hitched in the first place. "If you'd told me beforehand that 3 of the 4 couples got married, I would have thought Kwame and Chelsea were the couple who said no," wrote @gunmetalXgrey. Added @imreallyalibra, "I've never seen two people so obviously not meant to be together." As many fans have pointed out, there was another Season 4 contestant who Kwame seemed to still be in love with.
Kwame seemed to have the hots for Micah throughout the season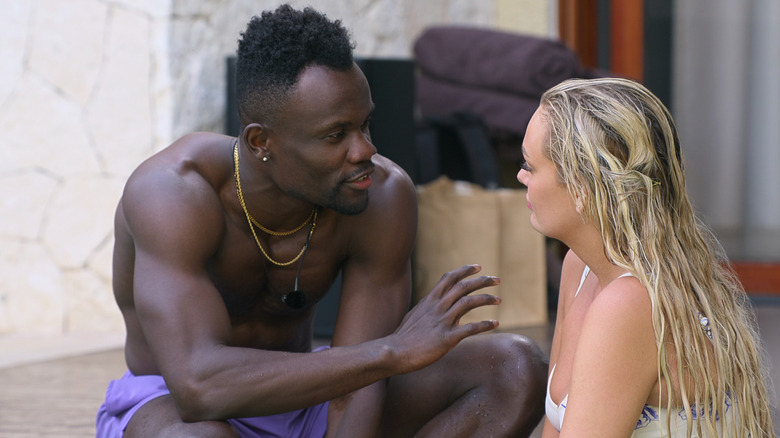 Netflix
Though Kwame Appiah ultimately set his sights on Chelsea Griffin, he also enjoyed several early season chats with Micah Lussier. And while Micah ultimately left Kwame for Paul Peden, Kwame still seemed enchanted by Micah throughout the season. Of course, after Kwame's successful marriage to Chelsea, fans were quick to note this. 
"Kwame ACTUALLY SAID I DO!?" wrote @feelinlorraine. "What the hell is chelsea going to say when she rewatches the conversations between him and micah." Meanwhile, @_FemmeFatalee_ seemed convinced that Kwame didn't look happy with his final choice of bride. "You'll never convince me Kwame is happy to be there. His body language is very telling," they wrote.
Of course, not every "Love is Blind" fan was suspicious of the couple. Some chose to focus on the positive aspects of Kwame's and Chelsea's relationship. "I'm glad Kwame apologized to Chelsea and her family publicly. It was NECESSARY," wrote @AquanxD.
Considering all the shock expressed over Kwame and Chelsea's eventual marriage, it's perhaps even more surprising that the two are still together. Of course, if the pair were to divorce, they wouldn't be the first "Love is Blind" couple to do so. But for now, at least, they seem happy with their decision.