Supergirl Promotes Jesse Rath To Series Regular For Season 4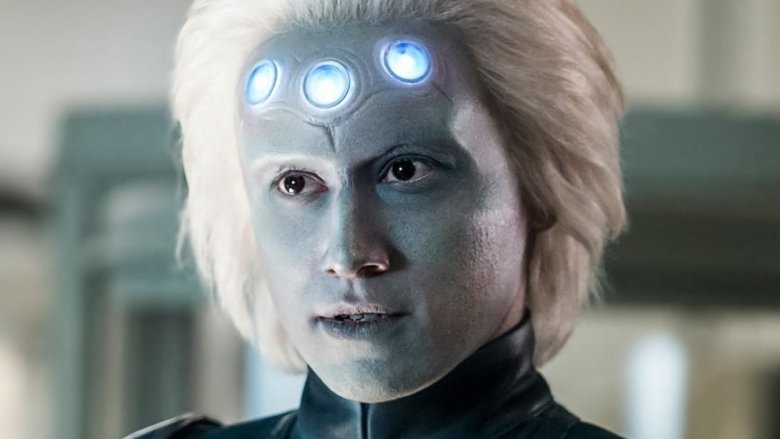 The CW
Supergirl fans, you'll be seeing a lot more of Brainiac-5 come season 4. 
The CW superhero drama series has promoted actor Jesse Rath to series regular for its upcoming fourth season, Deadline has confirmed. 
Rath, who portrays the half-computer, half-living being known as Brainiac-5, appeared in just five episodes of season 3, which will end its 23-episode run on Monday, June 18. 
Supergirl executive producers Robert Rovner and Jessica Queller announced the happy news of Rath's promotion in a statement provided to the outlet: "We love the character of Brainiac-5 and can't imagine anyone but Jesse Rath in the role. He brings such fun, heart, and brilliance to Brainy, and we're so excited he's joining the cast as a series regular for season 4. We have a lot of great Brainy stories to tell."
Touting incredible intelligence, Brainiac-5 serves as a member of the Legion of Super-Heroes, and ventures back in time from the 31st century to National City to lend a hand to Supergirl (Melissa Benoist) and the Department of Extra-Normal Operations in their fight against the nefarious new villain Reign (Odette Annable), as well as to try to stop the Worldkiller Pestilence from transforming into the Blight and wiping out the planet's population. (Hey, it's Supergirl we're talking about here, not Avengers: Infinity War.)
Rath's Brainiac-5 — more commonly referred to as "Brainy" — last popped up in the episode "Shelter from the Storm," in which he and his fellow Legionnaire Saturn Girl (Amy Jackson) headed back to the 31st Century. He might appear in the season 3 finale, but nothing to that effect has been confirmed or denied at this time. 
News of Rath getting upped to series regular for season 4 of Supergirl follows shortly after fellow CW superhero series The Flash did the same for Hartley Sawyer, who plays Ralph Dibny, better known as the Elongated Man. 
Supergirl will air its season 3 finale, entitled "Battles Lost and Won," on June 18 at 8 PM ET on The CW.