The Mandalorian Chapter 23 Extended The Hux Bloodline In More Ways Than One
Lucasfilm/Disney+
Contains spoilers for "The Mandalorian" Season 3, Episode 7, "Chapter 23"
There were Easter eggs of all shapes and sizes in the penultimate episode of "The Mandalorian" this week. Besides bringing immense "Aliens" energy with Bo-Katan (Katee Sackholff) and her mob of reconning Mandalorians, Moff Gideon (Giancarlo Esposito) name-dropped an approaching and massively imposing threat set to cause some problems for Ahsoka (Rosario Dawson) in her upcoming series.
In the episode's opening, Gideon met with what appeared to be the last remaining leaders of the Galactic Empire, trying to claw itself back from defeat. During the chat, the mention of Admiral Thrawn (the now-confirmed Lars Mikkelsen) is made as Gideon essentially calls out the blue-skinned bad guy who has been hiding for some time. It's here where you probably had an Obi-Wan moment and heard millions of voices cry out, refusing to be silenced due to the awesomeness. That wasn't the only name on the list that might've sparked some interest, though. Besides Thrawn's lackey, Admiral Pellaeon (Jim Cummings), being in attendance, there was another member present who has connections to the future of "Star Wars" we've already seen. He went by the name of Hux, a name that fans will recall belonging to Armitage Hux (Domhall Gleeson) in the "Star Wars" sequel trilogy. Not only are the characters connected by blood, but the actors are as well. This new character, Brendol Hux, is played by Brian Gleeson — Domhall Gleeson's real-life younger brother.
Brian Gleeson of Bad Sisters plays Hux's father in The Mandalorian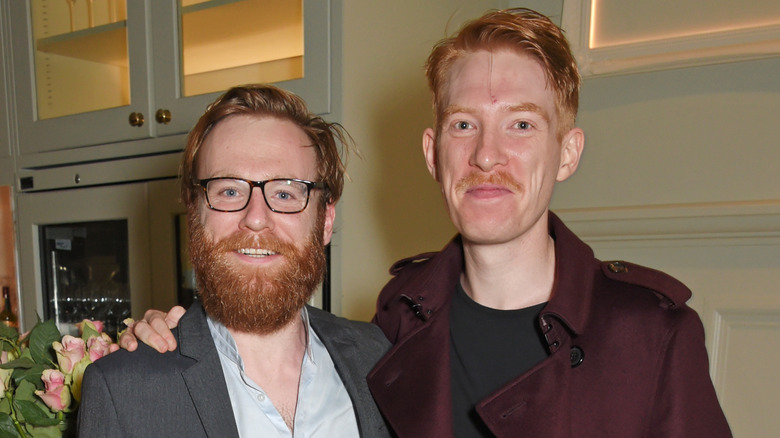 David M. Benett/Getty Images
Not only do we have another Mikkelsen entering the galaxy far, far away, but another Gleeson too. Star of family-feud dramedy "Bad Sisters" and member of the ever-talented Gleeson acting family, Brian Gleeson appears in "Chapter 23" as Brendol Hux. We know that this Hux eventually sires an illegitimate son named Armitage. That little scamp was the same Hux who would be repeatedly outsmarted by Poe Dameron (Oscar Isaac) and be the future high-ranking officer of The First Order we know and hate — played, of course, by Brian's elder brother Domhall.
Born shortly after the battle of Endor and the fall of the Empire, this would put Armitage around five or six years old when considering the current events of "The Mandalorian." It would also suggest that while this is only the first we've seen of Hux Sr., it's pretty likely it won't be the last, given his involvement in developing The First Order. Now all we can do is keep our fingers crossed that Domhall and Brian's dear-old dad, Brendan Gleeson, somehow make an appearance. The Empire does need recruits, after all.