Why Adam Sandler Movies Continue To Dominate Netflix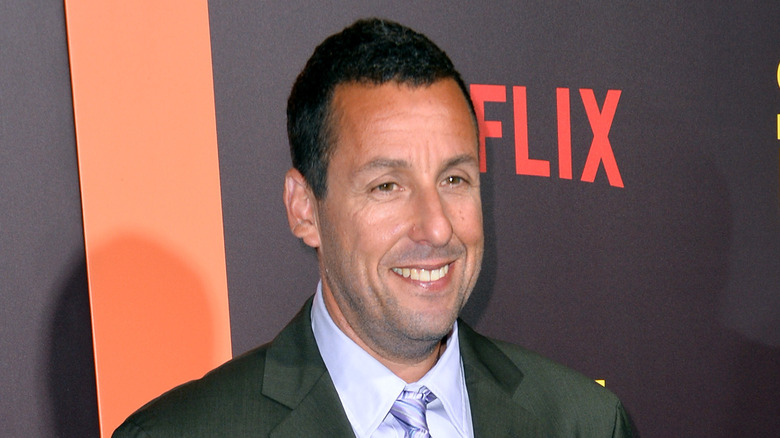 Jaguar PS/Shutterstock
Netflix has another hit on its hands thanks to the exclusive, multi-picture deal the streaming leader inked with Adam Sandler back in 2014 and renewed in 2020. Their collaborations haven't all been entirely artistically successful, but they have served their intended purpose. Sandler's movies for Netflix get subscribers to click play. Take for example "Murder Mystery 2," a sequel that garnered relatively little buzz and negative reviews yet debuted on the platform to huge numbers. The rom-com whodunit co-starring Jennifer Aniston logged the second-highest opening weekend ever for a comedy on the service, with more than 42 million views and nearly 65 million viewing hours.
The entertainment business — from studios to streamers — has been struggling post-pandemic. Once reliable cash cows like superhero movies and animated kids' flicks have been prone to underperformance, and subscription services like Netflix and Disney+ are having to rethink their business models now that the boom of new signups appears to be over. With the public's taste and media consumption habits in flux, Sandler's modest projects for Netflix suddenly seem like a rare sure thing. What's his secret? How does the 56-year-old comedian keep topping the charts, regardless of economic or pop culture trends and the opinions of critics? Read on.
Sandler's a familiar face to most Netflix subscribers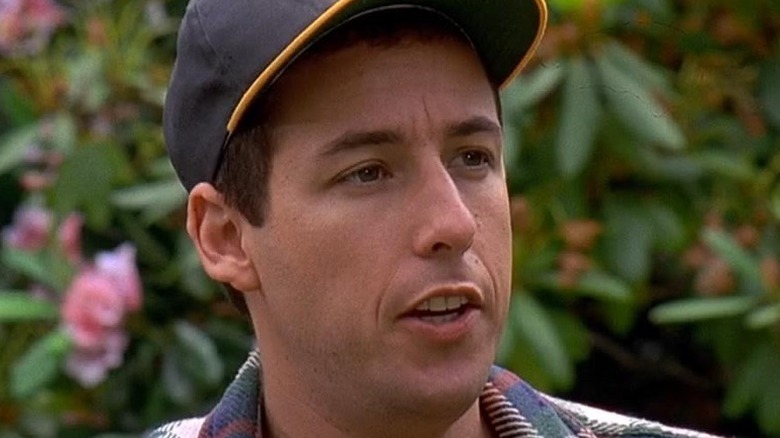 Universal Pictures
Since the company started producing its own content in 2011, Netflix has sought out partnerships with a variety of established producers, writers, directors, and actors. Many of these professionals are well-known and respected within their own industry, but that clout doesn't always translate to audience interest or attention. The likes of Denzel Washington ("Fences"), Bong Joon Ho ("Okja"), Charlie Kaufman ("I'm Thinking of Ending Things"), and Steven Soderbergh ("High Flying Bird") have made movies for Netflix, and celebrities such as Will Smith ("Bright") and Charlize Theron ("The Old Guard") have headlined much-anticipated would-be blockbusters. But even more so than auteurs and action stars, Adam Sandler is a brand unto himself. 
Sandler isn't typically the type of actor who disappears into his roles and he's not the type of producer who tries to fix what isn't broken (at least as far as his loyal fans are concerned). Whether he's playing a lovable idiot hockey player-turned-golfer or a lovable idiot and resident of Salem on Halloween, Sandler's presence is comfort food to audiences who know, more or less, what to expect when they click on his thumbnail. At a time when the power of the Hollywood celebrity is waning in favor of franchises and social media influencers, Sandler still boasts a built-in following that appreciates his unpretentious, populist persona and creative output. 
His movie stardom has outlasted other comedians
Sandler has accumulated his fanbase over a period of more than 30 years. The comedian first became a household name on "Saturday Night Live" where he was a cast member from 1990 to 1995, during which time he honed his improv and silly voice skills playing characters like Opera Man, Canteen Boy, and Brian the scorned boyfriend of Denise. In short order (and though he was fired), "SNL" launched Sandler into a lucrative film career that began with 1995's "Billy Madison" and continues to this day with his Netflix deal. He's prolific, with more than 80 credits to his name, and a few of his films are genuine classics. For instance, 1998's "The Wedding Singer" is so well-liked by audiences and critics that it spawned a stage musical. Others were so reviled they became cult classics in their own way, like 2011's "Jack and Jill" starring Sandler in an unfortunate dual role and featuring a bizarre performance by Al Pacino as himself. 
One could argue that no "SNL" alum and perhaps even no comedic actor has had Sandler's staying power. Stars like Eddie Murphy, Mike Myers, and Will Ferrell may have had higher highs, but they've all fallen off for a period and they've struggled to maintain their leading man status in more recent years. Sandler is remarkably hard-working and consistent, which is probably why Netflix was so eager to bring him into their fold and is so happy to keep him on board.
He can do highbrow and lowbrow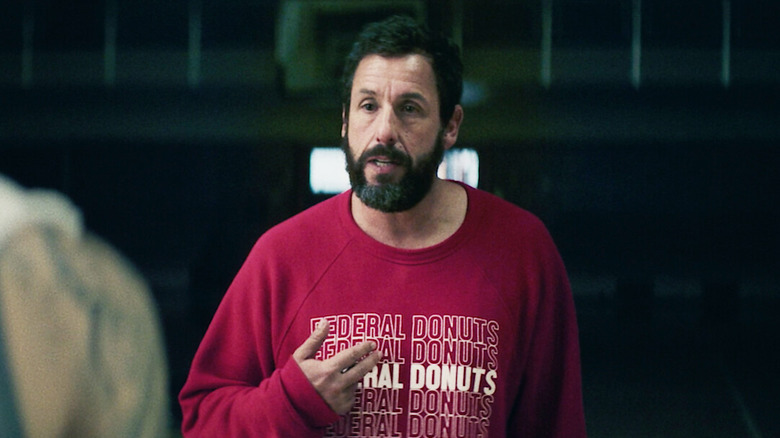 Netflix
Sandler is no doubt best known for portraying doofus-y everyman. In truth, there's not much difference between Bobby Boucher and Hubie Dubois, and his fans are totally fine with that. Lowbrow comedies that are basically "SNL" style sketches drawn out to 90-ish minutes — "Happy Gilmore," "Little Nicky," "Big Daddy" — account for the bulk of his résumé. And when he's not affecting a goofy accent or involved in some high-concept hijinks, he often stars in more traditional romantic comedies or family movies (albeit with a hint of Sandler schtick) such as "50 First Dates," "Click," and "Pixels." 
But all the while, Sandler was busy turning in praiseworthy performances in awards-caliber films. Many of these still qualify as comedies, though some are significantly more highbrow, not to mention dark. Sandler's first foray into serious acting came in Paul Thomas Anderson's 2002 dramedy "Punch-Drunk Love," for which he earned a Golden Globe nomination. He received even more accolades for his role as Howard Ratner in 2019's "Uncut Gems," though he was snubbed for a widely expected Oscar nod. In between, he's occasionally toned things down in films — including some for Netflix — such as 2017's "The Meyerowitz Stories (New and Selected)." Most recently, he co-produced and led the well-liked sports dramedy "Hustle" for the streamer and, again, was a fixture on the awards circuit. In fact, in 2023, he was presented with the Mark Twain Prize for American Humor. Netflix surely wants Sandler for those signature Happy Madison laugh riots, but it doesn't hurt that he can code switch and do prestige.
Comedies work well on streaming platforms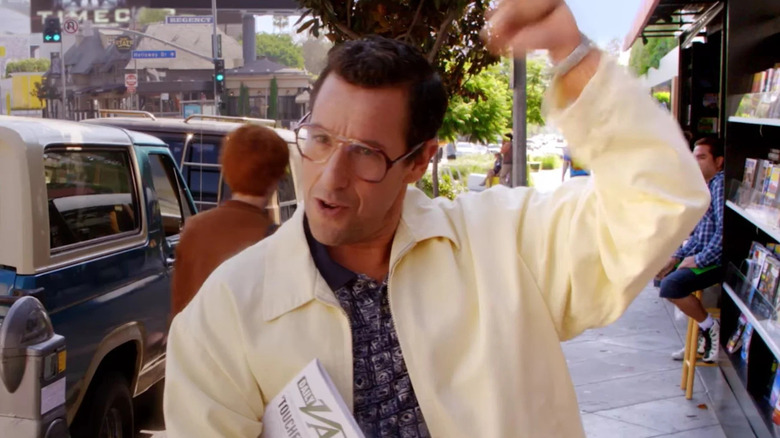 Netflix
What does well at the multiplex has certainly changed since the early days of Adam Sandler's film career. In the 1990s, studio comedies regularly topped box office charts. "Wayne's World," "Pretty Woman," "Ace Ventura: Pet Detective," Sandler's own "The Waterboy," and "There's Something About Mary," were all among the top 20 grossing films in the years of their respective releases. These days, it's unusual for a comedy of any sort to crack that ceiling. None managed it in 2022 — the Julia Roberts and George Clooney-led throwback "Ticket to Paradise" was considered a triumph when it came in at 28th. By and large, comedies live on streaming platforms now, and Netflix is an industry leader in premiering lighthearted, non-IP fare directly onto audiences' TVs. 
There are myriad reasons for this and myriad reasons why Sandler's movies in particular do so well because of this shift in viewing habits. Theatrical showtimes have been eaten up by sprawling franchises like the MCU and the "Avatar" series in part because customers can justify paying for what feels like an event. There's no real rush to see a comedy. They can't really be spoiled. The visual effects aren't usually central to the experience. And while laughing as part of a group can enhance the experience, that can still be accomplished with friends and family in a living room for what feels like free (but is really the price of a monthly subscription). Sandler's comedies are plentiful and broadly appealing for those merely looking for something fun to watch on Netflix.
The price tag is a good return on investment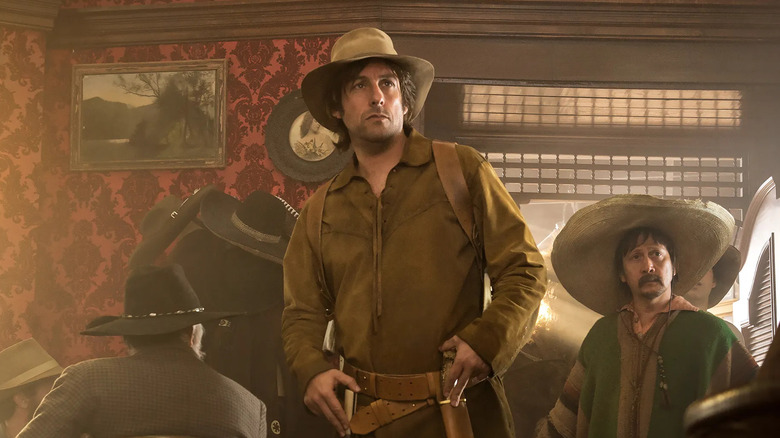 Netflix
Studio comedies disappeared from cinemas in part because mid-budget movies in general all but vanished from the theatrical landscape as big-budget franchise installments and low-budget horror flicks started to squeeze them out. Just last year, "Top Gun: Maverick" made nearly $1.5 billion on a $170 million budget, while the indie creep-fest "Skinamarink" made about $2 million but cost only $15,000. As of late, a $40 or $50 million movie anchored by a once-bankable A-lister seems like a gamble, if not a losing bet. So, like comedies more specifically, slightly smaller-scale studio films have, on the whole, migrated to streaming where corporations like Netflix (or Disney or Paramount) aren't obligated to release information about how well or poorly they do with audiences. 
Netflix has signed several nine-digit multi-picture agreements. They forked over about $450 million for just two of Rian Johnson's "Knives Out" sequels, so Sandler's original deal, which guaranteed him $250 million for four films, is a bargain by comparison. No details have been released about their re-upped commitment to each other, but suffice to say, comedies with a price tag of roughly $60 million that have, so far, clocked in over 2 billion hours of viewing time must be a good return on CEO Ted Sarandos' investment. Even projects that utterly miss the mark, like 2015's spoof "The Ridiculous 6" are still a low-risk, high-reward proposition both for Netflix and for Sandler's Happy Madison production company.
Their short runtimes are ideal for home viewing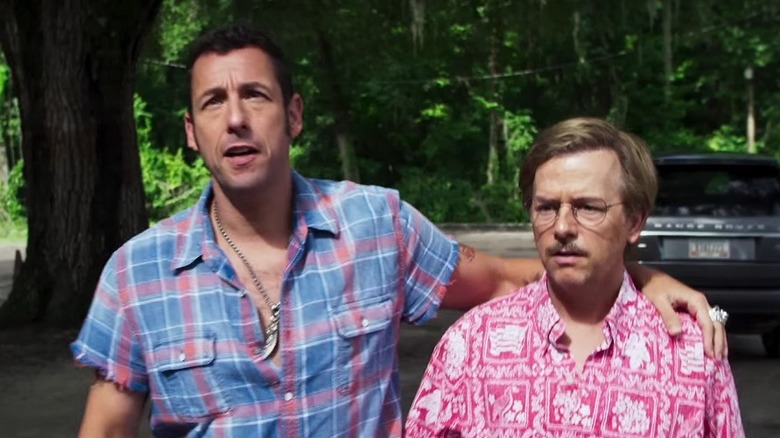 Netflix
Moviegoers may have noticed that runtimes have been inching ever upward, especially in the last few years. Not that long ago, a three-hour-plus runtime was extremely unusual, reserved only for the occasional high fantasy or historical epic. But last year, "RRR," "Babylon," and "Avatar: The Way of Water," all surpassed the 180-minute mark, while many more — including Steven Spielberg's autobiographical family drama "The Fabelmans" and biopics "Blonde" and "Elvis" — hovered around two and a half hours in length. And Netflix's own "The Irishman" is a whopping 209 minutes long. That can be daunting. Patrons want to get their money's worth out of a ticket, but there's a limit to audiences' free time and attention span. Sure, home viewing makes snacks and bathroom breaks a little easier. Still, when subscribers are browsing for something to watch, there's less of a barrier when the runtime is cut in half. 
Sandler's trademark comedies tend to fall somewhere between the 90- and 120-minute mark. On the shorter end, the "Murder Mystery" movies are a mere 97 and a precise 90 minutes, respectively. "Hubie Halloween" goes a breezy 103, and the rest — "The Ridiculous 6," "The Do-Over," "The Week Of," even "The Meyerowitz Stories" and "Hustle" — all come in under two hours. That means even if home viewers aren't thrilled with their choice, it won't be a slog to get through. And if you wasted most of your night indecisively scrolling through Netflix's infinite content lineup, there's probably still time to fit in an Adam Sandler movie.
Sandler's chill vibe is a perfect fit for Netflix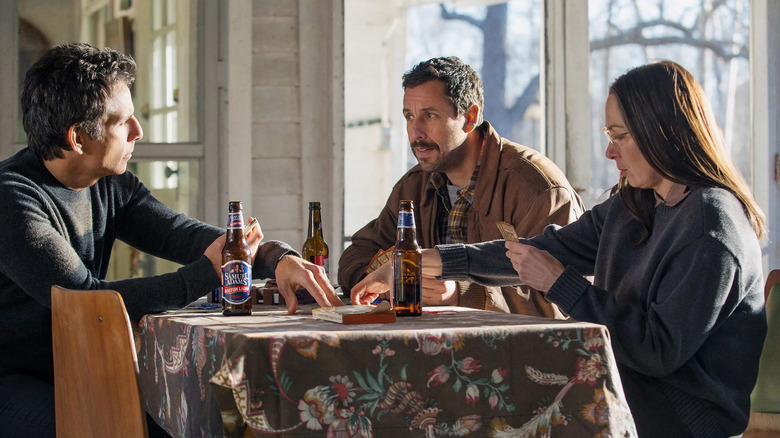 Netflix
Just as consumers' habits have evolved at the movie theater, they've evolved on the home front, too. In the last year, streaming has surpassed cable as the way most customers watch content. One consequence of this major paradigm shift is that people no longer flip through channels to find a live movie or series to watch, nor do they leave whatever happens to be airing on as background noise. Instead, they interface with streamers and become beholden to their proprietary algorithms. Of course, people still seek out specific titles, particularly on the day of a new streaming release. But subscribers usually aren't so intentional. Many of us use our TVs the way we always have ... as a means to, well, chill out. 
Though Netflix has plenty of artistically ambitious and thought-provoking original films to choose from ("Beasts of the Southern Wild," "Roma," and "All Quiet on the Western Front" just to name a few) viewers aren't always in the mood for something that requires them to put down their phones and stay engaged, let alone something that's academically or emotionally challenging. Sometimes, audiences want a movie they can tune in and out of. Though the streamer has been desperate to win best picture and improve its critical reputation, Netflix's customers love it because of its accessible, bingeable, low-effort properties. Most Sandler comedies fit that bill. Even the more tightly plotted "Murder Mystery 2" doesn't require the brain power of "Glass Onion: A Knives Out Mystery." When it comes to how subscribers actually use the service, Sandler and Netflix's laid back, hang out vibes are a perfect match for each other.
Popular actors and filmmakers want to work with him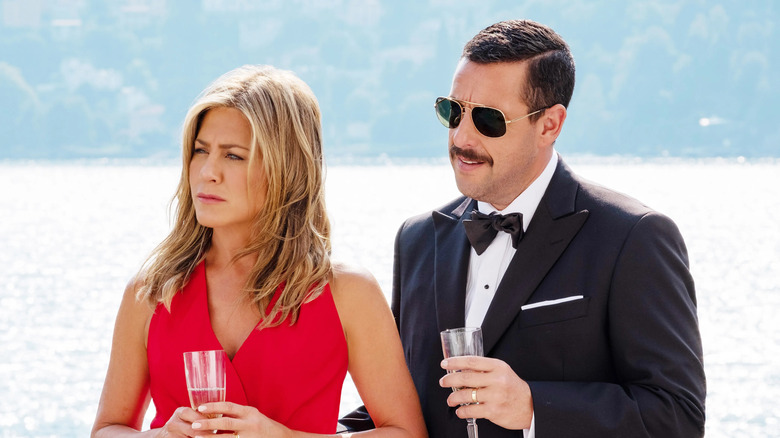 Netflix
The entertainment industry isn't as star driven as it once was, but audiences still like to see their favorites on screen, and it's even better when they're paired up together. If his friends and co-workers are to be believed, Sandler is one of the most humble and down-to-earth celebrities working today. Because he's easy to work with despite his considerable wealth and power within Hollywood, other big-name actors and directors are happy to get involved in whatever he's got going on. Sandler regulars like David Spade and Kevin James tend to pop up in those projects (an indicator of his loyalty), but so have old pals like Jennifer Aniston and Chris Rock. 
Celebrated directors and producers have conceived films with the comedian in mind, too, which is a luxury not many actors enjoy. Paul Thomas Anderson considered himself an "obsessive" Sandler fan and challenged himself to make an arthouse version of a Sandler comedy with "Punch-Drunk Love" after his sprawling "Magnolia." Sandler teamed up with writer-director Noah Baumbach for Netflix's "The Meyerowitz Stories," which co-stars Ben Stiller as his brother. Then, in 2022, Sandler got some of the best reviews of his career for Netflix's "Hustle," a basketball dramedy which he co-produced with LeBron James. This all means that while millions of Adam Sandler fans go looking for his films on Netflix, millions more fans of his famous co-stars and collaborators also stumble upon them. 
He's a savvy producer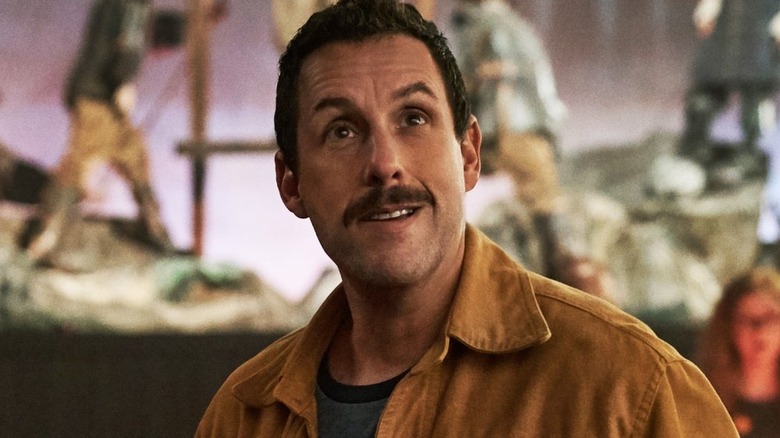 Netflix
Despite his intermittent critical acclaim and the fleeting brilliance of ideas like "The Chanukah Song," Adam Sandler probably doesn't come to mind when film buffs think about the world's best actors. And that's okay. He's the type of performer who understands his lane and understands exactly how to venture outside of it when he chooses to do so. Where Sandler has truly excelled in his 30-plus-year career is as a producer. Not only has he figured out a filmmaking formula that's practically market and critic proof, but he's actually ahead of the curve when it comes to trends and extremely savvy about the types of movies he makes and when he releases them. 
Case in point: The first "Murder Mystery" dropped on Netflix roughly six months before "Knives Out," which gets all the credit for reviving the popularity of the whodunit. Sandler anchored a Netflix original emotional Noah Baumbach family drama ("The Meyerowitz Stories") two years before Adam Driver did the same ("Marriage Story"). And he released his well-regarded sports movie (2022's "Hustle") prior to 2023's "Air," "Champions" and "Challengers." He diversifies his portfolio more than it might seem. Sandler has lent his voice to animation to the "Hotel Transylvania" franchise. He's narrated documentaries ("Nature Planet"). He had the business acumen to make one of his many slack-jawed comedies — "Hubie Halloween" — a holiday offering, which practically assures repeat yearly viewing. The unassuming multihyphenate continues to conquer streaming because he grasps how best to reach and grow his audience using the platform.