Solo: A Star Wars Story Flops In Second Weekend With $29 Million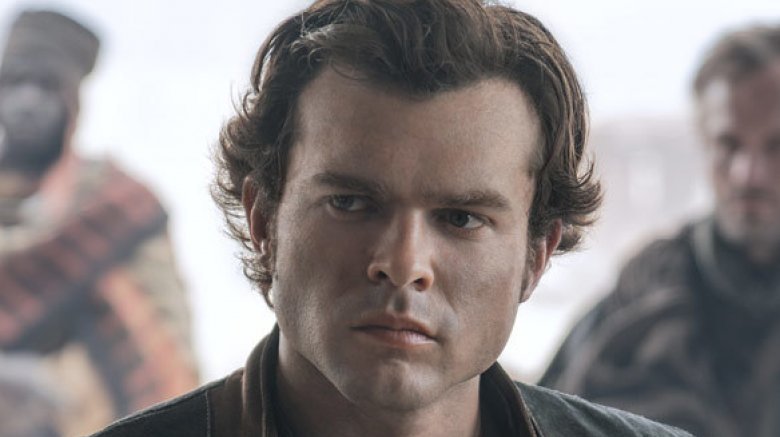 Things have gone from bad to worse for Solo: A Star Wars Story. After a disappointing opening, the film plummeted a massive 65.3 percent in its second weekend, bringing in a meager $29.2 million. 
Solo struggled at the Memorial Day weekend box office, bringing in just $103 million over the four-day frame. This is disappointing when held up against initial $170 million expectations, or even the $130 to $140 million the film was projected to make heading into its opening weekend. The film's struggles can be attributed to a number of things, including franchise fatigue, behind-the-scenes drama, and the increasingly tough Memorial Day frame.
The $29.2 million is another blow for Lucasfilm, although considering how well parent company Disney is doing, they should be more than fine. Solo stars Alden Ehrenreich as a younger version of the gunslinger played by Harrison Ford in the original trilogy, with Donald Glover as a young Lando Calrissian, Emilia Clarke as the mysterious Qi'Ra, and Woody Harrelson as Han's criminal mentor Tobias Beckett. Thandie Newton, Phoebe Waller-Bridge, Paul Bettany, and Joonas Suotamo also star in the film, which was directed by Ron Howard, who took over after original directors Phil Lord and Christopher Miller were fired due to creative differences with Lucasfilm.
This weekend's two biggest new releases, Adrift and Action Point, also performed below expectations. Adrift, which is based on a true story, stars Shailene Woodley and Sam Claflin as a young couple who get stranded in the middle of the ocean after a huge storm. The film has received mixed reviews from critics, although Woodley's performance has been particularly praised. The movie, which sits at a 71 percent on Rotten Tomatoes, is directed by Baltasar Kormakur (The Sea) based on a script from Aaron and Jonathan Kandell (Moana) and David Branson Smith (Ingrid Goes West). The movie was projected to bring in somewhere around $13 million, but wound up with $11.5 million.
Action Point, meanwhile, performed far below $5.5 million expectations with a disappointing $2.3 million, good for ninth place. The film features Jackass star Johnny Knoxville as D.C., the owner of a dilapidated amusement park threatened by a massive corporate park opening nearby. Chris Pontius, Eleanor Worthington Cox, Aidan Whytock, Leon Clingman, Joe Vaz, Matthew Peterson, Camilla Wolfson, Johnny Pemberton, Brigette Lundy-Paine, and Dan Bakkedahl also star in the film, which was directed by Tim Kirby (Fleabag) based on a script from John Altschuler and Dave Krinsky (Blades of Glory). The movie was trashed by critics, with a 17 percent on Rotten Tomatoes.
One new film did surprise this weekend, though: the high-tech thriller Upgrade. The movie was projected to barely make the top ten with $2.5 million, but managed to take sixth place with $4.4 million. The film stars Logan Marshall-Green as a man who uses an experimental experimental computer chip embedded in his spine to become a superhuman fighter and avenge his wife's (Melanie Vallejo) murder. Betty Gabriel, Harrison Gilbertson, Clayton Jacobson, Sachin Joab, and Richard Cawthorne also star in the film, which was praised by critics with an 85 percent on Rotten Tomatoes. The film was written and directed by Saw's Leigh Whannell.
You can view this weekend's full box office results (via Box Office Mojo) below. 
Top 10 Weekend Box Office Gross
1. Solo: A Star Wars Story: $29,296,000 (-65.3 percent), $148,888,692 Total Domestic Gross   
2. Deadpool 2: $23,325,000 (-46.3 percent), $254,652,438 Total Domestic Gross  
3. Adrift: $11,510,000 (–- percent), $11,510,000 Total Domestic Gross   
4. Avengers: Infinity War: $10,371,000 (–40.0 percent), $642,869,932 Total Domestic Gross 
5. Book Club: $6,800,000 (-32.5 percent), $47,316,748 Total Domestic Gross
6. Upgrade: $4,458,000 (– percent), $4,458,000 Total Domestic Gross   
7. Life of the Party: $3,455,000 (-35.8 percent), $46,300,630 Total Domestic Gross   
8. Breaking In: $2,815,000 (-34.3 percent), $41,346,015 Total Domestic Gross   
9. Action Point: $2,315,000 (–- percent), $2,315,000 Total Domestic Gross   
10. Overboard: $1,975,000 (-37.0 percent), $45,523,194 Total Domestic Gross