Shailene Woodley's Adrift Sails To $725,000 At Thursday Box Office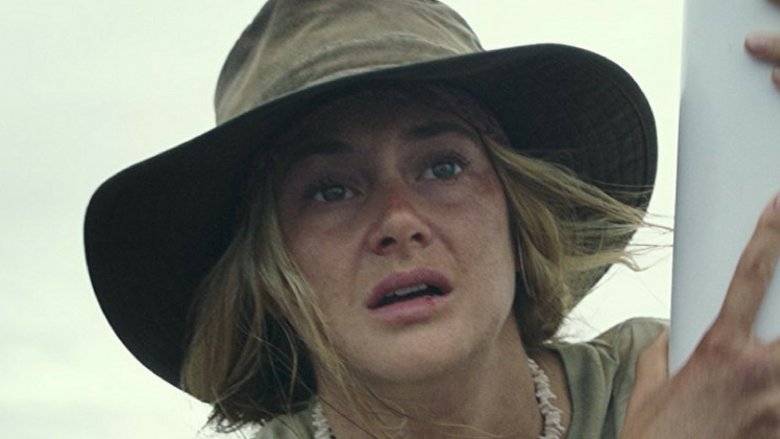 Shailene Woodley's Adrift is sailing strong into what will likely be a slow box office weekend. According to Box Office Mojo, the romantic disaster flick brought in $725,000 at the Thursday box office, where it will go up against Johnny Knoxville's Action Point, the Blumhouse thriller Upgrade, and the later outings of Solo: A Star Wars Story, Deadpool 2, and Avengers: Infinity War.
Adrift is based on a true story. The film stars Woodley and Sam Claflin as a young couple who get stranded in the middle of the ocean after a huge storm. The film has received mixed reviews from critics, although Woodley's performance has been particularly praised. The movie, which sits at a 69 percent on Rotten Tomatoes, is directed by Baltasar Kormakur (The Sea) based on a script from Aaron and Jonathan Kandell (Moana) and David Branson Smith (Ingrid Goes West).
Adrift is expected to top this weekend's new releases with somewhere around $13 million. However, it will still likely fall to third place behind Solo: A Star Wars Story, hoping to bounce back after a disappointing opening weekend with somewhere around $30 million, and Deadpool 2, looking to bring in somewhere around $22 million in its third weekend in theaters. The top five will likely be filled out by Avengers: Infinity War and Book Club.
Sixth place is expected to go to Knoxville's Action Point, featuring the Jackass star as D.C., the owner of a dilapidated amusement park threatened by a massive corporate park opening nearby. Chris Pontius, Eleanor Worthington Cox, Aidan Whytock, Leon Clingman, Joe Vaz, Matthew Peterson, Camilla Wolfson, Johnny Pemberton, Brigette Lundy-Paine, and Dan Bakkedahl also star in the film, which was directed by Tim Kirby (Fleabag) based on a script from John Altschuler and Dave Krinsky (Blades of Glory). The movie, which did not hold full Thursday preview showings, is expected to bring in somewhere around $5.5 million.
This weekend's other new release, Upgrade, will likely just make it into the top ten with somewhere around $2.5 million. The film stars Logan Marshall-Green as a man who uses an experimental experimental computer chip embedded in his spine to become a superhuman fighter and avenge his wife's (Melanie Vallejo) murder. Betty Gabriel, Harrison Gilbertson, Clayton Jacobson, Sachin Joab, and Richard Cawthorne also star in the film, which was praised by critics with an 87 percent on Rotten Tomatoes. The film was written and directed by Saw's Leigh Whannell.