Solo: A Star Wars Story Has Disappointing $83.3 Million Three-Day Opening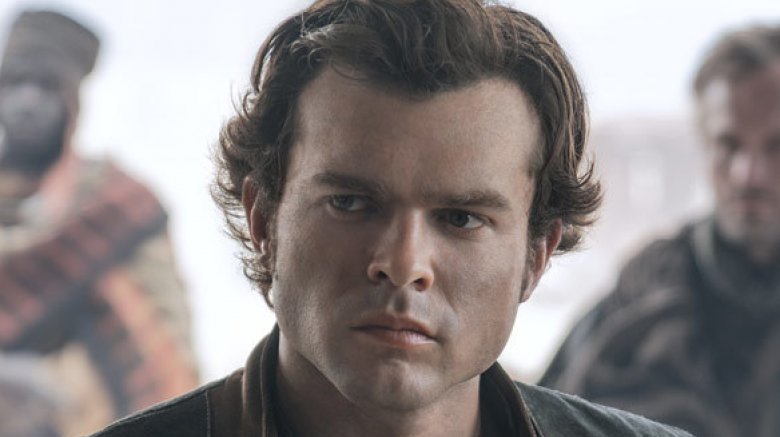 Solo: A Star Wars Story is flying a little low at the box office. The movie opened to a disappointing $83.3 million over the three-day weekend, suggesting a $101 million four-day debut. (via Variety) This is severely down from initial tracking, which had the movie pegged for a $130 to $150 million debut. It also marks the lowest debut for the modern Star Wars films.
The movie started out strong with $14.1 million in Thursday previews, a record for Memorial Day weekend. However, the film faced tough competition from Deadpool 2 and Avengers: Infinity War, which took second and third place, respectively. The movie could also have been hurt by the fact that it is hitting theaters just five months after the release of The Last Jedi; comparably, the other Star Wars standalone film, Rogue One, hit theaters a full year after The Force Awakens.
Memorial Day weekend has also been an increasingly tough time at the box office, with the last movie to clock a more than $100 million debut over the four-day frame being 2014's X-Men: Days of Future Past. "Memorial Day weekend needs to get its groove back after a multi-year downturn that ranked last year's frame at No. 18 all-time for the holiday and unfortunately marked the third straight year the industry did not deliver a $100 million four-day opener," said ComScore senior media analyst Paul Dergarabedian. 
Solo: A Star Wars Story features Alden Ehrenreich as a younger version of the gunslinger Harrison Ford played in the original Star Wars trilogy, telling the story of how he came to be the famed thief and hustler. The film also features Donald Glover as a young Lando Calrissian, Emilia Clarke as the mysterious Qi'Ra, and Woody Harrelson as Han's criminal mentor Tobias Beckett. Thandie Newton, Phoebe Waller-Bridge, Paul Bettany, and Joonas Suotamo also star in the film, which is the only major new release this weekend.
Solo: A Star Wars Story is directed by Ron Howard, who took over for the original directors, Phil Lord and Christopher Miller, after they were let go with just a few weeks left of filming due to creative differences with Lucasfilm. (The pair will instead get an executive producer credit.) The movie is based off a script from Lawrence and Jon Kasdan. The film is in theaters now.
You can view this weekend's full box office results (via Box Office Mojo) below. 
Top 10 Weekend Box Office Gross
1. Solo: A Star Wars Story: $83,325,000 (– percent), $83,325,000 Total Domestic Gross   
2. Deadpool 2: $42,700,000 (-66.0 percent), $207,407,352 Total Domestic Gross  
3. Avengers: Infinity War: $16,494,000 (–44.0 percent), $621,688,638 Total Domestic Gross   
4. Book Club: $9,450,000 (–30.4 percent), $31,834,516 Total Domestic Gross 
5. Life of the Party: $5,115,000 (-32.7 percent), $39,102,348 Total Domestic Gross
6. Breaking In: $4,055,000 (-40.6 percent), $35,643,385 Total Domestic Gross   
7. Show Dogs: $3,078,235 (-48.9 percent), $10,672,960 Total Domestic Gross   
8. Overboard: $3,000,000 (-35.1 percent), $41,494,413 Total Domestic Gross   
9. A Quiet Place: $2,230,000 (–43.5 percent), $179,993,607 Total Domestic Gross   
10. RBG: $1,120,000 (-10.6 percent), $5,636,638 Total Domestic Gross