Ron Howard Reveals Why He Agreed To Direct Solo: A Star Wars Story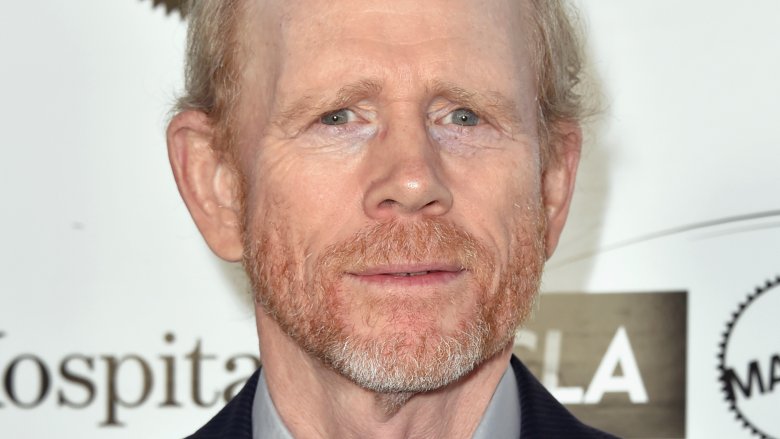 Getty Images
For Ron Howard, the chance to step in and direct Solo: A Star Wars Story was a childhood dream come true. The director revealed in a recent interview with Entertainment Weekly that it was a deep connection with the source material that made him choose to sign on to the film after its initial directors Phil Lord and Christopher Miller were let go.
Howard's first connection to the franchise came when he worked with a young George Lucas on American Graffiti. "He was not a chatty guy," Howard recalled. "But I was having a great experience working on it. He and I had already made a connection because I had been accepted to USC Film School, which is George's alma mater, and I spent a lot of time talking to him about THX 1138 and movies, and where they were going, and so forth."
It was during the production of American Graffiti that Lucas first mentioned his idea for Star Wars, describing it as "a little bit like Flash Gordon, but it's not Flash Gordon." "He said, 'But, you know, it has, like, the grandeur of 2001, and the realism of those special effects that Kubrick created,'" Howard said. "And then he said, 'But maybe fast.'" Howard said he was left confused by Lucas' descriptions, leaving him shocked when he saw the "mind-blowing" final product. 
Flash forward to 2017, and the Star Wars universe is in trouble. Lucasfilm president Kathleen Kennedy is at odds with Lord and Miller, the duo best known for the 21 Jump Street franchise. Kennedy told EW that it was "an incredibly difficult decision" to let the pair go with just a few weeks left of filming, but she knew the decision had to be made.
"I think these guys are hilarious, but they come from a background of animation and sketch comedy and when you are making these movies you can do that and there's plenty of room for improvisation, we do that all the time, but it has to be inside of a highly structured process or you can't get the work done and you can't move the armies of people to anticipate and have things ready," Kennedy said of Lord and Miller. "So, it literally came down to process. Just getting it done."
When it came time to find a new director, Howard seemed like an easy choice. He was friends with Kennedy and had a connection to the franchise, and he was in between directing jobs. However, Howard said it still wasn't easy to choose to sign on because of his friendship with the "incredibly talented" Lord and Miller.
Still, though, with the gap in his schedule, his admiration for "big brother mentor" Lucas, and such a huge project up for grabs, Howard ultimately decided to sign on. "I was reluctant, but I also began to feel that I could help," he said. "It's disappointing that any company ever feels like they have to make a change like that. It's rough on everybody and disappointing for everybody, and I've just tried to come in and — of course, Phil and Chris's fingerprints are all over the movie, given how much they put into it and the time they put into it."
Howard declined to reveal what percentage of the film he reshot, saying that he hopes fans will enjoy the experience of watching the movie rather than thinking about the speed bumps in how it was made. "Everybody who has been involved in this has done nothing but love what this movie could be, and that's been the vibe around it," he said. "I think audiences are gonna feel that love and excitement." 
Alden Ehrenreich, Donald Glover, Emilia Clarke, Woody Harrelson, Thandie Newton, Phoebe Waller-Bridge, Paul Bettany, and Joonas Suotamo star in Solo: A Star Wars Story. The movie, which was written by Lawrence and Jon Kasdan, hits theaters on May 25.