Solo: A Star Wars Story Tracking For $130 Million-Plus Opening Weekend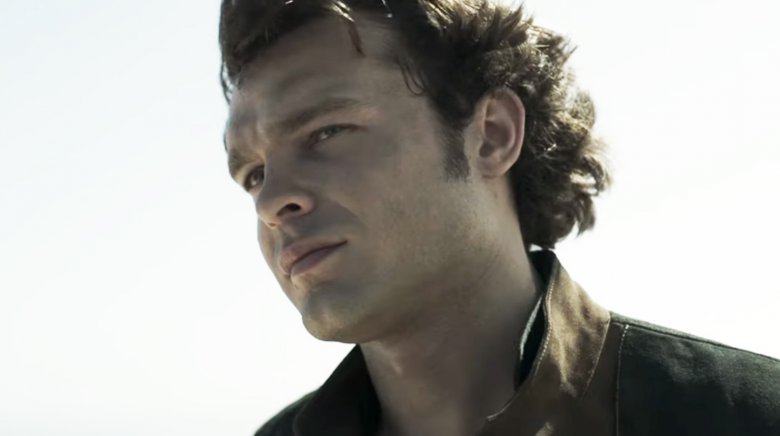 In exciting box office news, Solo: A Star Wars Story is eyeing a record-breaking $130 million-plus domestic opening over the long Memorial Day weekend. In not-as-exciting box office news, Solo is tracking for an opening that comes in lower than recent Star Wars movie releases.
Industry tracking predicts that the Alden Ehrenreich-starring Han Solo standalone will rake in anywhere from $130 million to $150 million across 4,380 locations in the U.S. from Friday, May 25 to Monday, May 28, including the revenue earned in Thursday preview screenings. Variety notes that this new projection is down significantly from earlier tracking that indicated the film could make between $165 million and $175 million. However, some tracking services are still reporting that Solo might earn as much as $180 million during the four-day holiday weekend.
The anticipated revenue window of $130 million to $150 million means that Solo: A Star Wars Story will rank below the opening weekends of The Force Awakens ($247 million domestically), The Last Jedi ($220 million domestically), and Rogue One ($155 million domestically). If the more ambitious estimates end up true, Solo could kick Rogue One out of its third-place spot. 
On the other hand, it's important to be aware that no film has ever opened above $140 million over the Memorial Day weekend, since most people are on vacation or spending time with family and not heading out to the movies (via Entertainment Weekly). If Solo does break the $130 million-earned mark in its first few days out, it will snatch the "best Memorial Day weekend opening" title from Disney's Pirates of the Caribbean: At World's End. (The 2007 flick raked in a cool $139.8 million when it premiered on May 25 of that year.) And if it ends up tipping over $140 million, Solo will break the record and set a new one. 
It's expected that, regardless of exactly how much money Solo ends up making over its opening weekend, the film will definitely take the number one spot at the domestic box office. No blockbusters or tentpoles are opening against it, a wise move considering the massive franchise from which it hails, and the recently released Deadpool 2 will undoubtedly slide into second place at the domestic box office, as it's expected to pull between $50 million and $60 million in its second weekend out.
Directed by Ron Howard, Solo: A Star Wars Story follows Alden Ehrenreich as a young Han Solo, who makes friends with his future best bud, co-pilot, and Wookiee companion Chewbacca, played by Joonas Suotamo, and meets the infamous gambling man Lando Calrissian, portrayed by Donald Glover. The film also stars Emilia Clarke as Qi'ra, Woody Harrelson as Beckett, Thandie Newton as Val, Paul Bettany as Dryden Vos, and Phoebe Waller-Bridge as L3-37. 
Board the Millennium Falcon and journey to the galaxy far, far away when Solo: A Star Wars Story is released on May 25.