Alan Ritchson's Original Audition For Reacher Saw Him Channel Waterworld
Alan Ritchson has won raves from fans as Jack Reacher — having gone above and beyond for the role. The star of Amazon Prime Video's "Reacher" series seems like a natural for the imposing Lee Child creation. Viewers might be surprised to know that Ritchson was far from a lock during casting. In fact, he was passed over after his first audition. For the actor, it might have something to do with an unexpected choice — channeling "Waterworld."
Kevin Costner's action film is arguably better known now as a Universal stunt show but the original 1995 release didn't exactly enthrall audiences. The epic saw Costner play a stoic hero only referred to as "The Mariner." For Ritchson, that demeanor seemed like the perfect choice for his first "Reacher" impression. A short interrogation scene gave the actor no lines, leaving him searching for a unique approach. Ritchson went for the tone Costner brought to the Mariner role — and one scene, in particular, came to mind.
"I tried to channel 'Waterworld,' where the guy gets on the boat with Kevin Costner and he's really twitchy and super high-energy and Kevin Costner is kind of dry," Ritchson told Empire. The actor acknowledged it being a problem, calling the decision terrible. Reacher is not exactly a character invested in long monologues. Instead, he's a silent type whose dialogue is reserved for important moments. Costner's "Waterworld" character echoed the aesthetic, something that resonated with Ritchson.
The pandemic made for a different audition experience
Luckily, using "Waterworld" didn't hurt his chances of becoming Jack Reacher. Eight months after the first audition, a different script and casting director meant a fresh chance to impress. Alan Ritchson revealed the casting director spotted something in that first audition and wanted him back for the next round. Ritchson prepared — not by watching Costner's film — but by going through Child's long-running book series.
He also had to navigate auditioning during the pandemic, which meant using Zoom to impress the creative team. Ritchson found himself providing executives with some interesting stats. "There was a lot of, like, 'Get out a tape measure and take pictures of yourself barefoot and in underwear,'" he explained. Nevertheless, the actor knew those making the decision were just as nervous as he was about getting it right. "I [had] to reassure them I was telling the truth about what I would bring to this [and] what I had to offer."
While it still was far from an easy process, focusing on the author's vision for the character helped Ritchson fit into what readers and the author himself wanted. Child has openly praised the actor's work in the role. "If you loved 'Reacher,' Alan nails it and he just gets better and better," Child told Toronto Sun.
Ritchson has a surprising audition in his past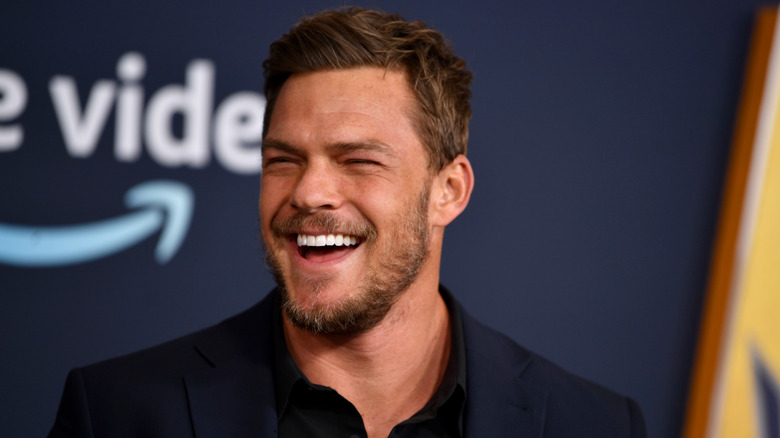 Denise Truscello/Getty Images
Alan Ritchson is certainly no stranger to high-pressure auditions. Before "Reacher," the star acted in various series like "Titans" and "Smallville." None of that might have happened without another important audition years earlier. The actor tried out for "American Idol" in both seasons 2 and 3 — one of those auditions saw a young Ritchson belt out "You Are the Sunshine of My Life." Instead of worrying about meeting up to Lee Child's standards, he was tasked with impressing judges Simon Cowell, Randy Jackson, and Paula Abdul.
Abdul herself may have been more smitten than the "Reacher" team and opted for a personal serenade during the episode. His vocal talents went far past a scripted gimmick — the actor would be picked to move on in the competition. He would eventually lose out afterward but not before finding himself on the road to a successful career and a starring role on the hit Amazon series "Reacher."