Which Lee Child Book Is Reacher Based On?
When Amazon Studios acquired the rights to develop a series based on the bestselling novel franchise centered around the wandering do-gooder Jack Reacher, they had plenty of content to pull from. Jack Reacher's creator, Lee Child, penned 24 novels before enlisting his brother to co-write two more. To date, over a dozen of the books have hit the No. 1 spot on the New York Times bestseller list, and the series has sold more than 100 million copies worldwide (via Forbes). 
The franchise also spawned two feature films starring Tom Cruise: 2012's "Jack Reacher" and 2016's "Jack Reacher: Never Go Back." The two films brought in a total of around $380 million at the global box office, with the majority of that haul coming from the original outing, and the second making nearly $60 million less. While neither film was a flop, Amazon will certainly be hoping to reverse the trend of the film franchise and keep audiences coming back for more.
Amazon's new series, aptly titled "Reacher," reboots the franchise with Alan Ritchson ("Titans," "Blue Mountain State") taking on the role of Jack Reacher. With 26 novels to choose from, the team behind the series had to make the right decision on where to start. Here is the novel the group decided on to begin the journey for "Reacher."
Reacher will start at the beginning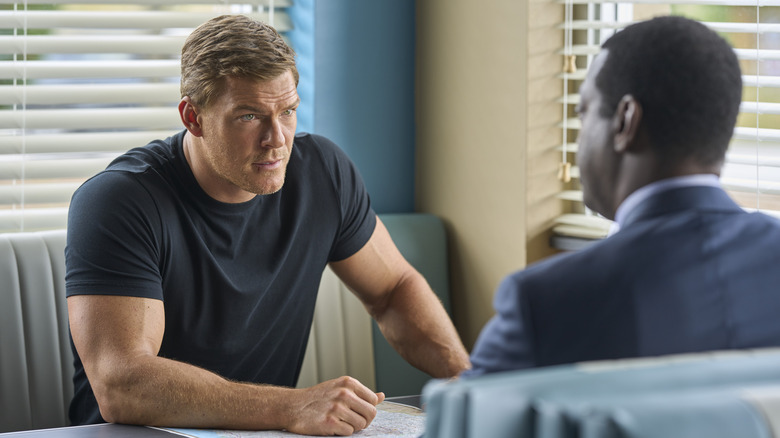 Amazon Prime Video
Where could be a better place to jumpstart a franchise than at the beginning? Showrunners chose to base the first season of "Reacher" on Lee Child's debut novel, "Killing Floor." The novel was a huge success upon release, winning multiple awards, including the Anthony Award for best first novel. In their review, Publisher's Weekly called it a "taut and tough-minded first novel" and said, "Child writes with a hand as strong and steady as steel."
When Jack Reacher, a wandering ex-military police officer with no home and no possessions, gets off a bus in Margrave, GA, he is immediately arrested for murder. Once the police release him after deducing that he's not the killer, he is on his way out of town until he finds out one of the victims was his big brother. Teaming up with an uptight detective and a tough-as-nails local cop, Reacher walks the line between vengeance and justice as he searches for the killers.
With Reacher's tendency to find trouble (or trouble's love of finding him), starting at the beginning gives the new Amazon series room to grow as the quiet but brutal anti-hero makes his way from town to town. Season 1 of "Reacher" drops on Amazon Prime on February 4th.