The Avengers: Infinity War Death A Marvel Executive Tried To Stop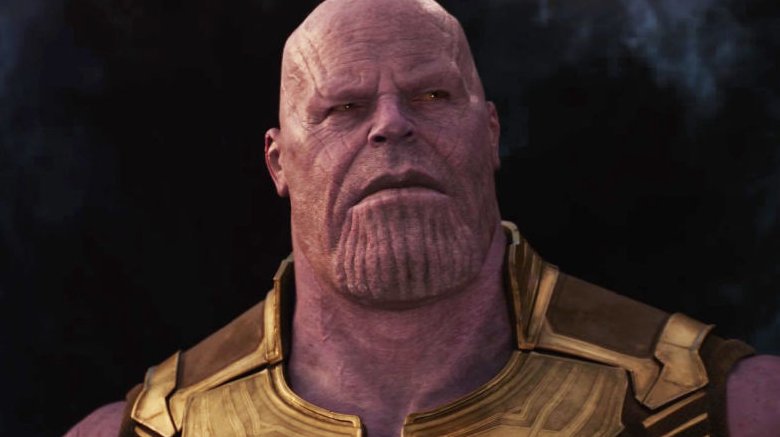 Avengers: Infinity War didn't just kill its darlings, it straight-up annihilated them. From Spider-Man (Tom Holland) disintegrating in Iron Man's (Robert Downey Jr.) arms, a scene that left everyone soaked in their own tears, to Vision (Paul Bettany) getting the Mind Stone scooped out from his forehead to, you know, half the universe's population dying in a split second, Infinity War wasn't for the weak of heart. But if one Marvel executive had persuaded the directors enough, the film may have gone without one major death. 
Nate Moore, the longtime Marvel Cinematic Universe producer behind films like Captain America: The Winter Solider, Captain America: Civil War, and this year's Black Panther, recently revealed that he asked Avengers: Infinity War directors Joe and Anthony Russo to reconsider having T'Challa (Chadwick Boseman) die in the movie. Just as his fellow heroes did, the king of Wakanda faded into space dust after Thanos (Josh Brolin) activated his Infinity Gauntlet and carried out his murderous snap. 
When Moore learned of the tragic fate Black Panther was going to face in Infinity War, all the way back in 2015 when Black Panther director Ryan Coogler was working on Creed, he spoke out and tried to stop it from happening. 
"I knew pretty well what they were talking about and personally urged them to reconsider," Moore stated in a phone interview with Huffington Post. "But the storytelling made sense, so I love that we got to see a little bit more of Wakanda in that film, and I hope to see how they're going to resolve that."
The MCU exec added that it was hard to go against the Russo Brothers' reasons for killing Black Panther, since they apparently had a strong argument for doing so, but he kept mum about the details of the filmmaking duo's stance. 
"Touching on all the different ideas you can have, you talk about the pros and cons of each, and they had some really compelling arguments as to why what happened happened," noted Moore. "I think ultimately it made for a really interesting, almost more complicated ending to that film because of how well Black Panther was embraced by audiences. Again, personally painful, but I understand the reasoning." 
In the past, the Russos have mentioned that their decision to murder or spare certain characters in Infinity War was story-motivated, but Huffington Post's Bill Bradley asked them why they chose T'Challa in particular, and whether they ever considered going back on their decision after realizing the success of Black Panther. 
Sadly for T'Challa fans, they didn't, and Black Panther's record-breaking box office performance didn't have an impact on their choice. As Anthony Russo explained, "We were very cued into the storyline of Panther from his origins in Captain America: Civil War. The role that Panther and Wakanda played in this movie was sort of a bedrock of the movie, a bedrock of the [Marvel Cinematic Universe]. I think Black Panther could've done half the business that it did and it still would've been a valid creative choice."
The good news to take away from all of this is that Black Panther will definitely return to the big screen in some capacity. Marvel has already announced a Black Panther sequel, which might resurrect Michael B. Jordan's Killmonger and may star Donald Glover in a villain role, and T'Challa is one of the many characters confirmed to appear in Avengers 4 in 2019.