Michelle Yeoh Made History At The Oscars, And Halle Berry Made It Doubly Special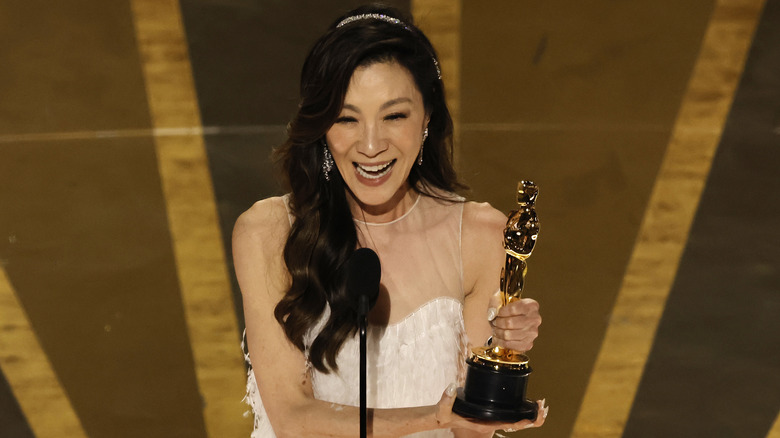 Kevin Winter/Getty Images
Tonight's Oscars was one for the history books.
Michelle Yeoh received the role of a lifetime with "Everything Everywhere All at Once," the quirky indie multiversal comedy from A24. Released in April 2022, "EEAAO" emerged as a critical juggernaut and fan-favorite, receiving sky-high acclaim for its performances, evocative narrative, and mind-boggling visuals. After months of campaigning, the Daniels-directed flick showed up at the Oscars, ready to win gold. With eleven nominations and seven wins, "Everything Everywhere All at Once" emerged as the night's biggest success. The film's most ground-breaking win? 
Yeoh winning Best Actress. 
The 60 year-old actress, who first started working in Hong Kong cinema, became the first Asian woman to win the coveted acting award. How's that for making history? "For all the little boys and girls who look like me watching tonight, this is a beacon of hope and possibilities," Yeoh exclaimed, proudly flaunting her Gold statue. "This is proof that dreams do come true." 
What made the award even more special? Yeoh received her Oscar from both Jessica Chastain and Halle Berry, with the former being the first Black actress to win the award. 
Halle Berry was the first Black performer to win Best Actress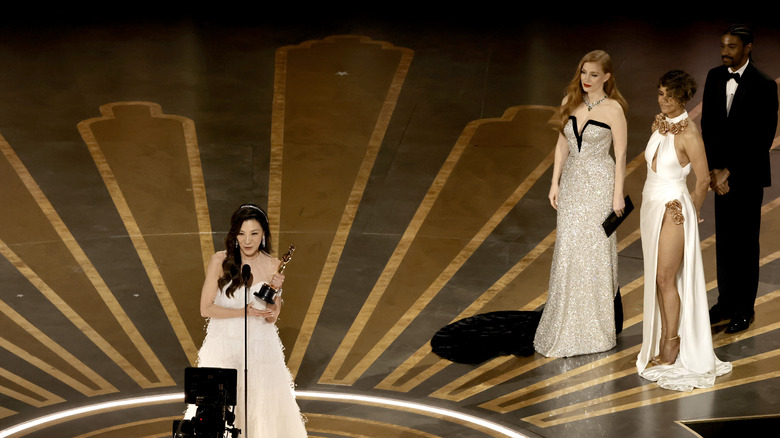 Kevin Winter/Getty Images
For her performance in 2001's "Monster's Ball," Halle Berry received the Best Actress trophy. To this date, Berry is the only Black actress to win the award, and was, until now, the only person of color to hold the honor. With Yeoh now a Best Actress winner, history has been made, making her the second POC to hold the prestigious award. Recent years have seen the Oscars make great strides to be more inclusive with their nominees, with their 2023 showing proving that they're learning the right lessons. 
For Yeoh, however, it wasn't just about winning Best Actress — it was about making a statement. "This is history in the making," Yeoh said, wrapping up her heartfelt speech, acknowledging just how impactful her win is for the Asian community.
Other notable winners tonight from the Asian community included Yeoh's co-star Ke Huy Quan, who walked with a Best Supporting Actor trophy, and M. M. Keeravani and Chandrabose for their song "Naatu Naatu" from "RRR."