Ke Huy Quan's Best Supporting Actor Win Is What The Oscars Are Supposed To Be About
Kevin Winter/Getty Images
Ke Huy Quan just won an Oscar, and his speech reminded us what every single awards season speech should be about: the movies, and how we need to stay the course and not give up on our dreams.
Quan, who won for his role as Waymond Wang in "Everything Everywhere All at Once," was overwhelmed with tears as soon as soon as he took the stage. "My mom is 84 years old," Quan said, "and she's at home watching. Mom, I just won an Oscar! My journey started on a boat. I spent a year in a refugee camp, and somehow I ended up here on Hollywood's biggest stage. They say stories like this only happen in the movies. I cannot believe it's happening to me. This... this is the American dream!"
He also spoke to the importance of not giving up on your dreams, because after so many years in the industry, his came true. Here's why Ke Huy Quan winning is such a stunning Hollywood story.
Ke Huy Quan's comeback story is the stuff of Hollywood legend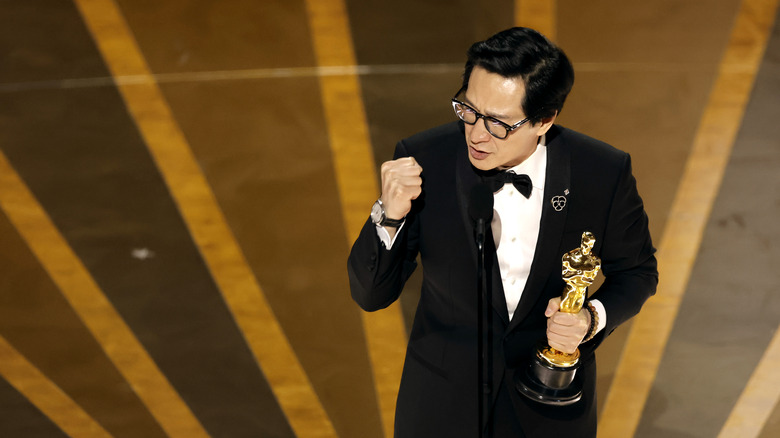 Kevin Winter/Getty Images
Before his appearance in "Everything Everywhere All At Once," Quan had toiled away as a stunt coordinator and an assistant director after working as a child actor in movies like "Indiana Jones and the Temple of Doom" (where he played Short Round opposite Harrison Ford) and "The Goonies." After seeing "Crazy Rich Asians," which featured his future co-star Michelle Yeoh, Quan felt as if roles for Asian actors were finally available again, and the rest is history.
Quan's win is an incredible Oscars moment that will undoubtedly go down in history, and for the rest of his career, "Oscar winner" will precede his name. Fans around the world were reminded of the pure magic of movies thanks to his speech, and it's beyond thrilling to see such a talented, deserving artist take home the industry's highest honor.