Every Training Montage From The Rocky Franchise, Ranked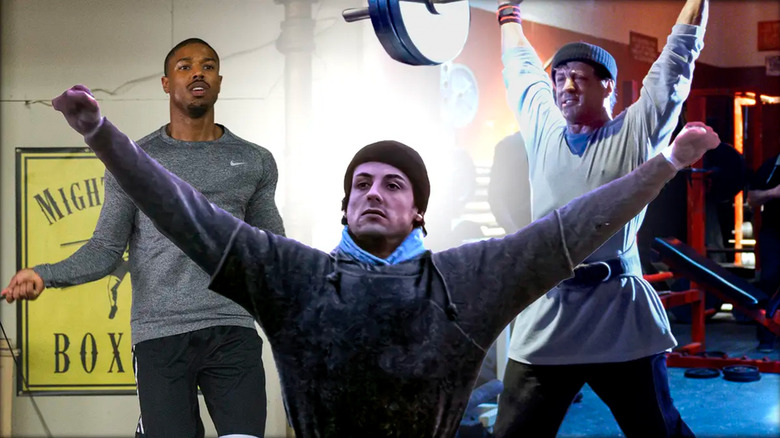 Static Media
When it comes to film series, there are few quite as beloved as the "Rocky" series, and for very good reason. Simply put, the films have it all — comedy, compelling character drama, amazing music, and increasingly over-the-top fight scenes.
Throughout the series, we're shown the tale of a small-time boxer, Rocky Balboa (Sylvester Stallone), and his rise to prominence. We get to see Rocky's struggles inside and outside of the ring as he faces a larger threat in every "Rocky" movie. Following the conclusion of the Italian Stallion's story, the series shifts focus to Adonis Creed (Michael B. Jordan), the son of Rocky's foe-turned-friend, Apollo (Carl Weathers).
Despite the franchise's evolving style, one thing that has remained a fixture throughout the films has been the training montages. Usually around act two, Rocky or Adonis find themselves at their lowest before physically and mentally pushing themselves to rise to the occasion. So with that in mind, lace up your running shoes because this is every training montage from the "Rocky" franchise, ranked.
9. Rocky V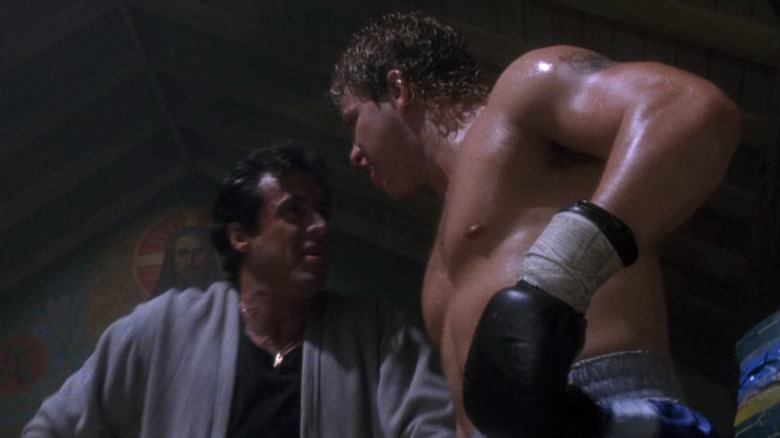 Metro-Goldwyn-Mayer
It's fitting that the weakest entry in the original "Rocky" series would result in the weakest training montage. Yes, if you check the Rotten Tomatoes score for "Rocky V," you'll notice that the film has the lowest critic and audience scores in the whole series.
From a story perspective, the fifth entry in the series is one of the more clunky and underwhelming. The bulk of the 1990 film sees Rocky, forced into retirement, training a brash young fighter named Tommy Gunn (Tommy Morrison). They forge a relationship that quickly supersedes everything else in Rocky's life, including his teenage son, Robert Jr. (Sage Stallone). Distracted by his shining new protegee, Robert is left flying solo as he deals with a bullying problem at school. This leads to a montage of Tommy's training with Rocky, along with his success in the ring, as Robert trains alone.
The sequence is actually decently edited, cutting between Rocky's success with Tommy and Robert's solo struggle. However, compared to many of the series' other montages, this one stands out like a sore thumb, especially due to the out-of-place '90s soundtrack. While far from horrendous, it's a fittingly underwhelming sequence for the series' most underwhelming entry.
8. Rocky Balboa
For over half a decade, "Rocky Balboa" served as the swan song for the character of Rocky and his long journey. Retroactively removing the events of "Rocky V," the 2006 film shows us an older Rocky, long after the events of "Rocky IV."
Four years after the passing of his wife, Adrian (Talia Shire), and his boxing career long behind him, Rocky tries his best to move forward with his life. However, following a televised computer simulation in which Rocky beats the current heavyweight champion Mason Dixon (Antonio Tarver), Rocky's fighting spirit is stoked once again. Despite his advanced age and a slew of naysayers, Rocky is able to rejoin the sport to challenge Mason in a pay-per-view exhibition. This leads to Rocky getting his old training crew back together to prepare for his final in-ring fight.
The montage sequence is a solid one if not a bit repetitive, aside from the addition of Rocky's dog. Another compliment is the camerawork for this one is solid as well, definitely leaning into the film's grittier tone. While the image of an older Rocky pushing himself to the limit is definitely a striking one, there isn't much else helping this one stand.
7. Creed II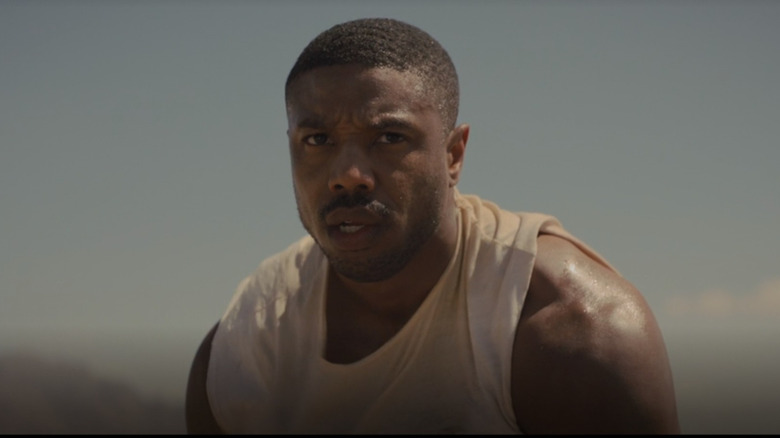 Mirror Releasing/HBO Max
The second outing of the "Creed" franchise, released in 2018, definitely upped the stakes in a big bad way with the resurgence of Ivan Drago (Dolph Lundgren). Viktor Drago (Florian Munteanu), the hulking son of the man who killed Apollo Creed, nearly does the same to Adonis. The beating that Adonis takes during his first fight with Viktor is, quite possibly, one of the most painful scenes in the series.
With his body in shambles and his emotional state no better, Adonis finds himself at his lowest point. It's here that Rocky, who refused to prepare Adonis the first time, returns to help him en route to their looming rematch. With their fires reignited, the duo head to the desert where a fight team is waiting to help Adonis. We cut back and forth between Adonis grinding it out in the desert and Viktor going through his own harsh training with his father. With their help, Adonis bounces back from his depressed and injured state, eventually being able to outrun a car. While not as enthralling as its predecessor or successor, the montage does an effective job of selling the drama heading into the big rematch.
6. Creed III
From its first moments on screen, "Creed III" doesn't feel like the other "Rocky" films, and for very good reason. In an interview with Polygon, Michael B. Jordan confirmed that the biggest influence on the 2023 film's style was anime series like "Naruto," "Hajime No Ippo," and "Dragon Ball Z."
The film sees Adonis, ready to kick back and enjoy retirement with his family, confronted with a sizable ghost from his past. His old friend Damian aka Dame (Jonathan Majors), resurfaces after getting out of jail, eager to rejoin the sport he was ripped away from. Following some unforeseen circumstances, Adonis gives Dame a chance to shine in the ring before realizing he's been conned. Dame is revealed to be a true supervillain, exploiting Adonis' friendship to get his shot, feeling he's owed it due to Adonis abandoning him in their youth.
With vengeance in his eyes and the whole world watching, Adonis agrees to step into the ring one last time to face Dame one-on-one. It's here that the various anime influences really shine through, with Adonis going through Goku levels of training to prepare himself. Cue the training montage which sees Adonis sparring with his foe-turned-friend, Viktor Drago, and even pulling an airplane to increase his strength.
5. Creed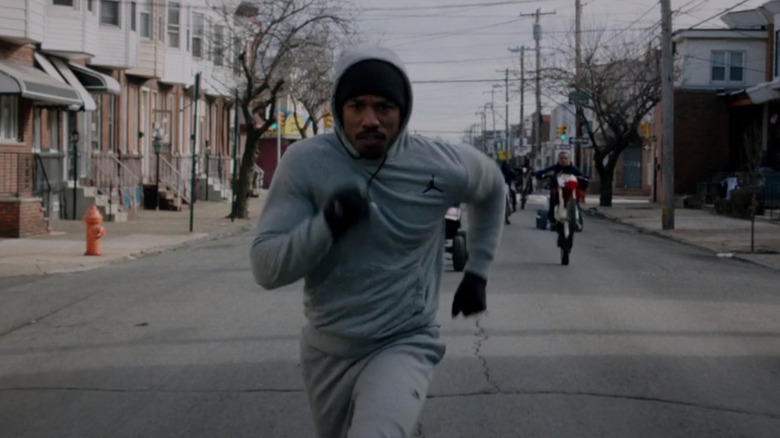 Warner Bros. Pictures/HBO Max
The prospect of another "Rocky" film was a strange one for sure, especially one not solely centered on Stallone's iconic character. Instead, 2015's "Creed" introduces us to Adonis who is seeking to live up to his father's in-ring legacy. Despite the protests of his mother, Mary Anne (Phylicia Rashad), Adonis packs his bags and moves to Philadelphia. It's here he meets Rocky who, after some nudging, agrees to train Adonis and impart his boxing wisdom to him.
Adonis' first outing in the ring is a success, but as soon as his heritage is revealed, everything changes. Now squarely in the public eye, Adonis is soon targeted by a top fighter named "Pretty" Ricky Conlan (Tony Bellew) for a big-time fight. This coincides with Rocky being diagnosed with non-Hodgkin's lymphoma and Adonis forcing him to start chemotherapy.
So, as Rocky goes through his treatment, we see Adonis preparing for his fight while also helping with his mentor's ailing health. This includes running through the hospital's stairs as well as shadowboxing next to Rocky while he receives chemo. The whole sequence builds up to a glorious image of Adonis running while flanked by several men on bikes. Much like the film itself, it pays tribute to the series' past while also going in its own direction in terms of style and execution.
4. Rocky II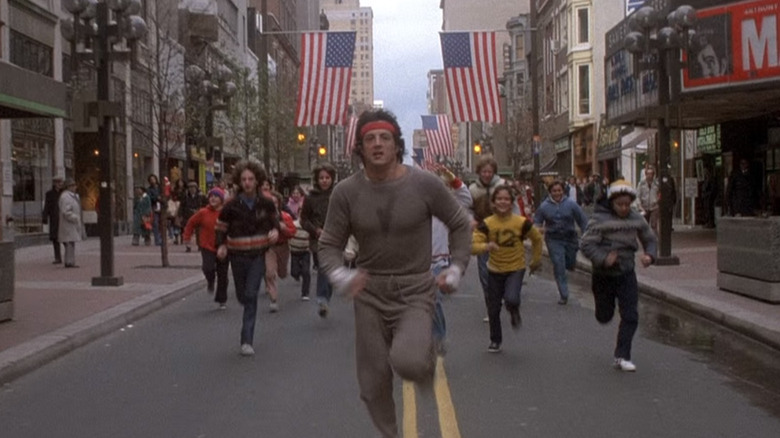 United Artists/Netflix
It's rare in cinema to have a sequel made that's just as good as the original, such is the case with 1979's "Rocky II." The film picks up right where the last movie left off, with Rocky and Apollo being hospitalized to deal with their post-fight injuries. Despite Apollo's heated desire for a rematch, Rocky opts to retire and step out of the ring to enjoy life with his new wife, Adrian.
However, with a detached retina and financial issues, Rocky's back is soon firmly pressed to the wall. Goaded on by Apollo's taunts and some eventual encouragement from Adrian, Rocky accepts the rematch and resumes his training with Mickey (Burgess Meredith). This results in back-to-back montages that see Rocky training in the gym and taking a second run through Philadelphia. What makes this time different is seeing just how invested Philly is in their hometown boy, with kids joining Rocky on his run.
By the time he reaches the art museum steps, Rocky has somehow amassed a crowd that seems to be every kid in Philly. Where exactly all these kids came from en masse is never revealed, but when Rocky is triumphantly jumping over park benches, does it really matter?
3. Rocky III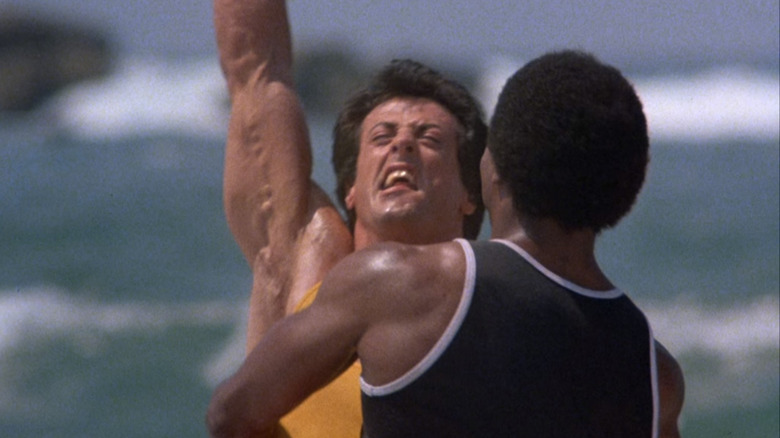 MGM/UA Entertainment Co./Netflix
1982's "Rocky III" definitely marked a turning point in the series both in terms of style and tone. This is where Rocky's story jumped from being a reasonably grounded one to becoming a flat-out comic book. Case in point, this film sees Rocky face off with a pro wrestler played by Hulk Hogan.
The film's main antagonist arrives in the form of Clubber Lang (Mr. T), a brash new fighter looking to make it big at Rocky's expense. Distracted by his rising fame and the waning health of his trainer, Mickey, Rocky is soundly defeated by Lang in their first encounter. With Mickey dead, Rocky is depressed and aimless, that is until Apollo Creed comes to right the ship. In a pro wrestling style babyface turn, Apollo opts to train Rocky for his rematch with Lang and help his former foe reclaim his "eye of the tiger."
What ensues is an epic training montage rife with punching, swimming, and bromantic running on the beach. Cheesiness aside, it's hard not to crack a smile seeing Rocky finally pass Apollo during their beach run and share a hug with his rival-turned-friend. It's a heartwarming sight to see Rocky and Apollo, once the bitterest of enemies, now supporting each other.
2. Rocky IV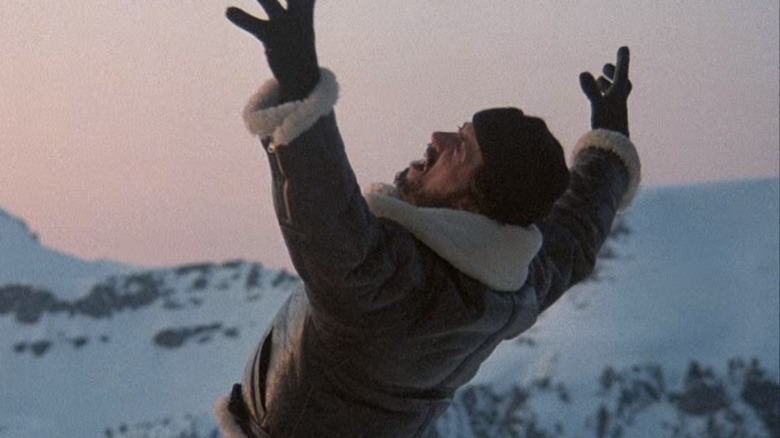 MGM/UA Entertainment Co./Netflix
It wouldn't be unfair to say that the fourth installment of the "Rocky" franchise is far and away the most ridiculous. From Rocky gifting Paulie (Burt Young) a fully functional robot to the Cold War-saturated narrative, the film oozes 1980s cheesiness.
This over-the-top tone extends to the 1985 film's various training montages which parallel the hero-villain dynamic between Rocky and Ivan Drago. With Apollo Creed slain at the hands of Drago in the ring, Rocky pushes himself further than he ever has to prepare. This means training in the frigid cold of the Soviet Union — chopping wood, lifting farm equipment, and running through the mountains. Who could ever forget the iconic image of a bearded Rocky reaching the mountaintop and shouting Drago's name?
This contrasts wonderfully with Drago's training inside a Russian training facility complete with various pieces of high-tech machinery. With songs like "Burning Heart" by Survivor and "Heart's on Fire" by John Cafferty, it's nearly impossible not to get amped up watching it. When it comes to the number of montages squeezed into a single film, "Rocky IV" might take home the gold in that regard.
1. Rocky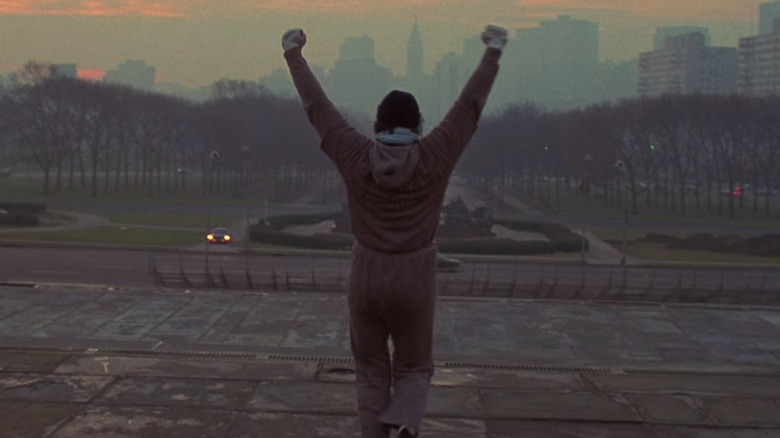 United Artists
The original "Rocky" training montage is as effective a scene as you can get with just the bare filmmaking essentials. Through the iconic soundtrack and well-timed editing, the scene does an effective job of setting the stage for the film's third act. There's just something about seeing Rocky in his gray running gear running through a backdrop of 1970s-era Philadelphia that gets your blood pumping.
The scene, especially when compared to the rest of the series, is undoubtedly barebones but that's honestly why it works. "Gonna Fly Now" by Bill Conti has been a mainstay throughout the films and this is the scene that shows why. When the music swells as Rocky reaches the top of the art museum steps, it's almost impossible to not raise your arms with him. By this point in the film, the audience has seen Rocky at his lowest and is eager to see him rise above his struggles. So to see him not only excel at his rigorous training with Mickey but complete his run to the art museum, is nothing short of gratifying.
Almost every training montage in the "Rocky" series has something to write home about in terms of editing, music, and on-screen location. However, Rocky's original run to the art museum will always reign supreme as an all-time great moment in film history.