Whatever Happened To Carl Weathers?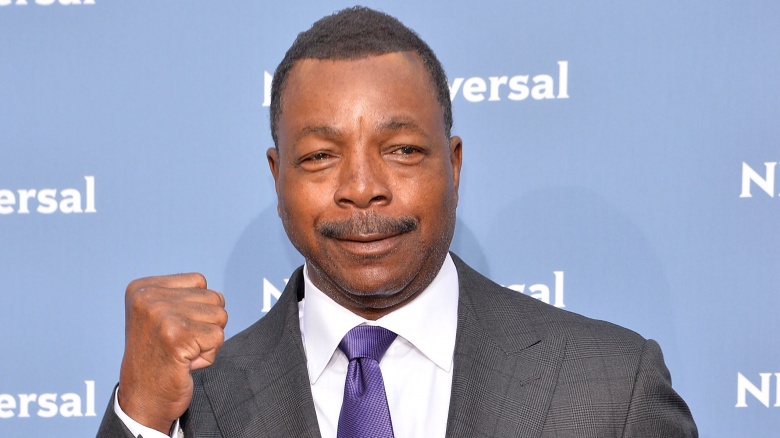 Getty Images
In Hollywood, an actor can work steadily and make good money for years, even decades, but all it takes is a single memorable role in a box-office smash to transform them from a vaguely familiar face into a star. The problem sets in when audiences latch onto a performance so strongly that they expect the actor to look, act, and sound the same way in every project from then on out, never taking into account their range as an actor or considering the fact that people look different as they grow older.
Carl Weathers is a perfect example of this problem: he became a household name as a result of playing boxer Apollo Creed throughout the first four films of the Rocky franchise, so much so that the average movie fan still sees Weathers in their mind's eye as the man he was in those films. Given that the first Rocky film came out in 1976, if you can cut Weathers some slack for failing to maintain his fighting weight for the last 40 years, then we can help fill in the blanks as to what he's been doing since Ivan Drago took him down in Rocky IV. Here's a hint: he's been hiding in plain sight.
He was "the black guy in Predator"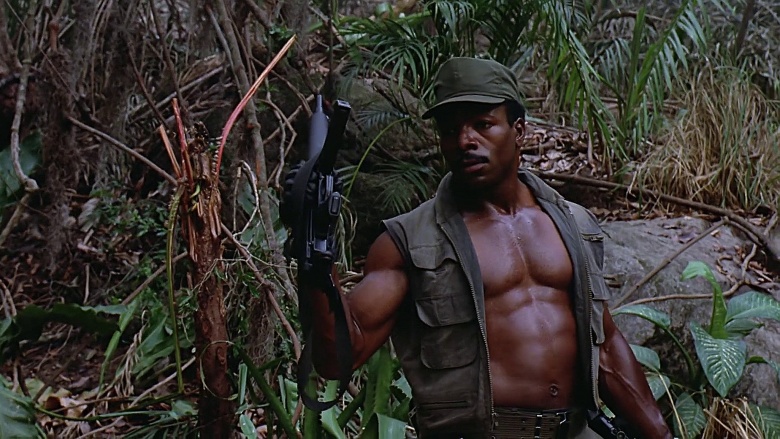 If you're laughing right now, it should only be for one of two reasons: 1) you're recalling the Saturday Night Live sketch where Weathers used that phrase in a faux campaign commercial to pitch himself to voters as being just as viable a candidate for governor as his co-stars Arnold Schwarzenegger and Jesse Ventura, or 2) because you can't believe someone could ever forget that Weathers was in Predator. Granted, it was first and foremost a Schwarzenegger film, but it was a big deal for Weathers at the time, proving he could be a formidable presence on the big screen with or without Stallone—which is likely why he soon found himself headlining his own action film.
He starred in two potential movie franchises of his own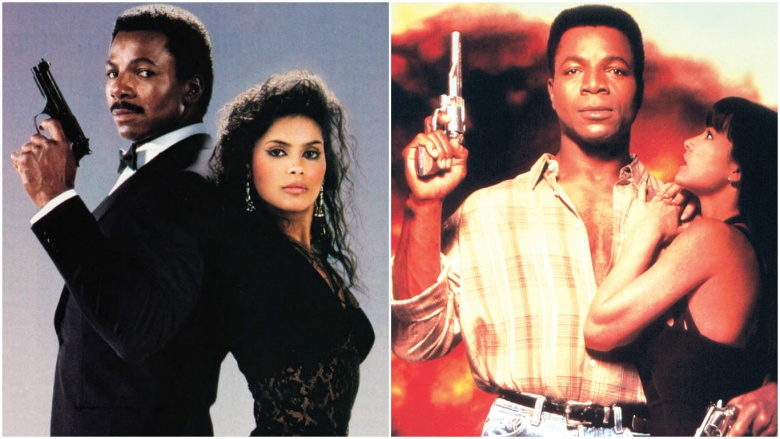 Unfortunately, the emphasis is very much on "potential" in this instance, since neither motion picture made it past its initial installment. The first of the two—Action Jackson, released in 1988—is the one that's most surprising in terms of its failure to secure a second film. "Yeah, people loved Action Jackson," Weathers told Bullz-Eye in 2009. "I get asked all the time, 'Are you ever going to do a sequel?' I still maintain today that it could've been a better movie had we taken a little bit longer to develop the screenplay, but a lot of people liked it. In Germany, it was huge!" As for Hurricane Smith, more people probably know the singer than they do Weathers' 1992 film, which was best summed up by the alternate international title: Dead on Delivery.
He found his funny side, thanks to a little help from Adam Sandler
Weathers wasn't necessarily known for his comedy skills when agent/manager-turned-producer Bernie Brillstein steered him toward Adam Sandler, who was in the midst of making Happy Gilmore, but Weathers soon found himself playing Chubbs Peterson, a former pro golfer who was forced into retirement after an alligator bit off his hand. The performance showed the world a whole other side of Weathers, which led to further comedy roles in subsequent years, but Sandler helped keep him gainfully employed as well: you can see Weathers briefly reprise the role of Chubbs in Little Nicky, and you can hear Weathers voicing GNC Guy in Sandler's animated Hanukkah film, Eight Crazy Nights.
He got a stew going on 'Arrested Development.'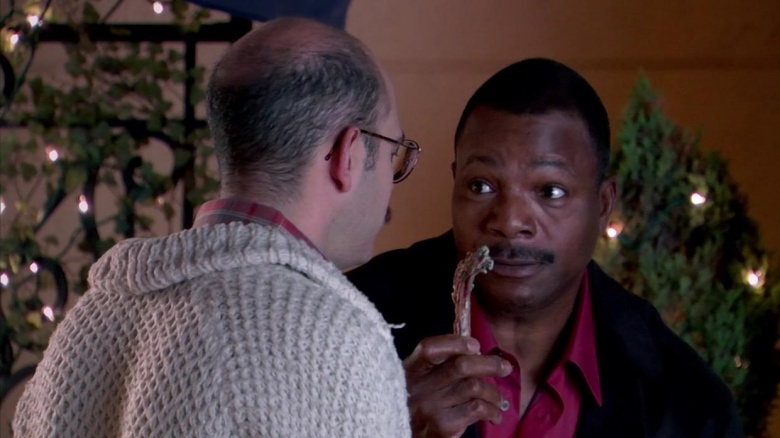 Although he's only appeared in a grand total of four episodes over the course of the five seasons (so far) of Arrested Development, Weathers relished the opportunity to get a little goofy by playing an exaggerated version of himself, one which he described to the AV Club as being "about a million miles from me." Series creator Mitch Hurwitz had originally contemplated going in a different direction with Bizarro Carl—one which would've involved a parody of Rocky and Apollo's beach run in Rocky III—but when he asked Weathers if he had any thoughts, Weathers alternately suggested that maybe he could be really cheap. "It was so much better," Hurwitz told Vulture. "I went back to the writers room and said, 'You're not going to believe this. Carl Weathers wants to be incredibly cheap.' All credit to Carl on that."
He played Michael Strahan's dad on a short-lived sitcom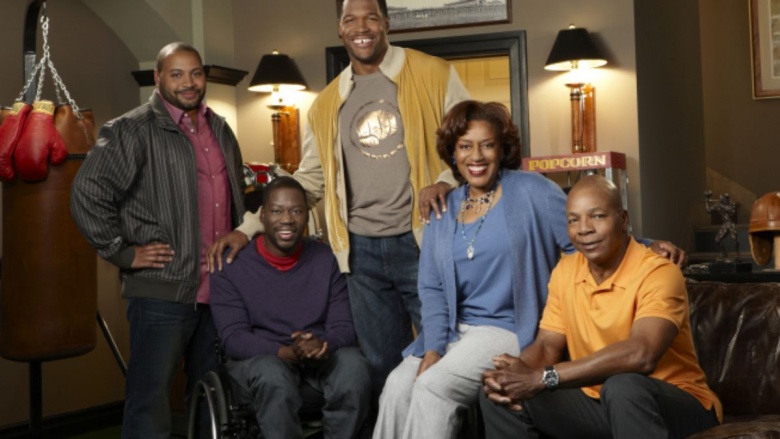 After his career in the NFL (but before he became King of the Morning Shows), Michael Strahan took a shot at sitcom stardom with FOX's Brothers, which found him playing brother to Daryl "Chill" Mitchell. More importantly, though, Strahan's and Mitchell's parents were played by Weathers and C.C.H. Pounder. "What we're going for is, No. 1, entertaining people, and No. 2, kind of informing us all about how this family copes with the issues of life today, and we try to do it with a lot of humor," Weathers told The Times-Picayune in advance of Brothers' September 2009 premiere. "You see a contemporary black family that expresses itself with a bit of edge—it's an edgy show—but at the same time you see the love." Unfortunately, the love wasn't shared by the viewing public: by the end of December, FOX had already bid adieu to Brothers.
His distinctive voice has resulted in a number of job opportunities on animated projects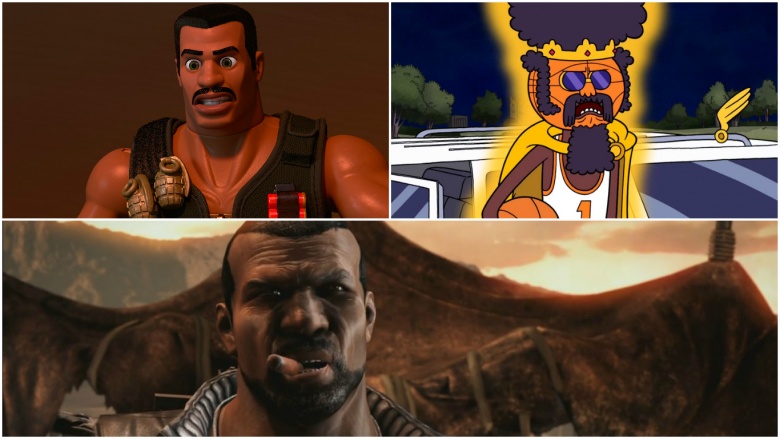 In addition to his work in the aforementioned Eight Crazy Nights, Weathers has found himself in demand as a voice actor in various other films as well as TV series, documentaries, and ad campaigns. As a result of his pre-acting life as a NFL player, Weathers has narrated several season recaps for the Oakland Raiders, and his military persona in Predator is doubtless what led to him being cast as Omnitraxus in Star vs. the Forces of Evil, Jax Briggs in Mortal Kombat X, and Combat Carl in Toy Story of Terror. As far as how he came to play the God of Basketball on The Regular Show? Hey, your guess is as good as ours.
Just because you haven't seen him doesn't mean he hasn't crossed your mind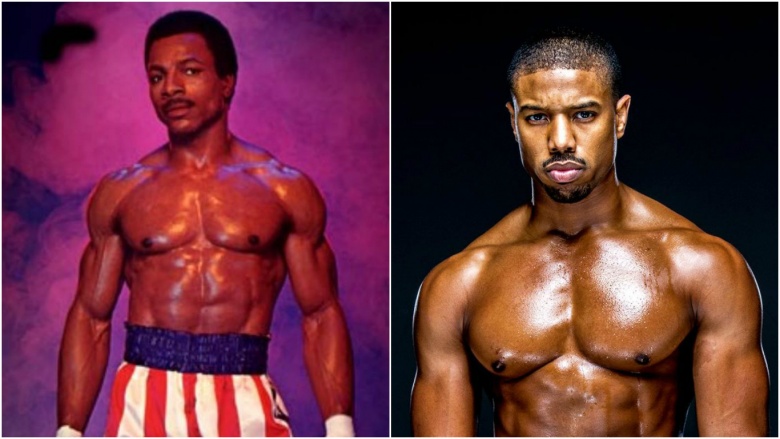 In 2015, Rocky fans were pleasantly startled when director Ryan Coogler co-wrote a screenplay with Aaron Covington that bypassed the current reboot trend and revived the seemingly-dead franchise by focusing not on the Italian Stallion, but Adonis Creed (Michael B. Jordan), Apollo's son. Of course, Weathers couldn't very well make a cameo in Creed — or its 2018 sequel Creed II — but for anyone with even a passing familiar with any of the earlier films, his presence was felt nonetheless, thereby inspiring many a moviegoer to revisit Weathers' work in the first four Rocky movies and wonder, "Say, whatever happened to Carl Weathers, anyway?"
He's still busy being a dependable character actor...like, really busy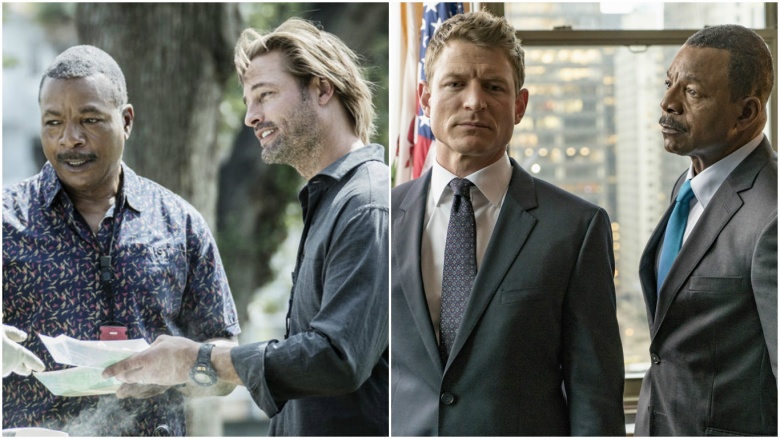 If you're right now realizing that you really need to catch up on Carl Weathers' back catalog, then it's a great time to do it, since it's still growing. After spending a season playing Josh Holloway's partner on USA's Colony, Weathers added a new series-regular credit to his name in 2017: after being introduced as State's Attorney Mark Jefferies in an episode of NBC's Chicago P.D., he reprised the role as a castmember in Chicago Justice, and later crossed over as Jefferies in an episode of Law & Order: SVU. That isn't the only role keeping him busy lately, either — Weathers also popped up in an early episode of the rebooted Magnum P.I. in 2018.