What Is The Song That Plays During The Carousel Scene In Episode 7 Of The Last Of Us?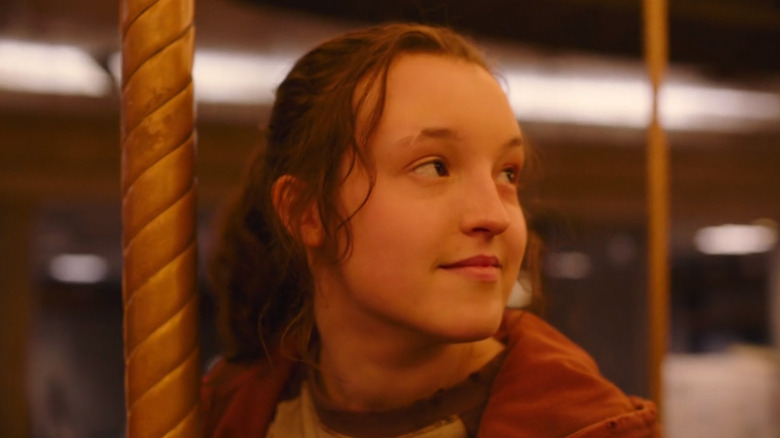 HBO Max
Fittingly for a show that revolves around a zombie-like plague, HBO's "The Last of Us" is quite good at tearing our hearts out. In almost every episode so far, there has been some form of gut-wrenching loss portrayed on screen. The most infamous thus far has, of course, been that of Episode 3, which showed us the beautiful and heartbreaking post-apocalyptic love story between Bill (Nick Offerman) and Frank (Murray Bartlett). But it's also been difficult to watch, say, Joel (Pedro Pascal) hold his dying daughter Sarah (Nico Parker) in the very first episode. Or to see Henry (Lamar Johnson) shoot his little brother Sam (Keivonn Woodard) after he's transformed. 
Episode 7, "Left Behind," had its own shattering story, where we learn how Ellie (Bella Ramsey) discovered she is immune to the cordyceps infection. It also shows us what exactly it was she had to, well, leave behind to make it to her cross-country journey with Joel that will, hopefully, result in a cure for cordyceps and give civilization a chance to rebuild. Sharing a first kiss with her best friend Riley (Storm Reid), essentially admitting that she loves her on the very same night that they're both bitten by a rogue infected, is about as close to an exemplar of poetic tragedy you can find.
Like most episodes of "The Last of Us," we are also treated to some very specific uses of popular music, though some are easier to pick out. A-ha's "Take On Me" was heard loud and clear during the escalator scene. Others are a little trickier to pick up. It might be easy, for example, to hear the song played on the mall carousel and assume it's just another stock music box composition. You'd be wrong, though. 
The song is Just Like Heaven by the Cure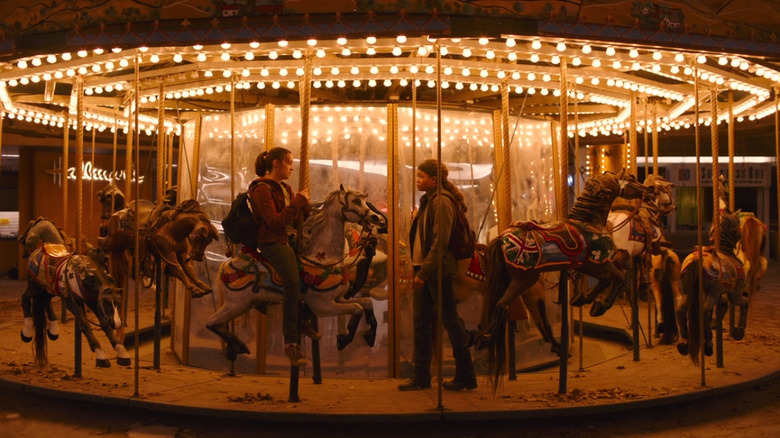 HBO Max
Plenty of music fans must have heard a tune they recognized during the scene because it didn't take long for pop culture sites and message boards alike to name the song as the Cure's "Just Like Heaven." Again, it is a lullaby rendition, performed by Rockabye Baby!, but it is definitely one of the Cure's most famous songs. Released in 1987 on their album "Kiss Me, Kiss Me, Kiss Me," it is probably one of the most recognized tunes from the storied, multi-platinum, forty-year career of the gothic post-punk band. Built around a shimmering, descending guitar riff, it was written by front-man Robert Smith after a trip to the English coastal town of Beachy Head with his girlfriend (later wife) Mary Poole, as a tribute to the emotional support she provided him during a chaotic time in his life. Smith also would later refer to it as the best pop song the Cure ever wrote. 
In the original video game of "The Last of Us," the theme music simply plays over the carousel scene. But in the context of the world built for HBO's adaptation, even in its bowdlerized, lullaby version, "Just Like Heaven" is an appropriately moving soundtrack for the sequence. Just like Riley and Bella's carousel ride, it is whimsical and sublime but also fleeting and ephemeral. It can't last forever, of course, with the irony being that the more we try to hold onto it, the less beautiful it becomes. 
That impermanence in a dismal and dangerous world is, of course, a constant theme in "The Last of Us." It's a shattering fact to face, but once again, it is difficult to imagine the series connecting so well without it.