The Last Of Us: Episode 3 Recap - Bill & Frank Swanson(g)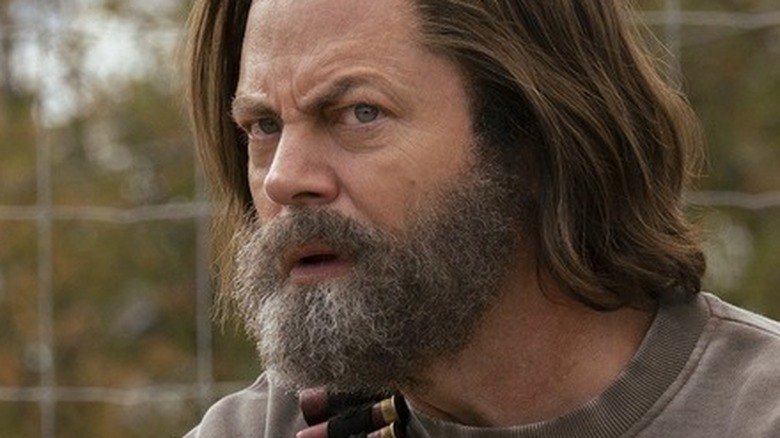 Liane Hentscher/HBO
Contains spoilers for "The Last of Us" Episode 3 – "Long Long Time"
We don't want to call it too soon, but HBO's "The Last of Us" may have just reached its pinnacle. The critically-acclaimed show's third episode is not only the best of the series so far — it's arguably also the best bit of standalone television that we've seen to date in 2023. The most impressive thing is that the strength of this episode doesn't come from our leading pair of Joel and Ellie (Pedro Pascal and Bella Ramsey). Instead, "Long Long Time" plunges viewers into the world of two crucial characters from the game that the TV show's version of Ellie never even gets to meet. In a whopping 75-minute episode, we are finally introduced to Bill and Frank (Nick Offerman and Murray Bartlett), and we spend most of that runtime watching them find second chances in each other in a world gone to hell.
But there's more to this episode than giving us a new favorite TV couple. Here is where we join the historical dots from the first day of the cordyceps outbreak to the present and learn how some fought and flourished in what came after. Littered with nods to the source material while still deviating from the original game plan, the third episode of "The Last of Us" will stand as one of the show's finest moments for a long, long time.
Killer ingredients
After leaving a stack of stones to commemorate Tess (Anna Torv) following her sacrifice at the end of "The Last of Us" Episode 2, Joel and Ellie hit the road after a tense morning chat. They're headed to meet Bill and Frank, just as Tess advised during her final conversation with Joel. It's a journey that would be a lot easier if Ellie wasn't asking so many questions, but even so, it's great to see Joel's tough exterior getting chipped away at little by little. However, from the awkward conversation comes another history lesson, which actually calls back to the two previous episodes in a big way.
When Ellie posits that monkeys started the infection, Joel sets her straight by sharing a rumor that holds some truth. Guessing that it was, in fact, from a rice or flour factory, as detailed in last week's episode, he tells the post-infection baby that the world was finished over a weekend. It also hammers home how close Joel came to becoming infected, as the series' opening sees him refusing to eat multiple flour-based foods due to being on the carb-restricting Atkins diet at the time, something fans of the show quickly picked up on. 
The trail Joel and Ellie walk is littered with pieces of the past, including a mass grave, which Joel tries to prevent Ellie from seeing. Instead, she learns of the unspeakable efforts made to contain the infection.
When Bill met Frank
Flashing back to Outbreak Day, we meet Bill, a conspiracy theorist who avoids getting rounded up by hiding out in his bunker and remaining in his otherwise evacuated town. Like everyone who has appeared thus far in this adaptation, Nick Offerman is a perfect bit of casting. While Offerman hits all of the character elements critical to bringing Bill to life, he also makes this version of Joel's paranoid ally his own.
This Bill is nowhere near as short-tempered or as aggressive as the one from the game. While we hate to typecast, Offerman's take has more than a few shades of his iconic character Ron Swanson from "Parks and Recreation," almost as if we're seeing Ron after he gave up chasing Tammy and decided to go it alone. Thankfully, it works perfectly, and even more so when Frank literally falls into his life.
In another immense deviation from the game, HBO's handling of "The Last of Us" lets us spend time with Frank, a character who is already deceased by the time players encounter him in the game. Bill and Frank's alluded-to relationship from the game also features more prominently in this adaptation, which gives Murray Bartlett a lot more space to develop the character. He is a perfect match, working alongside Offerman and his reserved alter-ego. We are watching a wonderful love story unfold over time, working effortlessly enough that you don't miss Joel and Ellie. The one welcome return, though, is, of course, from a recently fallen comrade of Joel's that leaves a lasting effect in more ways than one.
Be our Tess, be our Tess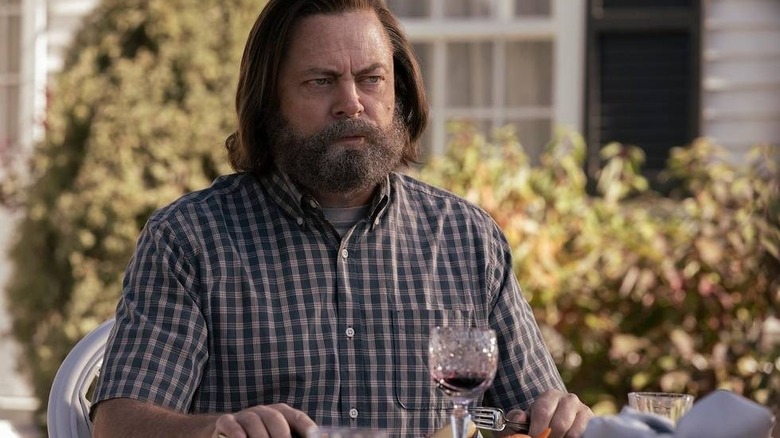 Liane Hentscher/HBO
Given how much Anna Torv killed it during her relatively short tenure as Tess, it is wonderful to see her make a brief return this week, even if it is in a flashback. With Frank fully settled in with Bill, he chooses to welcome strangers from beyond the fence line to trade with. Frank and Tess are relishing the new company, while Joel and Bill are eyeing each other up from across the dinner table, both struggling to trust one another. 
It's an eye-opening encounter on all fronts. This scene really hammers home what a kind-hearted soul Frank was, and it also gives viewers a crucial look at Joel in the post-Sarah, but pre-Ellie stage of his life. Advising Bill on his security limitations, Joel is surprisingly not as cold as you'd expect, and even Tess is less of the worn-down soul we met at the beginning of the series. In a world on fire, Bill and Frank's suburban paradise is a break for its visitors. Of course, given that this is "The Last of Us," nothing good can last forever.
The last supper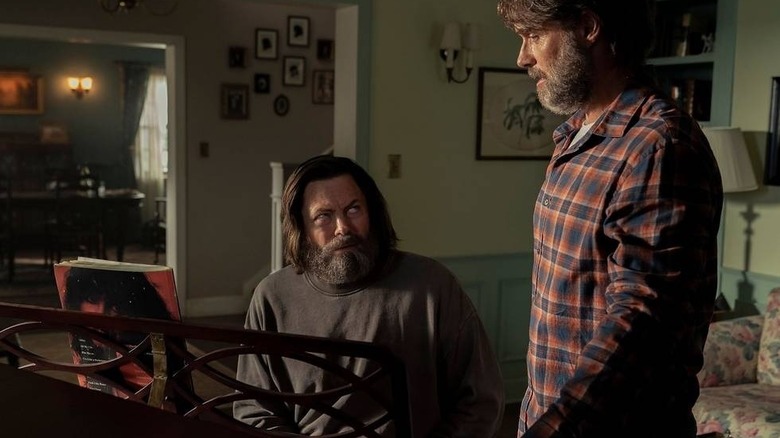 Liane Hentscher/HBO
As is to be expected, there can only be a fraction of happiness in each episode of "The Last of Us," and in Episode 3, that quota is reached when we see Bill laughing at a strawberry. After that undeniably pure moment, it is back to yanking at our heartstrings like one of Bill's tripwires. Following a home invasion that, while deterred, leaves Bill with a permanent limp, we shift years later to find that Frank has cancer, and the medication Bill has to get hold of is no longer keeping it at bay. At his request, Frank asks the love of his life to spend his last day getting married, having a great meal, and then overdosing for one last, long sleep. 
Like so many moments in the show, it's a standout scene between two top-class performers. Nick Offerman is brilliantly dynamic as his recluse struggles to let go of the one person he opened up to, who welcomes death with a smile and a whole heart. It's made even more soul-shattering when Bill decides that he will join Frank in letting go of the mortal coil. "I'm old, I'm satisfied," he says behind reserved tears, "and you were my purpose." We're screaming, we're shaking, and we're crying everywhere.
Ellie's first spaceship
Throwing us back to the present day, Joel and Ellie finally reach Bill and Frank's estate, only to find it unattended. Joel's fear is realized when Ellie finds a letter from Bill sitting next to the spoiled remnants of his and Frank's last meal. "That's why men like you and me are here," writes Bill, who even in his last moments shows some respect for Joel."We have a job to do and God help any motherf****** who stands in our way." He leaves guns for Joel to protect Tess, and while that's a lost cause, Ellie will surely need them for the future. However, the journey is long, but thankfully, they now have a ride to take it in.
As saddening as it is to see Bill and Frank's story ending, getting back on the road with Joel and Ellie is a reminder that their relationship is just starting to develop. Stocked, locked, and ready to rock, they hop in Bill's truck, which Ellie is amazed by. She compares it to a spaceship when asked if she'd never been in a car before. It's a fitting description, given that in "The Last of Us Part II," the two break into a science museum, with Ellie getting into a shuttle and dreaming of going into space. If that moment makes it into the adaptation, it probably won't come until the recently announced Season 2. For now, though, hit it, Linda Rondstadt.