Attack On Titan Gets A New Commander In Part 3 Of The Final Season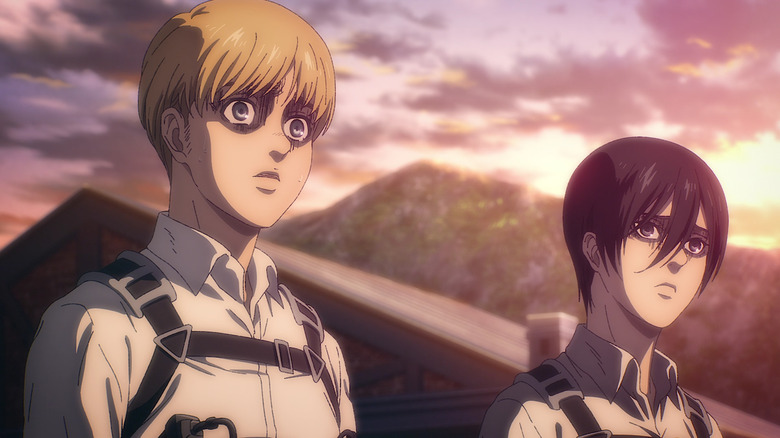 MAPPA
The following article contains spoilers for Attack on Titan, The Final Season: Part 3
Serving as commander of the Scout Corps in "Attack on Titan" has never been an easy job. From Keith Shadis (Tsuguo Mogami/Patrick Seitz), who once held the role before collapsing into self-defeat, to Erwin Smith (Daisuke Ono/J. Michael Tatum), who spurned the secretive corps into becoming the arm of the rebellion, being in charge of the Scout Corps has remained one of the most difficult and thankless roles in the entire series.
Since Erwin met his end in a heroic and valiant suicide charge in Season 3, however, it has been Hange Zoe (Romi Park/Jessica Calvello) in charge of the Scout Corps in "Attack on Titan." The gender neutral Hange has had to brook no harassment in their alternate reality, however, as their generally brilliant and daring conduct have earned them the respect of the Scout Corps in the four year interval since Erwin gave his life. With Erwin's strong impact and indelible leadership qualities left to Hange, though, it only makes sense that they would make a similar choice for the greater good in a time of desperation.

Hange gave their life to buy a little more time for the allies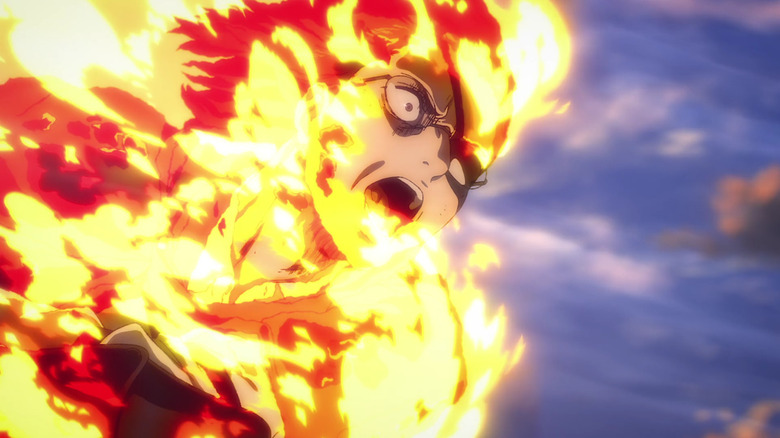 MAPPA
As the surviving members of Eren's former friends and allies in "Attack on Titan" set out to confront him at last, an unfortunate delay saw the team set to be crushed to death by The Rumbling before they could even take off into the skies. Recognizing the gravity of the situation, Hange volunteered to buy them time by taking out as many Colossal Titans as they could before being overcome completely.
It was a grim last stand for the character, as they burst into flames and burned to cinder as their body fell to the ground below. All the same, it was absolutely the cool, badass death that Hange said they had been craving for so many years and before leaping into action, the commander named Armin Arlert (Marina Inoue/Josh Grelle) as the new leader of the Scout Corps in "Attack on Titan."
This is, of course, a perfect choice, as Armin's tactical know-how and analytical, 4D chess style brain is the only real chance the Scout Corps has of surviving in the final supersized episode of the global sensation that will be wrapping up the series for good this fall. Furthermore, Armin's cold intellect will likely be a necessary factor if they have any hope of stopping Eren for good, one way or another in the final season of "Attack on Titan."