GOT's Directors Explain The Immense Pressure Of Casting The Show's Child Actors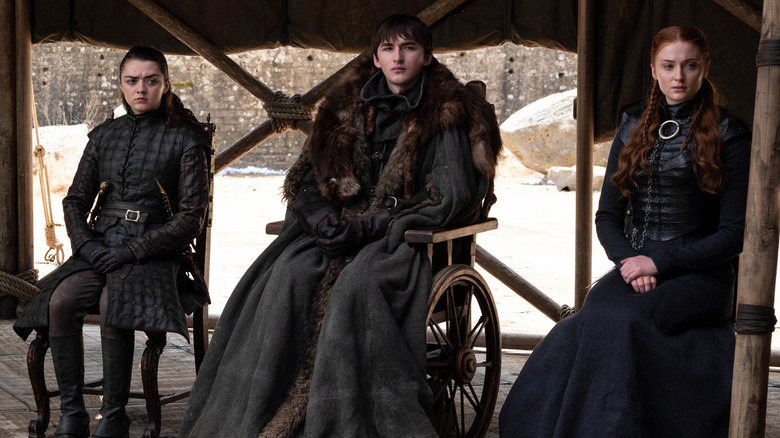 Macall B. Polay/HBO
Though many viewers have become fans of the series since it ended in 2019, "Game of Thrones" remains one of the biggest pop culture phenomenons of the 21st century. Once the most pirated show in the world, HBO's medieval dark fantasy series still has enough cache that the prequel spin-off, "House of the Dragon," boasted the most watched HBO premiere in the network's history – despite competing with Amazon's highly anticipated spin-off series, "The Lord of the Rings: The Rings of Power."
Of course, one of the chief strengths of "Game of Thrones" was its impeccable casting. From relative unknowns like Gwendoline Christie, Emilia Clarke, and Kit Harrington to more established performers like Sean Bean, Ciaran Hinds, and Ian McShane, the series' massive stable of performers was one of its strongest attributes. Still, that doesn't mean it wasn't a huge challenge to find the right performers for some of these roles, particularly those parts requiring younger actors.
Weiss and Benioff were looking for a different breed of child actors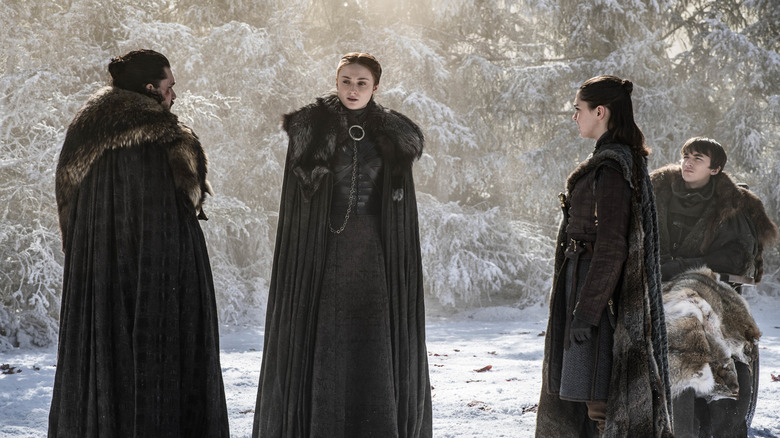 Helen Sloan/HBO
Speaking to Sky TV, "Game of Thrones" showrunners David Benioff and D.B. Weiss explained that casting their young leads — primarily for roles in the Stark family — was a major hurdle for them to overcome. Reflecting on the process of casting these younger performers, Benioff shared, "These kids aren't supposed to be little cute Hollywood types. They go to very dark places. It's such a gamble because even [though] you have them audition with a few different scenes, you don't know if they're going to take and handle all of this in front of cameras and a crew of hundreds. Weiss nodded with a knowing chuckle.
Stating that the "Game of Thrones" child actors have to be willing to go to dark places might be a bit of an understatement. Characters like Arya (Maisie Williams) and Sansa (Sophie Turner) go through horrific circumstances throughout the series. Of course, this means they needed to find young actors who could go to those harrowing places with their troubled characters.
But Benioff was confident that they'd done well with their casting of the younger Starks. "The fact that Maisie and Sophie and Isaac [Hempstead Wright] were so good and so good under pressure and so good the first time out was kind of a miracle," Benioff added. In the end, the series soared due to their work.